Is it even possible to grow a podcast to 10,000 downloads per episode without spending a fortune if you're not a big brand? Sure it is, and this article will tell you exactly what you need to do to promote a podcast if you're getting new subscribers each week, but you're still not quite where you wish to be. 
Here are the basics before we go into details.
You don't have to be everywhere and cover every topic under the sun. 
You need to use time wisely,
Focus on a strategic effort that will yield the best results with optimal time and money investment.
This is the core of your strategy And now let me tell you the actions you need to take to grow a podcast quickly.
Why the 10,000 downloads mark is so important?
Around, 10,000 downloads per episode is where the elite league of podcasting starts.
Rob Walch who regularly reviews podcasting statistics and performance has reported, that if your new episode gets, within 30 days of its release:
more than 5,800 downloads, you're in the top 10% of podcasts,
more than 14,000 downloads, you're in the top 5% of podcasts,
more than 41,000 downloads, you're in the top 2% of podcasts,
more than 88,000 downloads, you're in the top 1% of podcasts.
---

1. Design Value Upfront
Start by focusing first on your listeners:
Who are they?
What do they want to achieve?
What are their dreams and aspirations?
Create your ideal listener avatar, and be sure to create value for them. 
Researching this is not complicated. A great thing to do is to hang out in Facebook groups where your ideal listeners hang out and see what their interests and their struggles are. You can even run a free pool asking about basic needs and problems.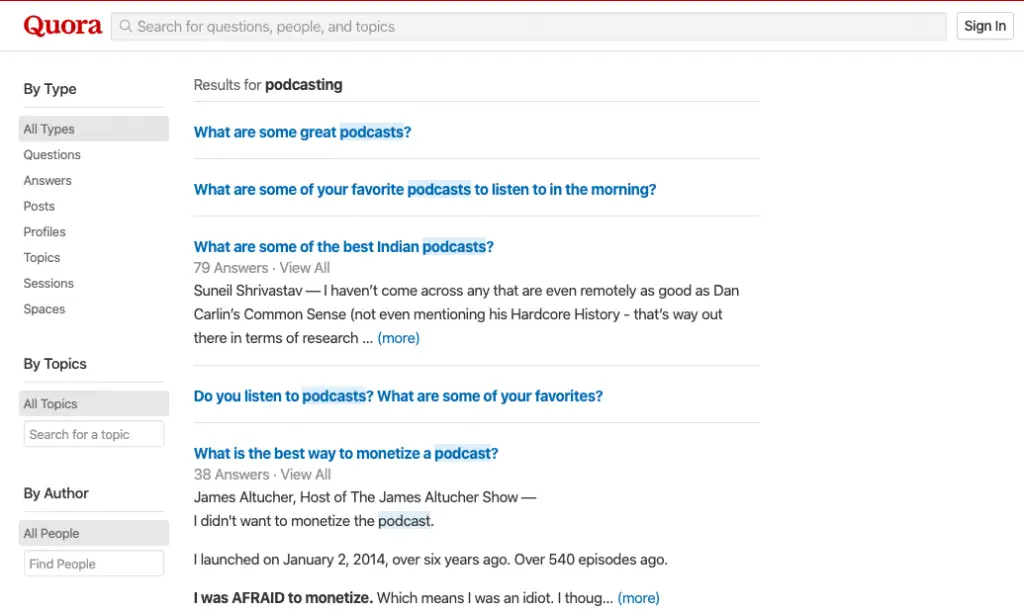 Quora is another great place to see people's questions regarding a specific topic. Quora has over 190 million monthly users, discussing over 400,000 topics. It's a goldmine for any researcher determined to grow a podcast.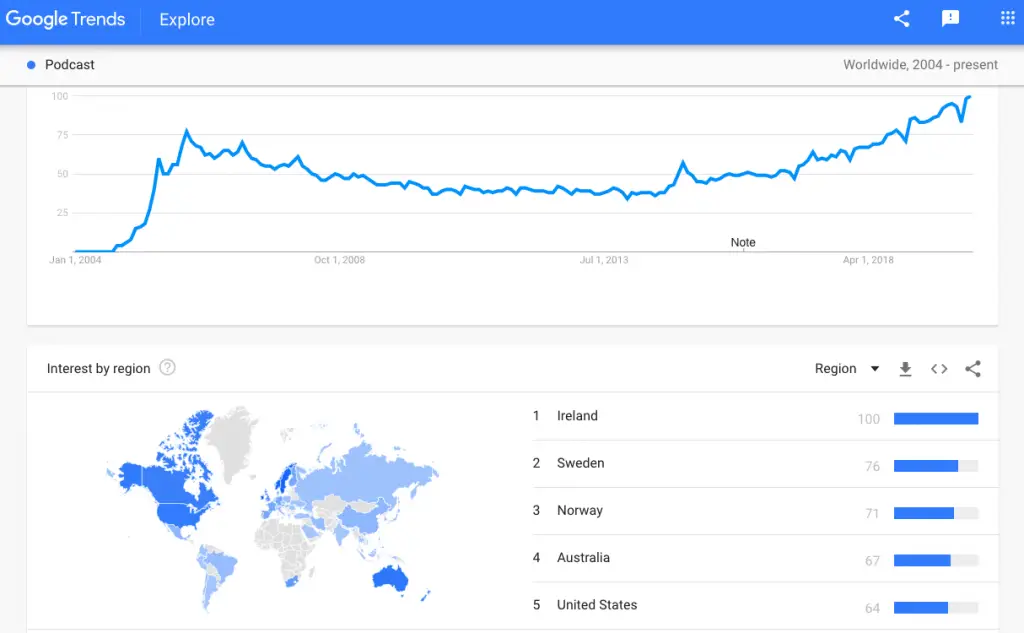 A glance at Google's most searched queries regarding a topic can also be a great place to start. But go more in-depth with Google Trends and try to nail precisely what your audience is searching for. That way, you will create more targeted content to grow your podcast.
Each episode needs to have a clear payoff. You need to explicitly say what your listeners will get from the episode to increase their satisfaction.
Each episode should bring benefits to your listeners. It should create value and answer some of their questions. It will not only convince them to subscribe, but it could also get them to review and share your episodes, thus increasing your downloads!
---

2. Have Many High-Quality Episodes Available
Don't make the mistake of only thinking of quality in terms of content. 
Sure, that's important, but your content won't matter to the mass audience if the audio quality is so bad that people can't understand what you're saying. To effectively grow a podcast, simply:
Good sounding audio is easy to achieve, but actually, not many people chose to do it. Most people are looking for a cheap set up that will just work. 

If you invest in great podcasting mic, audio interface, etc. you will do what most people are not doing, and listeners will appreciate it. It is a super-easy way to grow your podcast.
Just save some money and get the better gear you will have an easy advantage over your competition, as most people just want to buy a cheap setup that just doesn't deliver the quality.
Once that is out of the way, plan your content! Don't release the first episode without a plan for future ones in mind. In short – don't think you'll record more if you are successful. Especially in the beginning, if you don't publish episodes regularly, people will quickly forget about you and unsubscribe. For this reason, you should have a plan for dozens of episodes that can be recorded easily and quickly.
People now like to binge consumer podcast content. So give them a lot of quality episodes to choose from.
---

3. Brands Will Win in the Long-Term
Here's the truth: brands are those that win in the long-term. But that doesn't mean there's no hope for you. Because believe it or not, you can create your brand! How? 
First, focus on developing trust and establishing a relationship with your audience. This is done by simple things such as publishing episodes regularly, interacting with your audience, asking for their opinions, and creating content for them.
Second, take the time to check out your competition. Who are they? What type of content are they creating? Now ask yourself – how can you create better content? "Better" in this context can mean a lot of things. It can mean shorter or longer episodes. Or episodes more focused on questions your audience wants answers to. It can mean bringing more guests. In other words, what can you offer differently from your competition?
Finally, create your brand. This means things like the music you use on your podcast for intros and outros, taglines, and more. Focus on making yourself recognizable, stand out from the rest. It will also protect you from newcomers, so there's a double benefit here.
Best way to find original and high quality music you can use on your show is to license an inexpensive and original samples. There are many places where you can find them. My favorites are:
TOP
Best Music Source
Ideal for whom?

1

Soundstripe has the highest quality, exclusive music.
They offer 4,000 exclusive songs and over 35,000 sound effects.
check prices

2

HookSounds offers modern, stylish and distinctive music.
They focus on originals and even make custom music requests!
check prices

3

PremiumBeat is one of the oldest and largest royalty-free music providers.
Pick if a huge song choice is your priority (library of c.a. 17,000 songs)
check prices
---

4. Hack the Algorithm and Focus on New Subscribers
Whether you're a blogger, vlogger, or podcaster, there's an algorithm that needs to be hacked to get your show to stand out and grow. 
For podcasting still, Apple's Podcast algorithm is the most important, and Apple's charts are more important. To start, make sure you're listed in the correct category. Don't just focus on the "new & noteworthy" category, but aim for the one where your topic belongs. 
People are more likely to look for podcasts in the categories they are interested in, rather than searching for newcomers. 
Don't be afraid to ask for subscriptions and reviews. They all help you rank better. Believe it or not, many listeners will actually take the time to review your podcast if they like your content. But they're all busy, so you need to remind them to do it! 
Subscriptions impact rankings! Reviews and ratings influence and convince people to subscribe. 
Reviews and ratings help your podcast to look more natural. And you will also stand out among your competition when someone is looking for a specific topic.
Also, to make sure you don't get forgotten by search engines, have about 5-8 episodes ready before you launch. That way, you'll be able to publish regularly and have a clear schedule. Listeners like it, but so do podcast directories and search engines.
---

5. Clearly Define a Problem your Podcast Solves
A mistake many people make when starting a podcast is creating a very general topic in the hopes of attracting more subscribers. 
That's not a very good approach because people might end up uncertain what your podcast is really about. You need to niche down and choose the right idea.
Does it help them solve their problem or not? So clearly define what problem your podcast solves. It might feel like you are narrowing your audience, but in reality, you are defining it and are speaking directly to your ideal avatar. 
Problem-solving means communicating with a clear message.
There's also another way to see this. By clearly defining your topic, you are respecting people. You are not making them waste their time to listen to your podcast only to realize you're not addressing anything of interest to them. 
The clarity in communication helps people. Respect them, and they will respect you back!
---

6. Be Super Focused at the Beginning
Continuing on the same idea, once you define the problem your podcast solves, don't go off-topic. At least not before you get a few thousand downloads per episode. 
Find your niche and stay focused! Keep your ideal audience engaged, answer their queries, and you will start growing very quickly!
Having a clear focus helps to grow a podcast, especially in the early stages, as it speaks directly to a narrow group of people.
As you start growing, you can expand your topics a bit, loosening up your focus. At that point, you might lose some people that are also focused, but it will be worth attracting a wider audience. This is, however, not something you want to do early on.
---

7. Build Free Products that Solve Problems
Once you start building an audience, it is time to take your offer one step further. 
Offer free products that help your listeners. People love solutions, and they love free stuff.
It can be in the form of a template, charts, worksheets, PDFs, and more. Whatever your offering, make it something useful, something related to an episode, that helps your audience take what they learned one step further. 
You can also use this to build an email list, a crucial step if you want to create a stable base of potential customers. SendInBlue offers a great plugin and easy to use solution for collecting emails.
You should register and start collecting emails immediately. For more experienced podcast marketers, looking for even more powerful tools we recommend ConvertKit.
---

8. Build a Content Product Offered at a $5 price
The next step after offering freebies is content priced at about $5. 
It is a threshold under which people will buy almost anything. But don't offer poor quality products. Prepare something highly valuable and still provide it at a low bargain price. Imagine the customer satisfaction and experience if they will be able to get incredible value at just $5. 
Your product and your podcast will get shares and recommendations easily.
The goal at this point is not necessarily the revenue, but building trust. 
By offering something of quality for a small price, you are showing your clients you care about their needs. What can you offer? An ebook, a short course, a video, or more. Whatever it is, it should be of high quality!
---

9. Focus on Marketing Channels – You Don't Have to Be Everywhere
To promote a podcast, you don't have to use every marketing channel in existence (despite many marketing gurus telling you exactly this thing).
Focus only on those that bring you real long-term benefits. 
Analyze and see where your audience is most likely to hang out, where do they look for answers to their problems. Google, YouTube, and Pinterest are 3 channels that can be good for most because people look directly for the topic that interests them. 
With a bit of effort, you can pop up on the first page in their search! Also, your content is visible there for years.
Avoid social media sites that require you constantly producing marketing materials.
Social media like Facebook, Twitter, or Instagram are more complicated. Their algorithms make it difficult for you to stand out, and unless you are willing to spend a lot on ads, your content won't be seen by a lot of people. 
Your Facebook post will disappear under a pile of new content within days. Your Tweet will be gone in a matter of hours, if not minutes. But a good content prepared for Pinterest or YouTube will promote you for years!
---

10. Find Super Listeners
Focus on finding super listeners. 
We care about this group so much because those people are:
You know, the people who love long, in-depth, engaging content. Those are the people who listen more than 5 hours of podcasts weekly.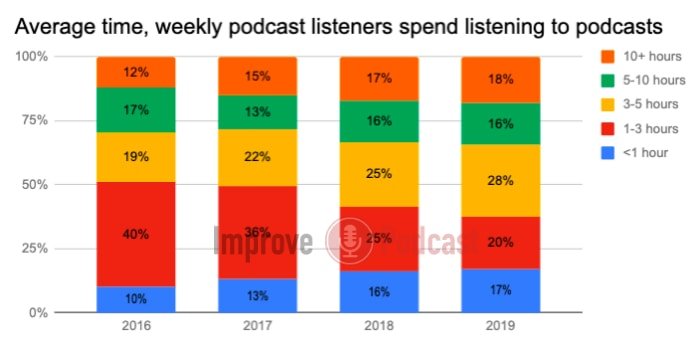 Once you reach those people, it will be much easier to promote your podcast. They will help you on their own. As they share and recommend, they will allow you to grow a podcast, and as they spend more, they will make it possible to reinvest money into your show.
---

11. Find Correct Guests
Now let's talk about guests. Guest interviews are one of the most popular ways podcasts are made today.
You need to be focused if you want to grow a podcast this way.
Guests have to be right for your niche. They need to have the right expertise and complement you perfectly. 
To create perfect episodes with guests, start by asking the right questions – the types that are on point, and that can be clearly and easily answered. 
Also, provide them with some guidelines before the interview. If you built a brand through how each episode sounds, you need to maintain that even when having guests. Some people are frequent guests on shows, and they don't need support, but some might very rarely give interviews.
Finally, master remote recording. It will give you the chance to interview people across the globe and still have great quality episodes.
---

12. Leverage the Audience of Your Guest
Do you know the great thing about having guests? You can leverage their audience! 
The first way is by asking them to share their interview with their audience, which is something most will do anyway. 
But you can make it even easier. Prepare shareable content like soundbites, quotes, tweets or emails. Those things help you by:
Allowing to reach a large percentage of your guests' audience,
Remind about the interview for an extended period as each time something different is being shared,
Encourage reshares due to a simple and easy way to consume the best parts of the interview, so even more people will find out about your content.
It is an easy way to get known by a whole new audience!
---

13. Clear Message and Communication
Your message doesn't just mean the content of each episode. In this day and age, with so much information everywhere, people approach content in a superficial way.
So use things like your podcast logo or a motto to catch their attention quickly. Give them an eye-catching visual, so they will be encouraged to click.
Use episode titles that promise benefits and urge action. Don't just go for clickbait titles though – you always want to deliver what you promise, or you'll lose subscribers. 
---

14. Be in Every Directory
 Don't just focus on Spotify or Apple Podcast/iTunes. 
Yes, these are the biggest and the best-known podcast directories, but there are many others out there that could get you hundreds if not thousands of downloads.
This isn't the same as marketing channels. Yes, there I told you that you should only focus on those that can bring you the best results, with the assumption that those channels require additional promotional materials and require your active time to manage.
But this is about reaching more people, it's about accessibility, reaching people who use different platforms but with the same content, you already have.
Not everyone uses Spotify or Apple Podcast/iTunes. Every 100 downloads count when you are trying to grow a podcast!

You can automate the process of adding new episodes to each directory. Thankfully good media hosting allow you to publish to many podcast directories. 
---

15. Have a Premium Plan with Your Media Host
If you want to invest in something to promote a podcast, invest in a premium plan with a highly reliable media hosting company. Otherwise, don't be surprised when you run out of bandwidth! 
Some of the cheapest hosting plans limit the monthly bandwidth of your episodes. It may be expressed in a number of downloads (like 5,000, 10,000 or 12,000) or gigabytes (e.g., 100GB is roughly 3,400 downloads if you have 1h episodes).
Those numbers may appear like a lot, but they are not. 10,000 downloads are just 2,500 per episode if you publish 1 episode per week. 
If you actively promote your podcast, you will quickly achieve those numbers. 
Now, some of the media hostings are more tolerant and won't stop serving your clients if you exceed your limit, but not all do this. To be safe and sure, just have a higher tier plan with a premium media host.
Here are best podcast host on the market right now, they have great offers, and proven quality of service.
TOP
Podcast Host
Register with this link and get a bonus

1

Buzzsprout is the best solution to host your show.
I like them for their transcripts, a Creator's Program to help with monetization.
Get buzzsprout and claim
$20 Amazon gift card

2

Castos is rich in features supporting the growth of your show.
Register with Castos for a
14 days free trial

3

Transistor offers in-depth analytics in each plan and is the best if you also need private podcasts.
Register with Transistor for a
14 days free trial

4

Another awesome, modern, and rich in high-quality features podcast hosting platform. Check Captivate with a
7 days free trial
Also, get a host with a content distribution network. It will avoid slow downloads. I'm sure you know nobody likes slow downloads, and remember that your audience can come from any part of the world! 
---

16. Promote your Content in Communities 
Going back to promotion channels, Facebook groups are a great place to start. And Facebook groups are much different than the common Facebook media feed.
You should already be a member in most groups where your ideal avatar hangs out, as I previously mentioned. Now you can use those groups to promote your content. Just be smart and answer common questions people may have by pointing them to the episodes of your podcast.
The same goes for Quora. Search for questions you know you've answered directly in a podcast and share your links. It is an easy way to promote your podcast.
---

17. Inspire People to Take Action
Sometimes solving your listeners' problems means inspiring them to take action. 
Motivate people to do what they've been putting off. 
Talk about achievements, about fear and how to defeat it. Discuss plans for the future and how to turn them into reality. 
How does this help you to grow your podcast?
When you are the source of inspiration, people will come for more of your content. Simply they will try to reinforce their motivation,
Once people become motivated and engaged in a new activity, they love to brag about it, so you increase the chance of having your podcast mentioned and recommended,
Finally, people are thankful. If you become a source of inspiration and change, they will link to your show, your website, and if you offer products, they will buy from you.
If you want to be a source of inspiration, you need to have an engagement strategy built into your show. 
---

18. Improve Podcasting Skills with Time
Here's the thing: you'll make mistakes in podcasting. All beginners do in any field! So accept that and be ready to learn from them and move on. Analyze what seems to work and what doesn't. 
When it comes to skills progression over time, there are two things you need to remember:
When you are a beginner in content creation, your audience will forgive your mistakes, 
Those early adopters are usually enthusiastic and help you through the early growth stage,
However, to start attracting a mass audience, you need to improve quality and make sure your podcast sounds professional.
Use every research, scripting, and recording session to improve your productivity and overall podcasting skills.
And when you find your mistakes, don't get beat up! Take it as an opportunity. 
Now you know one thing that doesn't work. So work to improve it, improve your content, your style. With time, your skills will become better and better. Just don't give up!
---

19. Get ranked in Google
One mistake I see a lot of people make when trying to grow a podcast is forgetting about Google. 
Yes, most people look for podcasts in podcast directories. But Google started indexing episodes too. 
So there's a chance your episode will be ranked in search on Google. So focus on episode SEO. Use the title and the episode description, find the right keywords, and use them properly. 
To boost your chances, you can even create transcripts and publish them on your podcast's website. You'll quickly gain more downloads and stand out from the competition who isn't focusing on Google yet.
Right now, it is super easy to have your podcasting website up and running in one afternoon. Some reliable providers offer you a one-click installation for WordPress, which simply means you can start publishing your transcripts in a matter of minutes.
Here are my favorites hosts
TOP
Best Website Hosts
Ideal for whom?

1

BlueHost is best for beginners looking for an affordable and reliable provider
check prices

2

SiteGround is great for growing if you already have a mid-size audience
check prices

3

Pick WPX if you have a large audience demanding the best experience
check prices
A higher position means more traffic. As you publish transcripts to your site and start building momentum, Google will slowly rank your website higher if it will recognize you are a trustworthy creator. This is one of the best ways to grow a podcast organically.
---

20. Show Up As Promised and Publish Regularly
I already talked about the importance of publishing regularly, but now let's go a bit more in-depth on the topic.
Start by creating a schedule, one that is realistic for you, and that helps you publish regularly enough to keep your audience engaged. Once a week, minimum!
Once you find the perfect schedule for you, announce it to your audience so they can mark their calendars. But this is actually the first agreement you make with your audience. You make a promise, and then they will check you on it.
And most importantly: publish as you promised! Record in batch to make sure you always have content ready should something come up for you. 
If you can deliver on this promise of free content, this will build a bond between you and your listeners and help you grow your podcast much more effectively if you would publish only when you have time.
Finally, what if you are unavailable? Easy! Just schedule episodes as soon as they are recorded, so you don't have to worry about their release when you're away. Have a lineup of episodes scheduled for a release in case of an emergency.
---

21. Monetize and Reinvest 
Finally, monetize and then reinvest!
How to monetize? A few quick ways include ads and offering premium products. Start with the $5 offering I previously talked about. Then scale from there. This new offering won't necessarily focus on bringing you more clients. It will focus on offering something your current clients would pay good money for. 
If you're out of ideas, ask them what kind of premium products they would like to get? What premium product do they feel you could add?
Another good way is finding sponsors for each episode. They should always be sponsors that create products related to your content so that it doesn't feel like empty marketing to your audience.
You can start to monetize your podcast with affiliate marketing. It is easy and quick to set up and a good place to earn early on.
Once you are earning revenue, reinvest at least a part of it to create better content.
Things you want to invest are:
Higher quality podcasting gear,
New recording space or soundproofing your current location,
Better media hosting plan,
Premium hosting for your website and premium theme,
Episode transcriptions.
The list can be very long. Focus on things that either give you more time to create, bring more listeners, and improve listeners' experience.
---
Conclusion
Growing a podcast to 10,000 downloads per episode is not as difficult as it sounds. To grow a podcast to this level will require from you, focus, and execution of a good plan.
Focus on creating quality content first. 
Find your ideal avatar and define the problem your podcast aims to solve.
Don't waste money and energy promoting on every marketing channel out there. Instead, find the ones where your ideal listeners are more likely to be, to search for answers, and prioritize that. 
Spend time in groups and engage with potential listeners. It is both a way to know what content you should be creating and to advertise your podcast.
Know your niche and stick to it. And to build more trust and engagement, start offering freebies, then gradually move to paid content of about $5. Eventually, you'll be able to truly monetize and offer premium products.
Don't overlook the technical aspects. Your host, the directories where you are listed, and the audio quality of each episode matter!
Find guests that add value to your content. And don't be afraid to leverage your guest's audience. They could quickly become your audience too!
Finally, stick to your schedule. Create content in batch and schedule it as soon as you record it. Avoid disappointing your listeners, and they will appreciate you by sharing, giving positive reviews and ratings. Believe me, just promote a podcast you'll get to 10,000 downloads per episode quicker than you think!