You decided you want to take advantage of podcasts and create one to bring awareness to your brand. You research the market, find the topics that would most interest your ideal clients, and then get to work. A common mistake you might be inclined to make at this point is to just deliver your content without engaging with your audience. 
After all, there is no way for them to leave a comment or answer back. If you want to be successful, however, customer engagement in podcasting is a must. Whether it is through your website, a chat, email, or an online community, podcast engagement is a must. 
In this article, we focus on explaining why listener engagement is so crucial for podcast creators. Before we go into details, let us recognize that: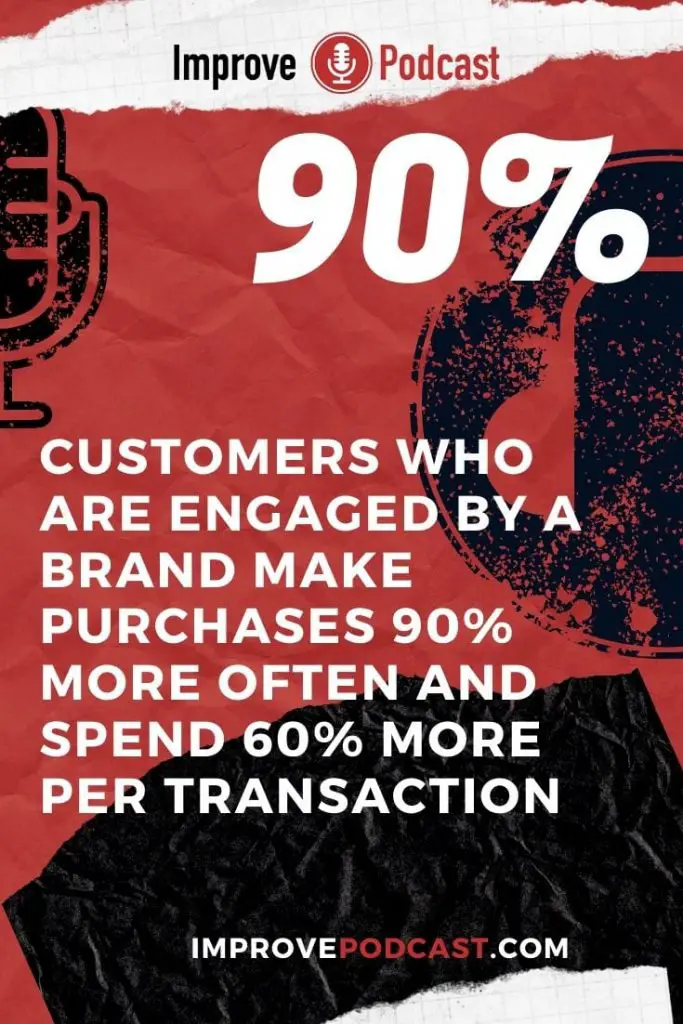 Customers who are engaged by a brand make purchases 90% more often and spend 60% more per transaction than those customers who aren't engaged (Rosetta Consulting)
66% of customers are willing to spend more with companies who provide superior customer service  (SAP, Customer Service is the Heart of Marketing)
Remember, some aspects can take your listener out of the immersive experience of your show, thus negatively impacting your podcasting engagement. Those factors usually come back to bad audio, and fortunately, there are things you can do to improve the sound to keep listeners immersed and engaged:
---
1. Engaged Customers Buy More
Delivering valuable information to your listeners is the first step towards creating a successful podcast. However, that does not mean your audience will automatically turn into paying customers. 
They will subscribe to your podcast and listen to each episode, but to get them to buy your products, you need to do more.
In the retail banking industry, customers who are fully engaged bring 37% more annual revenue to their primary bank than do customers who are actively disengaged. (Gallup State of the American Consumer 2014) 
Fully engaged policy owners purchase 22% more types of insurance products than actively disengaged policy owners. (Gallup State of the American Consumer 2014)
When you engage with customers, they are more likely to buy from you. Why? Because engagement builds trust, it forms a relationship between you and your audience. 
People are always more willing to buy from someone they trust, and they feel they know, even if they've never personally met you. The key is to deliver value on your podcast consistently.
Just think of it this way: would you buy from someone who replies to your comments, you always seem to have an answer to your questions, who asks questions and cares how you feel or would you instead buy from someone unresponsive, never interacts with you, just delivers a speech then walks away?
---
2. Engaged Customers Accept Higher Prices
It is a known fact that podcast listeners are, on average better educated and have a stable income. It makes them better-paying customers. 
But if you also turn your listeners into a community and start engaging with them, they will not only buy more products. They will also accept higher prices. How can that be? It's really easy. If you offer something of value, they will come to recognize that and pay accordingly more.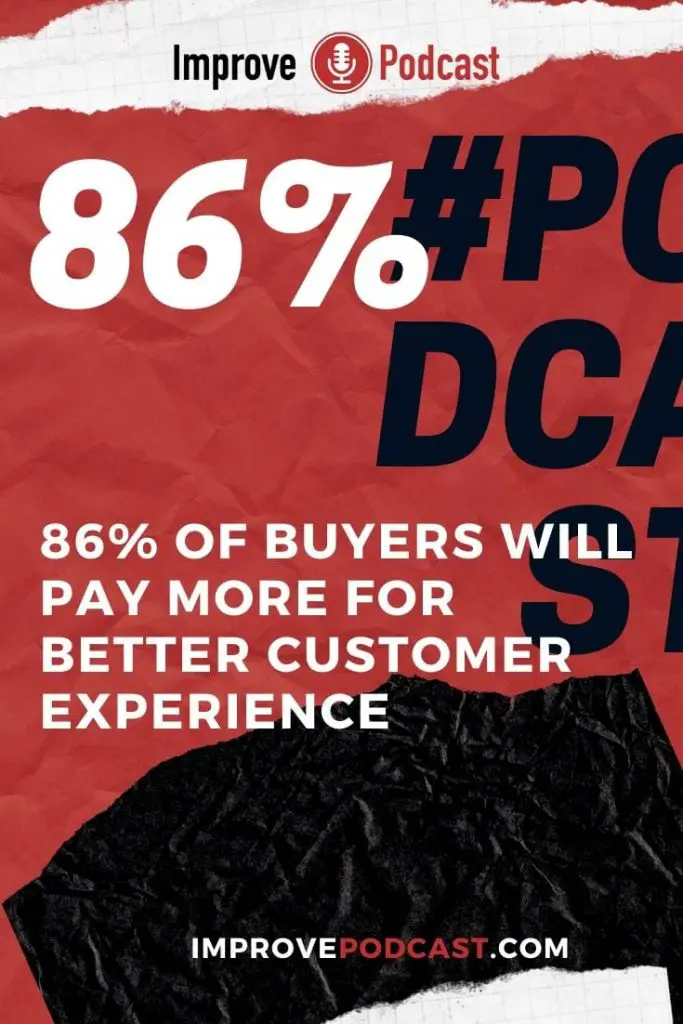 86% of buyers will pay more for better customer experience (Forbes)
Customers who are fully engaged represent a 23% premium in terms of share of wallet, profitability, revenue, and relationship growth. (Gallup State of the American Consumer 2014)
Even if you can't or won't build a community in the real sense of the word, you can still engage with your listeners enough to make this happen. 
Have a way for them to contact you and listen to what they have to say. What their questions are and what they want to hear. The key is, again, to offer something of value. Believe it or not, authentic engagement from a podcast host is valuable in and of itself, and customers feel that.
---
3. Improve retention, decrease churn and save cost
Another reason why customer engagement in podcasting is a must is to improve retention. Google is indexing podcast episodes. It means more people can find your podcast through a simple Google search. But that does not automatically mean that they will also become a subscriber, let alone a paying customer.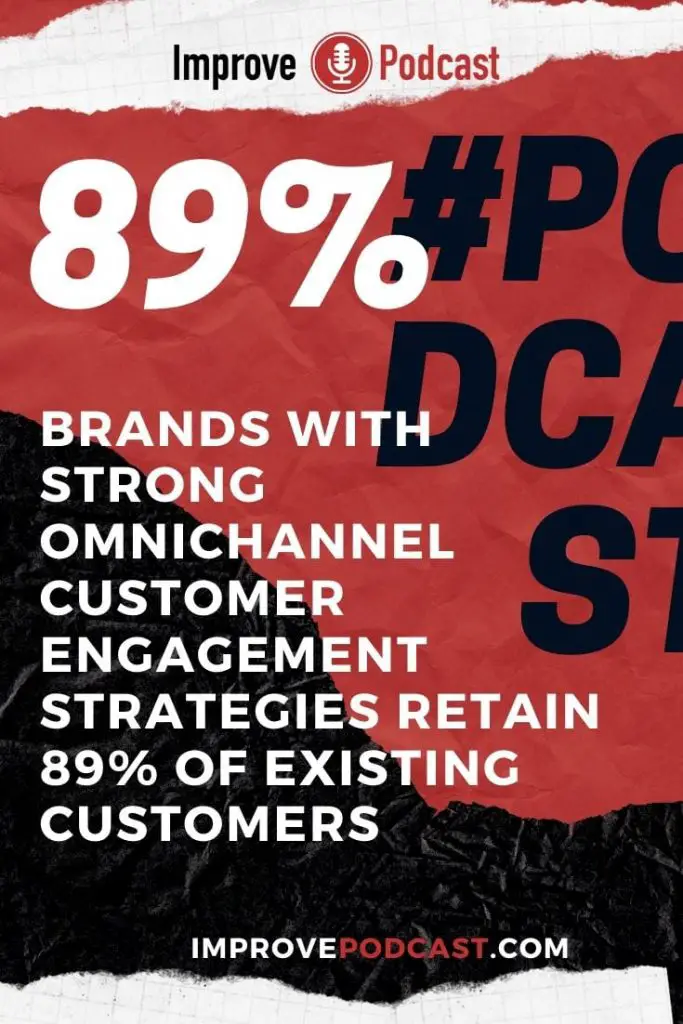 Brands with strong omnichannel customer engagement strategies retain a staggering 89% of their existing customers (Aberdeen Group)
A 2% increase in customer retention has the same effect as decreasing costs by 10%. (Leading on the Edge of Chaos, Emmet Murphy and Mark Murphy) (Emmet & Mark Murphy).
Find ways to engage your listeners during every single podcast episode. Do not rely on the idea that they will click on the well-hidden link to your website in the episode's description. Most of them won't. Most of them might not even see that description, because they'll be listening to the episode while driving, or working out.
They need to feel like you are talking directly to them in that episode so that they feel they want to hear more. Your listeners might not know who you are, maybe they have never heard of your brand, and are merely looking for an answer. So give them that, and make them like they had found a friend, and they will subscribe.
---
4. Engaged Customers Give Good Reviews and Recommendations
Let's be honest: we all want good, honest reviews. The fact that they are not giving any is an indication they don't hate you and don't want to scream at you, sure. But it also says they just don't care enough about your content either. While listeners with neutral feelings are still listeners, they will rarely become buyers.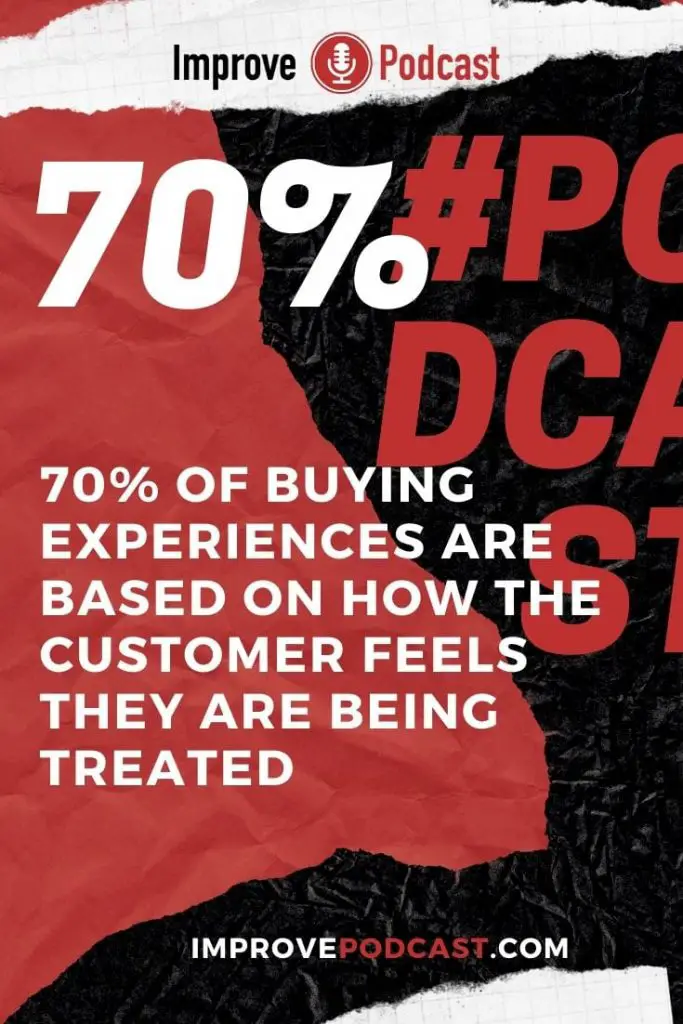 70% of buying experiences are based on how the customer feels they are being treated. (McKinsey)
But there's something more than just gaining buyers here. Good reviews will help your podcast appear more exciting and get more new listeners and, in result, a higher ranking. Higher rank will bring more exposure. And exposure brings more listeners and customers. OK, we do always get back to customers, because that's what any business owner truly wants.
How can you convince people to leave a review?
Engagement, of course! Ask them what they think about your podcast, about the episode. You can even ask for reviews if you wish. Constant, genuine engagement will make these questions come naturally, not as attention-seeking, and people will be more open to doing it. And of course, if people are happy about what your content and how you engage with them, they are more likely to give you good reviews. 
---
5. Online Engagement Drives Visits to Your Brick and Mortar Location
We've talked a lot about how podcasts can help drive traffic to your website and increase sales in your online business. But what about those who have physical stores? Do podcasts have the same benefits for their business? They most certainly can.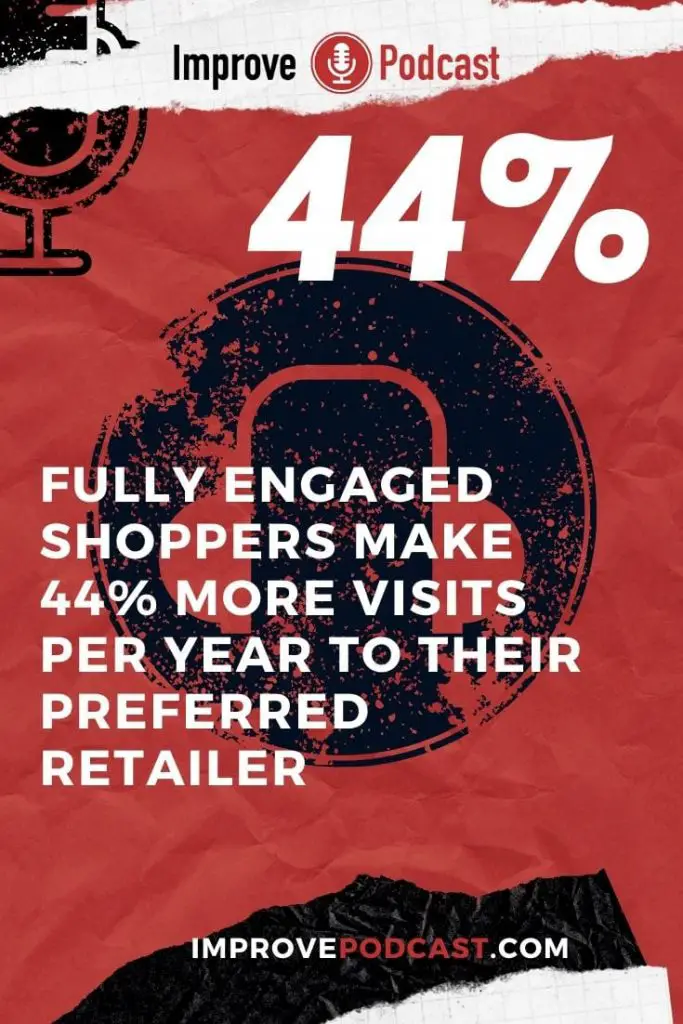 Fully engaged shoppers make 44% more visits per year to their preferred retailer (Gallup State of the American Consumer 2014)
Of course, not everyone who listens to your podcast will be able to visit your physical store. The podcast is available worldwide, the store is a little harder to reach. But I'm sure you never really imagined someone from the other side of the planet coming to your brick and mortar location.
Those who are close enough though they might consider visiting you, just like they will visit your online store. With proper engagement and if you run your store personally, they could even be tempted to come and meet you. It all comes back to the same idea: engaged clients buy more, both online and offline.
---
6. Customer Service Will Allow You to Stand Out Among Your Competitors
Customer service is crucial in every business. We've all had some issues with a provider, and we had to talk to a customer service representative. Problems are sometimes unavoidable, and some will have questions regarding your products. How you respond to those queries is everything.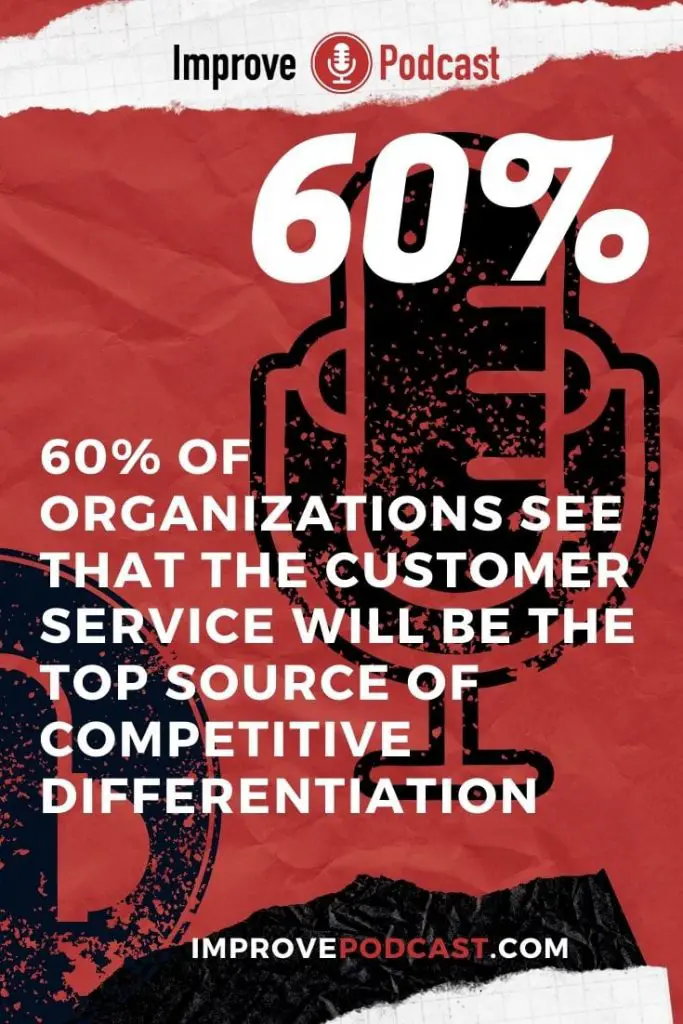 60% of organizations see that the customer service will be the top source of competitive differentiation (The Service Council's (TSC) Service Transformation: The Business Case)
Depending on your business and the topics in your podcast, you might be able to use your show as a form of customer service. 
Address the most common issues you see, maybe at the end of an episode. It will serve several purposes.
Placing it at the end is the right way of showing everyone you have excellent customer services, but it will not bore those who are not interested in the problems you address.
It will show all your listeners that you care about them and that you take all problems/questions/complaints seriously. Even those who never had questions will appreciate it. Wouldn't you want to be sure your problems will be addressed at the right time? Of course, you would! So do the same for your audience.
It will be less work for you, as opposed to answering each query separately. However, be mindful also of answering some queries personally, to build even more engagement and a closer relationship with your customers. Find a balance between answering questions collectively and individually.
People are disappointed in customer services in general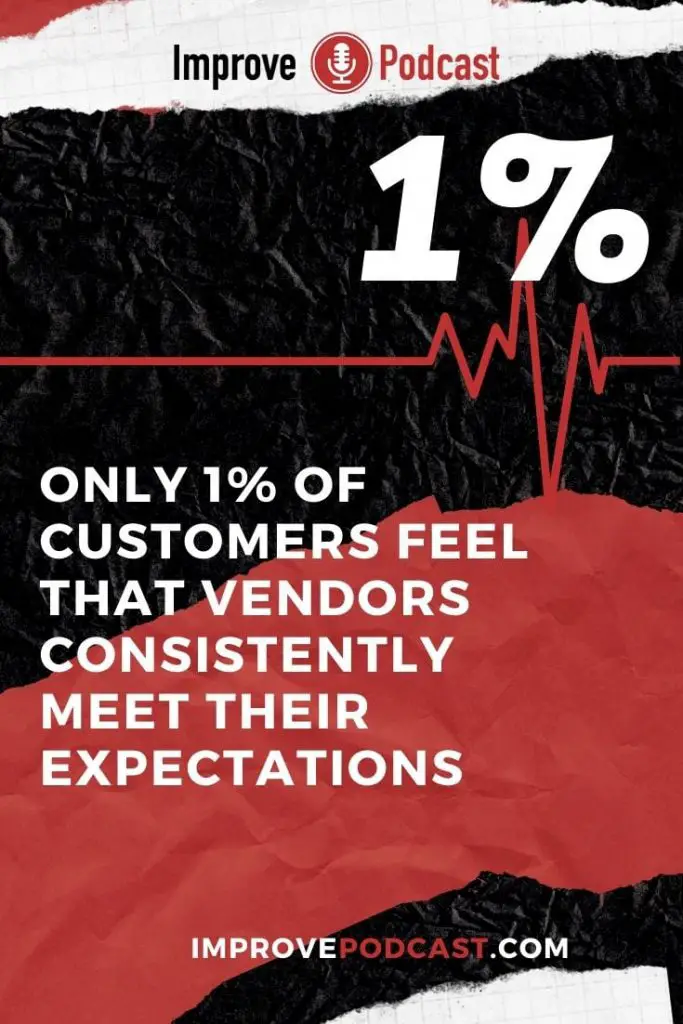 Only 1% of customers feel that vendors consistently meet their expectations (Forbes)
It is why, when done right, customer service allows to stand out among your competitors. Think about this: most product reviews contain a section about the customer service of that company. Who do you think people are more likely to choose? Those with excellent customer service or those with a bad one?
Here's another truth: people are generally disappointed in customer services. Each time they hear those two words, they think of things like:
a long time spent on-hold on the phone
messages, sent via an online support system, that get answered weeks after they were sent
customer representatives who are not very knowledgeable and are unable to help them, but just talk a lot of nonsense
The list can probably go on. Make sure to offer them a different experience when they come to you. It will make you stand out among your competitors in no time!
---
7. Availability via Email and Chat Increases Sales
Customers prefer person-to-person contact in the buying process. Depending on your product, some will feel sufficiently confident to buy without talking to a person. But when they do want to talk to someone, it is best to be available either via email or chat (or both).
Be responsive and helpful. Some will have questions about your products. Others might want simply to see how responsive you are. Either way, being available via chat and email will increase overall sales because it builds a connection with potential customers. 
45% of buyers require person-to-person contact in the buying process (ITSMA/CFO)
Maybe you wonder what this has to do with podcasting. I've seen many podcasters forget about the importance of one-on-one chatting with potential clients. They feel that if they give their listeners a means to send questions and then answer them on-air, it is enough. For some, it may be. But as I mentioned previously, some people like the feeling of talking to you directly.
Just like with customer service queries, find a balance between what you answer on-air and what you explain in person.
---
8. Clients give data in exchange for personalized customer experience
Customer engagement in podcasting can also help you create a personalized customer experience. Having ways to interact with your customers is critical, but thorough demographic research can be just as helpful. Know your audience, your ideal customers. Who are they? What do they want? Offer precisely what they are looking for.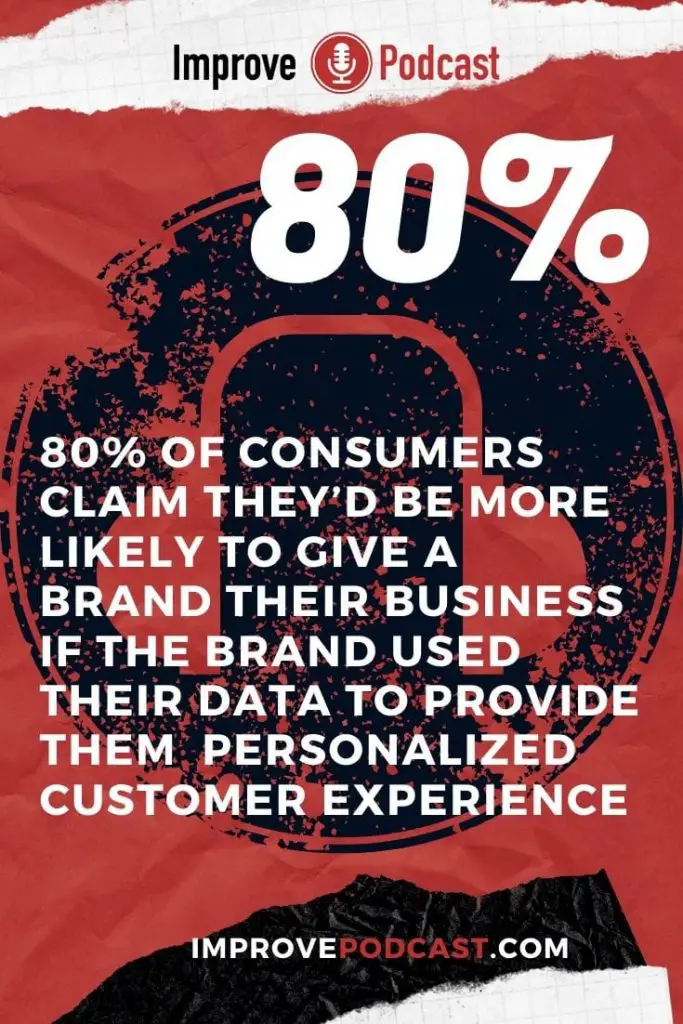 80% of consumers claim they'd be more likely to give a brand their business if the brand used their customer data to provide them with personalized customer experience (Edelman).
Through direct, one-on-one engagement, you can take it one step further, by creating products tailored to their needs.
There's also another side to this. The knowledge they will receive a personalized product will make potential clients give data in exchange for those services. 
The best way to find more about Clients and offer them something personal when your primary product and channel is podcasting is to start communicating through emails. For this, you need to have a podcasting website and collect email addresses. 
Offer them a more personalized offer, and they will leave their email addresses. 
---
9. Improved lifetime value and get recommendations
Another great advantage of customer engagement in podcasting is the overall improvement of lifetime value. Engaged customers are more likely to stay with you for longer, to come back and make purchase after purchase. They are also more likely to recommend your services to friends and family.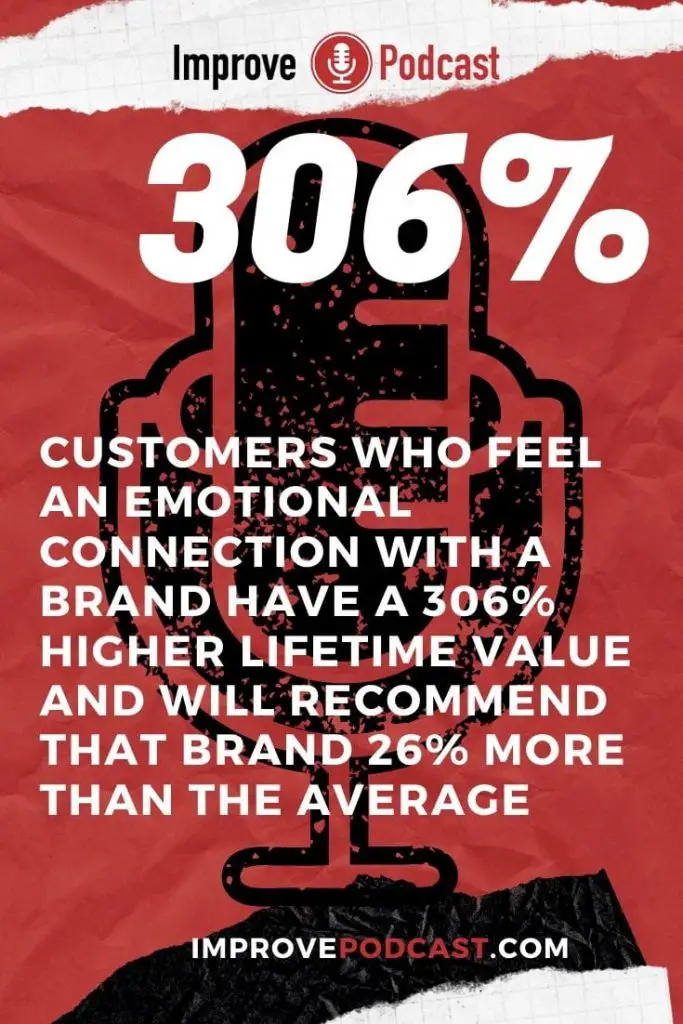 Customers who feel an emotional connection with a brand have a 306% higher lifetime value and will recommend that brand 26% more than the average (Motista).
Use your podcast to your advantage to make sure you keep clients interested. Sure, there will always be new people to find your show, and that's great, but don't always address them.
The keyword is, again, balance. Find the balance between how much you address your new listeners. You can take different approaches to the ones who are not yet your clients and those who have been with you for quite some time. 
Long-term customers understand your value
When you offer proper engagement and value, it will be easier for long-term customers to accept price changes. New customers, who don't know you, will most likely look for the lowest price on the market.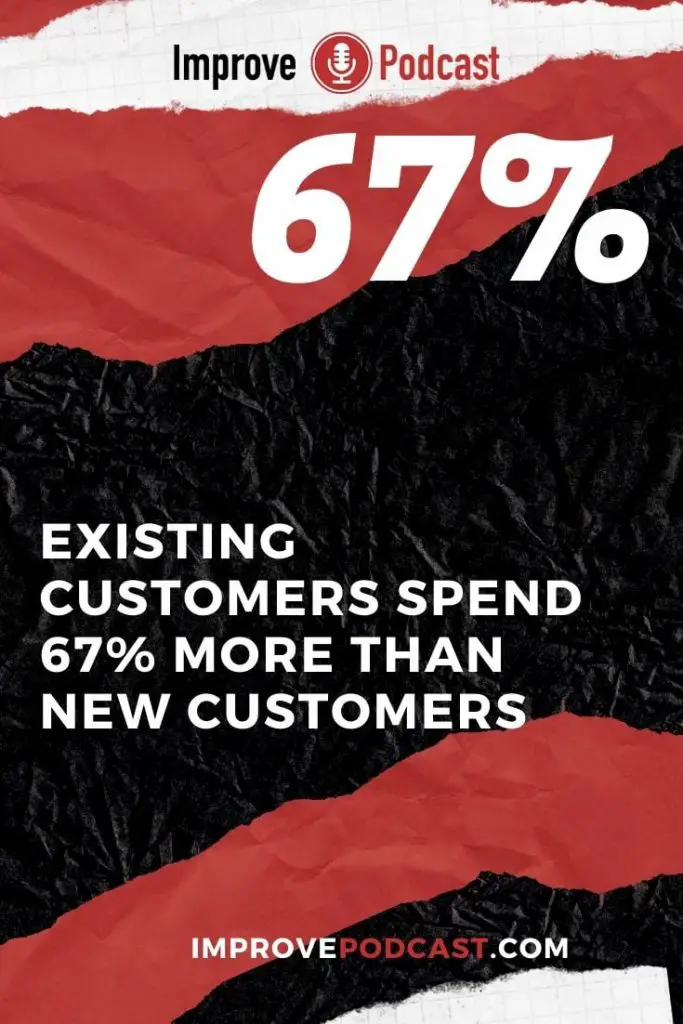 Existing customers spend 67% more than new customers (Bain & Company).
Sure, they will also look at reviews, and some will be willing to pay more from the beginning if you have a lot of good reviews and convince them with your offer or your podcast. Old customers, those are convinced of your value, who have seen your business grow and have also grown with it, will be more willing to accept the increase in price because they understand your value.
It goes back to point 2 in this list – engaged customers are willing to pay more for services. Everything connects, and the idea is simple: if you offer value, you will receive value. And if you are close to your customers, they will get closer to you.
---
In conclusion
The short conclusion is a simple one: engaged clients are happy clients. And satisfied clients buy more and are willing to pay more. A podcast is a fantastic way to build engagement with your potential clients, a community where everyone can feel they found a friend in you. Remember always to be responsive. 
Do not become just a voice they hear whenever a new episode is published, who talks about whatever the topic of the day is, without ever addressing the listeners. With engagement, you will earn trust, something that should be the foundation of any business. Trust will bring with it returning customers, good reviews, and recommendations.