When planning a podcast season you should:
Leverage benefits of longer podcasting season format
Mitigate risks when creating podcasting season
Plan number of episodes and control flow of your story
Set expectations for a continuation
Build a more engaging narrative
Interconnect episodes and finish with cliffhangers
Finish episodes with brilliant cliffhangers to build expectations
Control the flow of your story arc
Answer questions timely. Raise new questions
Should you release the whole season at once or episode by episode?

---
What are the pros of recording a podcasting season?
The higher amount of episodes allows you to explore in detail topics you want to cover, discuss them more thoroughly and don't take shortcuts.
When starting to work on the season you must plan better thus resulting in a higher quality of each individual episode.
You can combine your time you would spend on research, script preparation into one big block before you start recording ensuring a higher quality of your content. You also get this way more time for content development for arching stories.
Recording and editing can be handled separately and in bulk resulting in better quality control and better proficiency.
Possibility to mass release all of the episodes at once providing an instant reward for your listeners where they can make their own decision when to listen to all your episodes.
Allow for good marketing opportunities when promoting seasons.
---
What are the cons of recording a podcasting season?
As most shows are released episode by episode throughout the whole year you may have a period of offseason, where no new episodes will be published. You could lose some listeners and are going against getting your audience used to visit you regularly.
Producing a season will take more time to plan, prepare and get your season ready for publishing. With the same time spend you could publish more episodes without combined seasonal narrative.
Seasons can be more challenging for starting podcasters. Building an audience takes time when you release a season without some small audience getting momentum might take time and but frustrating.
What after? You should declare to your listeners what happens after you finished your season. Without clear information and with a too-long break between seasons you can lose listeners.
If you are still working on an idea for a podcast and looking for an inspiration we have compiled with a long list of potential topics: 40 Podcasting Shows Ideas Available for the Taking Now!
---
1. Leverage benefits of longer podcasting season format
Develop a project plan when starting work on a season. List of all the actions you will require to complete before release. Estimate the time required to research, scripting, recording, rework, editing, marketing, and publishing.
Benefit from longer time slots booked for research and don't exceed time planned. Make a good habit of closing tasks and delivering results against scheduled action items.
With research and scripting combined with too large blocks make the best use of this time. Make sure times invested here results in better quality if you would record on a regular 1-2 week schedule.
Plan better transitions between episodes. Make good use of all different techniques – cliffhangers, revelations, discoveries, etc. Use them smartly to generate higher user engagement.
Plan for marketing. You can build interest and capture attention with smart marketing actions promotion upcoming season. Don't publish and wait for your users to come to you. Build interest and let them wait for your premiere.
---
2. Mitigate risks when creating podcasting season
Don't overrun on planned actions. You don't want to be stuck in the endless development process. Unless you have a very good reason to finish your research according to your plan.
Develop your audience before publishing. Find communities interested in seasons. Get them signed up to your podcasting show, gather their emails. Prepare a teaser introducing briefly your audience to what awaits them in your season.
Plan for future work. When developing one season your creativity can be really improved and you can have a lot of new ideas. Don't put them all into one episode and make a narrative mess. Have a good notebook for your ideas and start doing an outline for your future work.
Look at the calendar and plan when your offseason is going to be. Try to make the breaks between seasons as short as possible.
Since seasons usually have downtime between them you would benefit from establishing a good brand. For this, it might be helpful to read our strategy for building a podcast brand.
---
3. Plan number of episodes for podcast season
The key problem you need to solver here is finding the right balance between the number of episodes vs maintaining and producing the highest quality.
Start with a length that will not overwhelm you. Do a season that you can start, develop and close in a satisfying way for you and your listeners. With your first project don't get over ambitious if you don't have too much experience. Start with a shorter format of up to 8 episodes. There are multiple shows with 10-12 episodes and this length can also be successful if you can manage production and quality.
If you will become flooded with ideas during development pick the best ones you can use for this season and rest put on the shelf to be used in your next season.
---
4. Set expectations for a continuation and maintain interest
You don't want to lose the audience you have gathered between season. As soon as you finish a season, maybe even in the last episode announce immediately what are you currently working on.
In between seasons deliver small teases of your future work or prepare a few extra episodes. This will keep alive the interest of your audience and remind them you are working on new seasons.
Prepare a teaser a month before you publish your show. Let your audience know what they can expect. Don't let them forget you and lose interest.
If the format of your season allows trying to find ways of involving your audience in the development process. Ask for opinions, what would they like to hear, which aspects of your show you can explore more.
In order to effectively set expectations and communicate with users, it is very useful to have a dedicated website. To help you build one correctly we have prepared this Podcast Website Marketing Guide.
---
5. Build a more engaging narrative
The goal of the season is to deliver a longer story with higher quality when you would try to tell it in one episode. To have more engaging a long narrative you can:
Have more details – you have time, don't omit elements interesting for your audience, good details can make your audience help to feel in the center of the events.
Have more characters – people move the story forward, introduce interesting and fleshed out characters. Explore human backgrounds and motivations, that is the most interesting thing behind their actions.
Have subplots – with various length and complexity. Some may last in parallel to the main plot others should be opened and finished in a shorter span of just one or a few episodes. Closing subplots in a satisfying way is extremely important. It offers a promise of a great finish to the overall story and main plots.
Build tension and suspense – introduce elements of uncertainty for each subplot and each character. As the story develops raise stakes with new facts and events so the audience will not be certain of the final resolution.
Close episodes with cliffhangers – have your episodes finished within an uncertain and interesting way. This action serves as the front selling of your next episodes. You have to keep your audience invested in the story.
---
6. Interconnect episodes for better story flow
With one season you can tell a longer story where each episode should be like pieces of a puzzle. Each one of them should have an inner main theme where you open threads and close them by the end giving some satisfaction to your audience.
This is not just a narration method but it has a more practical reason. You never know if a new listener starts from the beginning of your season or in the middle by stumbling into one of the episodes. With good interconnection between episodes, you encourage your listener to go back and check the entire season.
If you want to learn more about how to connect episodes check out 9 key tips on how to plan podcast episodes.
---
7. Finish episodes with brilliant cliffhangers to build expectations
A good end to an episode should close the story presented in this episode, reward the audience with some closure and also open story arc. When finishing an episode try to build suspense and introduce a new challenge to overcome in the next episode. Popular cliffhangers to use are:
Mystery – introduce a new question at the end
Loss – physical or emotional, goal is to create a sense that it can't be dealt with
Failure / a close call – something important was almost accomplished but it failed
Hope – something desired or positive will transpire soon
Immediate danger – your character is in danger and needs to act now or get hurt
Looming threat – an event has occurred which will create future negative consequences
Decision countdown – a deadline has to be met or decision has to be made immediately
Unexpected accident/news – an event beyond the control of the characters has happened to change the situation
---
8. Control the flow of your story arc
When starting to write a season have a basic structure in mind at the very beginning. Apply traditional three-act structure when developing your season:
Act 1 – within the first act you introduce your main characters, establish the background of the main story and relationships between different actors. The second objective of the first act is to introduce an event known as the inciting incident, or catalyst which happens to your main character (the protagonist). The attempts to deal with this incident need to lead to the end of the first act with the first plot point, where an established order is upset and unpredictable events may happen.
Act 2 – the main goal of the second act is the character development/character arc. Your main character tries to solve the situation initiated in the first act. Typically the protagonist faces initial failure (sooner or later) showing a lack of skills and general lack of preparedness. This, in turn, leads to growth and development and changes in the character.
Act 3 – the third act serves to resolve the main story and all the subplots. The key event is the climax where the tension is the highest and the most important question is answered. The conclusion and revelation should also impact and change your main character and reference the setup of the first act (is everything back to normal or has the character and world evolved).
Properly modified the three-act story is a good basis for any starting podcasting season.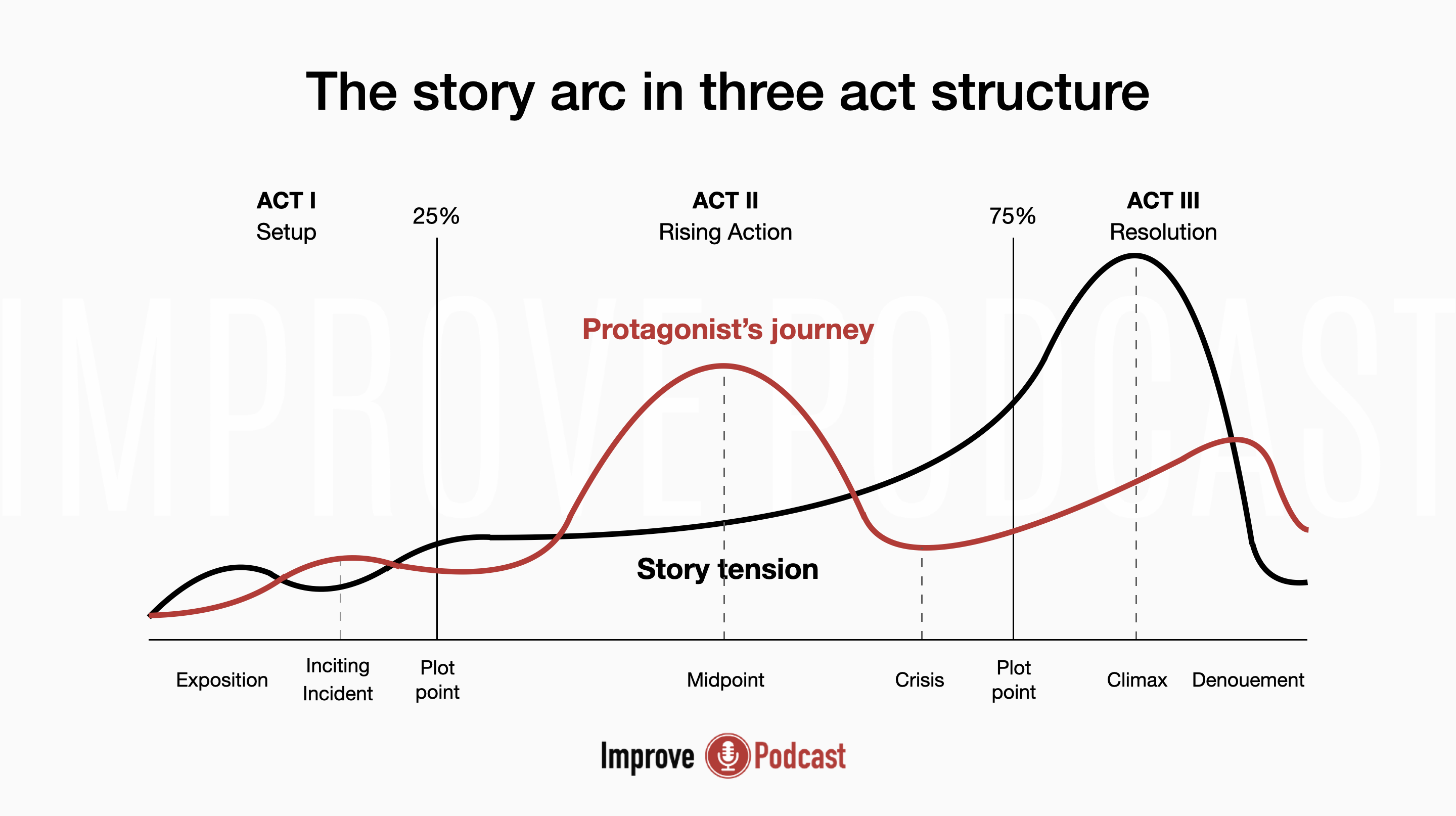 ---
9. Answer questions timely. Raise new questions
Your podcast and story you are telling need to be satisfying to the listener. As you introduce the main plot and subplots you need to deliver answers evenly during the time of your whole season. Those small rewards serve as a reward for the listeners and a promise of a good climax and satisfactory third act.
When planning a season have all your subplots listed alongside the midpoint for all of them. Then spread them wisely through the whole show to maximize the tension of the story and reward for the listener.
---
10. Should you release the whole season at once or episode by episode?
Releasing at once is great for your audience but can be bad for algorithms. When you are starting and without an established audience it will be better for you to release episode by episode every week.
People can really enjoy the accessibility of your all episodes at once and the possibility to enjoy your content as soon as possible. This also has the potential of a large one time spike in traffic. The problem you will face is that podcasting directories algorithms are judging the frequency of publishing. If you release content in regular intervals algorithms can judge you more favorably and display you to a wider audience than if you were to publish all your episodes at once.
If in doubts on how to publish an episode we have prepared this short guideline How to publish a podcast in 4 easy steps?