2019 was an excellent year for podcasting as awareness kept growing:
17 mln more people are aware of podcasting in 2019 vs. 2018
20 mln more people have ever listened to a podcast
But more importantly:
17 mln more people are regular monthly podcast listeners
14 mln more people are regular weekly podcast listeners
2020 will be even more significant. Currently, in 2020, we present our best outlook. Real market data will be available in April. Make sure you subscribe to our newsletter so we can inform you once the update is available.
---
This article is part of a wider, 3 article series allowing to fully understand podcasting market. Click on the images to proceed and learn more about podcast listeners' numbers and trends in the podcasting market.
---

Podcasting Market Statistics and Analytics – 2022 outlook for better-informed decisions
---

Podcasting awareness and projection for 2022
2019 is a milestone year for podcasting. Awareness, listenership, frequency of listening, the average number of podcasts listened to – all the significant statistics are at all times high. Those factors mean it is an excellent time for podcasting, and that we are in a rising trend for podcasts to become even more popular in the next few years.
Awareness for podcasts in 2019 is at 69% of the population at 197 million people
A decade of growth means that 74 million more people are aware of podcasting than 10 years ago in the U.S. alone
Our projected growth rate means that by 2022, 87% of the U.S. population will become familiar with podcasting. This is on the same level as 2019 awareness for Snapchat and 2018 awareness for Twitter and Instagram. This is a higher level than the 2019 awareness level for Pinterest, LinkedIn, and Whatsapp.
87% awareness level in 2022 means an additional 50 million people will know about podcasting
---

Podcast consumers and outlook for 2022
Another significant milestone achieved for podcasting is the fact that for the first time in history the number of consumers who have ever listened to podcasts surpassed 50% and is currently at 51% which means 144 million people have ever listened to a podcast
This means that in the last 10 years additional 79 million people have listened to podcasts, and this is an excellent proof of rapidly rising popularity of podcasting as currently every 1 in 2 Americans have listened to podcasts while just 3 years ago it was only every 1 in 3.
We project that due to increasing awareness, better quality and ever-growing choice by 2022 share of consumers will achieve another milestone and will exceed 61% adding 23 million listeners to reach a total of 173 million
We have to acknowledge that measuring "ever listened to podcasts" is not exceptionally reliable and conclusive, but narrowing the period of listening to last month and last week confirms the rising popularity of podcasting.
---

Rising frequency of podcast listenership and projection for 2020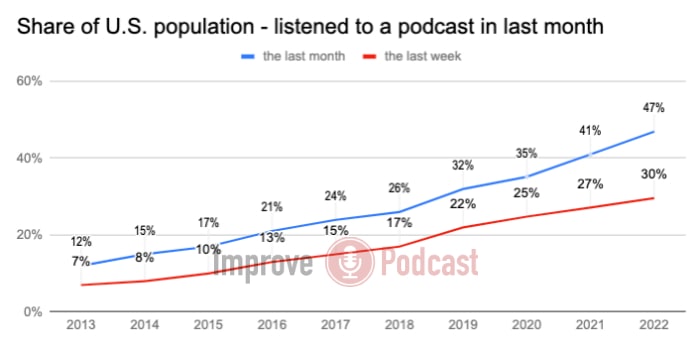 In 2019 over 32% of Americans have listened to podcasts regularly every month, which is 90 million people. By 2022 we forecast this number to go up to 47% and 132 million people. We observe a steady increase in regular listenership. In just 2015, every 1 in 6 Americans listen to podcasts monthly, in 2019, it is already 1 in 3, and in 2022 it will be almost 1 in 2.
People regularly listening every week in 2019 were 22% of the population in 2019. This gives us 62 million listeners. We forecast that this number will grow to 83 million listeners and 30% of the population by 2022. Currently, roughly 1 in 5 Americans listen to podcasts every week, but in 2022 it will be almost 1 in 3. The regular listeners base will grow by over 20 million, which creates excellent growth opportunities.
It is also crucial to notice that once a consumer becomes a podcasts listener, podcasting becomes their primary source of audio consumption. 
In 2019 podcast listeners spent 28% of their time listening to podcasts, leaving behind traditional radio (24%) and streamed music (15%) and owned music (13%). This leads us to the conclusion that podcasting is a highly engaging and habits building content.
---

What are the most popular podcasting directories?
Most listened to streaming services with podcasts in last month

Pandora for years now remains the biggest directory where people listen to online audio despite slowly losing market share since its peak in 2015, where 34% of people declared listening to Pandora.
Spotify is the fastest growing service. In 2013 just 4% of listeners where indicating Spotify as their source of online audio, and in 2019 it is already 24%. If this growth continues, Spotify has a chance to surpass Pandora in 2022.
Apple Music share keeps fluctuating between 8% and 12% since 2013. Regardless Apple platform remains an incredibly important directory for all podcasters.
Amazon Music is growing from 6% in both 2016 and 2017 to 12% in 2019. This is mainly a result of the increasing popularity of smart speakers and the fact that consumers most often choose Alexa powered speakers. 
---

Devices used by podcast listeners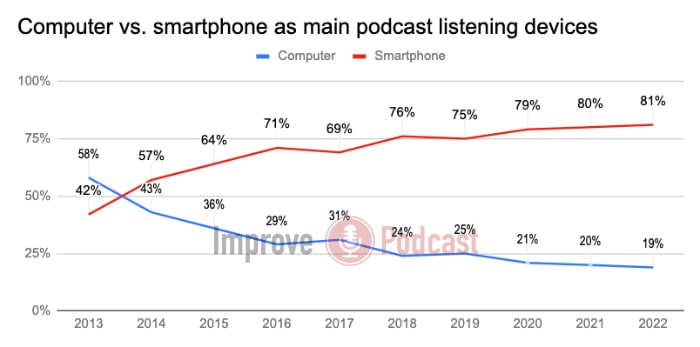 Smartphones since 2014 are primary devices on which people listen to their podcasts
In 2013 only 42% of podcasts were listened to on a smartphone while in 2019, it is 78%.
This trend will most likely stabilize in the next years, and we expect a share of smartphones as the primary device to grow much slower. This will mainly be due to the slowly rising popularity of smart speakers and mobile Bluetooth speakers. Speakers simplify consumption at home, which is still the primary location when we listen to podcasts. Remaining top locations, which are car/truck and work won't be affected by this trend.
An increasing trend of listening on mobile devices also means that podcasts listenership at home dropped below half to 48%. We are now consuming more podcasts in cars (26%) at work (12%) and at the gym (4%).
---
What is driving the growth of podcast listeners?
Three main factors globally contributing to the growth of podcasts are:
Higher awareness of podcasting in general – as people are more aware of podcasting and consuming more media online, they eventually start listening to podcasts. However, with an already rich offer of shows, available podcast creators need to work on the promotion of their shows. If you want to learn more about promoting your podcast and attracting more listeners read our guide: How to drive traffic to your podcast – Podcast Marketing Guide.
A wider choice – with many podcasts available, everyone can find something for themselves. Rich offer is a good sign of maturity of podcasting in general and allows attracting all kinds of listeners. Additionally, a wider offer also makes people listen to a higher number of shows. If you are struggling with an idea for a show, review our list available at 40 Podcasting Shows Ideas Available for the Taking Now!
Better content quality – another example of the maturity of podcasts. When looking for a mass audience, creators need to deliver podcasts with the best possible quality. This refers to both audio quality and content quality. Sound quality is especially crucial since podcasts are immersive, and you can hear well if the quality is terrible. Also, as more people are listening to podcasts in cars and public transportation, you want your material to be as clear as possible. From a content quality perspective, listeners wish to have access to well researched, developed, and executed material, and they won't accept compromises. If you want to improve the audio quality of your podcast, check our helpful article 19 voice tips – effective professional podcasting guide, and if you're going to focus on improving the quality of your content, we advise you to check Podcast content planning – build long term value.
---

Podcasting listening time and 2022 prognosis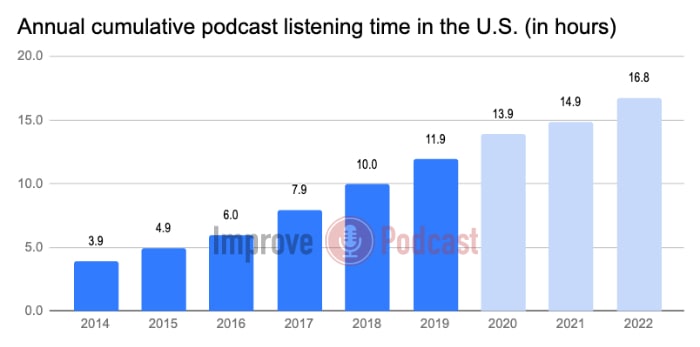 We can observe very large podcast consumption growth in hours of listening. This is a result of:
all the increasing trends i.e.: growing awareness, listenership,
factors contributing to growing podcasts popularity,
listeners' consumption behaviors including the growing average number of listened podcasts.
In 2016 we have listened to 6 billion hours of podcasts, in 2019 it is already almost 12 billion and we expect in 2022 to be nearing 17 billion hours.
If you want to find out more about podcasting consumer behaviors visit our article on Podcasting Demographics 2019 – Marketing Guide to Understanding Your Audience.
In conclusion – summary of key podcasting 2022 outlook – where are we going?
The continuous growth of awareness – we are experiencing continuous rising awareness for over a decade now. We are expecting it to increase from 69% in 2019 to 87% in 2022
The increasing frequency of listenership – expressed by increasing the number of monthly and weekly listeners is very promising. Currently, in 2019, 1 in 3 Americans listens to podcasts every month. In 2022, 1 in 3 Americans will be listening to podcasts every week.
Consumption trends – the faster adoption of smart speakers will increase consumption at home. At the same time, increasing listenership on mobile devices enables higher consumption in the car, at work, or in the gym. Combined with a growing number of shows people are listening to will results in almost 17 billion hours of podcasts listened to in 2022.
This is a great time to be involved in podcasting. Popularity and listenership are steadily growing for over a decade now, and in the next 3 years, we expect it to be even higher and attract an additional 30 million listeners, including 20 million active and regular listeners. To discover more trends in the world of podcasting, check out our analysis Top 8 Podcasting Trends 2019/2020 – Market, Ads, Consumers & Revenue.
Sources:
Edison Research & Triton Digital – The Infinite Dial & The Podcast Consumer