The worst thing that can happen when you listen to a podcast episode is a total lack of structure. If you don't want to come off sounding on your show like random rambling, you need to plan podcast episode structure, from the intro, through the middle section, until the final closing words and a call to action.
How to plan podcast episode structure? Here are 10 things you need to be aware of:
Plan for length
Use three act structure
Plan for pacing
Have an episode's theme
Introduction, back sell and greeting
Raise early questions
Promote other content
Reach closure, satisfaction and have the end in mind
Front sell, thank your audience for listening
Use templates and checklists that will guarantee the quality of your episode.
I have also recorded an episode on planning podcast episode structure – you may listen to it, below, or list to Improve Podcast School in your favorite app.
---
Why should you plan podcast episode structure?
When planning a podcast, you ensure that you deliver a coherent story before you even hit the record button. This allows to maximize engagement, boost the subscription rate, and deliver a high-quality audio experience. Good podcast structure also makes sure that your target listener leaves satisfied and expects another episode.
---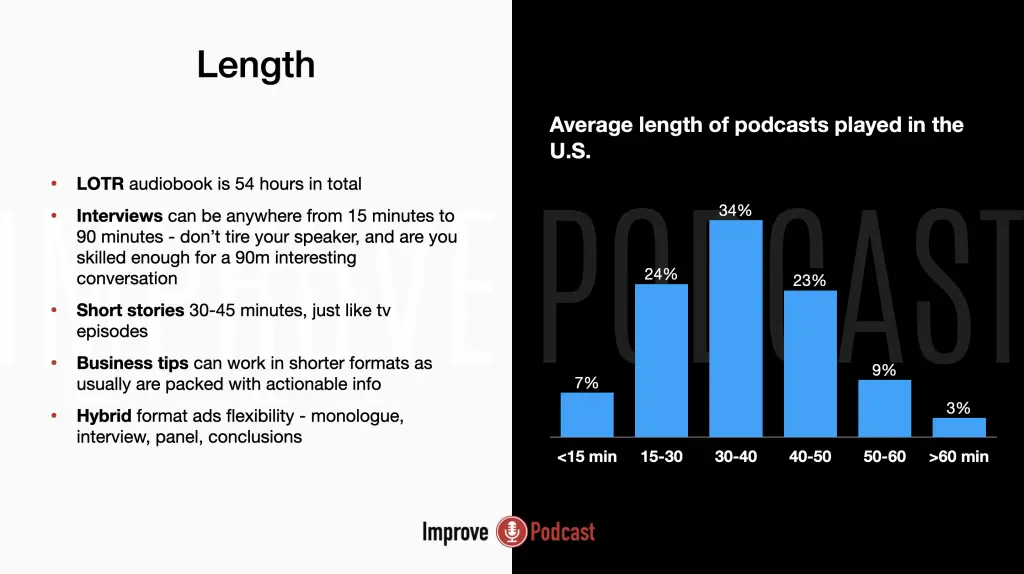 1. Plan for the length of your episodes
The length of an episode is one thing where the audience likes predictability. If you have only one format of all the episodes keep them to the same length. Whether you choose to podcast below 20 minutes, have episodes between 20-30 minutes, or let's say up to one hour try to aim in the same length as often as possible.
Predictability is vital. This should be part of your podcast planning before you launch. You may change the length when a show is already live, but let your audience know in advance.
If you have a good reason for having an exceptional length of the episode, address it upfront. Say why this episode is short or longer than usual. If your length is really extending the normal length, consider splitting the episode into parts.
How to plan podcast episode length?
below 15 minutes – the ideal length for compact podcasts where you provide a lot of useful and actionable tips
between 15 – 40 minutes – great for most content, where you tell a story or have a simple and focused conversation with your co-host or guests,
above 40 minutes – usually good if you have a passionate audience, or you have a long and less structured discussion, where you cover many topics.
Your episode structure should fit the planned length. Give yourself time for an engaging intro and a memorable summary.
This and other interesting statistics about podcast consumption we have gathered in our analysis Podcasting Demographics – Marketing Guide to Understanding Your Audience. Check it out for other valuable information.
---
2. Have a theme for an episode
A theme is more than a topic idea for a podcasting episode. A topic is a subject or general idea dealt with within the episode. Your theme will be the specific idea or a lesson you, as an author, are trying to pass.
Having an individual, driving theme is vital for an episode structure.
The topic of this entire blog is podcasting. The theme of this article is planning podcast episodes" so in this article I'm trying to answer any specific questions and address challenges faced which podcaster faces when planning podcast episodes.
When you are going to plan an episode make sure from beginning to the end you stick to your theme so your episode won't become a chaotic collection of thoughts.
If you are looking for inspiration for new podcast check our list of suggestions: 40 Podcasting Shows Ideas Available for the Taking Now!
---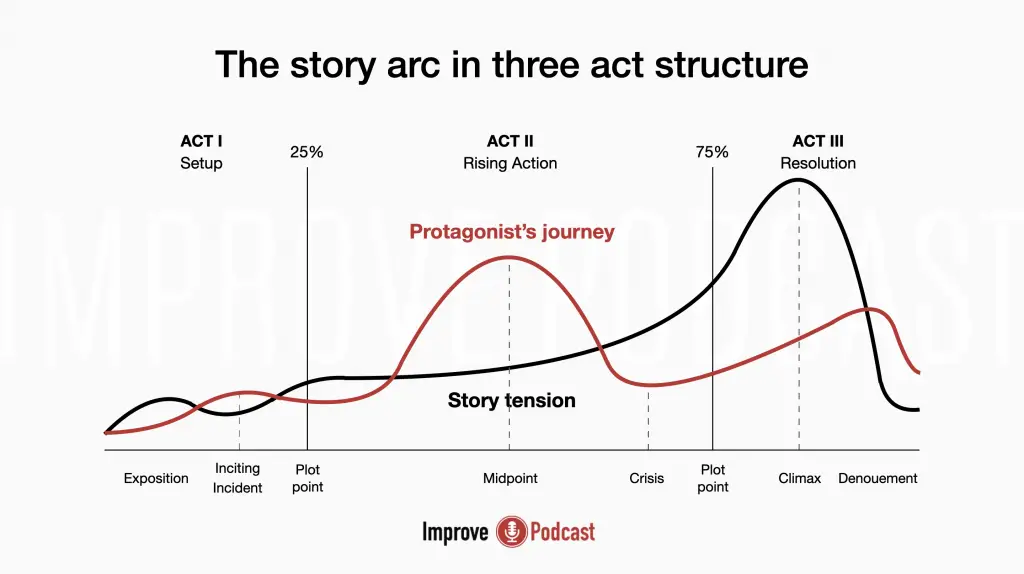 3. Use three-acts for engaging podcast episode structure
Three act structure is a great tool you should embrace. It's not only for long episodes or movies.
Sticking to this will improve your narration even if you have episodes lasting 20-30 minutes. In this case, you can have:
Act 1 – 5-7 minutes long introduction to the main theme, characters, and background for the action (the period in history, physical location, etc.). The occurrence of the inciting incident, or catalyst which your main character has to face. Followed by the failed attempts to deal with this incident ending in the first plot point.
Act 2 – 10-14 minutes for the main action where a character takes more attempts to deal with his problem. Those attempts are wiser and followed by preparation and other story events. This leads to character development (character arc) where at the end the final challenge lays and resolution appears possible.
Act 3 – 5-7 minutes finale where the climax of the story takes place (maximum tension and key story completed) and all the plots are being resolved.
Having a planned structure will help you recognize where you need to start finishing and wrapping up your story.
---
4. Plan podcast episode pacing
Problems with pacing occur when events driving the narrative are incorrectly planned on the timeline of the episode. When struggling with this your episode can come off as too chaotic (too many events, not enough time to reflect) or too sluggish (too long breaks before major events)
Following the three-act structure and moving between inciting incident, first plot point, midpoint, second plot point, and climax will solve your pacing issues. The flow of the story will be smooth, pleasant to listen and rewarding for your audience.
---
5. Introduction, back sell and greet the audience
A start of an episode should have a familiar and recognizable formula, just like a favorite tv episode with key information.
Good components to have in your introduction are:
Musical intro – at the beginning have a memorable quick intro. It grabs attention and is a signal that the show is about to start. If you can't create one from the scratch start by doing a search on freesound.org – you can find a great library of sound under the creative commons license allowing you to use those sounds for free.
Introduction – give your show title, your name as an author, and the title of the episode, and welcome your audience into an episode.
Commercial (optional) – this might be the part of your introduction if you have a website and are developing monetization you may want to encourage your audience to visit your website. Other options may include special offers you are running for your listeners.
Back sell (optional) – you can consider telling briefly what you discussed in the previous episodes as an attempt to promote more of your content and encourage listening. Remember that for some listeners this might be the first time they are hearing you. Recommended if you are telling a multi-episode story.
Promise – tell briefly what this episode will be about. If you have a guest introduce them and tell your listeners what you are going to talk about.
Tip: you may record your introduction and promise after you have recorded your episode. If you struggle with the promise part it will be clear to you what the episode was about once you have finished recording. Sometimes you may find it hard to capture it when planning podcast episode, but it is much clearer after you have recorded and started editing.
Here are the best places for premium, standout music:
TOP
Best Music Source
Ideal for whom?

1

Soundstripe has the highest quality, exclusive music.
They offer 4,000 exclusive songs and over 35,000 sound effects.
check prices

2

HookSounds offers modern, stylish and distinctive music.
They focus on originals and even make custom music requests!
check prices

3

PremiumBeat is one of the oldest and largest royalty-free music providers.
Pick if a huge song choice is your priority (library of c.a. 17,000 songs)
check prices
---
6. Raise some early questions you want to address
After you have finished the introduction you want to reaffirm your audience that your episode is worth listening. Tell them exactly what they are going to hear in this episode. By telling them what they will find out you are selling the value of an episode and increasing the likelihood that your audience will be satisfied after finishing your podcast episode.
When you are podcasting regularly some of your listeners might be familiar with certain themes you are discussing and find a particular episode not useful. By telling them what the episode will be about you are actually respecting their time. If you are honest about it they will gladly check out your next episode.
If you are looking for ways to get more traffic to your podcast we recommend: 10 step strategy for building a podcast brand and getting more listeners.
---
7. Promote your other content during the episode – make references
As your goal is to reach wider audiences, you want to promote your content. During the episode, mention your other work.
When you are promoting your other content, it is extremely important to plan where they fit best in the structure of an episode. Random CTAs perform poorly. They work best if you first talk about something and just then reference where your listeners can find more details.
Directly reference your last episode – the last episode is easy to mention. You don't have to give too much information on how to find it. It will be enough that you mention one of the most interesting things, the most valuable from the perspective of your listener, and reference it was discussed in detail in the last episode
Mention some specific past episodes – if you already have a good material on which you want to build upon and don't want to repeat yourself or simply if your goal is to promote more content you can reference one of the old episodes you have a recorder. It's good to promote a variety of episodes like that but if you have multiple episodes and some of them are more popular than others you can mention them a bit more often.
Send traffic to your website – if you have a website and a monetization strategy ask your audience to visit your website. However, you have to give them a reason for this visit. So don't send them just to your homepage as without clear purpose people probably won't go. Send them to a specific site where they can learn more about the thing you are saying. By giving them a reason and telling exactly where they can fulfill their need you are increasing a chance they will go and visit your website.
We definitely advise you to have a dedicated website for a podcast. If you want to find out more why it is a good idea to have one and what content you should have there, check our Podcast Website Marketing Guide.
Here are best website hosts right now:
TOP
Best Website Host
Ideal for whom?

1

BlueHost is best for beginners looking for an affordable and reliable provider
check prices

2

SiteGround is great for growing if you already have a mid-size audience
check prices

3

Pick WPX if you have a large audience demanding the best experience
check prices
---
8. Reach closure, satisfaction and have an end in mind
When you plan a podcast episode make sure that what you started talking about, all the questions you have raised in the beginning and promises you have made to your listeners find a satisfactory conclusion at the end of an episode.
You have to make sure you have delivered the value which was promised in the title and in the introduction. By closing all the opened themes you are making sure that the things you were talking about in the episode actually reached a point and were building up to something.
Also by delivering the value, you are supporting your monetization strategy. You are proving that your website is worth visiting and if on this website you will ask for their email they may be more willing to give it to you.
---
9. Front sell, thank your audience for listening, finish the episode
As opposed to the introduction and first minutes of the show, the last segment gets significantly less attention from your user. Actually, it gets the least amount of attention out of your entire episode. After all, you just have answered all the questions and gave them the value they were looking for.
Don't neglect the ending when planning podcast structure. Listeners often disengage at the end exactly because the endings are neglected, boring, and may even have a commercial. Squeeze additional value at the end to keep people listening. Make the ending a vital part of your episode structure, and not just "well that's it".
At the end you will have less amount of time to say all the important things so you have to start with the highest priority:
Front sell/promise – sell your next episode, tell your podcast audience when it is going to be published and what theme will you cover
Commercial (optional) – same as previously. Send them to visit your podcast home site.
Goodbye – be a good host and thank them for listening
Credits (optional) – if you need to mention someone (a person, a company, an institution) who has contributed to your show. Maybe you have an agreement requiring you to give credits or maybe you used a public archive that requires you to mention it.
Musical fade-out (not necessary/optional) – less important than the musical introduction. How many people will last that long? Your goal actually should be to encourage them to turn on another episode while still in credit. Before you decide on using popular music samples on your podcast review this article regarding the types of music you can play on your podcast.
---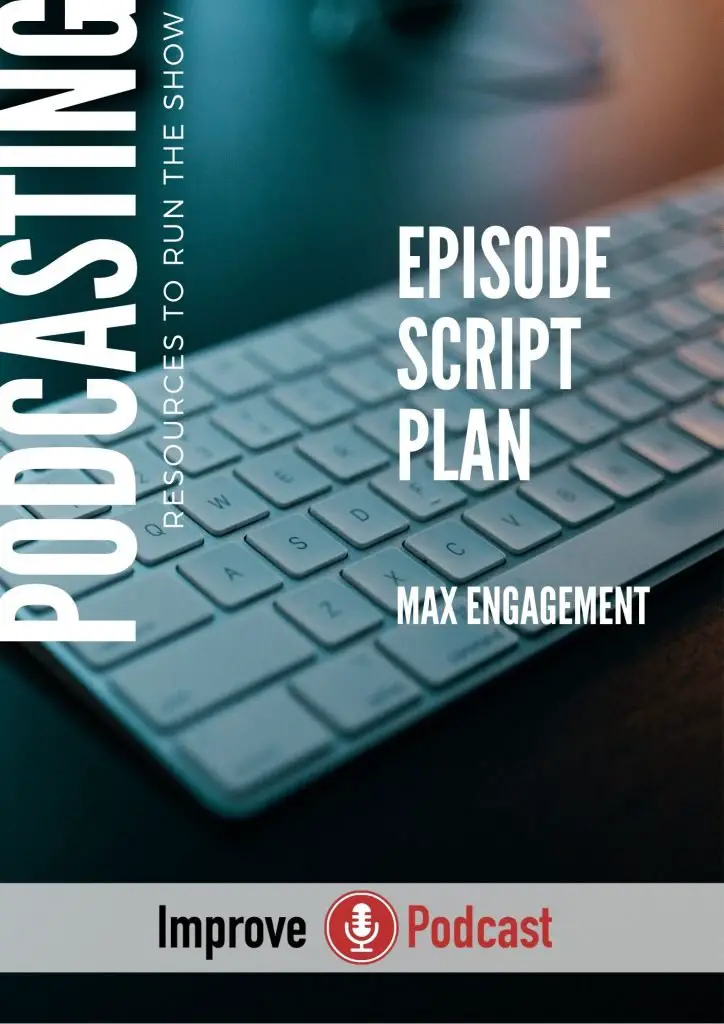 10. Bonus – use powerful templates to achieve your goals
Your episode will be more impactful and more engaging if it is directed to a specific person. We call that a podcasting persona. When you use your podcasting persona, you are preparing an episode for a single individual – your ideal listener.
Another tool you should use to guarantee your success is the script guideline. That way you will ensure that you always cover all the main points, and will have a consistent and engaging story flow.
How to get templates to help you plan podcast episode structure?
Simple, just sign up to our mailing list and you will get instant access.
BTW we frequently add new, useful, and powerful templates with pro tips on how to grow your podcast.
---
Conclusions
When planning a podcast always think about:
what your target listeners are most interested in?
how to deliver most value in the planned time frame?
when to introduce new elements to keep the pace of the show engaging?
is my story leading to a logical conclusion and is it satisfying for the listener?
Next time, when you start thinking about a new show or an episode, instead of just thinking "how to plan a podcast", think "what my audience really want's to hear, and how to deliver it in the most impactful way".