To create a podcast logo that will attract new audience and build you a great podcasting brand remember 5 key things:
Comply with requirements of main podcasting directories
Consider your brand, message, and your audience
Use what is best appropriate: your picture, photography or a graphic
Obey basic color principles
Make good use of the typeface and font
---
1. What is the best file format for a podcast logo?
As we wrote in How to publish a podcast in 4 easy steps? the biggest TOP 5 podcast directories (places where you want to submit your podcasts): Apple Podcasts, Spotify, Pandora, Soundcloud & Google Play Music.
Different directories have different requirements of minimum resolution size or maximum file limit. If you want to avoid rework stick to those requirements and you will be able to create 1 file for top directories.
In order to create podcast logo satisfying requirement of TOP 5 directories, apply those setting:
File size up to 2MB (SoundCloud limit). But work on compressing it and going below 500KB.
Image size of 3000 x 3000 pixels, 72 dpi (this is the maximum limit accepted by Apple Music).
Keep the image as big as possible as some people listen to podcasts on smart TVs so you want the image to be nice and sharp. If you have issues with keeping within 2MB limit reduce the size a little but not less than 1400 x 1400 pixels. This is the minimum limit acceptable by Apple Music. Most directories accept lower limits but to avoid rework and maintaining multiple files don't go below this resolution.
Use file format PNG with the appropriate extension (.png) to avoid losing quality as this is the image your audience will see most often.

Alternatively, all the directories accept also JPEG format with the appropriate extension (.jpg) but you will lose image quality.

Use colorspace RGB (Google Music requirement, they don't support CMYK).
---
2. Consider your brand, message, and your audience when creating a podcast logo
Create something that will last and can be usable in your other promotion efforts – as an avatar for your other social media accounts you will choose to support your podcast's promotion.
The purpose of your podcast cover art is to attract an audience. Visual representation is very important for brands around the globe and your podcast art is the most important component of your brand's visual identity. For most podcasters, it will be the only element they are going to use. For most of your listeners, this will be the only visual they will get to know regarding your podcast.
You can find more useful tips and solutions on brand building in: 10 step strategy for building a podcast brand and getting more listeners.
What you should take into consideration when creating a podcast logo?
Podcast's topic – can you and do you want to visually represent the topic you are talking about? If you are talking about firefighting, car racing, or books you can easily choose symbols representing those topics. You will have to get creative for most of the topics. For example, if you are talking about the food industry: how you are going to highlight that and not create a podcast logo suggesting you are talking about cooking?
"In the Dark" clearly tells us this will be a crime/prison related podcast.
Podcast's tone and angle – funny, serious, sensational, analytical, etc. all types of tones of your podcast can be represented by visual clues. If you are going with the face (picture or graphic) a facial expression can hint towards the tone. If your podcast will be analytical you can have visual hints, like a chart or a magnifying glass. This will communicate to your audience you are going to focus on details.
"Swiss Marketing" with its minimalistic art announces they will be talking about details.
Speaker's personality – as all the podcasts are opinion based some more than others rely on the speaker's personality. That will be most true when the tone of the podcast is comedic and entertainment is an important part of your show. When the concept of your show is built around your personality consider adding your picture or graphic of yourself. In consequence, this will help your audience get to know you a little better and establish a better relationship.
"Armchair Expert" doesn't hide this will be a fun podcast relying on the author's personality.
Audience's age and gender – could be relevant for some podcasts that are targeting specific demographics. If you are targeting young people you can think of using more vibrant colors. If your podcast is for mothers having a picture of a mother or a baby can help in building long term brand commitment.
"Binge Mode: Harry Potter" with its colorful art and lightning tells suggest they will be talking to Harry Potter's book audience.
If you want to learn more about podcast listeners we have great insight and statistics in our Podcasting Demographics 2019 Marketing Guide.
---
3. Should you use your picture photography or a graphic?
When you create a podcast logo you need decide what will be the main motive dominating your logo.
Your picture – this is a good choice if you are developing your personal brand. When you want to highlight that your opinion, curiosity, or approach to life is the core of the show. This can work regardless if you are planning to have visitors or not.
Photography related to the podcast – it will work well to inspire curiosity and set the tone of the podcast.
Designed graphics – pictures and photos can be stylized, but never as much as the dedicated graphic. Using this form for your podcast cover allows you for more control in regards to setting the mood.
"The Habitat" here is a great example. It tells a story of a NASA experiment in which six volunteers are sent to live in an isolated habitat on Hawaii to simulate the Mars environment. The graphics created for this podcast perfectly captures the atmosphere of Mars and loneliness, better than any photoshopped photo would.

---
4. Basic color guide and tips for beautiful podcasting logo
When you start to create a podcast logo simply remember that some colors simply work better in certain combination.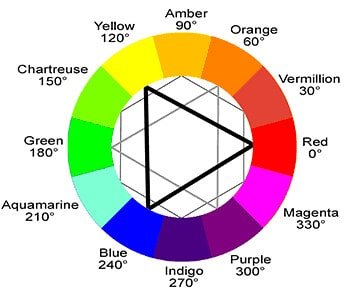 Regardless of the style, you are going to use, the color palette you choose will also affect your logo. The temperature of colors used affects the mood and so warm colors are connected with action, energy, and brightness. Simultaneously cool colors have the opposite effect and make you feel at peace and calm. Most common Most commonly used color relationships in logo design are:
Monochromatic when an image is composed of one color (or values of one color)
Complementary colors (i.e., colors from opposite sides of the color wheel) contrast strongly with each other. Orange and aquamarine, for instance, make an image pop.
Analogous colors, create a color scheme that feels consistent and is created by colors nearby on the color wheel. A dominant color can be chosen and then other colors support it or accept it.
Triadic colors are used to create contrast while still remaining in balance. You will reach this effect using colors evenly spaced around the color wheel. This pallet is appropriate for complex logos and will provide a solid visual distinction of your key elements. At the same time, it will allow your art to feel consistent.

Good, attention capturing logo is an important element of driving traffic to your podcast. But there are also other very effective ways. If you want to check them out, read our article: How to drive traffic and promote your podcast – detailed guide.
---
5. Basic font guide and tips
When you create a podcasting logo you need to make sure that text on the logo is easily readable.
Short – as it is the key element of your visual branding you should fit your podcast title (or at least the most important part of it). If you want it to
Readable – not only the title needs to fit your podcast art but it also should be readable when displayed on a smaller device.
To the point – first impression matter.
Use the right font – let it help you with your message

"Late Night Whenever" using flashy neon lights clearly conveys the message of fun
"The Wilderness" has its title written in brush strokes, uneven letters (all three Es and two Ss are different from one another). This beautifully suggests that the system we have is chaotic and there are no set rules.
"The Dream" cut out font, letters not aligned, some of them dirty. It tells us that something regarding the dream is broken and not in order.
"Caliphate" – is using the serif typeface (a serif is a small line or stroke regularly attached to the end of a larger stroke in a letter), which is commonly used in printed media and newspapers (opposed to sans-serif typefaces used online). It suggests this podcast will have traits of high-quality journalism

Don't infringe on other people's property
When your podcast is about other people, especially on public figures do not use photos showing them in a bad light.
Regardless of what your opinion is or what you will be talking about. If you will have a negative opinion about them use some smart creative ways to show that.
When talking about brands do not infringe on copyrights. Do not use other brand names in your name and do not use their logos in your podcast logo.

If you want to learn more about using other people's property on your podcasts, especially music, you can visit our article Types of music you can play on your podcast – here we talk about how you can legally use music samples when you edit your show.
---
Where can you get images for podcast art online?
If you need a photo for your podcast art you can use one of the many free or paid photo directories online.
As a free option, we recommend Canva or Picjumbo.com. You do not need to credit the author when using images from this website. This is important as you don't want to use up the space of your art with additional text.
If you are looking for something with better quality at a very reasonable price consider StoryBlocks.com. They offer high-quality solutions at one of the lowest prices on the market.
---
Where can I hire someone to design a logo?
Simply go to UpWork and search for logo designers. You can find a lot of quality freelancers on UpWork.
Finally, when you have a beautiful logo, a key part of your visual identity, you should consider further reinforcing your brand by establishing a website with a clear purpose of getting more listeners. We highly recommend our guide: Podcast Website Marketing Guide – increase the number of listeners and improve monetization
Conclusion
When thinking how to create a podcast logo you simply need to follow general technical guidelines set by the biggest podcast directories.
Make sure you follow some good practices established in graphic desing.
Choose colors that work well with each other based on the color wheel concept.
Decide if you want to use a photo or a graphics. Think how this will work with the concept of your brand.