Editing podcasts can be a smooth and nice experience, but it also can be an uphill battle. Picking the best podcast editing software for your needs will save you priceless hours.
The best podcast editing software is Adobe Audition due to its powerful set of features, excellent noise reduction features, and advanced audio track restoration and compression. For Mac users, Logic Pro is the most optimized, powerful, and easy-to-use option. Audacity remains the best free DAW.
Software used for podcast editing is known as DAWs (Digital Audio Workstations). You technically do not need a DAW for recording as you can use an external capture device like Zoom H6 or Zoom PodTrak P4. But if you are recording directly to your computer you need reliable software that won't crash in the middle of the crucial interview.
What should I use to edit a podcast?
To record and edit a podcast you need a Digital Audio Workstation (DAW). Any DAW can be used for the full creative process – from recording, editing, mixing, mastering, to exporting in the format of your choosing. The best editing software will remove noise and use advanced automation features.
What is the most popular podcast software?
What do Professionals use to edit podcasts?
Most professionals to edit their podcasts use one of three options – Adobe Audition, Logic Pro, or Pro Tools. All those programs have unmatched capabilities of audio editing, mixing, and mastering. The initial setup price is justified for any well-monetized show.
---
Adobe Audition – high-end podcast editing software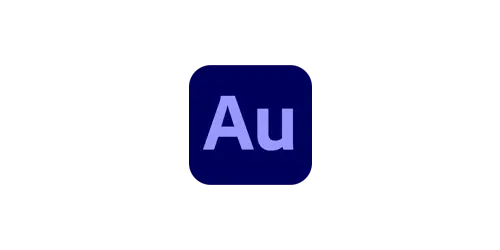 Price: from $239.88 per 1 year or paid monthly
Get Adobe Audition from adobe.com
Adobe Audition is a full-featured digital audio workstation. It was previously named Cool Edit Pro and was acquired by Adobe in 2003. Audition, because is so rich with features, can take a bit longer to learn and fully master. Once you understand how to operate it efficiently your abilities for editing podcasts are pretty limitless.
This DAW has everything you need to achieve a professional level of mastery in audio editing and production. I consider it to be the best audio editing software for home podcast editing.
Adobe Audition is a part of the Creative Cloud Suite. You can only get access for a monthly fee. If you are already paying for full access to Adobe Creative Cloud you already have access to Audition. The cost of full Cloud Suite is a $52.99/month plan with a paid monthly plan or slightly cheaper if you choose a prepaid plan. You can also get only this digital audio workstation for $20.99/month or again slightly cheaper with a prepaid plan.
We don't recommend Adobe Audition if you are beginning and experimenting with podcasting. You can be easily overwhelmed by the number of complicated features and pricing. However, is a great choice if you have already experience with podcast audio editing and you are looking for the ultimate software solution.
Adobe Audition Pros
7-day free trial period so if this is important for you prepare yourself for intensive testing.
Available on Windows and macOS.
It provides first-class audio quality for your podcast
With the subscription model, you always have access to the latest version of the software.
Adobe provides many helpful easy-to-follow tutorials to you get started.
Due to the popularity of Adobe Audition, there are also a lot of community-made tutorials.
It is designed for podcast production and editing and has advanced tools just for that. With Adobe's interface you can activate radio production" or "podcast production" view hiding some of it's more complex features, streamlining the experience and making the learning process a bit faster.
Audition even has a podcast episode template that preloads an audio track with podcast-specific plugins for voice-processing.
One of the most feature-rich DAW available
Adobe Audition has world-class noise reduction features, best in class audio restoration properties, advanced compression, and EQ
With Audition, you can add music, segues, fades, use a wide variety of built-in plug-ins for processing, editing, and mixing tools that focus on fine-tuning audio levels.
There is a wide range of templates and presets. You can save templates of effects and you can run them automatically as scripts.
Audition is known for its batch processing capabilities. It allows you to apply the same group of effects to separate files with your episodes. This saves a great amount of time each time you are working on an episode.
Multitrack function is very user-friendly when you have to mix multiple files, apply different effects to layers, hum reduction and ducking (background music volume lowering of one track when another plays simultaneously).
Overall clean user interface. If you have experience with Adobe interfaces you won't have a problem finding your way around.
Creative Cloud suite: it offers excellent MP3 encoder providing better quality for mp3 when compared to free codecs.
Creative Cloud suite: if you plan to do videos of your podcasts you will benefit from good integration of Adobe Audition and Adobe Premiere.
Adobe Audition Cons
It isn't cheap (it is the most expensive of our recommendations), but if you are focused on sound quality, possibilities and productivity increase this is worth the investment.
Like most Adobe products, due to a large number of features, there is a learning curve. It's designed to be a professional tool. Chances are you are already familiar with different Adobe products like Photoshop or Premiere, which will make the learning process that much easier.
---
Hindenburg Journalist – a brilliant podcast editing software designed for journalists and podcasters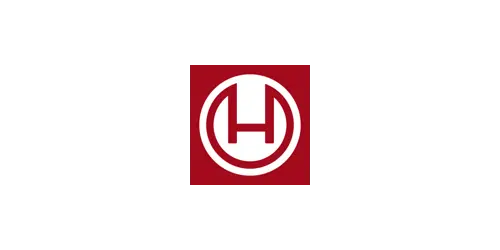 Hindenburg is a niche podcast editing DAW. It's optimized and designed for journalists, broadcasters, audiobook producers, and podcasters.
The quality of podcasts has improved in the last few years. Partially because creators become more experienced but also due to the influence of the major radio stations which have launched a number of great podcasts over the last few years.
Hindenburg Systems created a software with radio in mind and in consequence, has delivered something perfect for podcasters. The design and features of their systems are tailored to spoken-word productions. Hindenburg Journalist's focus is on storytelling. It is a digital audio workstation that was specifically designed for podcasters and radio journalists. It aims at delivering to your technical capabilities like the professional stations have. Using Hindenburg Journalist you will easily be able to edit complex documentary-style podcast episodes with multiple elements without years of production experience.
Hindenburg Systems has several different audio editing programs, with Journalist being their entry-level offering for $95. With its great user interface and design matching podcasting need will be a good place to start. It will help you put emphasis on your storytelling as you piece clips and interviews together to create a cohesive track.
However, the Hindenburg Journalist Pro version costing $375 has much more advanced features and at the end of the day, this is something you want to have. You can upgrade the basic version later on paying an additional $325 on top of already paid $95, so the basic + upgrade turns out more expensive at $420.
Hindenburg Journalist Pros
30-day free trial period to test out without worries (for both Hindenburg Journalist and the Pro version)
Available on Windows and macOS.
Radio/podcast dedicated to high production value.
Hindenburg makes available an iPhone app (Hindenburg Field Recorder for $30) – clips recorded in this app can easily be integrated into the editor.
There is a ton of officials guides and tutorials to get you started
Unique function Clipboard – it allows you to organize clips and arranges a storyline from them. This is where you can save major amounts of time and focus on the story itself. Ideal for podcasters who have a lot of different tracks and parts to their show
Very effective auto-leveling function. The software will take all the audio elements and place them at appropriate levels from start to finish. This saves time and simplifies the editing process. This is applied in the background, again showcasing a focus on storytelling.
It also automatically adjusts the gain of imported clips to keep things level.
Great voice profiler. This is where the software applies EQ and compression to a voice and automatically optimizes the sound. It will save you a massive amount of time on fixing EQ settings.
It provides a very useful ability to mix audio interfaces and USB microphones.
User-friendly interface. Less intimidating than its more advanced alternatives.
Pro version: has a built-in Skype call recorder.
Pro version: easy-to-use and very effective Noise Reduction, which automatically identifies persistent noise, hums, and hisses and can is operated by dedicated single-knob
Pro version: integrates with certain podcast hosting providers. When publishing you can apply podcast ready loudness standards -16 LUFS and save some time
Hindenburg Journalist Cons
A bit more expensive than Reaper in basic Journalist version.
You really want to target the Journalist Pro version costing $375 – advanced features available will save you a lot of time so are worth the price in the end.
---
Logic Pro – modern best podcast software for recording and editing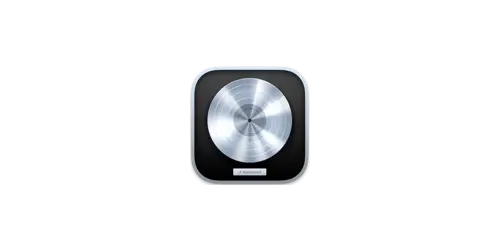 Price: $199
Get it from Apple
Because it is only for macOS users, Logic Pro is the most efficient and optimized audio editing software for this platform on the market. Apple fans will love how smoothly it runs and how intuitive it is. Now, on the Apple Silicon, the optimization is even more apparent as it will carry even the most demanding projects on entry-level Macs.
Logic Pro Pros
Super fast and easy-to-use.
The best working DAW on Apple macOS – launches fastest and doesn't put too much preassure on the CPU.
Easy workflow with tons of shortcuts available to make the editing process smooth.
A lot of mixing and mastering tools build it to transform any recording in great sounding track.
Logic Pro Cons
Using this as my daily DAW, I don't see and obvious cons
---
Reaper – versatile podcast recording software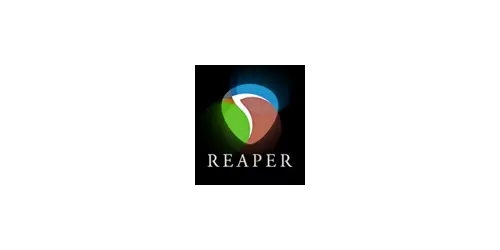 Reaper is a full-featured DAW with a large number of professional functionalities, good user interface, productivity capabilities and comes at a very affordable price.
There's a discounted license for $60 applicable to you when you are starting podcaster, an educational or non-profit organization. You will only be requested to pay $225 for the commercial license when your yearly gross revenue will exceed USD $20,000. So we don't have to worry much about it anyway.
If $60 is still a barrier wait until February. Reaper is often on sale on World Radio Day.
Reaper Pros
60-day free download evaluation period to test out without worries.
Available on Windows and macOS.
Reaper has experimental native support for Linux, and the Windows version works well with WINE.
It is regularly updated.
Extremely good value for money at the $60 price point. Even better when bought on a sale.
Massive amount of documentation and community around Reaper.
The home website contains very large manual and video tutorials to help you get started.
Highly approachable and easy to learn.
A wide range of audio editing tools and audio processing effects.
A large number of features of advanced features like spectral editing and entire, customization options with in-app scripting support for making macros and complex automation using Python, Lua or EEL
A considerate amount of built-in plugins that further improve the quality. For example, a plugin called ReaFIR removes noises like hum or buzz in the background of improperly recorded audio.
Customization through automation of keystrokes and mouse movements for repetitive tasks. Reaper can do it natively with Actions. It greatly improves productivity and speeds up your workflow.
A sophisticated user interface,
Enables MIDI-editing. Build-in features that make it a good choice if you want to add your own music to your podcast. Also good for solo musicians or producers working on tracks at home.
Reaper is known for its stability. This means the program runs smoothly and rarely crashed even when working on major projects.
Reaper Cons
Reaper is mostly optimized for producing music however podcasters don't recognize this as an issue.
Some learning curve exists and you will need to spend time getting familiar with the software.
---
Audacity – best podcast editing software – free, works on PC, Mac, and Linux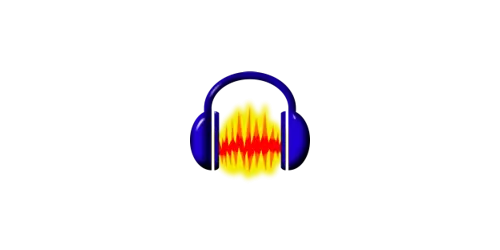 Audacity is a free open source cross-platform audio editor (works on Windows, macOS, and even Linux). It has been around since 2000 and has amassed a large user base.
This vibrant community has contributed to the development of this open-source software project building a wide range of great and useful functionalities. As often happens with open-source software those tech-savvy contributors focus on features rather than aesthetics which means that from a user interface perspective Audacity lags behind the user-friendly industry standards. Despite that Audacity is more than capable of handling large projects and complex audio processes.
It's commonly used for podcasting and has an abundance of features. Many bloggers and podcasters have started out using Audacity. That is why we recommend it for beginners, despite its user interface and lack of high-end functionalities.
Is audacity good for editing podcasts?
Audacity is a good podcast editing software. It has a lot of features, necessary to produce a high-quality, competitive show. Being free relies on a community of enthusiasts to develop, so some pro features and friendly interfaces are missing.
Audacity Pros
It is free; hence it is great for beginners just trying out. Being a free option it eliminates the main stress of trying out the software.
It is regularly updated.
Available on Windows, macOS, and Linux.
Undisputedly the best free choice for Linux users.
Best value for free software out of multiple available options.
A high user base means an abundance of free tutorials to get you started if you are on a budget.
Rich in enough features to build a good sounding podcast episodes
Audacity can record live audio from a microphone, mixer, or even streaming audio from recent Windows versions. You can also digitize recordings from other media.
Using Audacity you can record your audio, record live audio, cut, splice, and edit. Convert sound files into different file formats.
You can also edit multiple tracks, cut out pauses and unwanted sounds, and add music, along with intros, outros, and ads.
There is also a basic layout on the screen and you can do basic multitrack (mixing two different tracks of audio together).
Audacity comes with a very good (for free software) set of processing effects to remove the noise, coughs, clicks, and other unwanted sounds captured by a microphone during recording.
Other editing tools include voice-overs, intro music, and eight effects like echo, phaser, and reverb.
With Audacity, you can perform detailed audio frequency analysis.
Audacity more advanced features valuable for podcasters include: Sync-Lock, Truncate Silence, Silence Finder, and Silence, saveable EQ, fading, import and export options, editing and saving chains of effects, normalize audio, and adjust levels.
There are also compression presets available to make sure your files have a small size.
From interface perspective controls for setting up external equipment such as a USB microphone or audio interface are located in the main window for easy access. The main window also contains panels with everything you need to edit, monitor, and mix audio tracks
Level meters monitor volume levels before, during, and after recording so you have less editing to do afterward. It supports 16-bit and higher samples and automatically converts tracks with different sample rates.
Another benefit of open-source software: there are multiple plugins extending the functionality of the core program.
Audacity Cons
Not many official tutorials online for Audacity – you can, however, rely on numerous free tutorials made by the community,
The interface is outdated and lagging behind user-friendly industry standards. It can be confusing at the start. But a learning time is required for any new software.
It doesn't support MIDI or musical-instrument plug-ins. It isn't a good choice for musicians looking to work on their musical tracks.
There are no automation features and on the fly processing – certain actions will take you more time when you would have done them in premium software.
No publishing abilities are available. You have to edit a file, convert to MP3 and upload manually.
You need to download the MP3 plug-in which is not included.
It lacks a lot of the quality-of-life tools you'll find in Adobe Audition
---
SquadCast – modern best podcast software for recording and editing podcasts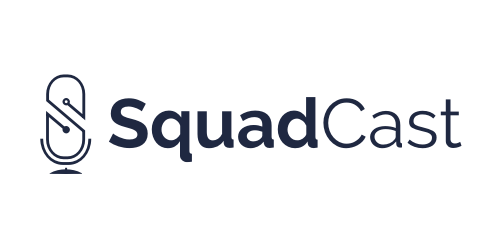 SquadCast is the best podcast recording and editing solution for remote interviews. It records audio & video, uses separate tracks, and keeps backups. The sound quality depends on the mic and each person's reverb, but SquadCast does as good a job as it can to provide studio quality. It is also friendly for guests, no apps are needed – it works in a browser.
SquadCast Pros
Good quality maintained by world class alghoritms.
Auto-save and backups.
Solves the problem of poor Internet quality on different speakers.
All speakers recorded to separate tracks.
Browser based interface for less technical guests – no software installations are needed.
Waiting room function – questes can test their audio and video quality in individuall rooms before connecting with the host or other participants.
SquadCast Cons
Subscription based model.
All online solutions have certain pro function limitations so that is unavoidable.
---
In Conclusion
In the end, you have to be aware that if your recording studio sounds poorly your audio quality will also suffer and audio editing will not solve all of the problems.
The podcast recording software you will choose can drastically impact your overall experience with podcasting and audio editing in general.
I highly recommend you try all the trial versions of the premium DAWs before making a final decision. Buying editing software may seem like a difficult decision but once you experience a few hours working in a high-class top podcast editing software you will quickly appreciate it.
Fortunately, there are easy methods you can improve audio quality very effectively and spend less time editing: