Audio Interface (for podcasting) is a physical device allowing the audio gear to communicate with a computer. It translates an analog signal to digital. Its phantom power (48V) and XLR jack connect professional mics. With built-in preamp (signal boost), headphone jack and direct monitor (avoid latency) it is an essential part of a podcasting kit.
An audio interface is a first more complex device every beginning podcaster spends hours about thinking. With this article, we will try to answer all the essential questions about what is an audio interface, when it is needed and which one is recommended.
What is the best audio interface you should buy when starting podcasting? – Summary
In summary for all starting podcasters, we recommend the Focusrite Scarlett 2i2 (3rd Gen) audio interface (check current price). Focusrite simply dominates the market when it comes to entry-mid level devices. The 3rd generation of their devices offers much-improved quality and solves many problems the 1st and 2nd generations faced. When it comes to price to quality Scarlett series is also unmatched. The Scarlett 2i2 offers a powerful codec (Cirrus Logic CS4272), low latency, good preamps, and an efficient headphone amplifier.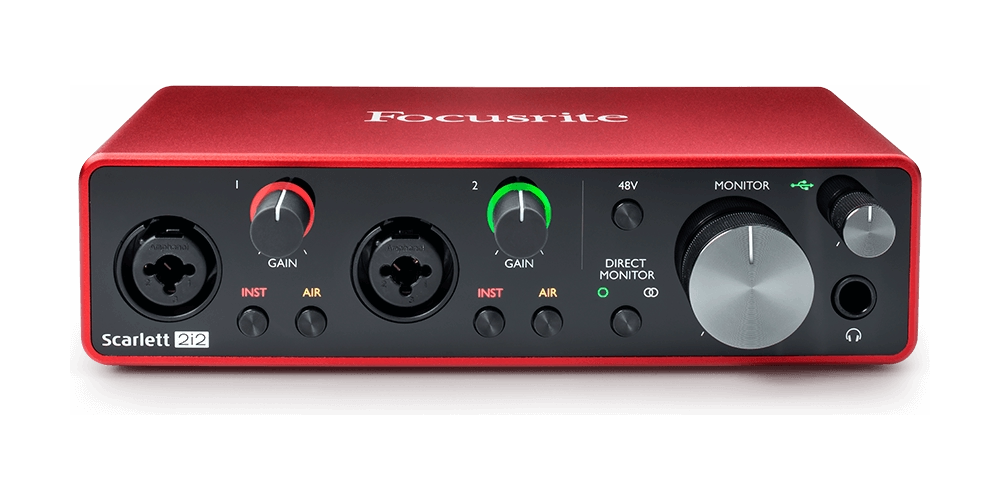 Finally, with Scarlett 2i2 (3rd Gen) you are investing in a device that will last you years. It will deliver solid quality. You won't need to consider upgrading for a very long time, and you will be able to focus on your content.
What is an audio interface?
An audio interface is a physical external device that allows you to connect to your computer audio devices and translates their electrical signal into digital.
Depending on the class, size and price point of the device it will allow you to:
connect larger numbers of microphones (more XLR or XLR combo jacks),
connect more input and output devices,
directly monitor sound without a time delay,
offer general different quality (inc. codec and preamps)
They are essential hardware required for high-quality audio podcast productions.
When do you need an audio interface for podcasting?
This depends on the microphone you are using.
Modern (mostly cheap) USB mics don't require audio interfaces. They have a built-in audio interface inside their body translating the electrical signal to digital so you can't connect them together.
Professional condenser or dynamic mics used for podcasting will require having an audio interface. You will use an XLR cable to connect it to an audio interface and then use a USB cable (in our recommended models) to connect it to your computer.
What types of recommended podcasting microphones will require an audio interface?
In our article on microphones Choosing a Microphone for Podcasting – Buyers Guide and Recommendations we recommend following mics for your consideration:
Dynamic mic Shure SM7B (check price) – requires an audio interface
Condenser mic Rode NT1-A (check price) – requires an audio interface
Shure MV7 (check price) – this USB mic doesn't require an interface
How to connect podcasting microphone to an audio interface?
Your audio interface will require an XLR microphone input to be connected to an audio interface.
Professional microphones connect with three-pin XLR jacks. Audio interfaces usually have from one to eight XLR inputs. Choose an interface depending on how many microphones will be connected physically at once to the interface (consider having co-hosts and guests while you are recording).
XLR connectors are desirable because they lock into place and provide a more secure audio connection.
Currently, most interfaces come with an XLR combo input, consolidating into one jack an XLR input with 1/4" TRS input. Although they look differently you can easily connect a good professional XLR microphone to an audio interface without any additional switches.
How is an audio interface different from a sound card?
When you connect an audio interface it will take over and will act as an attached external sound card to your computer.
The audio interface will allow connecting more input devices (more important for recording music or multiple mics at once) and will offer higher quality circuits, a more accurate digital clock resulting in better sound quality.
If I want to upgrade my PC should I buy a sound card or audio interface for podcasting?
If the sound recording is your goal buy an external audio interface. It manages better recording input sound, while most of standard PC sound card capabilities are focused on playing back already recorded sound.
What is Phantom Power on an audio interface and is it required for podcasting?
Phantom Power is a power source for professional microphones.
Usually, microphones are powered by:
USB cables (simple desktop mics like Blue Yeti Pro)
Phantom power provided by an audio interface via XLR cable (like Rode NT1-A)
Batteries (usually stage, wireless mics)
Phantom power also called a 48V is a power supply mechanism built into an audio interface.
Majority of audio interfaces with XLR jacks will have a phantom power
If in doubt look on the outside of the device for a 48V symbol
Most audio interfaces will detect mic requires phantom power and apply it automatically. Others may have a switch to enable it.
Most important features of an audio interface for podcasting to consider?
In its basic form audio interfaces don't differ that much between themselves, but here are top features you can consider when buying an audio interface:
Form factor – desktop interfaces vs. rack-mounted interfaces – in this guide, we focus on interfaces small enough to comfortably fit on a desk. Rack-mounted interfaces are significantly much more expensive and they offer too many capabilities that will never be used in a podcasting studio.
Interface Connection – most of the good inexpensive interfaces will have at least USB 2.0 connection. USB 3.0 has started to become widely adopted just recently.
A number of mic inputs – crucial if you will have co-host and guests.
Input/Output (I/O) count – less important for podcasting unless you will record some music for your podcast.
MIDI – only important if you want to connect the keyboard controller with sound clips.
How does an audio interface connect to a computer?
There are 3 cable options commonly used in audio interfaces. Starting from the slowest and most affordable to the most advanced and most expensive options we recognize:
USB – USB 2.0 (480 Mbps) is the most common connection type among affordable audio interfaces. It offers slowest data transfer among available solution but it will work well for podcasting so is a recommended solution. USB 3.0 is becoming the new standard for modern audio interfaces with a transfer speed of 5 Gbps.
Thunderbolt (10Gbps) – faster than USB is getting more popular in more advanced interfaces. It comes with a much higher price tag than USB.
PCIe – found in professional studio solutions when you require to record multiple input sources at once. It offers additional processing power and a very fast data transfer.
Before buying any audio interface make sure your computer has the appropriate connection.
Which connection type is recommended for an audio interface for podcasting?
USB 2.0 connection will be enough for most podcasting requirements. It will be enough even if you plan to have connected 4 recording microphones at once.
Currently, USB 3.0 is becoming to be more widely adopted so if possible look for a USB 3.0 type connection.
Firewire connected devices (faster than USB but slower than Thunderbolt) are becoming less frequent among both manufacturers and users.
Does the quality of USB cable matter? Do different USB cables impact audio quality?
Despite transmitting digital cable the quality of cable makes a difference. Overall we do recommend at some point upgrading a USB cable to premium one, but this is not a requirement when you start podcasting.
If you want to find out more about best quality cables we recommend our article Best XLR and USB Cable Choices for Podcasting where we discuss:
How to choose XLR and USB cables to upgrade your podcasting audio interface connection
Ways to properly maintain your cables to sustain high audio quality
How many inputs and outputs (I/O) am I going to need on my audio interface?
If you don't record any music for your podcast, and don't connect any instrument you can simply focus on the number of microphones available to connect (2-4 XLR Combo connections) and don't worry about the total number of I/O count.
When you plan to use your interface to record music in small groups consider 4-8 input connections, to connect all the microphones and instruments.
If you going to DJ with a computer with an interface around 4 outputs should be enough to send stereo music to sound system and simultaneously privately cue songs.
What is MIDI? What for a MIDI port can be useful for podcasting?
MIDI is a language that allows electronic music hardware (instruments and computers) to connect and communicate (send MIDI information).
The most useful thing you can connect for podcasting is a MIDI keyboard controller.
A MIDI keyboard controller is a physical interface. If you connect the MIDI In of your audio interface to the MIDI Out on a keyboard controller, you can send a pre-programmed sequence (music clip, intro or ads) to be played and registered through an audio interface in your DAW.
All of this can be done in editing without the MIDI controller that's why it is optional but it does improve quality of work, especially if you have guests in the studio.
What is Direct Monitoring? Is Direct Monitoring necessary for podcasting?
Direct monitoring is a feature mostly found on USB audio interfaces. When turned on it avoids experiencing distraction from sound latency.
Latency will be experienced on your headphones since your voice has to travel from the mic to the audio interface to the computer and then back through the audio interface to headphones. Along this journey through cables and devices, there would be multiple signal transformations and additional delays caused by device responses.
This latency can be experienced when you have your headphones on and can be very distracting when working on content.
Direct monitoring means sounds only travel to from microphone to audio interface and directly to headphones minimizing the delay.
Audio interfaces with faster connection types (like Thunderbolt) don't require this feature.
In order not to leak sound from your headphones to your mic you need good closed-back headphones. We have prepared a couple of valuable tips and recommendations available in this summary: Best Podcast Headphones – Detailed Guide & Recommendations.
What are must-have features for a podcasting audio interface?
Interface connector – USB 2.0 or USB 3.0
Desktop form factor – small, easy to use, portable
Phantom power – to power your professional mic
Direct Monitoring – to avoid latency in your headphones
Build-in mic preamp to boost the signal
Minimum 96kHz and 24-bit sampling rate
2 mic inputs minimum to have an option of having guests
What are the optional features to consider for an interface?
4 mic inputs for a co-host and up to 2 guests setup
MIDI – if you plan to connect a keyboard controller
Which features are not important?
Available number of analog line inputs – if you won't connect other sound sources
Number of line outputs – you probably won't use studio monitors as musicians do
Number of headphone jacks – you can always attach a signal splitter
Availability of ADAT jack / optical connection
Recommended audio interfaces for podcasting
1 Mic basic starter – Focusrite Scarlett Solo (3rd Gen)
2 Mics overall best-recommended audio interface for beginners – Focusrite Scarlett 2i2 (3rd Gen)
4 Mics recommendation for multiple hosts and guests – Focusrite Scarlett 18i8 (3rd Gen)
| | Scarlett Solo | Scarlett 2i2 | Scarlett 18i8 |
| --- | --- | --- | --- |
| Customer rating | 4.7 out of 5 stars | 4.7 out of 5 stars | 4.8 out of 5 stars |
| | | | |
| Connectivity | USB Type-C | USB Type-C | USB Type-C |
| Mics XLR Combo | 1 | 2 | 4 |
| Mic Preamps built-in | Yes | Yes | Yes |
| Ins / Outs | 2-2 | 2-2 | 18-8 |
| MIDI | No | No | Yes |
| Optical | No | No | Yes |
| Max sample rate | 192kHz/24-bit | 192kHz/24-bit | 192kHz/24-bit |
| Phantom Power | Yes | Yes | Yes |
| Direct Monitor | Yes | Yes | Yes |
| | check price | check price | check price |
Comparison between Scarlett Solo vs Scarlett 2i2 vs Scarlett 18i8
Overall family of the Focusrite line of USB audio interfaces since it's 3rd generation offers unmatched quality at the given prices and is the best available setup for podcasting.
Our recommendation is the Focusrite Scarlett 2i2 (3rd Gen). The higher number of mic inputs allows how having guests on your show, which is essential for marketing efforts.
We have reviewed also other audio interfaces. In our opinion, those are all good devices but they are not recommended gear mainly due to high price points and fact that this won't significantly improve the audio quality of your podcast.
Alternatives for the Focusrite Scarlett series devices?
Good products to consider if Focusrite is not for you:
What is the best audio interface for hosting guests?
If you will have up to 1 guest go to Scarlett 2i2. If you plan on having multiple guests than Scarlett 18i8 might be a better solution for you.
Why do we overall recommend Focusrite Scarlett 2i2 as the best podcasting audio interface?
It provides exactly the value needed at a reasonable price point. It allows saving a lot of money if we compare it to higher-end devices while providing good quality.
This is not a coincidence that this is one of the most popular budget-friendly and starter audio interfaces in the world. While we wouldn't recommend the 1st generation of the devices, the current 3rd version has undergone serious upgrades.
Strongest points we like about this device and why we recommend it is:
It is a solid, reliable and simple to use device offering great sound quality conversion.
USB Type-C 3.0 connectivity – a great speed at a reasonable price; exactly what is needed for podcasting.
Good quality preamp with good analog to digital converter codec.
A very good sample rate of 192 kHz and 24-bit
2 mic XLR combo jacks allowing for interviews necessary for marketing and cross-promotion.
Low device latency (especially low on Win 10).
No latency on headphones with hardware direct monitoring.
Efficient headphone amplifier with dedicated control.
Solid metal body and durable construction (good for traveling and podcasting remotely).
Compatible with Windows and macOS.
LED clipping/gain indicators.
Do audio interfaces deliver the best possible sound quality?
Signal strength for better audio quality can still be improved despite the quality of the used audio interface.
Professional recording studios have microphones connected first to outboard gear (like Golden Age Project Pre-73 MKIII Mic Preamp – check price) and then to an audio interface. For podcasting, we can use a mic activator to boost the strength of the signal.
A microphone activator is external hardware that enhances the signal strength of a microphone (condenser or dynamic). The mic activator we recommend is the Cloudlifter CL-1 (check price).
It will increase the gain by about +25 dB. You will definitely find benefits in a stronger signal if you go with our recommended dynamic mic Shure SM7B (check price).
Our current setup includes both Shure SM7B and Cloudlifter CL-1 mic activator which is necessary to boost the signal and improve audio quality.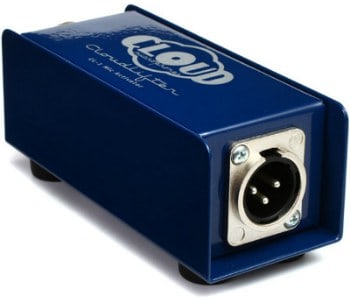 If you are using a different microphone, with stronger sensitivity then getting a mic activator might not be justified.
But simply improving the acoustics of your recording room and eliminating external disturbances and internal reverberations may help to improve the clarity of your recording. Check out this guide for more info: Silent home podcast studio – detailed & easy soundproofing guide.
Is it possible to provide headphones for more than one person if the audio interface has only one mic jack?
Yes, it's possible to provide a headphone feed for more than one person. There are two ways which you can do it:
A simple solution is to buy an inexpensive splitter cable (like Belkin RockStar splitter). It is easy, fast and cheap. One downside of this is that you cannot control separately the volume level of each individual headphones.
A more advanced solution that will allow you to have a separate audio volume controls is to buy a headphone amplifier. For podcasting, a simple Behringer amp will work just fine.
---
Summary
Audio interfaces work as an external sound card and improve the audio capabilities of your computer
They add inputs and outputs so you can connect multiple devices at once
USB mics don't require separate audio interface as they already have a built-in unit
The audio interface is essential if you use a condenser or dynamic mic for podcasting
Condenser or dynamic mics are connected to interface with a three-pin XLR cable
The audio interface will provide your mic with an external power source called phantom power
For podcasting, the preferred solution is to connect an audio interface to a computer with USB 2.0 or 3.0 cable
The audio interface should have direct monitoring to avoid the impact of latency when recording
Latency can distract and make it difficult to record or interview
Modern good interfaces already have built-in mic preamps to boost the signal
MIDI connection allows you to connect a keyboard controller to play clips comfortably
To boost the microphone signal and ensure clean gains a mic activator may be required
To attach more than 1 headphone to audio interface use a splitter or a mic amplifier
If you are looking for other valuable gear recommendations check out our consolidated list of everything you might need: Best Podcasting Gear – detailed guide & recommendations.
Please let me know which aspects of audio interfaces you would like us to cover next. What would be most useful for your podcast?