The best microphone for podcasting in 2021 in each tech category is:
Shure SM7B – best dynamic microphone (overall winner)
Rode NT1-A – best condenser microphone (very detailed)
Shure MV7 – best USB microphone (super easy to use)
Overall, the best microphone for podcasting is the dynamic mic, Shure SM7B. It comes with a great:
Quality – dynamic, balanced, warm, top-quality audio
Capabilities – flexibility, durability, quiet, shielding, design
Future potential – use it for years without the need to upgrade in 6 months
Price – pricing is still reasonable (not the cheapest) & undeniable high value
---
What is the best microphone you should buy when starting podcasting?
After multiple reviews, we easily recommend Shure SM7B (check current price) as the best dynamic microphone for podcasting. This is a microphone solving multiple voice quality issues from the beginning. Its impressive quality means you won't need to upgrade in order to catch up to industry audio quality standards as you will be using one of the best available mics.
The best quality affordable starting condenser microphone is Rode NT1-A (check current price) it provides great value for money. On top, it usually can be found set in a set coming with important gadgets. To fully use its potential you will need to work on the sound quality of your recording studio.
There are also a few other recommendations worth attention to addressing specific podcasting needs. You will find more details about them and the reasons why they are included on the list in the later section of this buyers' guide.
| | | | | | | |
| --- | --- | --- | --- | --- | --- | --- |
| | Shure SM7B | Rode NT1-A | MXL 990 | Neumann TLM 102 | AT2020 USB Plus | Blue Yeti Pro |
| | | | | | | |
| Type | Dynamic | Condenser | Condenser | Condenser | USB | USB |
| Recommendation | Best mic for podcasting | Great condenser mic | Affordable condenser | High-end premium | Affordable USB | Great USB |
| | check price | check price | check price | check price | check price | check price |
Overall dynamic microphones are easier to use, plus they are less sensitive when capturing background noises and much, much more durable. A quality dynamic microphone can be your solution for multiple years.
Condenser microphones are better for studio recorder podcast voice overs. It will require more attention and investment (of both time and money) to produce the highest quality audio.
Long term advice is that you may want to have both types of microphones and use them accordingly to your purpose and specific recording conditions.
---
How important is microphone quality in podcasting?
There are three key factors of recording supreme voice quality.
Quality microphone for podcasting
Location of your recording

Two read more about room acoustics:
To find out how to soundproof room for recording read:

Technique

Read about podcasting voice technical quality tips:
Find out about podcasting voice tips:
The room characteristics and conditions have a crucial impact on recording quality. Acoustics will greatly contribute to how your podcast will sound. If you don't have access to a recording studio you should carefully plan where and when you are going to record. Make all the necessary preparations of your home studio to manage the environment for your microphone and your recording session and mitigate the impact of background noise.
If you want to learn more about how to effectively soundproof your recording studio we have an article describing this in detail: Silent home podcast studio – detailed & easy soundproofing guide
Based on the environment in which you are going to record the microphone you will choose should minimize picking up background noise and should not require too much cleaning in the editing software. The quality of recorded sound is distinguishable as you work with selected and tested microphones.
Besides the well-developed content, the quality of sound is the most important element of a successful podcast. The microphone you are going to choose should have a wide dynamic range. If you and your competitor will provide good and interesting content the quality of your recording might be the deciding factor for your listener.
If you want to improve the quality of your content we recommend you to check our guide on this topic: Podcast content planning – build long term value
Alongside the microphone, the other most important piece of audio equipment responsible for the quality of recorded sound is an audio interface. Our recommended audio interface for XLR microphones is Focusrite Scarlett 2i2 (2nd Gen).
If you want to learn more about audio interfaces visit our article: Best Audio Interface for Podcasting – Detailed Guide & Buyers Recommendation.
---
What are the best microphone types for recording audio?
All microphones capture sound the same way. The main difference between them is in the way they send a signal to the computer. The most important distinction from a podcasting perspective is the type of connection the microphone uses:
Digital USB microphones feature their own audio interface – USB microphones have built-in processing hardware and drivers that digitizes the signal before recording it on a computer. The digital connection of USB microphones does not improve sound quality.
XLR interface best connected to your computer via an external USB audio interface. In this category we recognize condenser and dynamic microphones – they input sound directly, connected via audio interface or preamp to a computer for processing. Due to high-end sound processing, the quality they deliver will be better than the one processed by USB microphones.
The overall quality of your hardware should influence at the end of your buying decision. A good microphone will improve the quality of your audio if the overall setup is average however mics potential will never be fully reached. Also when recording equipment is overall good overinvesting in high-end premium quality microphones is probably not justifiable.
---
What are the pros and cons of Condenser Microphones?
Condenser microphones are ideal for recording precise vocals for your podcast. They are built to be very sensitive – this provides great sound quality but also may capture background noises so for your recording session you will require at least a soundproof home studio with echo-absorbing walls and quality recording equipment. If you have no control of your environment and there is constant noise around you, you should consider a dynamic microphone.
Condenser mics require an additional power supply (+48V, phantom power), which you can provide with external audio interfaces (recommended for beginners) or a mixing panel. Make sure a device you are provides phantom power. Your computer won't be able to provide this.
Condenser microphones are very sensitive to humidity and shock. They should be protected all the time. During recording have pop-filter stopping saliva from reaching the membrane and after you are finished put it into the protective case. Long exposure to humidity from the air and your saliva and any potential fall may reduce the quality of your recording over time.
Pros of condenser mics:
Better sound quality than with USB or dynamic microphones.
Condenser microphones are recording very precisely.
You will need to learn to speak clearly. This will help you and significantly reduce the post-recording editing work. It will save you hours.
Condenser microphones have lively sounding upper frequencies.
They capture the highest quality of sound.
Cons of condenser mics:
Additional equipment like an external audio interface providing phantom power is required to operate with a computer.
The sensitive condenser microphone is more susceptible to capturing unwanted plosive and vibration noises. Basic plosives in English are t, k, and p (voiceless) and d, g, and b (voiced).
You need to have control over your recording studio/room – perform basic soundproofing, be able to turn off noisy devices, etc.
You need to learn how to operate it correctly to avoid recording noises from appliances, outside, your mouth clicks, etc.
---
What are the pros and cons of Dynamic Microphones?
Most microphones in the world are dynamic microphones. For example, your cell phone and its headset have dynamic mics. They are also used by most stage performers due to their robustness and sound capabilities. Those capabilities mean that broadcast microphones do not capture surroundings, but also they won't capture specific intonations of your voice and delicate details. This leads to some unsatisfied with the sound quality for podcast productions where the quality of recorded speech is paramount.
From a technical perspective, they are much easier to work with. You can use them in regular rooms, without special equipment. Despite those facts to reach the best quality you still should work with soundproofed environments and have professional equipment to match your microphone.
Pros of dynamic mics:
Much better quality than USB microphones.
Dynamic microphones are more forgiving when it comes to plosive sounds. Regardless you still should use a pop-filter.
Dynamic microphones are generally more robust and durable. You still should protect them with pop-filter and put them into a case to protect from shock. But in case of a drop, they are more forgiving and you won't damage them that easily.
Technologically they don't require phantom power to operate.
Cons of dynamic mics:
Slightly lower voice quality then condenser microphones from studio standards perspective.
Cheaper dynamic microphones may lack a little detail in the upper mids and high frequencies.
Additional equipment like an external audio interface is required to operate with a computer.
---
What are the pros and cons of USB Microphones?
USB mics are easy to use, plug-n-play devices that can offer a good sound quality for their price. They require the least amount of effort and knowledge to set up and record. However, in the area of sound quality, they are significantly falling behind their analog counterparts and the benefits offered by an analog XLR connection.
USB microphone will produce the same sound quality regardless of the computer's hardware (quality of sound card). This is because USB microphones process sound internally, they act as their own sound card. It can be a better option if you have a cheap integrated card on your computer.
Pros of USB mics:
They're relatively affordable. A feasible option, especially for those on a lower budget.
They capture above-average sound when compared to a standard laptop microphone.
It's ideal for low-budget podcasting and entry-level voice-over work.
A USB microphone connects to a computer through a standard USB port.
You can record directly into a computer without the need for additional equipment.
Cons of USB mics:
When considering quality USB microphones like Audio-Technica AT2020 USB Plus or Blue Yeti Pro you are already in the price range of good condenser and dynamic microphones.
If you want to produce a competitive podcast where voice quality matters you will want to upgrade to an analog microphone at some point.
No benefits of XLR connection and middle device. You can't hook up USB mics to audio interfaces or preamps. You won't be able to adjust gain, add FX, and tweak your sound.
You are fully reliable in post-production in your music software.
If you are in the long game for producing a quality podcast we do not recommend a USB microphone.
---

What is the best dynamic microphone for podcasting?
Shure SM7B is the best Dynamic Microphone for podcasting. It costs c.a. $399. It is a mid-range price mic but it provides an extremely high-quality sound. It limits the transmission of audio disturbance, shields from the electromagnetic hum. Its iconic shape looks great in videos.
It ensures warm and even audio reproduction. The SM7B is a balanced and warm microphone that works ideally even when it is close to the sound source, like when you record your podcast. Its improved shielding technology eliminates all the electromagnetic interference caused by the close proximity of computer monitors. It will work well in small spaces.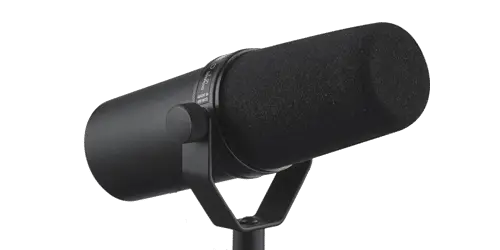 Shure SM7B is a go-to model for many content creators. An extremely good piece of equipment.
The quality provided with Shure SM7B corresponds to some of the $800+ condenser microphones.
It offers a flat wide-range frequency response ensuring exceptionally clean and natural reproduction speech and of music
SM7B equipped in improved immunity shielding against electromagnetic hum emitted by neon lights, monitors, cellphones and other gadgets.
It has an internal "air suspension" pneumatic system virtually completely limiting the transmission of mechanical disturbances.
Natural and precise sounds are guaranteed.
Comes sold in packages containing:

1 close-talk filter – included filter eliminates most of the sound defect even when a microphone is held very closely
1 foam filter – detachable A7WS windscreen, designed to additionally reduce plosive sounds and provides a warmer sound with close microphone positioning
1 locking yoke mount – for easy assembly and disassembly, and above all, precise control of the microphone setting

Durable design and excellent protection of the microphone insert ensure exceptional reliability.
Shure SM7B for its price is currently the best option to go for.
It requires a good preamp for the best performance.
---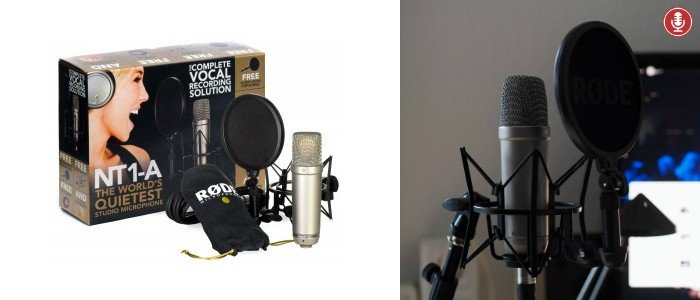 What is the best condenser microphone for podcasting?
Rode NT1-A is the best Condenser Microphone for podcasting. It costs c.a. $229. It is a budget-friendly mic but it provides a good-quality sound. It records well a wide dynamic range. Produced recording sounds warm and clear.
It comes with all the basic pros and cons of all the condenser mics, but to reiterate the most important ones and emphasize characteristics of Rode NT1-A: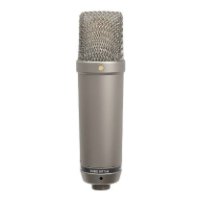 From a price point perspective, this microphone is in the beginner's range but it actually does provide enough professional qualities
XLR microphone Rode NT1-A is much preferred instead of a desktop USB mic.
It has a sensitive, large diaphragm. Preferable if you want to record higher quality sounds.
It requires the phantom power providing device. You can't connect it directly to your computer.
Quiet and neutral sounding. An extended dynamic range and sound-pressure level tolerance.
Known for its clarity of sound
Noise sensitive: if you leave in a noisy neighborhood this microphone will pick up this sound
Comes sold in packages containing:

1 20′ XLR cable
1 mic dust cover
1 shock mount (Rode SM6) with an integrated pop filter that reduces ambient reflections in your recording making it more clear and less in need of editing
1 studio secrets DVD offering recording tips and techniques

You still require a mic stand and a mic preamp or audio interface)
The Rode NT1-A is one of the best microphone packages available today at this price point.
Good alternatives for Rode NT1-A condenser mic?
If you are looking for a condenser mic alternative to Rode NT1-A consider those 3 good mics, at different price points:
MXL 990 – budget option for around $100
Neumann TLM 102 – high-end choice for around $699
Sennheiser MKH416-P48U3 – expensive and precise shotgun mic for around $999
---
MXL 990 is the best budget condenser microphone for podcasting (a good alternative to Rode NT1-A; an upgraded version of MXL 770)

It is budget-friendly. You can find it for around $90.
It is also offered in a set for around $200. MXL 990 set includes also a shock mount with integrated pop-filter, 20′ XLR cable, and a microfiber cleaning cloth.
It provides the flexibility of the XLR connection to use an audio interface or preamp.
It has necessary specs providing a quality recording (for its price point it has high-quality small-diaphragm and cardioid polar pattern).
Good price to quality ratio. Balance sound.
Consider the MXL 990 if you want a good condenser microphone and your budget is limited.
---
Neumann TLM 102 the the high-end condenser microphone for podcasting and voice-over

A high-end choice for professional podcasters and for those who have serious home studio requirements. Premium quality industry standard microphone.
We actually recommend here the TLM 102 and not its more advanced and much more expensive version, the TLM 103.
TLM 102 has incredible quality if you have the budget. You probably won't notice the difference between the TLM 102 and 103, so there is no reason to justify the expense.
It is the best entryway into the world of premium high-end microphones. You will be able to see the difference between affordable and this premium studio microphone.
TLM102 is very well‑balanced when recording voice over for your podcast.
It is a small and elegantly-designed microphone. Given that Neumann is a premium brand this microphone looks like an affordable option when compared to offered quality.
---
Sennheiser MKH416-P48U3 is the best microphone for outdoor recordings

This microphone is expensive. If you are recording from home and have some control over surrounding noise and can soundproof your location you can't really justify the spent.
Sennheiser MKH416-P4U3 is the shotgun microphone. Shotgun mics are narrow and pointed – directed straightly to the source of sounds and rejecting feedback. It ignores side sounds.
It has great sound quality, it's rugged, and is lightweight and easy to use.
Known as 'the gold standard'. Premium-quality equipment for professionals. Not recommended for beginners.
The reason we are mentioning Sennheiser MKH416-P4U3 on our podcasting recommendations is the fact that it is the best option for outside usage. If you plan to record outside and maybe mix your podcast with some video you should consider this microphone. It will work well in the wind and rain.
Similarly, when you are traveling a lot and recording in different locations and you have no control over background noise you can consider investing in a microphone which will solve this problem for you.
---
USB microphone – quick, easy to operate and will get the job done with simple setup
As we already wrote we do not recommend going with USB microphones. But since this category has some popularity and if you consider a purchase there are basically two USB microphones which we can recommend and which will provide very good audio quality. Those two mics to consider are Audio-Technica AT2020 USB Plus and Blue Yeti.
Our recommendation – is Audio-Technica AT2020 USB Plus. Although Blue Yeti Pro does perform better in some technical tests the deciding factor for Audio-Technica AT2020 USB Plus is its flexibility – you can more easily mount it on a stand, better control its position, and even record while standing. Also from the price point perspective, AT2020 USB+ is more affordable and better justifies quality to price. Blue Yeti Pro would be a better choice if your key deciding factor is the ease of use and quality.
---
Blue Yeti Pro is the best USB microphone for podcasting

Blue Yeti Pro costs around $239.
It beats in the audio quality Audio-Technica AT2020 USB PLUS.
It is at a comparable price as the recommended condenser mic Rode NT1-A.
Blue Yeti Pro provides good audio quality, is easy to use and has a beautiful design.
It offers both USB as well as XLR connectivity. We can plug it into either an external preamp or audio interface.
Having an extra device like this can give us more capabilities for improving the sound quality and getting a sound that isn't attainable straight into a computer using a USB port.
Yeti Pro gives us a beautiful audio resolution out of available competitive USB microphones.
It has four adjustable pattern settings available – cardioid (recommended for podcasting), omnidirectional, stereo, and bi-directional. This can be useful if you want to use this microphone for other uses as well
---
Audio-Technica AT2020 USB Plus is the 2nd best USB microphone for podcasting (alternative to Blue Yeti)

Relatively inexpensive at around $150.
It provides good, sustainable quality for home podcasting.
It is very convenient since you don't need any additional equipment. There is no need for a preamp. You can just plug it into a USB port and start recording without additional effort.
If you want to improve your material you may need to spend additional time in recording and editing software.
You can regulate volume while recording with built-in buttons. You can also monitor volume and quality connecting your headphones directly into the built-in jack.
It is easy to connect and mount on a better quality stand.
The two biggest advantages are user-friendliness and average price.
Quality is not so as in the recommended Rode NT1-A or Shure SM7B.
The audio resolution will be reasonable for many podcasters. When the quality of sound becomes a key factor when working on getting more subscribers you should consider condenser or dynamic microphone with an XLR connection.
It might capture some background noise. Also, the tripod provided in the package is a bit unstable. When you compare the quality recorded in a soundproofed room with higher quality mics you will hear the difference.
---
In conclusion:
The overall safest choice for podcaster are dynamic microphones
From condenser microphones, we recommend Shure SM7B
If you have a well-soundproofed recording studio and have a minimum of background noises you can buy condenser mic
From condenser microphones, we recommend Rode NT1-A
If you are uncertain about your podcasting goals or you are just looking for a simple solution go with a Blue Yeti Pro USB microphone.
What is your favorite podcasting microphone?