In this article on podcasting networks we will cover:
Solutions podcasting networks deliver to the market
Benefits and negatives of joining a network
Effectiveness of podcast advertising
Average ad rates and example revenue
What should you do before joining a network and what questions should you ask when joining
What are podcast networks?
Podcasts in the 90s and early 2000s had a major discovery problem. Search engines were still in the early development stages and podcasting directories did not exist. The idea of podcasting (or then audio blogging) was not yet very popular and widely adopted.
Podcasting networks were created to solve problems:
Marketing of shows – the easiest way to promote podcasts was to cross-promote on different shows where people already knew and liked hosts promoting other shows. The cross-promotion is still important despite algorithms of search engines and podcasting directories working better at suggesting and promoting new shows.
Advertising benefits for both podcasters and advertisers – having more shows in one place allowed to generate better attractiveness for advertising partners.
Scale effect of the network – Adding both new episodes and new shows regularly allowed podcasting networks to scale rapidly improving benefits for podcasters and advertisers. Adding scale in turn allowed for getting more shows and attract better advertisers.
Funding growth – with adding scale to podcast networks they have become attractive for both venture capital funding and for large brand advertisers.
Currently, the main idea behind joining a network is to get marketing (and sometimes organizational) benefits to promote your shows. The network will work as an intermediary and sell ad space on your shows for you while you can focus on working on quality content.
As marketing budgets for podcast advertising keep growing, podcast networks will be a good source of income from ads.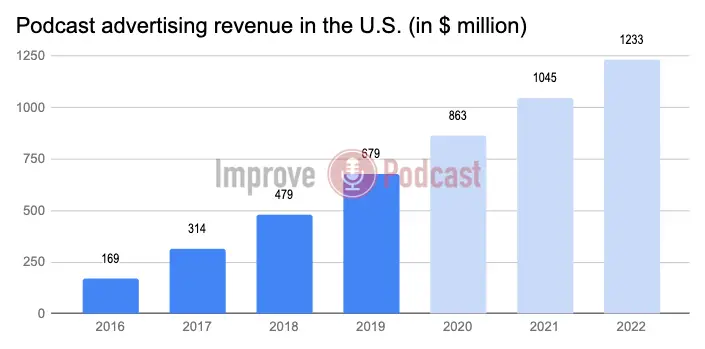 Growing ad revenue is just one of the important podcast market trends. If you want to learn more visit: Top 8 Podcasting Trends – Market, Ads, Consumers & Revenue.
Do podcast networks guarantee the success of your show upon joining?
There is no guarantee of success or profits. Benefiting from cross-promotion can help with reaching new listeners but it still will be your responsibility to develop interesting and engaging content to make sure new listeners stick with your show.
The quality and relevance of your show are most important to focus on as this guarantees long term success and not the network's umbrella. Besides, before joining a network, you will have to evaluate every detail of the deal an assess if it will provide enough value for you.
An alternative for growing your podcast is to have a good website supporting your growth and communication with listeners. Check out how to run an effective website: Podcast Website Marketing Guide.
What types of podcast networks exist?
The basic model for podcast networks is the same, but the main differences you can expect when looking for a network for your show are
Creative control – access to podcasting network means also complying with network rules, sometimes influenced by partnering ad brands. Currently, networks, for the most part, understand that show's success and reach depends on the personality of an author so they don't demand to have high creative control over your show. However, the network can reserve a right to veto some of your decisions and ask to introduce changes.
Funding – with some podcasting networks having access to VC funding they can offer more support to show creators. This support can be in the form of a dedicated producer, who will help you with your show's preparations and editing. Sometimes you will be offered also help with creating a dedicated podcasts website within the network and work on your logo and visual representation.
Partnerships – some networks have partnerships relations with publishing houses. This means that signing up with such a network can lead up to a book deal after getting a larger audience for your show. This option can be interesting for podcasters who want to establish themselves as experts in their own niches. Such a holistic approach can have long term benefits for podcasters. It can be a different model of cooperation than within a VC funded network aiming only for a large scale.
What are the biggest and most popular podcasting networks?
There are multiple networks currently on the market. When looking for a network evaluate if your show will work better in a massive network or are you targeting some niche audiences.
Some of them are closed or working only with large podcast publishers and not openly adding new, individual shows to their offer. Here are some of the biggest who are worth considering and who are actively looking for shows to add to their portfolio (in alphabetical order).
Authentic Shows – they have a reputation of exclusive podcast network focusing on high-quality podcasts and advertisers.
AdvertiseCast – is a big network with over 1,000 shows available. They have access to high profile advertisers offering an industry-leading platform for their advertisers.
Archer Avenue – established in 2009 is actually one of the oldest networks with over 100 shows available.
Midroll – well established and reputable network with over 250 shows available and working with over 200 large brands spending big budgets on ads and looking for broad reaches.
PodcastOne – network with over 200 shows and large advertising partners. Well known and established networks focus on high-quality shows.
What are the benefits offered by podcast networks?
We have grouped types of cooperation benefits networks may offer to shows joining their brand:
1. Technical benefits – as market available solutions for podcasters mature and become more competitive some of the offered technical benefits are less compelling and are not always necessary
Free hosting – sometimes it could come with a fee,
A dedicated website – to boost brand recognition,
Logo redesign – to again boost recognition and highlight quality and show's theme
Assigned producer – this can mean giving tips and reviews to your content but also to monitor your shows compliance with network rules (often agreed with big advertisers)
2. Marketing efforts to grow your listeners base – something much desired by all podcasters, the ability to rapidly expand their listeners base.
Promotion / cross-promotion within networks existing listeners
Public relations efforts with media and other podcasters best fitting the target audience of your show
3. Revenue from advertisement – allowing you to make a steady income from your show and focus on the content quality
Networks find large ad partners looking to reach millions of customers
Matching sponsors interested in working with specific shows targeting niche audiences
Selling ad space on your show
Matching ads with audiences increasing the effectiveness of ads ensuring better cooperation with advertisers
4. Personal growth and development – can be less tangible and more difficult to measure but is worth considering.
Networking – meeting other podcasters and joining a collective can have good long term personal development benefits.
Learning opportunity – you will be able to share experience and grow your knowledge on how to improve your show
How effective is podcast advertising?
According to networks, podcast advertising can be very effective. Main for of ads are:
Dynamically inserted – automatically by algorithm matching listener of your podcast with an ad designed to appeal specific listeners segments.
Host-read – those ads mean a show author reads an ad in its own voice.
Different networks rely on different types of ads. However, the dominant approach is that as hosts are main promotional machines for their shows, listeners tend to trust them and follow their recommendations. As hosts are becoming more and more trustworthy the host-read ads can perform extremely well with the target audience. This allows large networks to secure advertisers with big budgets. As they manage matching shows with advertisers you can focus on creating content.
Since listeners trust and like the host of the show they tend to listen to the host-read ads instead of skipping them or tuning out as they can with ads in many other mediums. Because the listeners respect the host they are more receptive to the brands that these hosts endorse.
Basics of podcast advertising
Revenue is shared with your podcasting network, usually 70/30. You receive 70% and the network takes the rest. This is a very typical split, but don't be surprised to see a different proposition.
CPM (cost per mile) – you get paid by 1,000 ad impressions on your podcast.
There are 3 typical places where ads are displayed during the show:
Pre-roll – 20-30 second advertisement presented after the start of the show but before the core content
Mid-roll – 45-60 second ad presented somewhere in the middle of the show (in between 40-60% of the episode length)
Post-roll – least used spot to display, usually if used this is a very short (5-10 second) reminder of the ad and brand which was already mentioned earlier during the show. This serves as a reinforcement to the original message.
What is the usual cost for ads in a podcasting show?
The final cost of each ad displayed will depend on the podcast category, quality of content, publishing frequency, etc. Usual CPM for ads will be:
Pre-roll (20-30 seconds) at $6-20 CPM
Mid-roll (60 seconds) at $11-25 CPM
Post-roll (10 seconds) at $4-15 CPM
Although, according to Midroll the CPM can reach $50 I suggest to be careful with too optimistic calculations.
With lower publishing frequency your rate will be closer to the bottom of the above ranges. If your show will get tens of thousands of episodes and you find the right advertiser, well-matched with your shows target audience prices can go the above-specified range.
What revenue level is possible to generate from podcast network ads?
Final revenue depends on many factors, including your podcast's reach, audience demographics, length of the episode and ad saturation. Usually, radio shows average at 9 minutes of commercials in an hour, so podcasting networks trying to be more attractive to the audience use only half of this time for commercials.
If you have a 30min show with each show getting 5000 downloads you can expect an example revenue:
| | |
| --- | --- |
| | Per episode |
| Episode length | 30 minutes |
| Average reach per episode | 5000 |
| No. of pre-roll ads | 2 |
| Example pre-roll CPM | $9 |
| No. of mid-roll ads | 1 |
| Example mid-roll CPM | $17 |
| Revenue per episode | $175 |
If you would publish 2 episodes per week for 50 weeks per year you could get up to $17,500. Of course, as mentioned this would depend on CPM of each ad campaign and those could vary during the year. Also as mentioned previously this revenue will have to be shared with your podcast network.
What are the requirements to join a podcasting network?
Podcast networks, of course, are looking for large shows delivering tens of thousands of downloads regularly per episode. But you still can join if you have a smaller show. Just remember that when you have a bigger show you can get a better deal. This pursuit for large shows is driven by advertisers demanding to have a large reach and buying ads on a large scale. So onboarding many small shows, and then working on host-read ads, doesn't deliver enough supply of ad space.
So the requirements you may find when negotiating to join a podcasting network:
Number of downloads per episode – as already mentioned most networks are looking for shows with at least 1,000 episodes
Publishing frequency – the most network will look for shows with at least 1 episode per week
Revenue sharing – you have to give % of the earned revenue
Some level of oversight – control podcast network demands to make sure it doesn't violate any ad partners requirements
Creative control – rarely network may require to review and approve scripts
Cross-promotion – if your show is big and popular you may be asked to cross-promote other shows belonging to the network
To have a better position in your negotiations with podcast network, work hard on getting more traffic to your show before you start negotiations. We have some tips gathered in this article: How to drive traffic and promote your podcast – detailed Podcast Marketing Guide.
What are the negatives of podcast networks?
Revenue sharing – for getting access to a network of advertisers instead of finding them on your own you need to share some of the earned revenue
Switching podcasting host – to better manage all the shows, especially if your network provides dynamically-inserted ads you may need to move all your episodes to the podcasting hosts used by your network
Creative control – there are networks who demand a high level of control, from editing input for episodes to canceling underperforming shows.
Removal of old ads – a network may require ads in old episodes to be removed. They will do it for you automatically so you don't have to worry but this may conflict with some of the agreements with past advertisers if you had agreed to have an ad baker in the episode indefinitely.
No control over ad inventory – as networks lure podcaster with a promise of revenue from ads they don't guarantee it. They will ask for total control of your inventory so they will be exclusively able to sell ads on your show. If the network fails to sell enough ads on your shows you will not be able to rescue your income with finding your own sponsors. This doesn't happen often but you need to be aware of what level of risk you are accepting.
What questions should you ask your potential podcast network?
What is ad revenue sharing? At what level of downloads can you receive a higher % of revenue?
Can they guarantee any % of ads to be sold and revenue delivered?
Who pays the hosting costs? Can they be free irrespectively of a number of episode downloads?
How are they supporting existing podcasts and how will they support yours? Will there be cross-promotion on existing shows?
What other promotional activities network will launch to increase your podcasts listenership? How those activities will be tracked and results reported?
What synergistic opportunities are there for your show within the network? Can network facilitate cooperation with other podcasters?
Is there a trial period in the contract? Can you break it without consequences within a trial period if the cooperation with the ad network won't bring satisfactory results? This is especially important if the contract is vague regarding the network's promotion activities.
What to do before approaching a network?
First of all, don't start a show with the ultimate goal of joining a network. You will get distracted and your quality will suffer. Focus on users and generating great content.
Try to boost your quality on your own without reaching to network for help
Try to grow your show on your own to get a better negotiating position.
Most importantly focus on making the best show you possibly can.
Ask yourself questions and find answers most in line with your long term expectations:

What do you want to gain from partnering with a network?
Can you get those results on your own?
What are your long and short-term goals in podcasting?
Which network is most compatible with your expectations?
Ultimately keep on producing great content and valuable show for your users and networks will find you.
---
In conclusion:
Podcasting networks solve problems of marketing & cross-promotion of shows, they attract large advertisers, build scale and secure funding for growth
Joining the podcasting network won't guarantee your show popularity or high revenue
In some networks, you will have to give away your creative control
There are many large and small networks available openly inviting creators to join their networks
You will need to share your revenue with podcasting network
Revenue is made in the CPM model, where you will get a fee for thousand of displays of an ad
Most expensive ads are mid-roll ads – 60 second clips in the middle of the show
Less expensive and popular are pre-roll ads – 20-30 seconds ads at the beginning of the shows
Post-roll ads are least popular and least expensive – usually, they reinforce one of the previously presented ads
Most effective are host-read ads where hosts trust is improving ads success
Dynamically-inserted ads can be well-targeted but are less effective
You will need to negotiate terms of joining the network and you will need to meet some of the requirements – like migrating your show to a networks podcasting host
If you have a bigger show, published very frequently you will get better conditions from network