Podcast listeners are young, educated and affluent. The largest age group of listeners is between 12-24 years old (40%). The largest group from income perspective are listeners in households with annual income between $100k-150k (17%). Regular listeners listen to 7 different shows and listen to 8 hours of content weekly.
They consumer more shows published on Wednesday's which are between 30 and 40 minutes in length.
---
This article is part of a wider, 3 article series allowing to fully understand podcasting market. Click on the images to proceed and learn more about podcast listeners' numbers and trends in the podcasting market.
---
Podcast listeners by gender
Men have historically listened to more podcasts on a monthly basis than women. But growth in both groups is comparably fast.
In 2013, 15% of men and 9% of women listened to podcasts regularly on a monthly basis. This was also the year with the biggest disproportion when podcasting audience was 63% men and 37% women. In 2015, when 17% of men and 16% of women listened to podcasts regularly we were closest to having a 50% to 50% split of the audience between men and women.
In 2019, 34% of men and 29% of women listen to podcasts regularly on a monthly basis. We predict the growth in both groups will continue. In consequence in 2022, 49% of men and 43% of women will listen to podcasts on a regular, monthly basis.
---
Podcast listeners by age groups

Podcast listening is consistently growing in all age groups
In the age group of people between 12 and 24 listenership is growing the fastest. In 2013 only 11% of people listened to a podcast, which is every 1 of 10 Americans. This has tripled in 2018 and quadrupled in 2019. Currently, in 2019 roughly 40% of people in this age group listen to podcasts regularly, on a monthly basis, which is more than 1 of 3 Americans. We predict a high growth trend will continue and in 2022 to reach c.a. 59% of the population age 12-24 which will mean every 6 of 10 Americans listening to podcasts.
In the age group of people, 25 and 54 listenership is also growing at a very fast rate. 16% of Americans were listening to podcasts in 2013. In the year 2018, in just five years, this has doubled to 32%. This growth is not stopping and 2019 brings us another record for this age group at 39% listenership. With our prediction in 2022, 59% of people between ages 25 and 54 will be listening to podcasts on a monthly basis.
As for the last and smallest age group, people over 55, we are also observing growth in this group. In 2013 and 2014 listenership was at low 7% but it has more than doubled by 2019 to 17%. We recognize further growth in this age group and listenership to grow to 26% by 2022.
Overall regular monthly listenership in absolute numbers has reached 32% of the total U.S. population in 2019. Listenership has reached 90 million people and will reach 47% and 132 million people by 2022.
When compared to the overall U.S. population people between ages 18 and 54 constitute 70% of podcast listening audience while having only 59% share in the total U.S. (age 12+).
If you want to find out more about podcast listenership data check our article Number of podcast listeners in 2019 and outlook for 2022.
---
Podcast listeners education and employment
Education – Percentage of the U.S. population having either a 4-year college degree, postgraduate degree or advanced degree for years now hovers around 40%. People holding those degrees for years are around 60% of regular monthly podcast listeners.
Employment – Percentage of the U.S. population having the status of a student, full-time or part-time employed are around 70%. At the same time, those groups are around 80% of regular monthly podcast listeners.
The difference in employment doesn't immediately show the difference between population and podcast listeners. However, when we look at the education data and how those factors impact the average yearly household income of podcast listeners we receive a more complete picture of podcast fans.
---
Podcast listeners by household income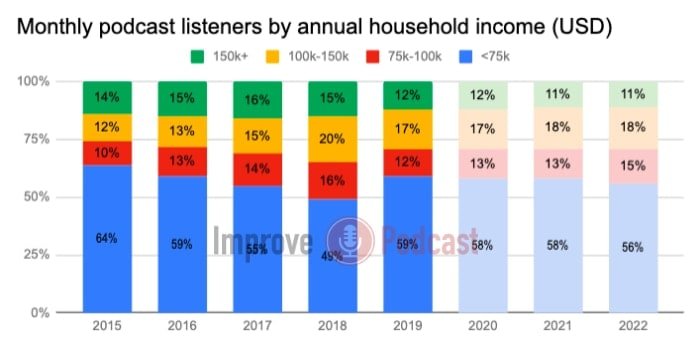 Since 2015 we observe a rising share of households with a yearly income larger than $75k within regular monthly podcasts listeners.
In 2015, 1 of 3 Americans from households above $75k yearly income were regular monthly podcast listeners (36% of all podcasts listeners). In 2022 we predict it will be almost 1 of 2 Americans (44% of all podcasts listeners).
From an annual income perspective, the largest group of listeners are listeners from households from $100k-150k group. This will continue to be the fast-growing audience until 2022.
Listenership within households in the $75k-100k annual income group is also growing fast and just slightly slower than in the group $100k-150k. It will keep growing until 2022.
Listenership in most affluent households with income above $150k per year will also grow. But it will grow at a much slower rate than above mentioned remaining two groups. The share, however, will decline as podcasts will be reaching a wider audience.
Share of all households with income below $75k per year is dropping since 2015 from 64%, reaching 59% in 2019. It will continue dropping until 2022 reaching 56% share.
It is worth mentioning that affluent listeners are a higher percentage of total listeners than in the population in general. In 2019 affluent households with annual income above $75k are 29% of all households. While among monthly podcasts listeners those affluent households are contributing to 41% of all listeners.
If you want to attract more affluent listeners to your podcast you need to have a good marketing strategy. We have written an article on getting new listeners more effectively: How to drive traffic and promote your podcast – detailed Podcast Marketing Guide.
---
Where do people listen to podcasts?
Among regular monthly consumers 48% of podcast listeners in the U.S. listened to podcasts at home, and 26% in the car. Both locations combined give us almost 75% of all podcast listenings.
Among other locations where people ever listen to podcasts are during a walk, at work, in the gym or in public transportation.
How much time do people spend listening to podcasts?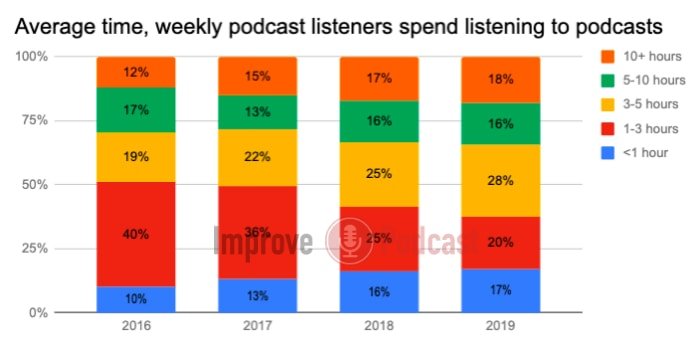 Average listenership time grows each year.
In 2016 weekly podcast listeners were listening to 4 hours of podcasts, in 2017 it was 5 hours. In 2018 this number grew again to 6.5 hours and in 2019 to almost 8 hours.
---
How many shows are people listening to?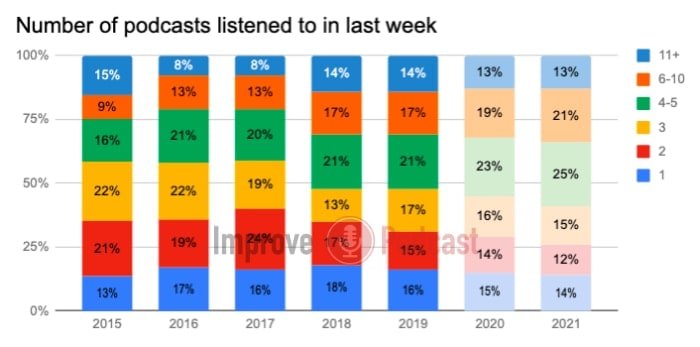 In 2015, 2016 and 2017 weekly podcast listeners on average listened to 6 shows
In 2018 and 2019 this average went up to 7 shows and should remain on this level until 2021
This is mainly due to the fact of a growing percentage of listeners in the group who listens on average 4-5 shows and 6-10 shows weekly. Those both groups were 25% of weekly listeners in 2015. They are 38% of listeners in 2019 and will grow to 46% in 2021.
On the other hand, people who listen to one, two or 3 podcasts weekly went down from 56% in 2015 to 48% in 2019 and will continue to drop to 41% in 2021.
---
How long should a podcast episode last?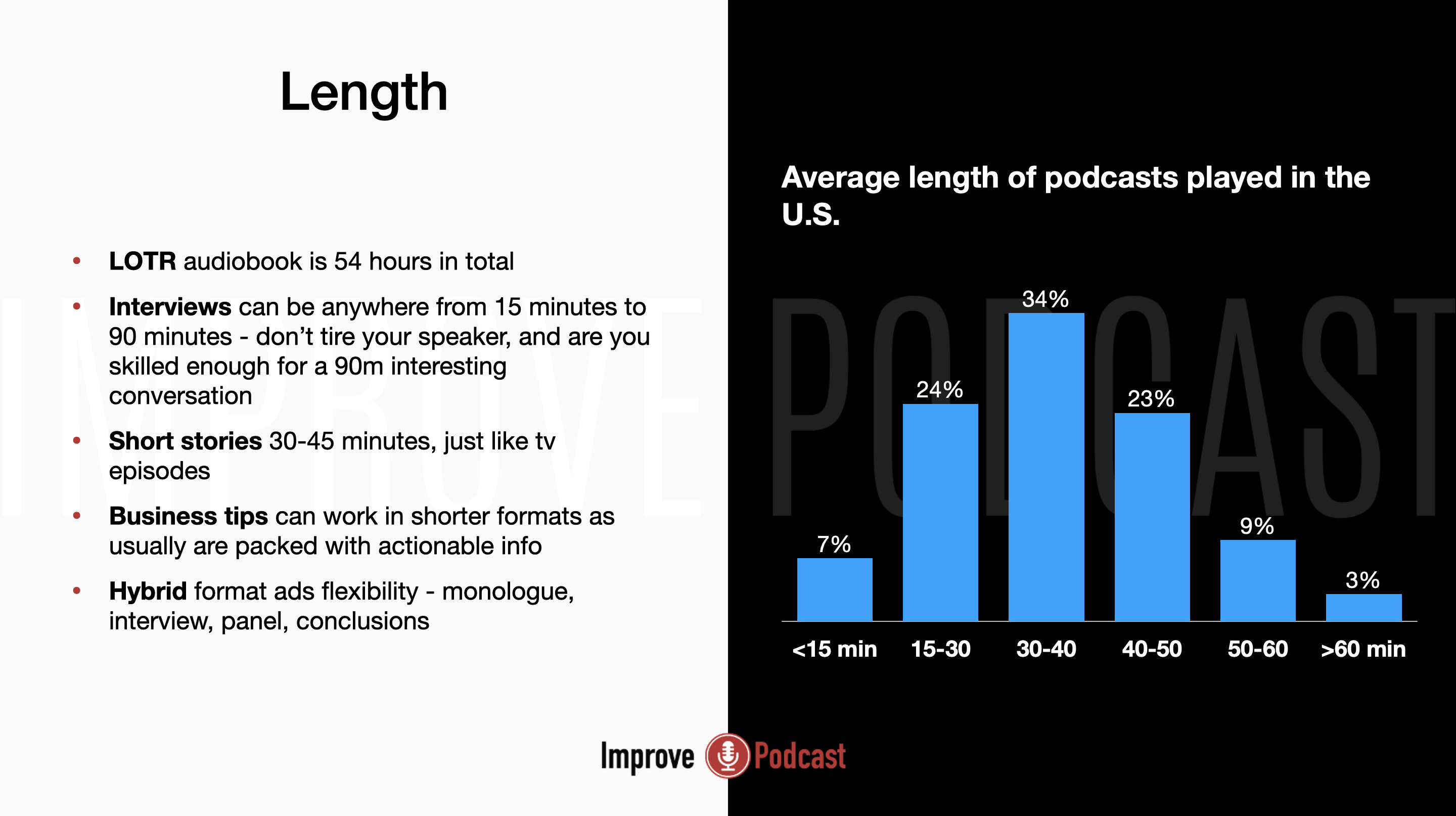 The largest group of people on average listens to episodes lasting 30 to 40 minutes
However, people are also listening to a similar extent the episodes lasting between 15 and 30 minutes as well as between 40 and 50 minutes.
Having a correct length of an episode is extremely important for keeping your audience engaged. To find out other steps you should be taking read: 9 key tips on how to plan podcast episodes.
---
What days are best to publish podcast episodes?
Highest average reach receive episodes published on Wednesday with 25% of reach
High reaches also achieve episodes published on Fridays with 24% and Thursdays with 22% reach.
Average reach achieved by episodes published on weekdays is 21%, due to lower reaches achieved on Mondays and Tuesdays.
You will want to avoid publishing on weekends as reaches in those days are substantially below levels possible to achieve on weekdays.
---
Growing podcast advertising revenue
The rise in popularity of podcasts hasn't gone unnoticed by the advertisers. Podcast listeners are young, better educated than average and have a higher average income. Their consumption of podcasts rises regularly for more than a decade now.
Podcast advertising revenue in the U.S. will reach $513 million in 2019 and will grow to more than $650 million by 2020.
If you want to find out more about trends in podcasting for 2019 and beyond, including advertising budgets visit our article: Top 8 Podcasting Trends 2019/2020 – Market, Ads, Consumers & Revenue.
Since podcasts audience is younger, better educated and affluent podcast advertising delivers messages to a unique audience. It is very profitable and in high demand for advertisers. Podcasts provide advertisers and brands which they represent to broadcast their message to a very attractive audience which is not easy to reach otherwise. Also, a very popular format of host-read ads makes the message more trustworthy and allows advertisers to achieve great results with their budgets. The most popular and scalable way to get ads on your podcast is through cooperation with a podcasting network that will sell ads for you. To learn more check: How do podcast networks work? – Everything you need to know before joining.
We also strongly recommend having a website dedicated to your podcast. It will help you with communication and will enable to you new mechanisms of growing an audience. To learn more read our article: Podcast Website Marketing Guide – increase the number of listeners and improve monetization.
---
In conclusion:
Podcast listeners are young, educated and affluent
Gender – Podcast listeners are both male and female and while still more men listen to podcasts than women growth of listenership in both groups is similarly very high
Age – People between 12 and 24 years of age constituted 40% of regular, monthly listeners. This is the largest age group and the fastest growing
Income – From annual income perspective the fastest-growing groups of listeners are listeners from households from $100k-150k group with a 23% share of listenership in 2019
In 2019 regular podcast listeners were listening to almost 8 hours of content weekly
In 2019 regular podcast listeners on average listened to 7 shows weekly
If you want to appeal to the largest group of listeners make your episodes last between 30 and 40 minutes
Publishing on weekdays allows achieving higher reach (average 21%) than on weekends with highest average reach achieved by episodes published on Wednesday (25% of reach)
Podcast listeners are a very attractive group for advertisers, who are interested in reaching this group of consumers with their messages
Sources:
Edison Research & Triton Digital – The Infinite Dial & The Podcast Consumer