If you are planning to start a podcast or you already have a show, you know that most professional mics shouldn't be handheld. To avoid vibrations and continuously changing the position of your mic, you need a reliable stand. The best podcasting microphone stand will help you with the quality of your show and simultaneously protect your gear.
Podcasts are immensely popular in the USA, and more and more people are listening to podcasts in many other countries as well. With the rising popularity of podcasts, global competition is set to increase. And with more competition, there is no room left for imperfection or minor errors.
Podcasters have to aim for perfection. They need to select and work in a niche that holds meaning to them as well as the audience, create tight scripts, and deliver episodes on time. But that's not all. For recording an episode that sounds impressive, podcasters must also hone their recording skills and invest in sound recording equipment that guarantees good sound quality and offers a great return on investment. 
In this post, I will be writing about an overlooked equipment piece that is very important for a great podcast recording session.
You may not give much thought to it, but having the best podcasting microphone stand with you can add to your work quality and guarantee a trouble-free recording.
---
Do you really need to buy the best podcast mic stand?
Whether you prefer to record your podcast while sitting or standing, you need to have the podcasting microphone set at a suitable position. 
Often, during the podcast recording, you might need to change this position. Imagine that you want to lower your microphone, and it gets stuck! It is also typical for low-quality stands to sag down slowly due to the weight of the microphone. Now you are annoyed and struggling to fix it in the middle of the recording! And if you are not able to reposition it, you tilt your neck and end-up recording at an awkward angle. The best podcasting microphone stand should ensure that this never happens to you
A good stand will also protect your gear so your expensive microphone will remain safe. You do not want to witness the horrific spectacle of your podcasting mic falling off from the stand and crashing on the floor right in the middle of your recording.
Moreover, when you buy a microphone stand, you need to spend your money on something that will last for years! A mic stand is not something that should need repair or replacement every year, so you should really research well and bring home the best podcast mic stand that suits your needs.
---

Why not straight away buy the stand that looks the best?
If you walk into a store and buy a stand solely based on its look and feel, you might end up feeling dissatisfied a month later.
You need to understand your requirements thoroughly. It won't be possible to make the right purchase without understanding what sorts of mic stands are available and what you should look for when buying a new mic stand.
If you purchase without assessing these things, it will take you three or four recording sessions to know whether the stand is right for you or not. While aesthetics certainly add to the appeal of a podcast mic stand, and the staff at the store will inevitably brief you about the functionality, what suits one person may not be liked by others. Hence, I strongly urge you to take a deep dive and learn more about podcasting microphone stands before spending those dollar bills.
Let me first tell you about the broad categories of microphone stands.
---
Types of Microphone Stands
1. Tripod Stands
This is the most common design available. Tripod stands are general-purpose stands- perhaps that is why they are so prolific. You can use them for a variety of tasks. 
2. Tripod Boom Stands
 A tripod boom stand has a long boom arm, which gives the stand a longer reach. For musicians, particularly instrumentalists, this can be the best podcasting microphone stand they are searching for.
3. Round Base Stands
As the name suggests, these stands have a round base. They are great for stage performers like singers or stand-up comics, as these stands occupy less space on the floor, and the artiste is unlikely to trip over it. 
4. Low Profile Stands 
A low profile stand can hold the mic at a lower position. It is commonly used for guitar cabs, kick drums, etc. 
5. Desktop Stands
A small stand that can be conveniently placed on your work desk. It can be the best podcasting mic stand for podcasters who record at home or prefer to record while sitting.
6. Overhead Stands
These stands are used when the mic needs to be positioned at greater heights or very different angles. Overhead stands are more expensive as compared to other stands.
---
Parameters to assess for finding the best podcasting microphone stand
1. Height of stand
The height of the stand is the most obvious thing that you need to look out for. Whether you record while sitting or standing, the mic stand must have a height that helps you set the appropriate position for your work. 
If you want to buy the best podcasting mic stand for yourself, I would suggest you go for a one with adjustable height. In such a mic stand, the height can be adjusted in increments. So it gives you the flexibility to use it while sitting or standing, or adjust it for another person in case you have a guest on your show.
2. Height of Boom arm
The height of the boom arm is another important parameter to look out for. You need to have a rough idea in your mind regarding where you want your mic stand to be placed, as it will help you figure out what is the boom arm length that would serve your purpose. If it's adjustable, that's even better.
3. Adjustability
A podcasting mic stand that has adjustable parts is definitely desirable and useful. It takes away a lot of constraints from your work as it can be easily modified to suit different positions without making changes to the setup. Having a stand that can be folded and stored is a great option.
4. Maximum mic weight
What kind of microphone do you use? Note down its weight, and check if the microphone stand that you are considering to buy can support the weight or not. You need the stand to stay in its desired position- adjusting it again and again while recording could be very annoying. And of course, microphones are an expensive investment, so you don't want to damage them either.
5. Durability
A cheap and poor quality mic stand that breaks down in a few months will actually have you shelling out more money due to early replacement. Rather than cutting corners and buying a cheap stand, learn a bit about the good and reliable brands that sell high-quality mic stands. Search the internet, read customer reviews, and take recommendations from your friends who are into podcasting or have ever purchased a mic stand for any other work. By spending a bit of extra time and money, you can assure yourself of getting the best podcasting microphone stand.
---
Best podcasting mic stand – TOP 5
There are a wide variety of podcasts out there, and likewise, podcasters with a variety of preferences. If you are a podcaster who wants to purchase the best podcasting microphone stand, I have a few recommendations for you.
Rode PSA1 is the best desk mounted mic stand.
K&M Telescopic Boom 21090 is excellent if you are planning to record standing, it is also great for videos as you can remove the stand out of the frame.
K&M 21021 is the best podcast mic stand if you plan to have your mic overhead. 

Mic stands
Gator Frameworks GFW-MIC-0821
Rode PSA1
Pyle Heavy Duty PMKS56
K&M Telescopic Boom 21090
K&M 21021


Type
Desk heavy base
Desk swivel stand
Very stable tripod
Standing tripod
Standing tripod premium, overhead
Height
23″
(58 cm)
33″
(83.8 cm)
51.2" to 78.75"
(130 to 200 cm)
35.5" to 63.1"
(90 to 160 cm)
43.3″ to 79.5″
(110 to 202 cm)
Boom length
16″
(40.7 cm)
32.5″
(82.6 cm)
29.5″
(74.9 cm)
30.25″
(76.8 cm)
41.92″
(106.5 cm)
Weight
7 lbs
(3.2 kg)
3.84 lbs
(1.74 kg)
8.82 lbs
(4 kg)
7.2 lbs
(3.3 kg)
13.23 lbs
(5.9 kg)
check price
check price
check price
check price
check price
---
Product recommendations and buyer's guide
1. Gator Frameworks GFW-MIC-0821
This microphone is made of heavy-duty steel, with a 4.5 inches x 8 inches weighted base. The weighted base is highly suitable for heavier microphones. You can adjust its height to a maximum of 23 inches. It has a heavy base, and it is suitable to place on your work desk. 
You can also place it on the floor if you want to record sounds from a musical instrument. The mic stand has a no-slip, vibration-reducing gasket. It fits both the US and Euro Mic Clips. The stand has a 16 inches long boom arm, and it weighs 3.2 kgs.
---
2. Rode PSA1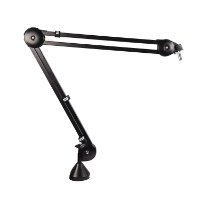 Another great choice for those who want to keep the mic stand on their desk, the Rode PSA1 is a lightweight desk swivel stand that weighs only 1.74 kgs. It offers great flexibility to users, it can be rotated 360 degrees with a maximum reach of 32.5 inches horizontally and 33 inches vertically.
This mic stand provides you two desk mounting options:
desk insert style and
desk camp attachments, along with a 2 axis swivel mount.
It can easily support microphones weighing between 700 g to 1.1 kg (when used along with a shock mount). This weight range will comfortably carry most of the microphones.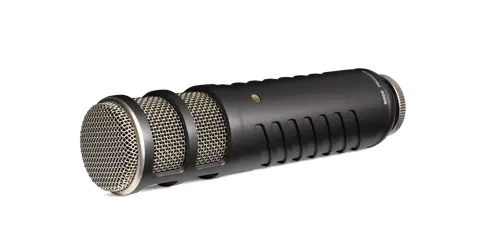 For example, Rode PSA1 is perfect for a mic like Rode Procaster (check current price), which weighs 745 g.
IMPORTANT: Unfortunately, I've seen recently on multiple occasions people using this swivel with too heavy mics. They've picked it just because it is popular.
You need to check firstly how heavy is your microphone before you buy a swivel.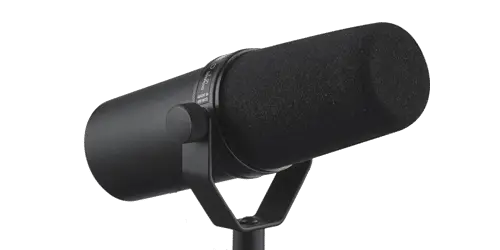 If you are going with a heavier mic, like Shure SM7B (check current price). which weighs 1.23kg, you need something more capable – the perfect desk swivel will be in this case Gator Frameworks 3000 series (check current price).
---
3. Pyle Heavy Duty PMKS56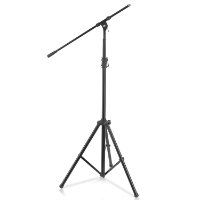 This heavy-duty tripod stand has a stable tripod base that guarantees mic stability when recording your podcast. The stand has multiple adjustment points both on the stand and on the T-band. This allows you to adjust the height between 51.2 to 78.75 inches as per your convenience. 
The stand weighs 4.5 kgs and has a 29.5 inches long boom arm. It has an enlarged tubing that imparts its durability and enhanced structural support. The 5/8 inches adapter and threading takes care of its compatibility with most microphones. 
---
4. K&M Telescopic Boom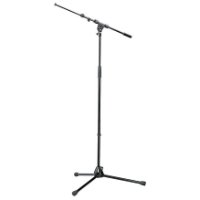 Artists all over the world love this Telescopic Boom mic stand from K&M. It has a one-piece boom arm, and it is equipped with a solid T-bar locking mechanism. This standing tripod has an adjustable height between 35.5 to 63.1 inches, so you can set it according to your comfort level before you begin to record. 
You can easily lift this stand and set it up anywhere, as it weighs only 3.3 kgs. It has a zinc diecast base and long foldable legs for extra support. It is taller than most of the commonly available mic stands. 
---
5. K&M 21021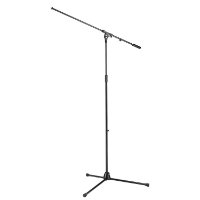 This premium tripod is ideal if you need an overhead mic placement. In fact, you can adjust the telescopic boom anywhere between to length of 35.5 to 63 inches.  It has an adjustable height of 43.3 to 79.5 inches.
The stand is slightly heavier than other mic stands I have recommended, but it weighs 5.9 kgs so I don't think it should be a challenge for you to move it around. The stand is easy to assemble and has foldable legs that save space in storage.
---
5 tips to use a podcasting mic stand correctly
1. Once the best podcasting mic stand is finally in your recording room, don't wait to use it until the actual recording day. Read the manual that came along with it, and learn to set it up properly. See how your mic fits. You can also access the brand's website for more info to guide you. 
2. Position the mic stand at an appropriate distance. You should not lose the projection while recording; however, don't keep it so close that you knock it off or trip over it.
2. Make sure that the lead is not entangled around your legs or any equipment.
4. The boom should be clamped firmly so that it does not sag down while recording.
5. The stand should not be clamped extra tight, otherwise adjusting it would be troublesome.
Here are other recommended recording guides:
---
Conclusions
Keep in mind your budget considerations while making the purchase – if you are a newcomer, the chances are that you will have to spend on other equipment.
The most expensive mic stand may not necessarily be the best podcasting microphone stand for you, as much it is about quality and functionality, it is about your needs too.
I have one last important suggestion, particularly for the novice. On the day of recording, before you turn on the setup and start the actual recording, do a small rehearsal.
This will let you know if you are comfortable with the position of the mic stand and other equipment, and you will not have to interrupt your recording to adjust things again.
What is your favorite podcast mic stand brand and model?