Have you ever considered creating a Podcast? Are you finding it tough to choose a Podcast topic ideas that will appeal to the listeners and be a sound basis for a business model?
Creating Podcasts can let you reach a whole new set of affluent and attractive audience. 
There are 800 million active accounts on Apple Music and Apple Podcasts, and the figure is 250 million for SoundCloud. 
While visual media like memes, video clips, and blogs have saturated the Internet, Podcasts are relatively new to the picture. The users can also listen to a Podcast on the go while commuting or working out. A blog or a video demand more of their time and attention.
Before you start listing down the Podcast topic ideas, I would recommend you to do some homework. You will be able to streamline your podcast ideas and create stellar content if you follow these recommendations that will tell you how to pick a Podcast topic.
---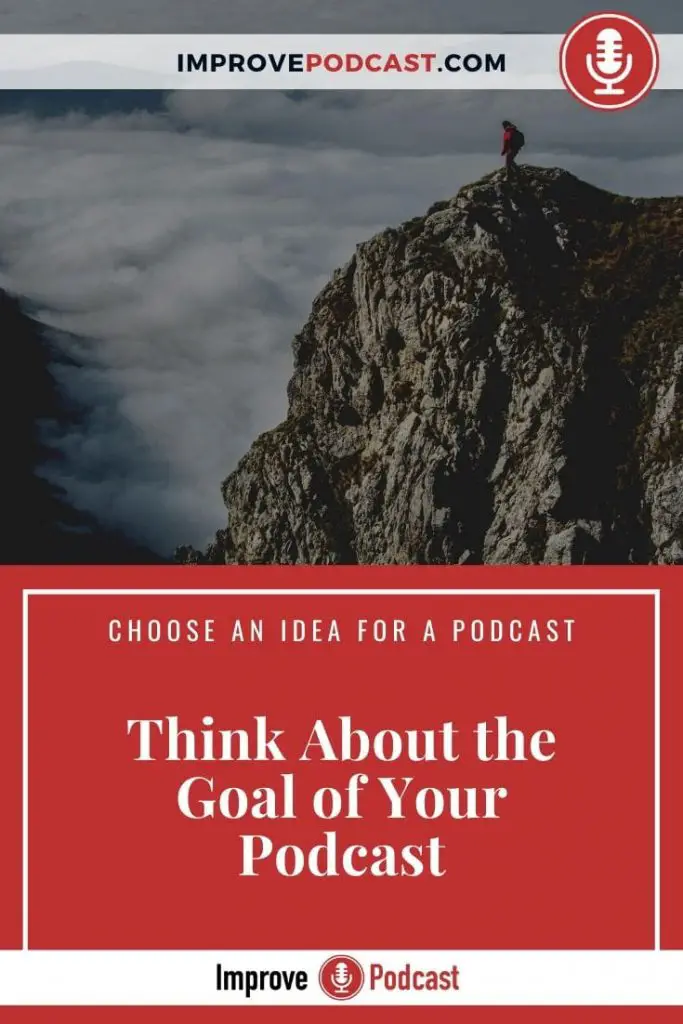 1. Think About the Goal of Your Podcast
You need to be clear on why you want to make a Podcast. A Podcast might be a platform to express your creativity or support a cause. It can also be a medium to generate business leads. 
Identify your motive and stick to it. A podcast requires a strategic approach if you want it to be successful.
Think about whether you need a Podcast for your main life or business objectives. Will your motive be better served at another platform like Youtube or Instagram? Do you need a Podcast at all?
One of the core benefits of starting a podcast is low competition. There are around 800,000 podcasts, so it is much easier to find an audience in this space versus, for example, on youtube.
Will making a podcast serve your interests? Go through some of the sites to validate your understanding. Apple Podcasts, Spotify, Stitcher, Podbay.fm, Podgallery, and Google Play Music are some of the places where you can go to. Check how the existing podcasts in your niche address your core idea for a podcast.
If you want to create podcasts for making money, remember that it requires time, focused effort, hard work, and patience to reach a level where monetization becomes viable. 
You need to have a target audience or a target revenue in mind.  
It will be crucial in choosing an idea for a podcast, as some niches may be less profitable than others.
The revenue aspect and target audience will also help to determine how many episodes you need to achieve your goal. Will your podcast require daily short episodes or weekly long ones?
More episodes may be suitable for an ad revenue strategy or promotion of your brand and products. Smaller frequency can be optimal for strategic sponsorships, partnerships, or a Patreon monetization channel. You need to plan the value and effort podcasting will require of you. 
Do primary research and know about the preferences or concerns of your target audience. Talk to your business team or people that know your niche. You will be able to come up with podcast topic ideas that people will take an interest in. 
---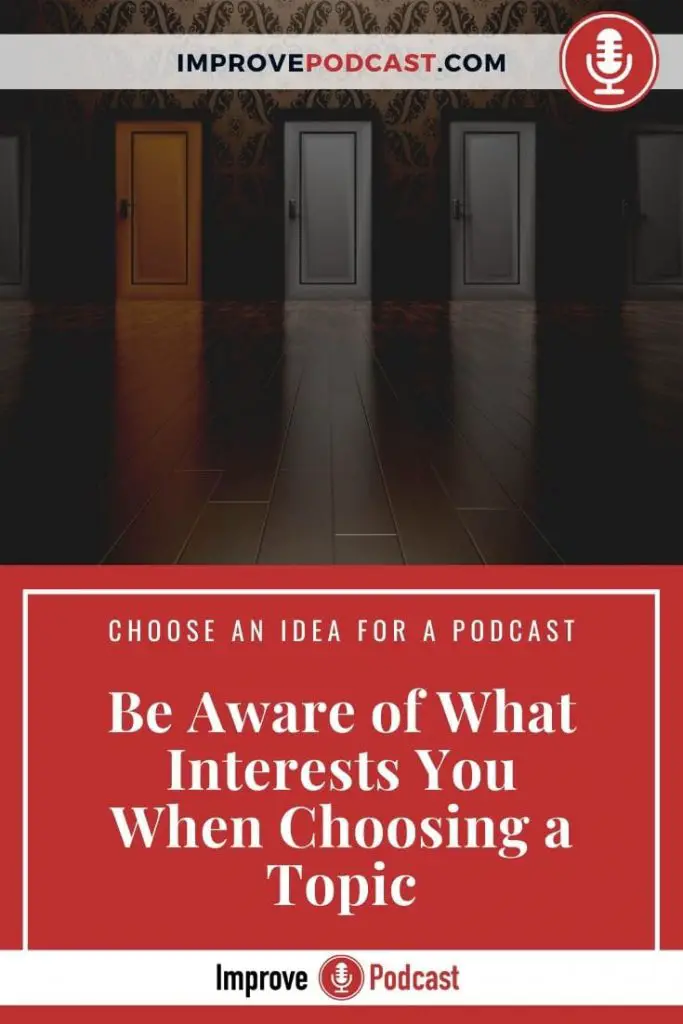 2. Be Aware of What Interests You When Choosing a Topic
If you want to choose an idea for a podcast and then find it successful, you need to make the right pick. You don't need to be an expert in this field right now. But you need to be interested to spend the next few years learning about a topic and creating content on this topic. So choose wisely.
You have to be genuinely interested, if not passionate, in the podcast topic. Passion will also help you in moments of slowdown.
There is about 1 million Podcasts, but over 500 million blogs. There is less competition in podcasting. By consistently creating high-quality content, you are likely to get noticed here.
The online world is saturated with content. If you are not posting new content regularly, you will lose your relevance. 
You need to decide the length and the number of episodes you want to do. Will you be able to deliver this? Can you commit yourself to create a new podcast every week or 8 or 12 monthly? Can you stick to a timetable and work on podcast topics with dedication? 
Choose a niche that you do not care about, and your enthusiasm will dwindle out pretty soon! You have to do a series of podcasts around a theme for people to take note of you. If you need help, check our list of suggestions with podcast topic ideas.
---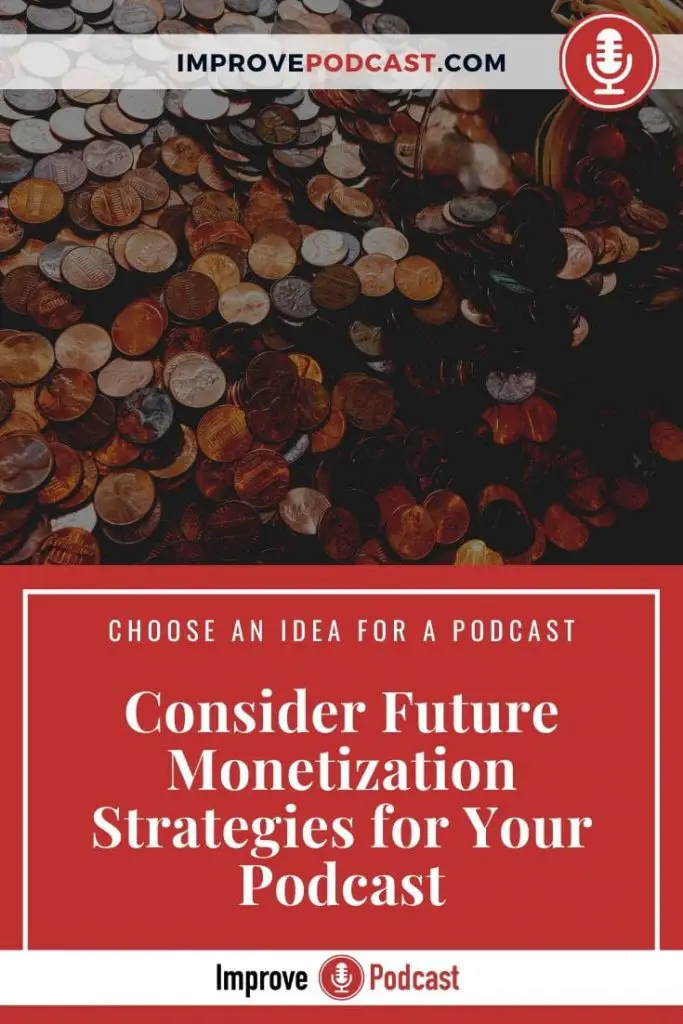 3. Consider Future Monetization Strategies for Your Podcast
Podcasting requires a lot of effort. According to Edison Research and Triton Digital, every week are 62 million Americans who listen to podcasts. This number will shortly surpass 70 million listeners.
The rising popularity of podcasts presents an ample opportunity to make money online. If you are planning to work hard on your podcasts, it is advisable to draft a monetization strategy in advance. 
In this article, I give an example of over 30 ways you can make money podcasting.
You are not likely to make any money in the very beginning. But laying out your strategy and goals ahead of time will help you create relevant content. 
The most common way to monetize podcasts is to sell advertisements and sponsorships. Many advertisers are increasingly looking at Podcasts to connect with people. Ad brokers are taking a great interest in Podcasts. They are selling commercials at the rate of $25 to $50 for every thousand downloads.
Podcasts' ad revenue is estimated to be $679 million in 2019 and is expected to rise to $863 million in 2020 and over $1 billion by 2021, according to the Internet Advertising Bureau (IAB) and PWC.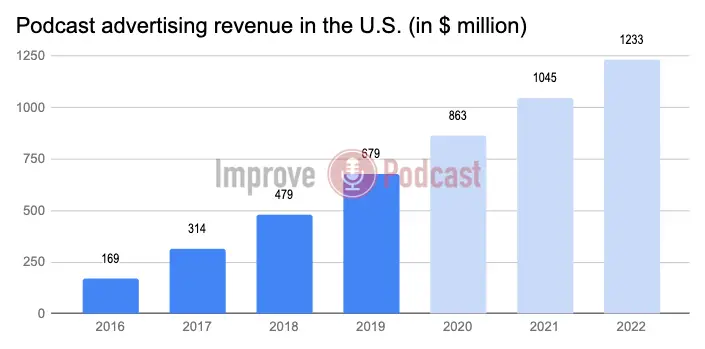 If you are an entrepreneur, then, of course, your idea for a podcast should be centered on your products and services! The podcast you create should promote your brand, and be used to capture and nurture leads to convert them into paying clients.
Affiliate marketing for brands that relate to your theme or niche is another good option. Aaron, a full-time podcaster who runs Lore by Aron Mahnke, strongly advises podcasters to combine multiple revenue streams to generate income, rather than relying on one channel. Aaron sells ads and merchandise on his podcasts, uses crowdfunding, and sells tickets to live shows.
Patreon is another popular strategy. If your podcast requires a lot of research and you are not too pushy with sponsorships and promoting products, you can always ask your audience for a contribution on Patreon. Basically, it means that your audience finds your show.
Whatever product or service you are promoting should relate to your podcast in some way, and it should be relevant to your listeners. It doesn't make much sense to promote business software on a gardening podcast. 
Instead of merely working on ad placements in your podcast content, promote a product as if it were your own. Share your review about it with your listeners, or tell them how to use it.
If you are promoting a product, it would be best if you had this product and used it on your own. It builds trust and makes your endorsement more genuine.
The most advanced and most profitable monetization strategy can be creating, promoting, and selling your info products.
---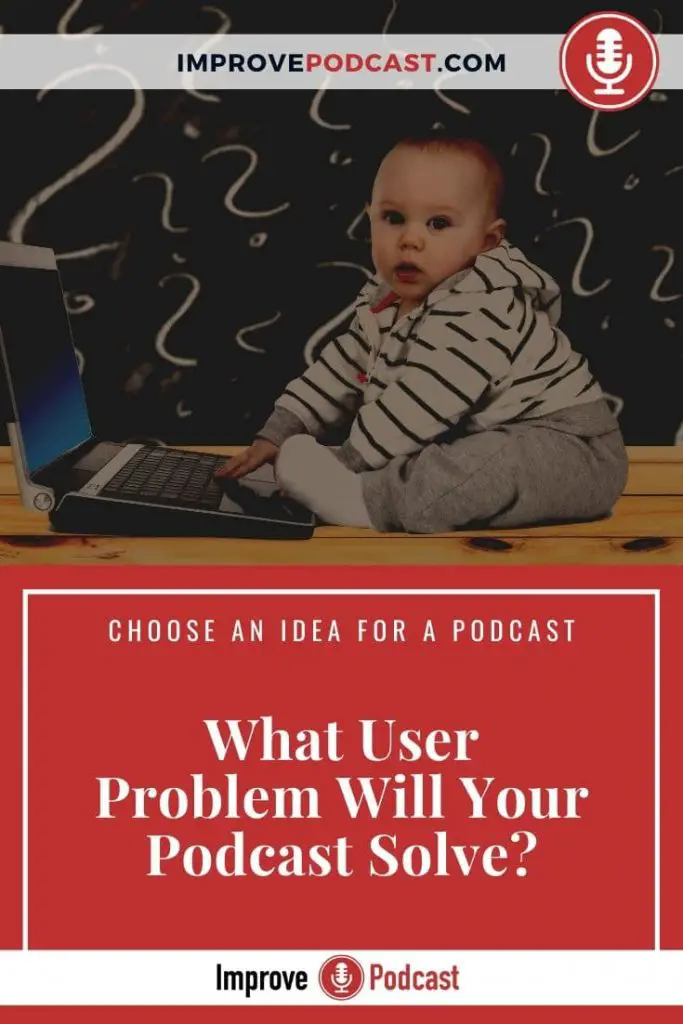 4. What User Problem Will Your Podcast Solve?
You must know your audience well. Are they male or female? What do they do? Are they college students, working professionals, or senior citizens? Are they single moms, bloggers, or entrepreneurs? Know the demographics of podcast listeners.
It will help you choose a topic for a podcast that will talk about something that is a specific pain-point for people. Use podcasting to give answers to your user's questions. 
Let us understand this with some examples. 
Many Americans love dogs and have them as a pet in their home. When people bring home a puppy, they need to train it. They need to train their dogs for discipline and obedience. If you are passionate about dogs and you can create a relevant podcast about training a dog, and dog lovers will take note of you. 
If your content can be more specific, say about training German shepherds, you can command a following over a specific and highly engaged audience. Your listeners will turn to your podcast and go nowhere else when they want to understand why their German Shepherd is whimpering.
Unlike Facebook users, where viewers watch content only for 16.7 seconds, 8% of podcast audiences listen to the complete episode. 
Give people a reason to listen to your podcasts, and they will get hooked soon. 
A long-time back, I would have never thought that there will be many people hooked to a podcast called 'Fix it Home Improvement'! Now it is a favorite podcast series among renovators. It is also helping out people in deciding what they can fix themselves and for what they would need professional help. The content is relatable and useful to many people.
If you choose a common problem people experience and solve it with your podcast, you will be successful. It will help you with communicating the benefits of your show and building an audience.
---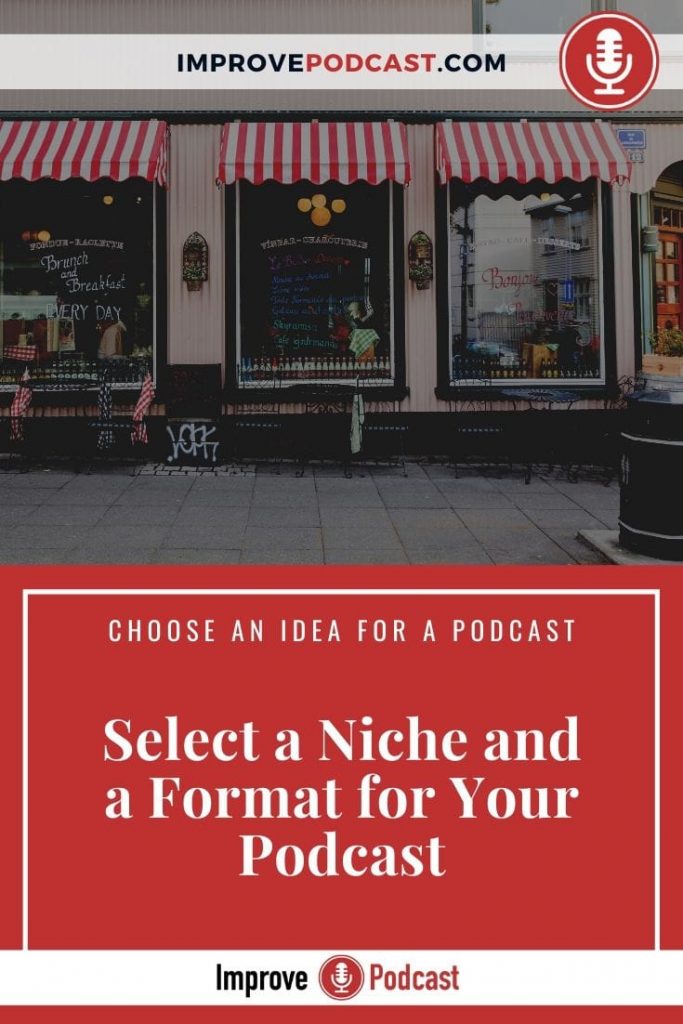 5. Select a Niche and a Format for Your Podcast
Now that you have figured out your purpose, you need to identify a niche or a genre for your podcasting show.
It is the most important thing to do before you begin your work on any form of media. 
Even if you are creating podcasts as a hobby or for a creative pursuit, it is not advisable to talk about politics in one episode and weight loss in another.
People will associate you, the creator, with a specific genre or issue and are likely to come back for more. If you want to make Podcasts to spread awareness, choose a theme like feminism or environmental problems instead of working on a random topic every week. 
If you want to do fiction, you may choose fictional themes like fantasy, science-fiction, or romance but set in a fictional surrounding.
Remember, the niche should be already popular or is likely to become popular in a short time. Don't start a show within a niche that is slowly losing popularity, like knitting, or DVDs.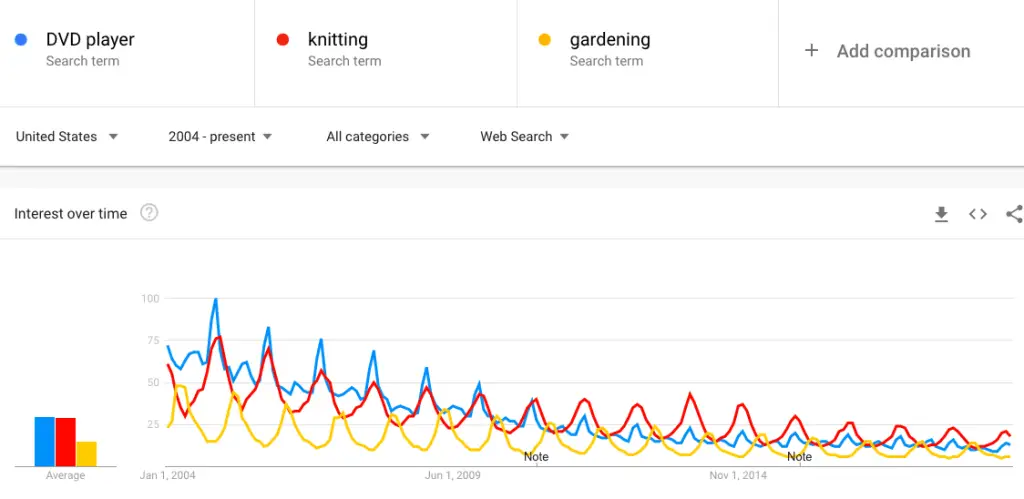 Avoid also researching brands that are losing popularity like Nokia, HTC, or Blackberry.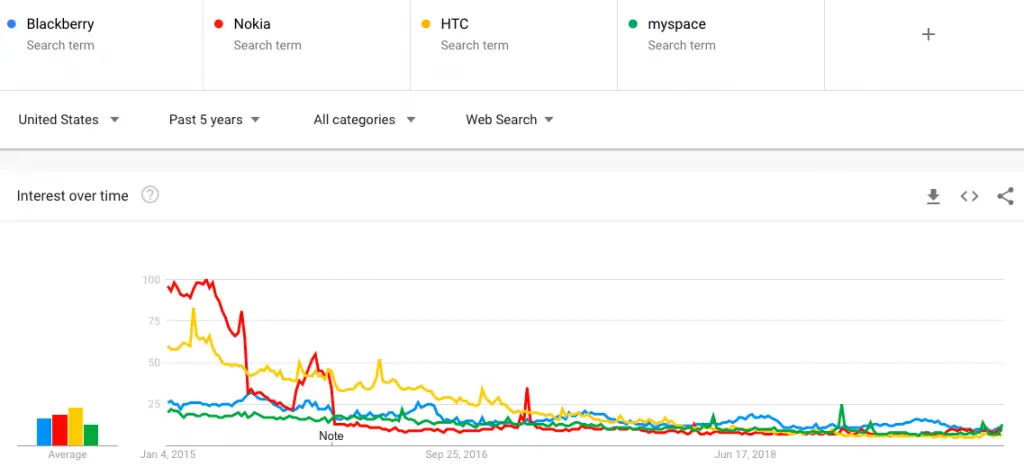 Along with a niche, you should also choose a format. A Podcast is an audio media where you can experiment with several formats. It will help people remember you. Your podcast may be a scripted work. It may be in the form of an interview between two individuals, or a free-flowing conversation within a small group of people. Or you may come up with your unique combination and mixture of popular formats.
---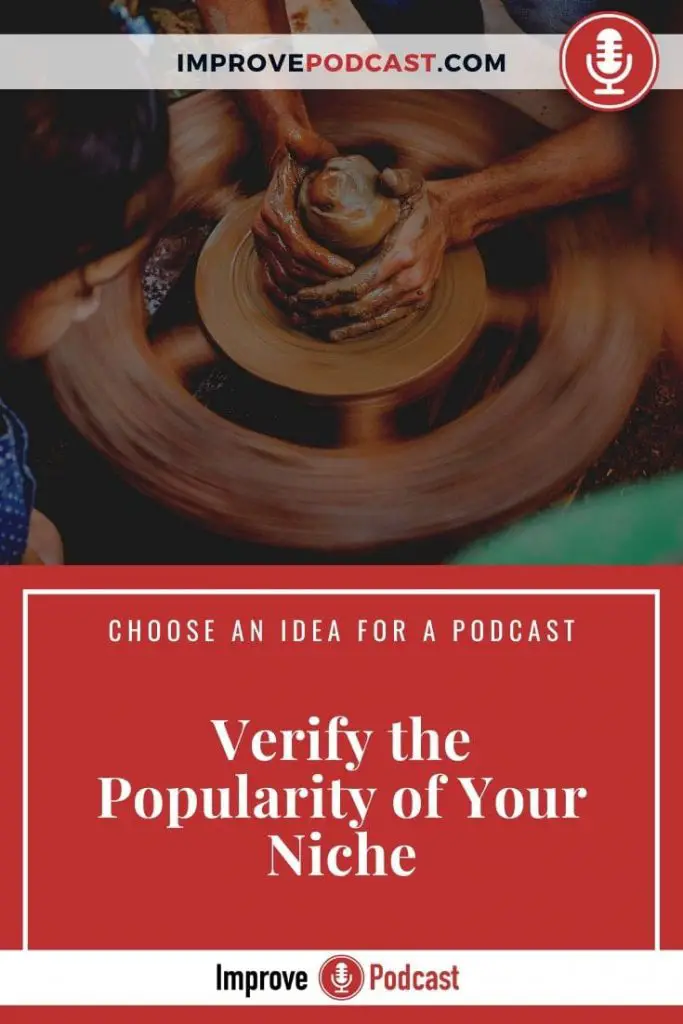 6. Verify the Popularity of Your Niche
Look beyond the world of podcasting to learn more about your niche. Vet your niche for market potential by understanding its performance on other media. 
Create a competitor's list. I would advise you to research your topic for a podcast and find out who is creating any form of content on the subject. Include blogs, videos, podcasts, TV shows – whatever you can find.
Note down what each of your competitors is doing. Are they missing something? Can you present a different take on the niche? How can you create more value for the listener? Such a detailed, exhaustive list will give you interesting and useful insights.
Don't be discouraged if you already find existing competition.
Competition is a good sign that niche is popular so you will have a market for your show. The goal is to be better than others and not to find a niche so small that nobody creates content about it.
Analyze how the niche is performing on Youtube, Facebook, and Instagram. You can also go through print magazines and TV channels to ascertain the same. 
Amazon's popular ebooks are another great option to understand what is popular among the audience. If you need some external help in the process, go to Answer the Public, Infinite Suggest, or do a Google search. Type in your topic for a podcast and see what related ideas come up.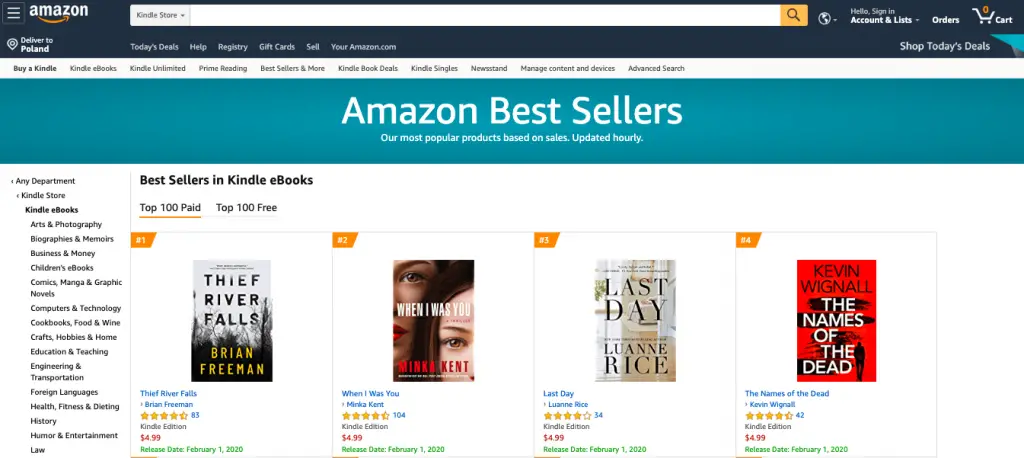 In a nutshell, learn what content people are consuming on various platforms. 
Fitness and weight loss, health, dating and relationships, investment, and finance are highly popular niches. Without prior experience, your first podcast should not probably be in those niches. It will be hard for you with already established competitors and new players coming in regularly.
When you find a decent niche, continue your research. What are the related topics on these niches that are trending on Youtube? Is there room to create new content on these topics? Are there themes within these niches no one is addressing on podcasts? 
Talk to people you know and observer what questions are often asked in online forums. You will get some interesting insights!
---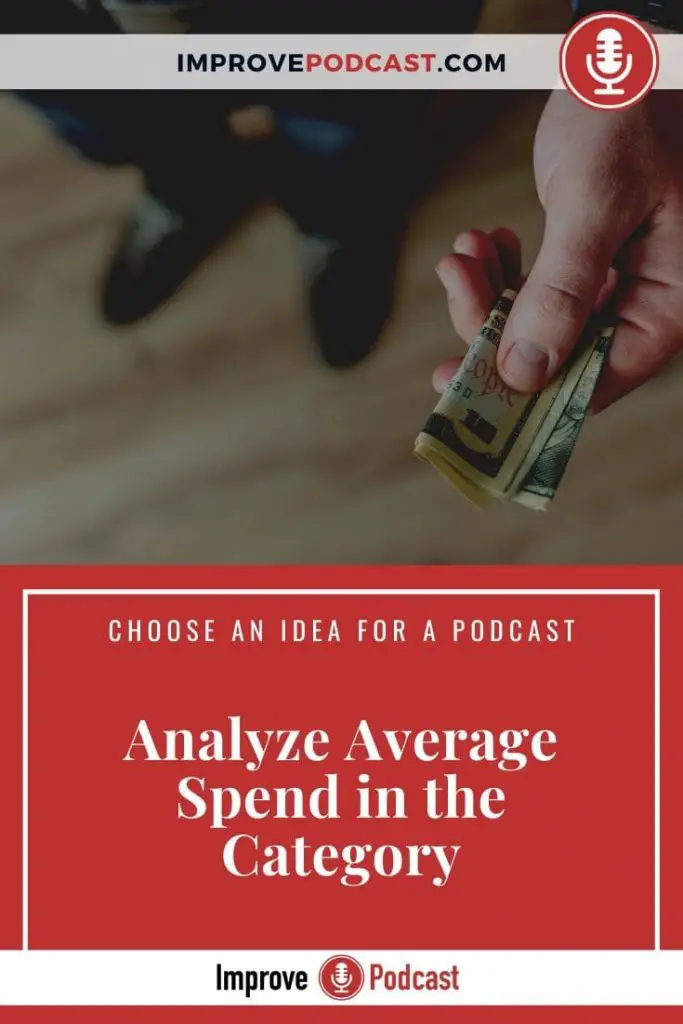 7. Analyze Average Spend in the Category
Will Podcasting bring you financial success? Understand if the niche will bring in the money. Podcasts listeners are an attractive segment for sellers of goods and services. Podcasts listeners tend to be a loyal audience, unlike people who are scrolling down Facebook feed. 
If you make a sales pitch to your listeners on our podcast, they are likely to trust you.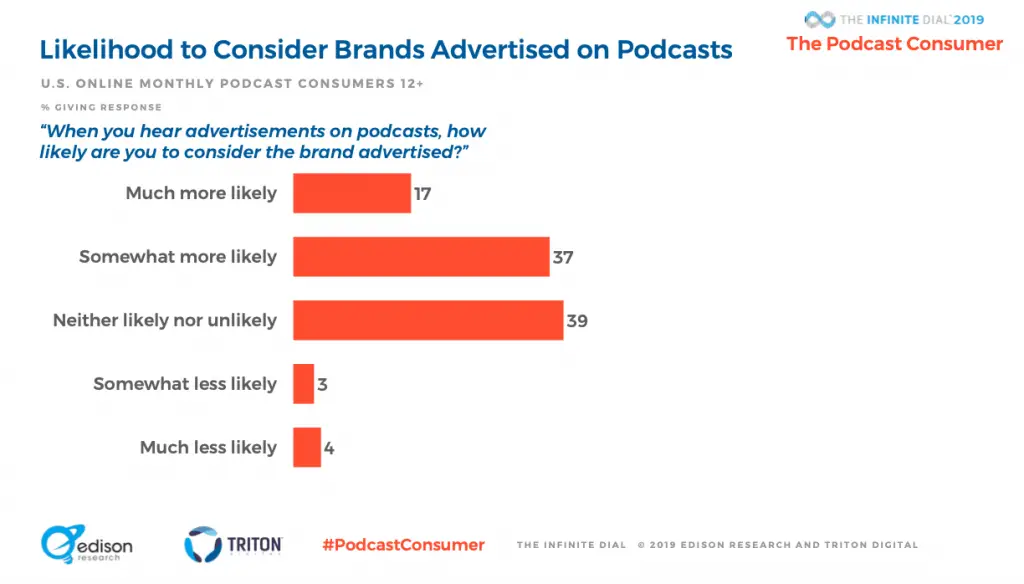 54% of listeners are positive towards brands advertised on podcasts.
The Sales Chat show is a podcast run by Graham Jones, Simon Hazeldine, and Phil Jesson, who happen to be three sales experts. Their podcast helps other professionals get ahead in their sales pursuits. While these three experts share their knowledge and experiences with salespeople, sales managers, and sales directors, they have also acquired clients for themselves. They have successfully promoted themselves as sales experts, consultants, and speakers. Companies are hiring them for their services and paying them big bucks. And they are podcasting about the challenges they faced and the solutions provided while they were helping out these clients.
For new-comers who are wondering if there is anything that they can sell on their podcasts, they can go to sites like Teespring, where they can design their t-shirts, hoodies, and merchandise and sell it to their loyal fans.
The popular product route is also to become an affiliate. If you want to recommend Amazon products, you should have a podcasting website where you will have links. You can also work with sellers based on promo codes and secure your commission that way.
If you choose a successful niche and create high-quality and trustworthy podcasts, you can comfortably promote products or services priced between $100-200. 
Photography is a good example. There are cameras, lenses, batteries, tripods, SD cards, and many more accessories required to start. All those products are in an attractive price range, so your affiliate commission will be worth your time.
Additionally, you may offer exclusive offers for your audience, like bundles or early access. Your product should be relevant to the listeners who are back for each new episode of your show.
In a not-so-successful niche, you will find creators selling products and services priced between $10-20. A commission for you in case of a successful sale would be ridiculously low if you work as an affiliate.
The situation looks different if you can sell some form of valuable product directly.  An ebook priced for $5 to $10 is a great option. In this case, almost the entire sale value is your profit.
---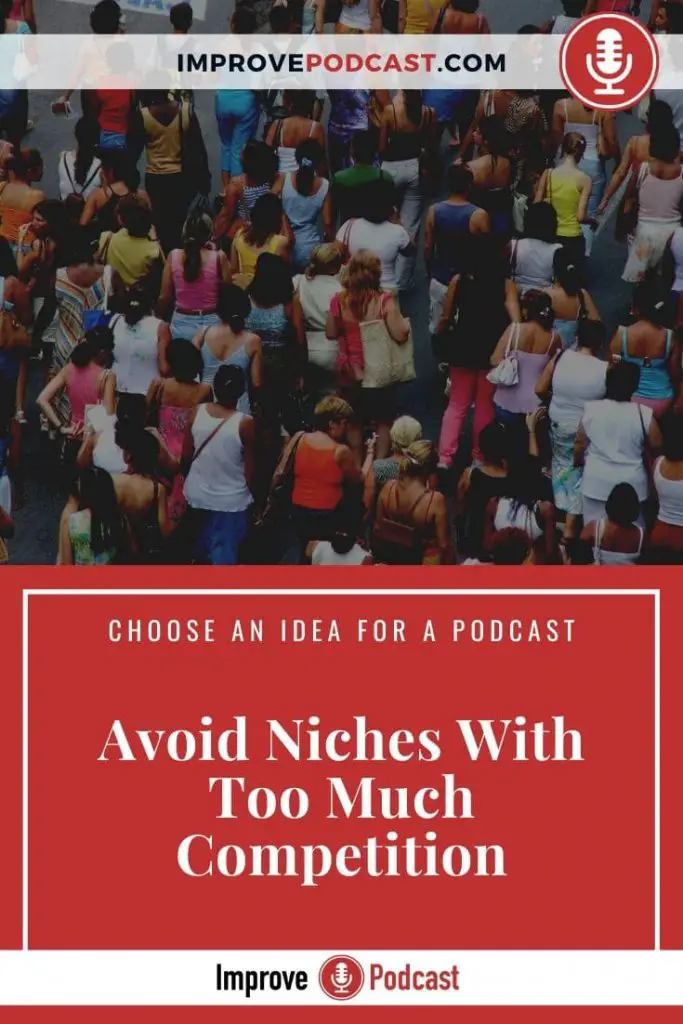 8. Avoid Niches With Too Much Competition
Niches like health, fitness, lifestyle, etc. might appear very popular because of the sheer volume of content available on them on different channels like blogs, Youtube, etc. 
However, many content creators are working in this space, and it will be tough to stand out and breakthrough. Moreover, the audience is not likely to stick with one creator in those niches. 
If you select a niche with no demand, you will hardly get noticed. And if you choose a crowded niche, podcasts with a huge following will beat you down.
Work on such niches only if you are an expert content and podcast creator. If you want to work in a highly popular and specific niche, narrow down further. 
For example, if you want to work on health, rather than making general content about health-related topics, pick up something specific, like diet management for diabetics, or nutrition for soon-to-be moms. 
Your ideas are limited only by your imagination and research.
When you start within a health niche, make sure you come in with some authority and expertise. Google already looks at websites that provide health information (through their YMYL algorithm update) and tries to display only those that can help people and are not passion projects. 
You can have a podcast about dealing with a health condition, but make sure you can establish credibility and authority.
---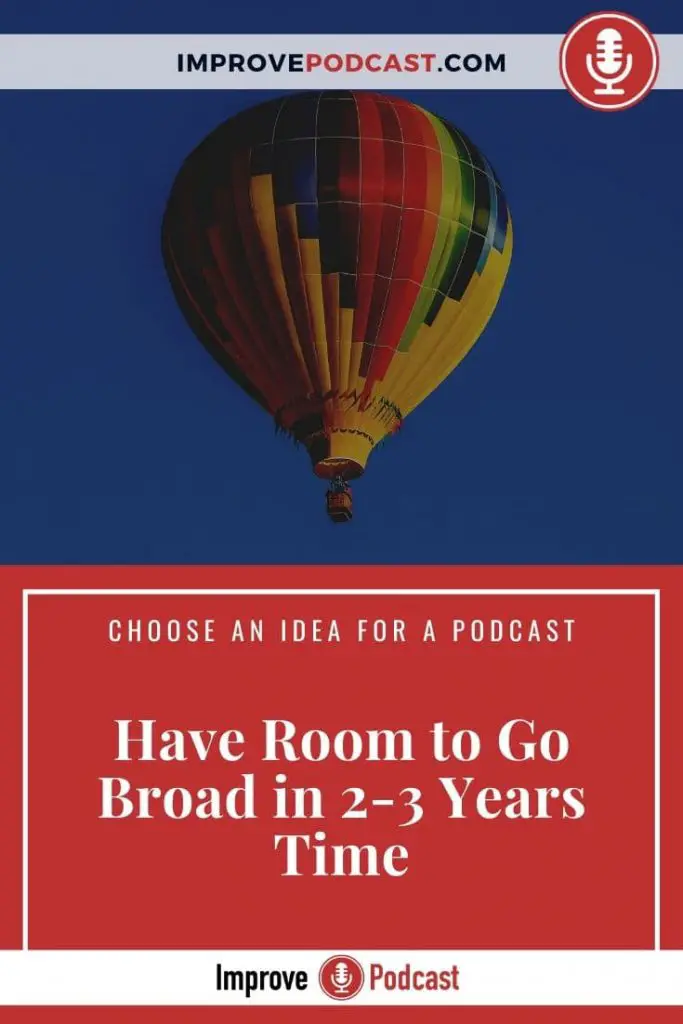 9. Have Room to Go Broad in 2-3 Years Time
A Podcast on a particular niche attracts people who are connected to the niche in some way. 
Highly specific niches attract a loyal audience rather than casual visitors. 
However, this doesn't mean that you should not explore other related ideas. In the long run, branching out into related topics is an excellent idea to expand your work.
Diversifying or branching out doesn't mean that you deviate from a direction and start creating episodes about random stuff in a random format.
Using an analogy, consider your core content as the trunk of a tree. During the initial phase, the seed you have planted slowly grows into a tree. It is the main foundation of the plant that develops bark and become strong. The branches grow and bear fruit later. 
Similarly, focus on the quality and quantity of your core content first. Once you have built a strong following, think of what else can interest your listeners. If you are running a podcast series about strength training, branching out into related fields like sports nutrition, weight management, or another sport is a logical thing to do. It is also the right time to kick-start your affiliate marketing efforts. 
You can also bring in guest speakers or start doing product reviews.
---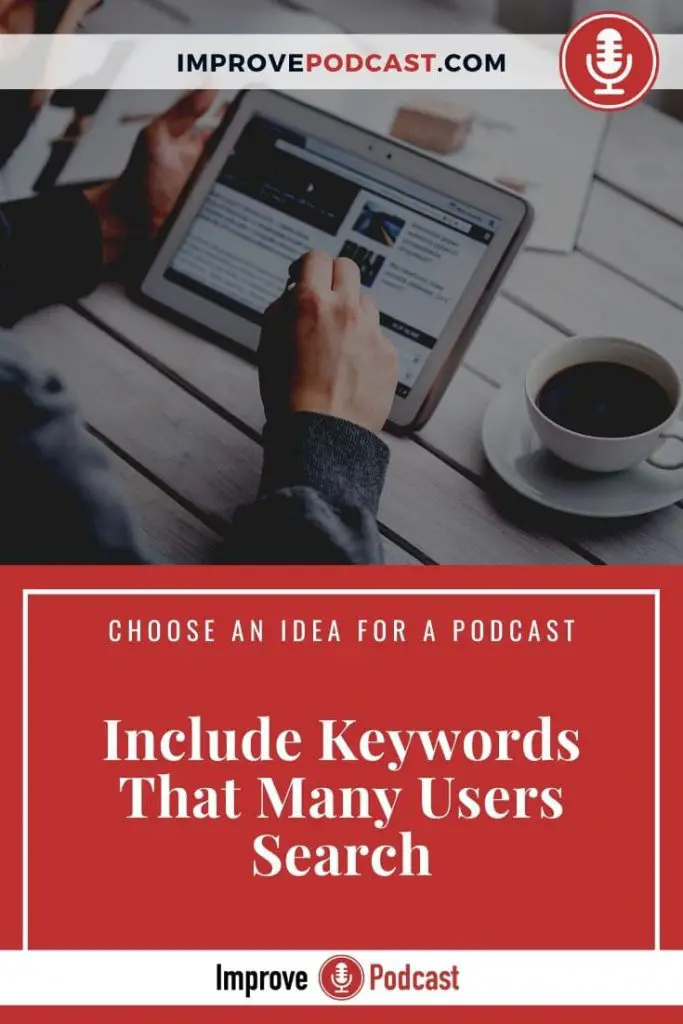 10. Include Keywords That Many Users Search
Your podcast will rank higher in search if the topics include keywords that users commonly search. Exploit Search Engine Optimization strategies so that people find your podcast through search engines like Google. 
In 2019 Google started to index podcasts and show now appear in search results regularly.
There are many tools where you can find highly searched keywords on your subject and use it in your topic. Have the main keyword for your podcast episode. 
Have a look at the search analytics for your keyword within the Google Search Console for your site. You can check how many impressions are there for your primary keyword.
Make a list of ten keywords related to your niche and check their performance on Google Trends. You will get to know if people are searching for the topic on Google, and what are the specific keywords that are more popular. 
Include these keywords in the podcast topic to get noticed. You can also use Buzzsumo, SEMRush, or Ahrefs to get more keyword related data. With the help of these tools, you can find what related keywords people are searching for. You can also verify what are the estimated monthly searches and decide if this is a good idea for a dedicated episode.
Lastly, make a list of all the ideas, main keywords, related keywords, etc. and put it in Google Keyword Planner. It will show you what gets traffic and what does not. You can always actively promote your show to drive more traffic, but it is good to work in a niche where there is already a lot of interested clients.
---
Conclusions
Selecting a topic for a podcast is very important. A good idea for a podcast will be attractive for your audience but also will be interesting for you and allow you to work on your show with passion and enthusiasm.
Choosing a topic on the rise or with the already developed market will guarantee that there is an audience ready for new and exciting content.
You need to be careful about the existing competition. If you start with a too saturated niche, your breakthrough may require a lot of work and financial success may come later.
While the Podcasts world is less saturated than other forms of media, consistent efforts are essential to make your presence known to podcasts listeners. By strategic planning, the right selection of topics, and creating meaningful content, you can build a loyal base of followers. Podcasters can make their mark by working on engaging podcast topics.