Starting your first podcast can seem overwhelming. I also struggled with it, but after years of talking and listening to podcasters, I can confidently give you podcast recording tips for beginners.
The single most important podcast tip for beginners is starting a show as quickly as possible and then improving it constantly. Brainstorm an idea, get podcasting gear within your budget, and start recording and releasing episodes. You will learn more with a live show than planning for too long.
Podcasting can't be learned theoretically. Same as writing books, recording music, videos, learning how to stream, etc. You need to start a show and then improve it. 
We have to say it honestly. Most first show people start, or the first handful of episodes they record are often mediocre. But that is the only way to learn and get good at it.
This article is designed to give you enough tips that you can level up your podcasting game!
Which Podcast Tips Actually Work?
Good podcast recording tips will be specific and action-oriented. They will give you enough information to know what steps you need to take to make that tip work.
Here is an example of poor and good podcasting tips for beginners regarding "consistent publishing" in podcasting.
What Does it Mean to Be Consistent at Publishing?
A poor "be consistent" tip sound like this:
Always be consistent with your podcast and publish your episodes regularly. It will prove you are a great host and care about your audience. That will build trust in the long term. 
A great "be consistent" tip should sound like this:
Have a regular schedule e.g., always publish on the same days at the same hour
Don't publish episodes manually, but schedule the release with your hosting to make sure your episode arrives on time
Make your publishing schedule known and display it on your website
Don't make an unannounced break – if you are away on holiday, let your audience know when you are coming back
Here Are 10 Easy to Implement Podcast Tips for Beginners
What should my first podcast include?
As a general rule your first podcast should cover a familiar territory to boost your confidence. Avoid topics that are completely new to you to minimize nervousness. Minimize the scope of your project for the first 10-20 episodes until you grasp all the technical and content production details.
Your first podcast should:
Focus around an area you are already familiar with or are willing to learn – avoid new fields that will require a massive amount of time for you to learn,
Be simple to gather information – you should already understand how to research for your episodes to minimize that time,
Be simple to produce – solo, co-hosted, or single-person interviews are the best formats for you to start to avoid complex cutting and editing processes.
Your first episode should:
Your first podcast episode shouldn't stand out that much from the other episodes you are planning to record. Remember that most people will start listening to your show from the most current episode in time, so do not overcomplicate your first episode. And don't get stuck here.
Jump immediately into your main topic,
You could do a brief introduction on what this show is going to be about and what is your publishing schedule – but consider doing this as a short trailer (also good for fast show approval),
Some people start explaining to the world why they are starting a podcast – avoid this approach.
How do you start a beginner podcast?
To start a beginner podcast, create a plan lasting 6 to 10 weeks. Get your idea, name, and show logo ready. Buy recording gear, and start recording and editing your episodes. Once you have episodes ready, upload them to your podcast hosting and submit them to directories like Apple Podcasts.
Find a topic you already know about and want to grow even more
Come up with a simple but memorable name and create a logo for your show
Create a simple intro and outro (could be pre-recorded but doesn't have to be)
Script your episode or get a layout ready
Find a recording location, soundproof it and start recording
Edit your episode (include intro, outro, CTAs, etc.)
Upload it to your podcast host
Create accounts in directories like Apple Podcasts, Spotify, etc., and submit your show
Once approved, start promoting your show
What makes a good podcast?
As a general rule, things that make a podcast good include above-average audio quality, memorable intro, and outro, good background music, valuable perspective on your topic. Ultimately people stick to shows in the long run for the host's personality, so you need to develop your personal style.
Each podcast will have its individual strengths and weaknesses. 
Here is a list of mistakes that will break every show:
Publishing at random, without a set time
Incoherent episodes, jumping from topic to topic, variable length
Too much fluff, long monologues that lead to nowhere
Arguing constantly with guests
Bad episode pacing
Not being useful to your audience
Constant controversy
Terrible audio quality and inconsistent quality between episodes
Is my podcast idea good?
Any idea for a podcast has a chance to take off and become a successful show. There are probably already existing shows discussing your main idea, so find an angle where you can offer a fresh perspective and be more useful for your listeners. 
If monetization is important for you, then consider that according to our study of 1,076 podcasts:
Higher-income podcasters outperform lower-income-podcasters in business, technology, history, storytelling, science, education, and health & living.
Lower-income podcasters are more present in the niches of society & culture, games & hobbies, comedy, news & politics, tv & movies, and music.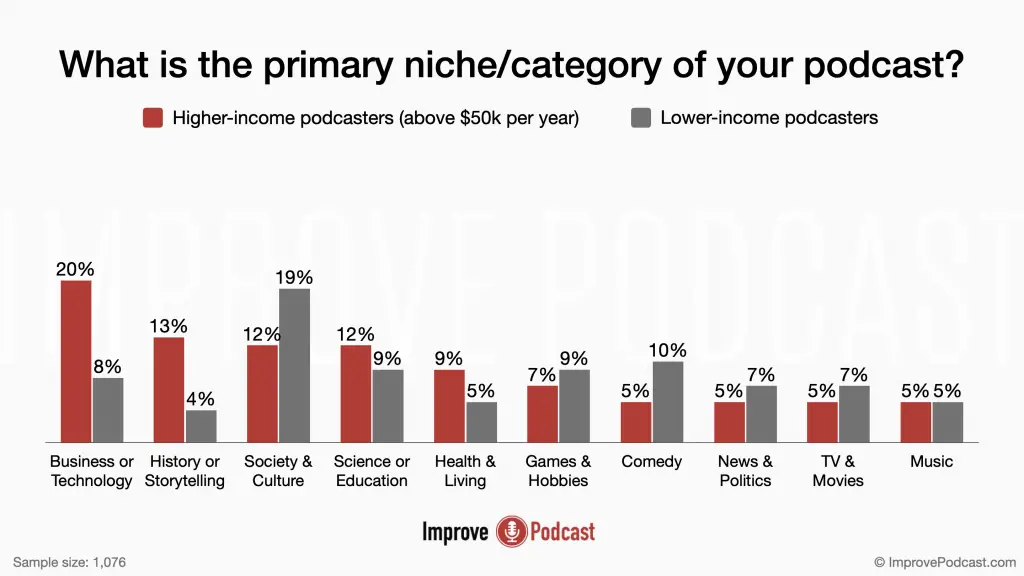 What gear should I buy for a beginner podcast?
At the minimum, you need a USB microphone and headphones for a beginner podcast. You need an XLR microphone, audio interface, and headphones for better audio quality and more professional gear. For recording, any computer will work fine. To edit a podcast, you need DAW audio editing software.
The minimum that you need to spend for a beginner podcast recording hardware is about $100 for:
Samson Q2U (check current price) microphone – an excellent option if you are on a tight budget or you need a larger setup for 4 or 6 people. Having both XLR and USB connections, it is extremely versatile, allowing you quickly change your setup depending on the type of audio content you are recording. This mic sounds really well and can easily compete with pricier USB mics.
AKG Pro Audio K72 (check current price) headphones – one of the cheapest closed-back audio monitoring headphones offered by a premium brand. You will need monitoring headphones to make sure your recording sounds good and if you want to capture any kind of remote interview.
I'm also covering more expensive podcasting setups in this article (under $300, under $600, and $1,000).
You can find examples and recommendations of a simple podcasting setup at the most popular price points in the below table.
Podcast Gear Tips for  Beginners (gear at different budget limits)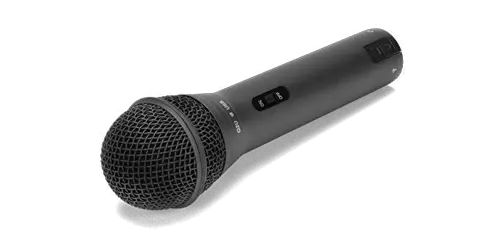 Podcast gear tips for beginners
There are also many options to bring down the cost of launching your first podcast. For this, check out the podcasting for a free guide.
Where should I publish my first podcast?
You upload a completed audio file to your podcast hosting. You separately create accounts in podcast directories like Apple Podcasts, Spotify, Google Podcasts, etc., and paste links to those directories inside your hosting account so the directories will be updated once you publish a new episode.
Roughly 70% of global podcast downloads are done thoroughly:
Apple Podcasts
Spotify
Web browser
Google Podcasts.
This landscape has been stable for years. If you want to check your latest stats or see which smaller directories are responsible for the remaining 30% of downloads, you can check it on Buzzsprout stats.
Should I use a script for a new podcast?
As a general rule, podcasters who put time and effort into preparing for their episodes see better financial results. Using a script is a great way to control the story flow of an episode. If you don't want to have a script, then at least record having a detailed outline.
Most successful podcasters use a good podcast script when recording an episode. On the other hand, there are some forms of podcasts where scripting is difficult, e.g.:
Gameplay podcasts,
Comedy podcasts,
Full interview-style shows.
74% of higher-income podcasters have either a detailed outline or a full script ready before the recording session.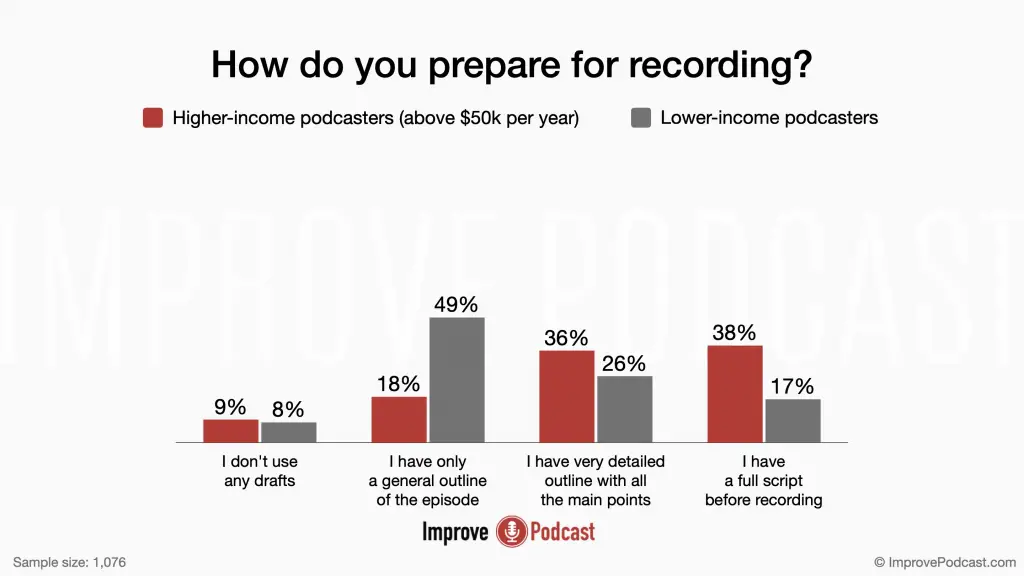 If you want to learn more about this, I have published a 10 min podcast episode on how to prepare for recording an episode for the highest impact.
How to record a podcast to sound good?
To record a good-sounding podcast, you need to get above-average gear, set up gain parameters correctly, and record in a quiet, soundproofed room. Knowledge of your material and a proper vocal warm-up will help you to sound more confident and natural.
Here are the top 5 things you need to ensure to record a podcast to sound good:
Have a good podcast recording equipment
Set your gain correctly – loud but don't hit red, use preamps to avoid mic or interface hiss
Soundproof your room to avoid reverb and lower noise floor
Record during a less busy time of the day – avoid outside noises and be relaxed during the recording
Do a vocal warm-up and know your material before recording
If you want to learn more about it, I have a great, in-depth article to help you, on How to Setup a Microphone? giving detailed 20 tips for beginners to get pro-quality.
How to easily edit a podcast?
The best way to easily edit podcasts is to do it in a few passes. On a pass one, cut and remove the unnecessary material. On pass two, you move around the bits to make the story flow correctly, and you remove any artifacts. On the final pass, you add music, compression, EQ, and set volume levels.
This is the process I follow:
Create a backup file
Create a backup audio track in the file you are editing
Strip silence
Cut the tape and remove unwanted material
Rearrange material and get correct pacing
Final relisten
Paste the cut tape into the editing template
Adjust compression and EQ
Add music background and fades
Set volume and export to mp3
If you are looking for a more in-depth podcast editing guide, check this one.
My favorite program to edit podcasts is Logic Pro, but if you are looking for more options, see the table below or read this article on the best podcast editing software.
Can I add music to my beginner podcast?
You can only add music to a beginner podcast if you have the right to that music. You can use free music under the creative commons license or use inexpensive royalty-free music. 
TOP
Best Music Source
Ideal for whom?

1

Soundstripe has the highest quality, exclusive music.
They offer 6,000 exclusive songs and over 35,000 sound effects.
check prices

2

HookSounds offers modern, stylish, and distinctive music.
They focus on originals and even make custom music requests!
check prices

3

PremiumBeat is one of the oldest and largest royalty-free music providers.
Pick if a huge song choice is your priority (library of c.a. 17,000 songs)
check prices
Here is a quick guide on using music – for details, check this guide: Can You Play Music On A Podcast?:
In general, music is protected by copyrights. Don't infringe them – pay the license for your music, and there are many places where you can get inexpensive, unique, and high-quality music,
No exceptions for short (under a few seconds) or heavily remixed samples – there are multiple myths about exceptions, and specific rules, that wave copyrights, but in most cases, those are not true,
There is a Set of Principles in Fair Use for Journalism – some copyright-protected material may be used in podcasts, but in the form of reporting journalism,
You can find many free music samples under the Creative Commons License – Creative Commons is an awesome solution, where you find tons of free music samples to use (you may need to credit the authors),
Royalty-free music – Professional samples can be purchased inexpensively on sites like Soundstripe, HookSounds, or PremiumBeat, to elevate the quality of your show,
Get unique music on a podcast – If you are looking for unique jingles made on-demand, check out professionals on sites like Fiverr, where they create custom-made podcast music, intro, outros, trailers, etc.
Popular hits – to get the right to play a popular hit on your show, you need the rights from the label, which will be a long and expensive process for most small podcasters,
Music on Anchor – Anchor, a podcast hosting platform owned by Spotify, allows you to create shows where you combine narration with songs from Spotify's catalog. You need to host your show with Anchor, and you can't freely mix the tracks, so this is a very specific use case (similar to creating your own radio station, where you talk and then play music).
How can I tell if my podcast is successful?
You can tell if your podcast is successful if it slowly but regularly gets new listeners and new downloads. A truly successful episode at some point reaches the mark of 1,000 downloads per episode, which significantly increases the chance for successful monetization and growth.
A vital podcast tip for beginners to measure your performance. At least in the amount of time and money to spend on your show's production and marketing, so you can later recognize what leads to higher success.
If you want to capture a lot of data regarding your show, check out this guide describing Best Podcast Performance Metrics (KPIs).
In Conclusion
The single most valuable podcast tip for beginners is simply to start a podcast. Learn just enough elements you need upfront that will allow you to publish 1 new episode per week, and learn the rest of the craft as you go.
Getting good gear, soundproofing, and learning how to streamline your editing process are good ways where you can spend a little bit of money and vastly improve your recording process.
Understanding long-term success factors in podcasting are the best guideline to tell you what aspects of podcasting you should be developing.
What is the best podcast tip for beginners you wish you had known earlier?