Podcast Scaling is a technique that will allow you to produce many high-quality, unique podcast episodes in the shortest possible time. If you want to increase the chance of creating a HIT episode and boost ratings of your show, you need to be committed to scale a podcast content quickly.
Scaling podcasts is not hard, but it does require consistency and a lot of focused effort. There's no guarantee something will work, so it's always a good idea to work on multiple fronts. 
But is it worth investing in a podcast scaling?
How many downloads per episode do you need to have to reach a million episodes?
When publishing 1 episode per week, you need over 19,000 downloads per episode,
With 5 episodes per week, you need to get only over 3,800 downloads per episode.
This is the beautiful effect of podcast scaling. And with more episodes, you will achieve even more total downloads due to the impact of binge-listening, being featured in recommended sections, and having overall a higher chance to make a HIT episode.
With the rise of shows, people have a wider choice every day.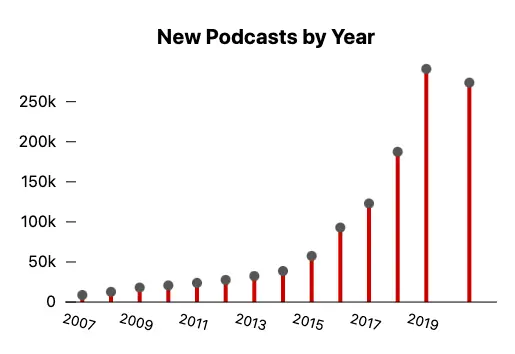 The goal is to outwork your competition.
Start by analyzing the competition. What are they doing and how can you fit into the market. What can you offer that they aren't already doing the right way? 
From there, start creating amazing content, engage, and watch your podcast scale and grow! Still unsure where to start? No worries. I'm going to give you 9 actionable tips you can do right away for quicker podcast scaling.
---

1. Develop Podcast Content Clusters
Content clusters are a great way to get listeners to subscribe and stay with you. 
Why? Because you'd be creating a series of episodes all focused around the same topic. So once your ideal listeners find the first episode, there's a huge chance they'll stick around until the end of the series. By that time, maybe you'll convince them to remain subscribed for the rest of the content.
Start by finding your main idea to start developing an interesting cluster. This should be something your ideal listeners (always use a listener persona) want to know, something that everyone is searching for. 
To scale a podcast, you need to develop multiple ideas and start going in-depth. It is the perfect opportunity to thoroughly research a topic and talk about it from various angles. 
You can even engage your audience by asking for their feedback or their questions on it.
Finally, doing all the in-depth research and episode recording, you have a lot of material to do summary episodes, and crossover episodes when the value of one cluster supports other podcast content clusters.
---

2. Have a Content Management System
Leverage Any Spreadsheet Software
When working alone or just like simple solutions, the most simple thing you can do is create a spreadsheet. You need to have one if you are going to scale your podcast to 200+ episodes a year.
I prefer simplicity, and I'm using spreadsheets for a long time. Currently, my spreadsheet has over 40 content ideas I'm planning to develop further in the near future.
It's free, it's easy, and it's quick. If you're a pen and paper type of person, you can even use a simple notebook. But it can be a bit chaotic to manage a plan for too many episodes on paper.
Make Use of Online Tools
If you have a team and need to coordinate, there are some really cheap and easy to use tools out there, such as ClickUp (check their price).
Google Docs Sheets, for instance, can still be used, but tools explicitly made for team content management will make your life a lot easier!
Do you need to hear another advantage of a content management system? Better time management and task coordination! And with that comes efficiency, doing more in less time, better quality episodes, and easy and natural podcast scaling.
---

3. Run Simplified and Focused Research
Research to support content cluster
Let's go back to the topic of content clusters and research now. As I said, research is the first step in creating a good content cluster. 
There are many tools to support you in finding ideas. Always start with Google Trends.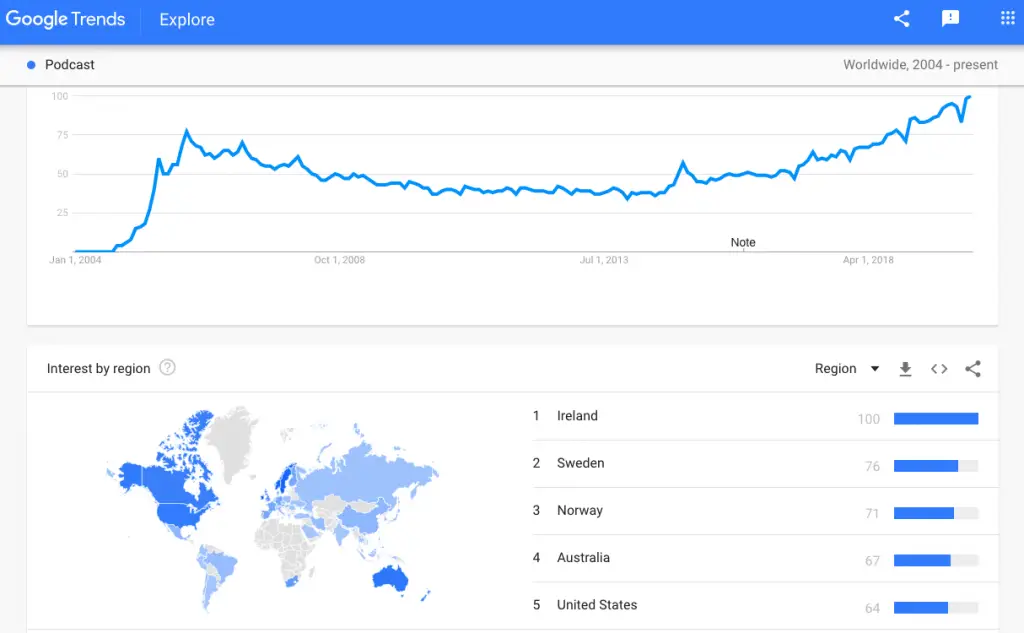 This helps to stay focused
When researching one topic, this helps you to focus instead of jumping between many unrelated ideas.
The more research you do, the more likely you are to find good topics for several episodes. And there are several ways in which you can divide sharing all this.
Sources you discover will fit multiple episodes
One could be discussing one source per episode. You could also have one idea per episode, and discuss all the sources you found on that idea. It all depends on your content and your topic, so adapt to make it interesting for your audience.
Whatever you do, don't overcomplicate things. Scaling a podcast is about simplicity. Make a lot of simple and valuable episodes. Don't create a complex network of content.
Be focused on the topic at hand. In other words, don't try to generalize every topic. And if you do encounter several angles, don't throw them all in one episode sacrificing depth. Otherwise said, each episode should in-depth solve one problem for your listeners. 
If you find enough information to solve 2, 3, 10 problems, great! Create as many episodes as needed to discuss each one.
And later make summary episodes, where you rank solutions based on cost, ease of use, etc. This is the best way to find a complex problem, analyze it in-depth, and build many episodes scaling podcast to the high satisfaction of your audience.
You can reasonably reuse parts of information 
Of course, at some point, some information might cross. That's OK! You can reuse part of the information, as long as you don't overdo it, and you don't end up repeating the same thing over and over again. As long as a previous idea helps you build on the new information, reusing won't be an issue.
---

4. Record Many Podcast Episodes in One Session
Having content always ready is critical when it comes to podcast scaling. You never want to get to the point where you don't have an episode available, and something comes up, and you miss your standard publishing time. 
It is the perfect way to lose subscribers! But since you want to scale a podcast, recording in bulk is the way to go. 
Record podcasts in bulk
For instance, if you create content clusters, try to record as many episodes as you can for that particular topic. Once you start, you'll get in the flow, so why stop after one episode? Have longer recording sessions of 2-4 hours and get more done.
Be efficient, avoid long breaks
Also, try to record an episode without taking too many breaks. Your speech will sound a lot more natural, and you'll be more efficient. 
Schedule publishing
And don't worry! Recording in bulk doesn't mean you have to publish the same way. Drip the content in time intervals, schedule episodes to go live when you want. All good media hosts allow you to schedule episode releases in the future.
That way, you'll always have an episode ready no matter what!
---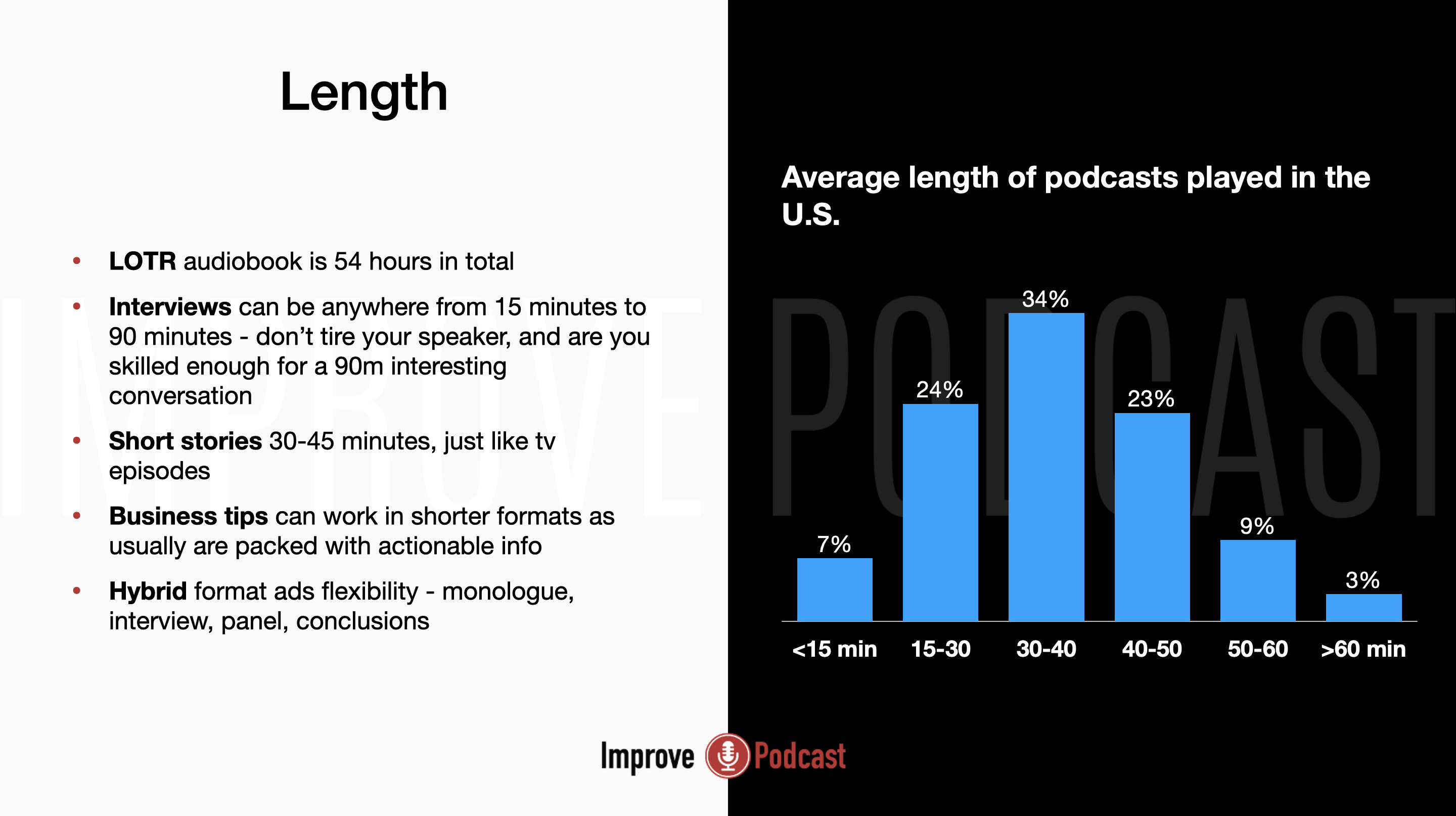 5. Optimize the Length of Each Episode
I know you want me to tell you exactly how many minutes each episode should be. But the truth is, there's no one-size-fits-all formula. 
Joe Rogan episodes are famously long (over 2 and 3 hours), and his show is extremely popular, but for me, this is too long.

For some podcasts, longer episodes of 60-90 minutes are the best. Others will do best on shorter, 15-20 minute episodes. So how do you determine your ideal length?
Know your listeners
When do they listen? Is it at work? Or while they are at home, relaxing during the weekend? Or maybe on their commute to or from work? Ideally, you would optimize the episode so that it can be listened to in one sitting.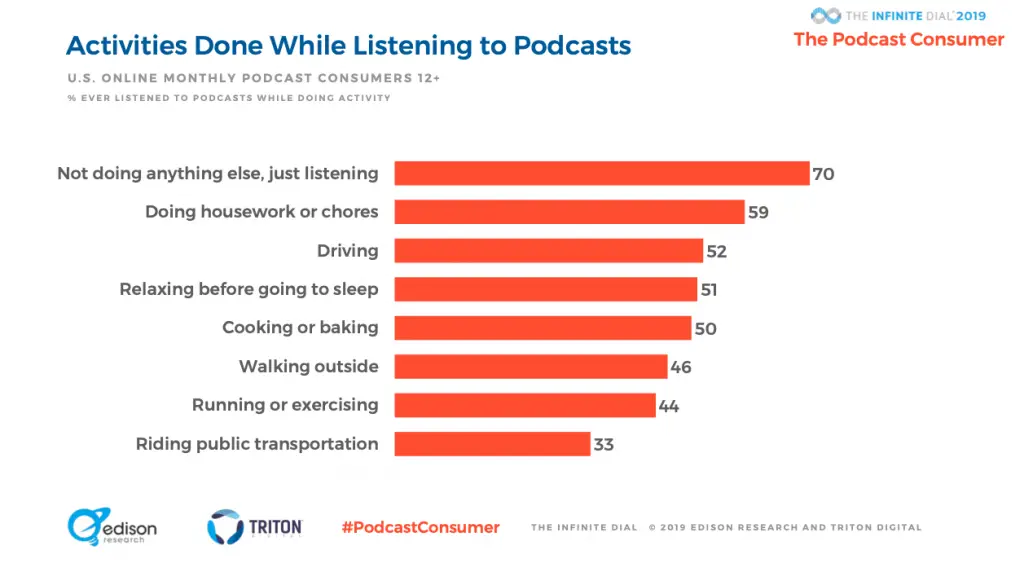 So for instance, if most of your audience listen to you on their way to work, optimize the episode to the standard average commute length, which in most cases is around 30 minutes.
Don't get too stressed about this factor, though, because there are others to consider as well. But it would be cool if you would scale a podcast to the place that it would deliver a new episode each day for the most engaged group of listeners.
No more than one problem solved per episode
Don't try to answer every question under the sun about one topic. Do you have the knowledge to do that? Great! Then create cluster content. 
Break your material into several episodes, even if that means they are only 15 minutes long. Make them short and to the point and bring value to your audience. 
Logically break episodes
When you do break the material, make sure you do it in a logical way. Yes, you know you should have only one problem solved per episode. 
Once you start creating your cluster content, create the sequencing of episodes in a logical manner. Episodes should flow one to the other. It makes it easier to binge-listen to past episodes, which in turn helps scale a podcast.
---

6. Focus on Episodes Recording and Outsource the Rest
Here's the thing: you can't do it all no matter how much you try! And that's OK. You shouldn't do it all. And listen, maybe you can do it all. But it doesn't mean it will be well-done. It doesn't mean the quality will be stellar. More isn't always better, you know?
So what is the thing that takes the most time and you don't enjoy doing it? This should probably be the first thing to outsource. 
Transcripts
Transcripts are another thing you should outsource as soon as possible. 
Having them will give additional value for each episode, it will make your content more accessible. But it can be a lot of extra work for you. 
So use websites like rev.com and get transcripts done fast and cheap. When you have them you can use transcripts to monetize your podcast.
Editing
The same goes for editing. With editing, there's another secret you may not have realized: it is considered fairly difficult to edit your own work because the likelihood of spotting your own mistakes is smaller.
An editor, on the other hand, will quickly spot issues requiring fixing.
Publishing to social media – apps like 
Publishing to social media, something necessary when trying to scale a podcast, is another thing you should think of outsourcing. 
You can get a virtual assistant who specializes in social media. Or, if you don't want to invest this much, you can use apps that allow you to schedule posts, such as SmartQueue, Hootsuite, and more so that you don't waste time each day on this task.
Complex Research – make a spreadsheet and find researchers to populate the data
Finally, you don't even have to do all your research alone. 
Create a spreadsheet and find researchers who will populate it with data. That way, you can focus strictly on creating amazing quality content that attracts more listeners with each episode.
---

7. Master Guest Selection and Interview Planning
Most podcasts rely heavily on guests. If you want to do the same, and you still want to scale a podcast effectively, there are a few things you should keep in mind first to make this process simple and efficient.
Try to find guests with a similar background. It will simplify preparations and make the interview flow more naturally. 
Ask them if they have talking points. You don't have to use them exactly; you can still keep the plan you have for each episode. But leverage their talking points and their ideas to make the episode more engaging. Also, with similar guests, some talking points can easily be reused as each guest will probably have their own opinion.
But how to find guests? A good place to start is Amazon. Find new books that discuss topics similar to your podcast. Authors want their books to be promoted, so they are likely to accept an invitation to be interviewed. 
Also, listen to other podcasts, especially to your competition, and invite similar guests. You need to make the whole process of finding and booking guests efficient if you want to scale a podcast fast.
Finally, consider inviting other podcasters. Competition doesn't mean you can never speak to each other. On the contrary, you can use the fact that you're in the same business to dive deeper into certain topics.
---

8. Repurpose Old or Different Format Content
Don't throw away old content! 
Do you have a blog that you've given up on, but that still has some great ideas in it? Refresh those blog posts, find some new information, and turn your old blog posts into podcast episodes. 
If you consider that an average talking speed for podcasters is about 150 words per minute, you might be sitting on dozens of episodes ready to be recorded.
You can also create new episodes by stitching together parts of different interviews. For instance, turn these into summary episodes or compare different views on the same topic. 
Another way for podcast scaling with this method is to record commentary episodes. But don't get involved in unnecessary online quarrels. Comment industry changes, trends, interesting work other people are involved in.
---

9. User-Generated Content 
Yes, you can take advantage of user-generated content to scale a podcast. 
How? One easy example is to join a closed Facebook group. Or even better, create your own group, one where you let people know in advance that you might use (giving them proper credit) their posts in your episodes.
You can initiate conversations on various topics. Then, read their opinions, comment, expand or even challenge their ideas in an episode. It is a great way not only to create new content but also to make your audience feel engaged and heard. 
Another idea is to use the email list if you have one. This will help you bypass those social media algorithms and get your ideas straight to your audience's inbox. Invite them to write back to you about topics that concern them. 
Engagement is one of the best ways to scale a podcast. Believe it or not, people want their ideas, and their worries to be heard. So take advantage of it through whichever medium suits you best, whether it is email, social media, or your website. 
You can even turn these into mini-interviews. Be creative and adapt to what your audience wants to hear!
---

Final Tips to Make it all Work
Consistency – most people want to find excuses. Podcast scaling may appear to them as a too difficult way to grow a show by producing a lot of episodes. But it is the best way to grow a podcast organically. Focus on the execution, and results will come in.
Unique Value – work harder, deliver more, have better observations – how many creators can commit to a daily podcast? Not many, but if you will, your skills will grow much faster, and you will put yourself in a unique position. Your chances to grow a show and monetize a podcast will be much bigger.
Supreme Audio Quality – most people want a cheap podcasting setup for less than $100 and free DAW on top. Sure, you can produce episodes like that, but with tight competition, your show won't stand chances even if you extensively scale a podcast. Your show simply needs to sound great. Geat the best podcasting gear so people will love your audio quality.
---
Conclusion
The first step to scale a podcast is to create a thorough content library. 
Plan your topics and break them down to one idea per episode. Don't be afraid to publish short episodes. If you shorten them to about the average commute time, it might be better for your audience and help you get more subscribers. 
Leverage the use of guests. Don't invite just anyone. Instead, focus on people with similar backgrounds, people who can add value, and who make your show more valuable. 
Also, don't be afraid to outsource. When starting out, there's this feeling you have to do everything by yourself. You feel you will waste money if you outsource. And there's also this feeling people might not get what you're trying to do and that your ideas will be diluted through outsourcing. All of this is wrong! When done right, outsourcing will help you put all your focus and energy into creating content. There's no need to waste time writing transcripts or manually posting to social media every day!
Your old content can be a powerful source of inspiration. So don't just hit delete on those old blog posts or that unused interview part. Instead, use them to create new content! Finally, take advantage of user-generated content. It will not only serve as a great information source, but it will make your audience feel heard. 
What do you think is the best way to quickly scale a podcast?