As I advise business owners and individuals who ask me how to launch a brand new podcast with no existing audience, I always say to focus on building a helpful show and rewarding listening experience.
To start a podcast with no existing audience, you need to build a listener profile, define problems you will solve, and ensure your podcast satisfies listeners' expectations. Before you start, you should also collaborate with authority people in your niche to introduce you to a wider audience.
As the main point of this article is to focus on starting a podcast with NO EXISTING AUDIENCE, I'm not focusing on overall things you need to do to start, but how to quickly build an audience with a new show. Here is the main difference:
If you already have some kind of an audience – you have access to data about your future listeners, what content already works for them, and you can promote your podcast on your other channels,
If you are starting a podcast with no audience – you do not have any data you can use, but instead you need to make assumptions regarding your audience, use your judgment, observe and analyze competition, and find creative ways to promote yourself early on.
Let's explore now how you need to approach launching a new podcast.
How do people start off podcasts?
As a general rule, when people start off podcasts, they: choose a topic, show name, show format, and logo/cover art. Selection of recording gear and software is also necessary. After recording, editing, uploading to podcast hosting, and submitting to Apple, any show can be live within 2-3 weeks.
All of those elements are necessary to start any show. However, the list is not complete if you want to have control over your show having a chance of becoming successful. And random luck is extremely rare. Most podcasters that look like lucky first-timers usually had relevant experience elsewhere and can now capitalize on them.
---
"If you really look closely, most overnight successes took a long time." 

—Steve Jobs
---
A rushed process usually misses what the market needs and allows new creators just to get something off their chests, in an "I really have to tell you this" way. 
The optimal time required to start a podcast is between 6 to 10 weeks. 
In most cases, there are 3 major mistakes people make when rushing to start a show that has no existing audience:
Lack of audience understanding – if you don't know who is your ideal listener, your show will lack focus and dedication to meet your audience's demands.

The best way to understand your future audience is to create a profile, a listener persona profile. You can find a full explanation of how and why it is useful here. I will just summarize it: if you don't have an audience, image that you have one listener, and talk to a specified audience avatar, and it will boost your results significantly 
Poor product management skills – a podcast is a product, and if you don't understand where the value of a product lies, you can't make a good show. And podcasts can be anywhere between delivering entertainment value and problem-solving value. But without a value proposition designed for your listener avatar, you will stumble with nailing the quality.
No marketing effort – finally, you need to do some marketing for your show. If this is your first venture in the world of online content, a full podcast marketing plan will be overwhelming at the start, but you need to build strong foundations. It starts with a website for better discoverability, building a brand, and a bit of collaboration with other creators within the community.
There are clearly elements that if exist are immensely helpful in starting a podcast. So a natural question comes to mind:
Can I start a podcast with no audience?
You can start a podcast with no pre-existing audience, but you need to formulate a marketing plan on how to build that audience. Proven ways include SEO optimization, podcasting website, transcripts, and presence into multiple directories. Consider also appearing as a guest on shows in your niche.
Without a marketing plan, starting a podcast without followers will be frustrating as podcasting is still struggling with the organic discoverability of shows. So you need to put an effort to allow your listeners to find you.
The decision you have to make is:
How much money are you willing to invest into launching a new show?, or
How much of your free time are you willing to put into promoting your show?
An initial marketing strategy doesn't have to be complex. You need to set up a few essential elements like a website and create a brand identity. Other elements you can add as your show is already live.
So to combine a list of standard steps to launch any podcast but include elements necessary if you don't have any following here is a…
20 step guide for starting a podcast with no existing audience
Pick an idea (ideation)
Create a listener persona (marketing)
Pick an angle for your show (ideation)
Define your brand idea (marketing)
Choose your recording gear
Draft or script coherent c.a. 5 episodes
Record your episodes and cut your material
Create or order a podcast intro
Add intro and call-to-action elements
Complete your podcast cover art and description
Add your episodes to a podcast hosting
Create an Apple Podcast account and submit a new show
Create a website for your show (marketing)
Plan your launch (marketing)
Collaborate within your community (marketing)
Prepare some promo materials (marketing)
Pitch yourself as a guest on other podcasts (marketing)
Add your episodes as articles/transcripts on your website (marketing)
Develop a routine for recording and publishing new episodes regularly
Launch your new show!
It is a lot of work for new creators. But the work you are doing will help your show become successful as opposed to just trying your luck and hoping for the best.
Let's now consider additional complications, like a show format.
Can a podcast without an audience be done alone?
There are many podcasts done alone that started without an audience. Having a co-host creates a dynamic experience, whereas working alone requires self-awareness and restraint. When starting a show alone, make a good project plan. It also takes more time as you need to complete tasks without help. 
Here is a list of things to consider when starting a podcast on your own:
Have a project plan to avoid delays and add too many elements before starting,
Work using a script or a detailed outline to keep you focused,
Make your show alive and dynamic, and avoid constant monologues,
Break your show into distinct parts creating a sense of progress,
Know your strengths and create content around them,
Add background music to add interest,
Add an intro by a professional voice-over artist to increase quality and add interest,
Engage with your audience, asking for feedback (tell them where you can be found).
How long should your first podcasts be?
In most cases, your podcast topic and style will dictate how long your first podcasts should be. Solo episodes tend to be shorter, lasting between 10-30 minutes, while co-hosted shows or episodes with guests are on average longer, lasting between 20-40 minutes.
If you are just starting your podcasting journey and are uncertain what will perform better, then aim for the most popular format and then adjust the length later.
Based on the recent study of podcasters, the most popular length of shows is between 15 and 30 minutes, and it is the most popular length regardless if the podcast is well monetized or not.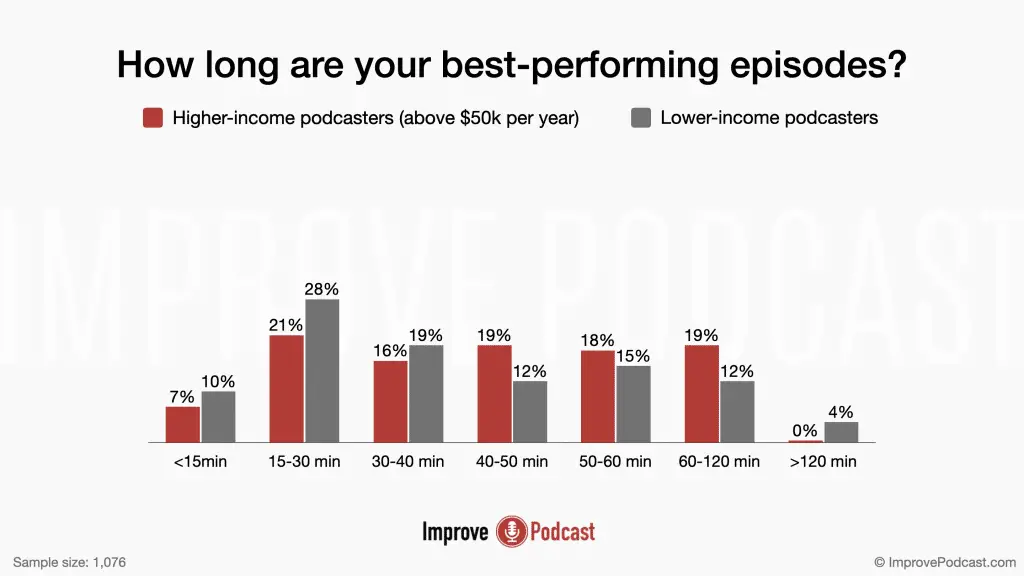 Here are a few helpful questions you need to answer before determining what is the right length for you:
How long are top podcasts in your category?
Can you create an engaging script or outline for 60 minutes, 30 minutes, or 15 minutes?
How fast can you deliver the main message of each episode?
What is the length you will be comfortable recording for many months to come?
If you will do interviews, for how long can you record an engaging interview?
How to start a podcast using free tools?
There are many free tools that will help you to start a podcast (e.g. Anchor, Audacity, ccMixter, Canva, Zoom, etc.). All the free tools have some disadvantages when compared to their paid, premium competitors. You can start and grow a show with them, but premium tools will deliver higher quality.
Here is a list of free tools you can use to start a podcast alongside premium recommendations:
When it comes to physical gear like microphone, audio interface, etc. there are no free options that work well. Your smartphone has a mic, and so does your computer but they do not stand a chance in comparison to any of the paid options.
This short podcasting gear guide gives you full gear recommendations at 3 major price points:
$300 – basic gear based on USB microphone AT 2020 USB+ and free editing software,
$600 – intermediate gear, using XLR mic Rode NT1-A and good quality components,
$1,000 – professional gear, based on Shure SM7B and all the premium components.
Starting a podcast with no audience helpful resources
If you have already decided to start a podcast with no existing audience, I'm listing here are few guides you may find useful – those are in-depth guides that will help you on your journey, but copying stuff from there to this article would only make this text too bloated:
In Conclusion
Starting a podcast with no existing audience creates additional work for anyone who decides to go this way. It is definitely possible, and many have chosen this route. However, you will need to allocate time, energy, and resources to develop even a basic marketing plan to allow you to start building an audience for your show.
What is your biggest struggle when starting a new show?