When podcasting remotely focus on 4 areas to master your audio quality:
Location and schedule – work around imperfect conditions
Equipment – required setup & use
Vocal technique – perform best regardless of the environment
Recording and editing – capture the best quality & remove noises.
Podcasting remotely poses an interesting set of challenges to overcome, from lack of location control to limitations in how much equipment you will be able to take with yourself. However, we actually have more options and overall control than most would think.
In this article, we age going to provide 13 tips to help you make your remote podcast sound good.
Part 1. Control your location and schedule
---
1. Ask for a quiet room
If you are in a hotel check the room you are offered before unpacking and if you consider it too loud ask for a different one
Your goal here is to regain some control over your location. If you are making an online reservation and they ask for special wishes ask for a quiet room. When you book ask at the arrival was this request met. When you get to your room check actually the room quality:
Things to look out for and consider:
Windows – are they facing the crowded street, hotel pool or any other noisy environment.
Elevators – are you near a noisy elevator shaft.
External air conditioner – are too many close to your windows causing too much noise.
Noisy neighbor – difficult to check unless they are making noises immediately when you are booking in. When you are recording you can always ask nicely to keep quiet. Explain actually that you are recording and it is your job, people usually are more compliant if they understand better the situation.
To help you better understand issues room acoustics may cause to your audio quality we have prepared this guide: Podcasting room acoustics – how your room impacts your audio quality?
---
2. Recording schedule – record when people are sleeping to get fewer noises.
I usually find that hotels are most quiet in the mornings.
A lot of people are still sleeping.
The ones getting ready to leave are in a hurry and don't turn on the TV.
External noises are the lowest – traffic is not yet busy and hotel facilities are not yet occupied.
In the late evening there is always some uncontrollable disturbance so I usually just adjust my schedule and get up earlier to record. However, if you do that remember to properly warm-up your vocals. In the mornings you voice usually sounds bad so prepare it before recording.
---
3. Turn off devices located in your room
You need to eliminate sources of noises so:
Unplug the fridge and tv set. Actually, unplug as many devices as possible. Even when simply turned off and on standby they can generate low-frequency noises,
Turn off the air conditioner (or unplug if there is a way).
If your hotel room offers few light sources choose the one which is the quietest and generate the least low-frequency noises. Unless you are also recording a video you don't need the room to be fully lit if the ceiling lamp is noisy.
---
4. Get a room with drapes and close them
Many hotels use heavy and thick drapes, which is good as they block vibrations.
Whenever you are booking a room in which you will need to record, search for locations with window drapes to have some form of shielding provided.
Many hotels, especially in hot regions, use heavy and thick drapes. For hotels, they serve as isolators from heat so the electric bill for the air conditioner is lower. Utilize this to your own advantage as those heavy drapes will also absorb and shield you from outside noises.

---
5. Soundproof your hotel room
Improvise and use things available on premise. Use what is provided in the room, tucked inside the bed or in a closet. Search for pillows, blankets, bed covers, etc. and use them to cover large smooth surfaces bouncing off the noise, windows if you don't have drapes, seal doors if they are leaking noise from the outside.
Use what is provided in the room, tucked inside the bed or in a closet. Search for pillows, blankets, bed covers, etc. and use them to cover large smooth surfaces bouncing off the noise, windows if you don't have drapes, seal doors if they are leaking noise from the outside.
If you are staying in a hotel with a reception desk you can always ask for additional blankets.
---
Part 2. Have the correct equipment for remote recording sessions
---
6. Microphone – dynamic microphone with filter, or for extreme cases shotgun mic
The best type of microphone for podcasting remotely is a dynamic microphone. They are robust and have great sound capabilities, and also they don't capture surroundings. They are easy to work within regular rooms.
Our recommendation is the Shure SM7B dynamic microphone. Its improved shielding technology eliminates all the electromagnetic interference caused by the close proximity of computers and cellphones. It will work well in small spaces when you are traveling and provided detachable A7WS windscreen will additionally take care of your sound quality when you need to speak close to your microphone, which may be required.
If you want to read more about podcasting microphones you can visit our guide: Choosing a Microphone for Podcasting – Buyers Guide and Recommendation.
If you are recording a lot outside consider professional shotgun mic, which is narrow and pointed, and as such directed straightly to the source of sounds and rejecting feedback. Read the article above when we talk about them and the famous professional Sennheiser MKH416-P4U3.
---
7. Have a portable shielding booth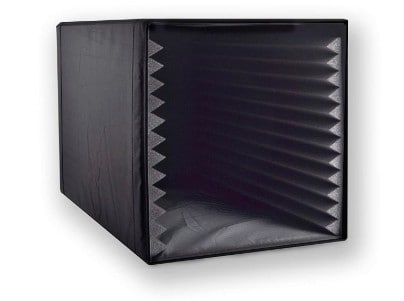 Equip yourself with a lightweight and simple portable sound booth. It isn't the prettiest solution but it is easy to set up, easy to carry and it will protect from sounds and interferences coming from behind your mic.
Also when recording you should be aware of what is around you in your remote location. Especially behind your back, as this surface is front facing your mic and potentially feeding back sound. Have some form of absorbing layer to capture the bouncing sound.
---
8. Improve your audio quality with good equipment – audio interface with preamp, high-quality cables
When your location has a poor quality you can always save yourself with good equipment. Be careful not to overinvest because at very reasonable price points there are devices and solution which will significantly boost your quality without ruining your budget. Remember about a good audio interface with a preamp (like Focusrite Scarlett 2i4 2nd Gen) solid mic activator (like Cloudlifter CL-1) and a good set of cables making sure you won't lose the quality of the signal (like Mogami Gold Studio).
For recommended solutions visit our guide: Best Podcasting Gear – detailed guide & recommendations to help you achieve superior audio quality.
---
9. Work on cooled down equipment – so your laptop's fan won't turn on and generate noise
This is a simple and practical tip. If you are working remotely make sure you are not starting to record after working a few hours on your computer. When your device is hot and fans start to work, depending on the computer, they can create a lot of disturbances to be picked up by your mic.
---
Part 3. Vocal technique
---
10. Protect, pronounce, speak clearly – great vocal technique will save you in poor recording conditions
Having a great vocal technique can be even more important when recording remotely. With proper preparation and right sounding vocals, you will still be able to make your podcast sound good even in poor recording conditions.
Focus on the right style – voice style, enunciation, convey emotions to make the podcast more powerful, capturing attention and impactful
Develop your technique – standing, breathing, pacing, pauses, elimination of filers & inflection – improve voice quality by practicing and introducing elements making your audio clearer for an audience and requiring minimum work to edit
Maintenance of your voice – voice protection, hydration, warm-up – treat your voice as your instrument and take good care of it so when recording you will have a strong, consistent and good sounding vocals.
We have already prepared a great guide on vocals and if you are interested in finding out more, you can find a lot of details in this article: 13 vocal tips for Podcasters to get more listeners.
---
Part 4. Recording and editing
---
11. Configure your equipment – save time and avoid excessive editing
When traveling we are often in a hurry but the proper configuration of your devices and recording program are essential to get audio recorded. It will help you get a better product right at the beginning and may save you some time in the editing process.
Setup your gear –  don't forget about your mic stand, shock mount, microphone filters, and mic activator.
Setup audio parameters – monitor and setup correctly for your audio levels, peak, and noise floor.
You can improve your audio significantly just by setting up your microphone correctly. We have gathered the most useful tips into this post: 17 useful microphone setup tips for pro audio.
---
12. Record in best quality – record vocals to the best possible quality
Even if the location has poor audio conditions record in the best quality. Your voice should sound well even if the place isn't helping you. Also, it may give you more options for editing later. Set optimal parameters to record the best audio for your podcast
Use an uncompressed .wav file format, to avoid quality loss,
Pick the sample rate of 44,100 Hz,
For best quality use bit depth of 24 bit,
Use the mono channel unless you are planning for some stereo audio effects.
---
13. Use equalizer high-pass filter (HPF) – eliminate low-frequency noises you couldn't turn off
Some types of noise components are relatively isolated to a specific frequency range. Pass filters are excellent tools to reduce the disturbing signal. High-pass filters can be used to reduce low-frequency noises most often caused by surrounding our devices.
Choose high-pass filter (HPF) to a cutoff frequency below the signal you want to record
Try to set HPF to between 70 and 100 Hz at the start. You can try to go higher and experiment with the outcome.
Going too high may have an unwanted effect on the lower range of your voice. Monitor this and adjust accordingly.
---
14. Use limiter – when you speak loudly and peak
If your recording location is noisy and you decide to speak louder than usual but keep peaking at or above 0db use an input limiter. It will automatically catch accidental spikes in your volume and prevent them from getting them registered. This will help you later as those spikes are very hard to edit.
---
15. Edit background noises – make sure you get a sample
Do it most effectively you will need a sample of ambient noise. To get one simply start recording and don't say a word for around 30 seconds. This will provide your software editor with a sample of just the ambient noise to analyze and filter it out correctly. Consider recording 2 samples, at the beginning and at the end of the recording session, if there is a possibility that background noises will change a lot.
This is a simple, fast and effective solution that can help you if your recording location was noisy and uncontrollable. If you are looking for good software to record and edit those noises we have a comparison with a few recommendations prepared in our article on podcast editing software.