I've worked over the years with many mics from different price ranges, and I've experienced some great ones and some bad ones. I will tell you exactly how does a good dynamic mic costs.
Dynamic microphone cost is in the range of $20 to $1000. A good dynamic mic costs between $200-$500 (e.g. SM7B). Mics below $200 sound good if made with precision by a recognized manufacturer (e.g. Shure, Rode). Mics <$50 deliver poor quality. Mics above $500 are suitable only if you have a studio.
In most cases, the price indicates the quality of components used to build the microphone. This leads to a better-sounding audio recording. Next, we will discuss:
What exactly are you getting for a higher price?
How much should you pay depending on your needs?
To save you time, here are my top dynamic microphone picks at different price points: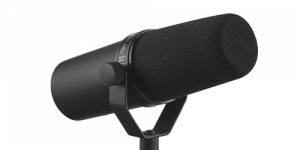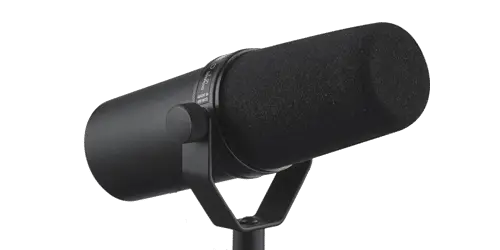 How price of a dynamic microphone impacts the mic's quality?
The dynamic microphone cost is directly related to the cost of the components and the quality they deliver. More expensive dynamic microphones components:
use better quality raw materials (higher quality conductive material, better transistors, better shielding),
use more precise production process and have smaller tolerance to variance (diaphragm, transformer),
are put together more precisely,
are thoroughly tested to deliver consistent output.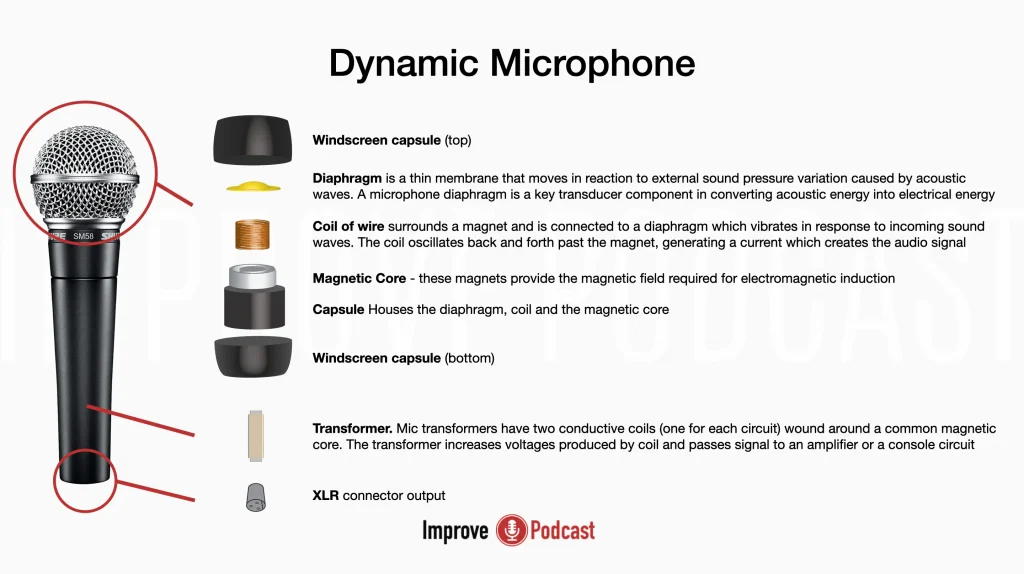 Dynamic microphone costs – 8 main build components that impact the cost:
Windscreen – protects your diaphragm from recording unwanted noises, including wind bursts,
Diaphragm – made up of lightweight material like aluminum alloy,
Voice Coil – a coil of wire made of copper or aluminum, sometimes including a mix of more expensive metals,
Magnetic core – to create a magnetic field with the help of a coil of wire,
Capsule – houses magnetic core and coil, with diaphragm stretched on one side
Transformer – a step-up transformer delivering high output impedance,
Body – protects and shields transformer from interferences,
XLR output – for sending signals and connecting to other devices.
Here is an expert quote on mic price components:
"What sets us (Shure) apart in dynamic mic technology is our unique blend of our custom and timeless cartridge designs, the Unidyne element and it's many variants, combined with innovative modern processes and components. Our thorough knowledge of how to assemble an excellent dynamic mic and how it actually operates at its core, along with our consistency and ability to remain true to our original design intent from decades ago, remains our secret sauce.

We deploy and manufacture, at large scale, designs that were only meant for small volumes at their original launch. This means that our process engineering is quite a feat at the scale required to meet our customer expectations."

John Born, Associate Director of Product Management at Shure
For example, an RPM106 Cartridge for Shure SM7B, SM7A, and SM7 is roughly 33% of the entire mic. It retails for about $130-$150.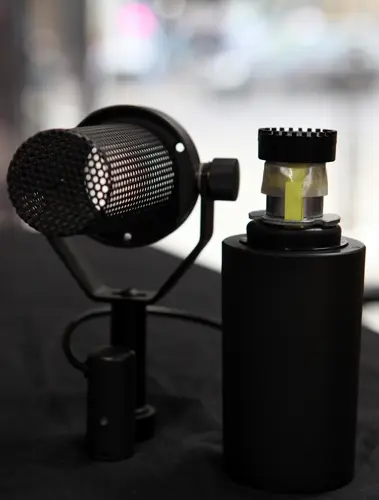 The three most expensive parts of a dynamic microphone cost are a transformer, coil, and diaphragm.
A higher dynamic microphone cost is directly correlated with the overall quality of the production process and the final audio you will be able to record.
Dynamic microphone costs – example of some best selling mics
All microphones presented in the table above are good devices in their price ranges categories. Despite that the mics mentioned differ in their quality scores, they are all great choices at each price point. 
You may not need a more expensive microphone for many projects if you are on a budget or your project is internal to an organization (no competition, pressing deadlines – e.g. student project, or internal project).
Are dynamic microphones better?
As a general rule, dynamic microphones are significantly better than USB microphones. Dynamic mics need audio interfaces, so they have more precise circuits to translate analog signals into digital. USB mics have this feature built into them, so their instruments are less accurate. 
When compared to USB microphones:
A dynamic microphone is built solely to translate acoustic waves into an analog signal. Then you need an audio interface (you can read here to make sure if you need an audio interface for your recording setup) to take the input from the dynamic mic and translate the analog signal into a digital one. This setup provides more room for more precise instruments to deliver higher quality audio, known as better frequency response.
USB microphones have their sound cards integrated. So USB mics, in their single chassis, have to capture audio waves, translate them into an analog signal and then process them into the digital signal. To house, all those circuits USB mics, on average, are bulkier than USB mics. This means they compromise on processing circuits capabilities, delivering lower quality audio.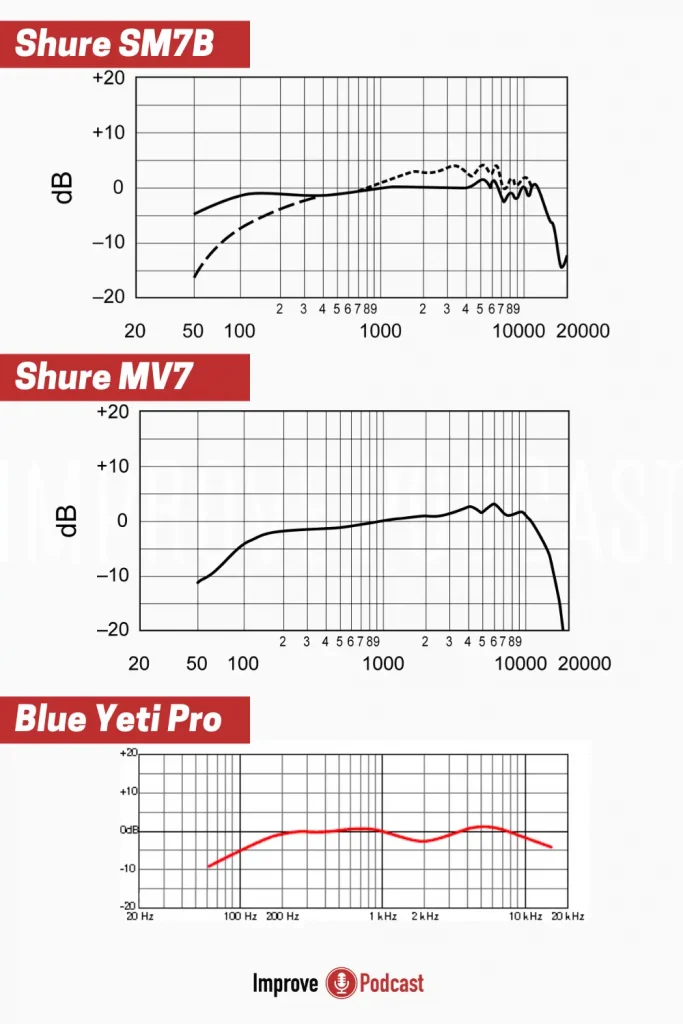 The graphs show Shure SM7B (one of the best dynamic mics) and Blue Yeti Pro (one of the most popular USB mics) frequency responses. Blue Yeti Pro's frequency response is much flatter and not as loud in the lower frequencies, below 200 Hz. Similarly, on the higher end of the spectrum, there are much fewer signals captured above 15 kHz when compared to Shure SM7B.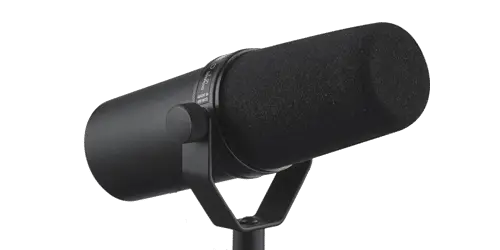 Due to their limited physical format factor, USB microphones will always fall behind dynamic microphones, even if they have made tremendous progress in the last decade.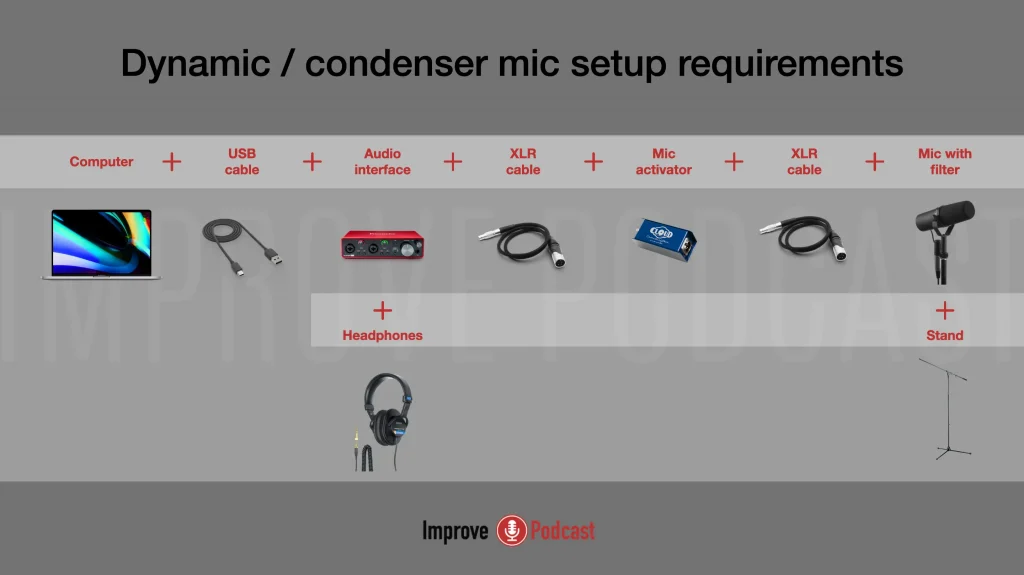 What do you need for a dynamic mic setup?
Here is a full list of things you need to have to record with a dynamic microphone:
A dynamic microphone – with XLR connection,
A mic stand – most dynamic mics are not meant to be held when recording,
A pop filter – to block plosive sounds,
Mic activator / inline preamp (optional) – depending on your mic requirements,
XLR cables – two if you are using a mic activator, or one if you connect the mic directly to an interface,
An audio interface – converting an analog signal into digital, like Scarlett Focusrite (check current price),
USB cable – to connect your audio interface with your computer (usually comes with the interface),
Recording device – a laptop or a standalone recorder like Zoom H6 (check current price),
DAW – editing software for your computer, like Adobe Audition or Logic Pro.
If you want quick access to what I believe are the best products currently available on the market for this setup, view the recommended gear page.
What is the biggest weakness of dynamic microphones?
As they are less sensitive, dynamic microphones require a strong and clean sound source like a strong voice or an instrument. In many cases, dynamic microphones may require an external preamp to boost the signal strength which means, that setup requires an additional device and cable.
One of the most popular and powerful in-line preamps on the market is Cloudlifter CL-1 (check current price).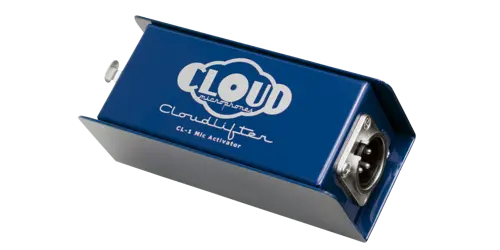 When building your setup, you also have to remember that some preamps (e.g., Cloudlifter) require phantom power 48V, which has to be provided by your audio interface (dynamic mics on their own don't need phantom power). The line of audio interfaces that we recommend – Focusrite Scarlett (check current price), has built-in phantom power in all of their devices.
| | Scarlett Solo | Scarlett 2i2 | Scarlett 18i8 |
| --- | --- | --- | --- |
| Customer rating | 4.7 out of 5 stars | 4.7 out of 5 stars | 4.8 out of 5 stars |
| | | | |
| Connectivity | USB Type-C | USB Type-C | USB Type-C |
| Mics XLR Combo | 1 | 2 | 4 |
| Mic Preamps built-in | Yes | Yes | Yes |
| Ins / Outs | 2-2 | 2-2 | 18-8 |
| MIDI | No | No | Yes |
| Optical | No | No | Yes |
| Max sample rate | 192kHz/24-bit | 192kHz/24-bit | 192kHz/24-bit |
| Phantom Power | Yes | Yes | Yes |
| Direct Monitor | Yes | Yes | Yes |
| | check price | check price | check price |
Comparison between Scarlett Solo vs Scarlett 2i2 vs Scarlett 18i8
That means that you need to add a Cloudlifter CL-1 and an additional XLR cable on top of your dynamic microphone.
On the plus side, being less sensitive allows you to use them outside of ideal studio recording conditions. You can record with them in an imperfect location, and they will pick up very little outside noises if you speak directly to them.
Here are some excellent XLR cables, which through their construction, can also increase the audio quality of your recording. If you want to learn more about XLR cables, their nuances, and how they impact the audio quality, you will find all the information in this – XLR and USB cable guide.
| | | | | |
| --- | --- | --- | --- | --- |
| | LyxPro Quad | Mogami Silver | Canare L-4E6S | Mogami Gold Studio |
| | | | | |
| Connector | Gold | Silver | Gold | Gold |
| AWG Resistance | 24 | 23 | 21 | 24 |
| Number of conductors | 4 | 2 | 4 | 4 |
| Conductor | OFC | OFC | OFC | OFC |
| Shielding | Braided | Served | Braided | Served |
| Star-quad design | Yes | No | Yes | Yes |
| Strands per conductor | 40 | n/a | 40 | n/a |
| Overall evaluation | budget | mid-range | mid-range | premium recommended |
| | check price | check price | check price | check price |
What are dynamic mics best for?
As a general rule, dynamic microphones are best for recording vocals (podcasts, music, voice-over) and sounds from audio amplifiers (guitars, snare drums). They work great in studios where there are many sound sources (many speakers or instruments). They are also recommended for home recording.
Minimum requirements for your dynamic microphone to sound good are:
Speaking directly to the mic – mic needs to be located directly in front of your mouth (almost touching your lips) or an instrument you might be recording,
Preamp to boost the signal gain strength – many good mics will require a device to boost their strength in a clean way (if you crank the gain to the max on your interface you will get static).
A dynamic mic really shines if a few additional conditions are met:
Basic soundproofing – turning off any sound emitting devices (e.g., fans, loud PCs, A/C), closing windows,
Essential acoustic treatment – surrounding your recording station with material absorbing and gently dispersing sound waves.
You can find a detailed soundproofing guide here.
"Dynamic microphones are something I can't imagine working without. They are part of my everyday workflow, and I always recommend them to new or experienced creators. The best thing about them is that a good dynamic microphone can serve you for many years. 

It is just so much joy working with them."

Chris Land, ImprovePodcast.com, host of Improve Podcast School show
How can you tell a good dynamic microphone?
A good dynamic microphone should have an XLR output, 50-20,000 Hz frequency response, low hum pickup, and low to medium sensitivity. In general, the price is a good indicator of quality. Better dynamic microphones use expensive materials, sophisticated circuits and are built with more precision.
Nowadays, most good mics claim they meet all technical parameters that allow them to compete with the best mics, i.e.:
Frequency response range between 50 Hz and 20,000 Hz,
A low impedance between 50 ohms to 600 ohms (best mics have impedance 150-250 ohms).
Unfortunately, other technical parameters in many cases are not provided and do not allow for easy specs comparison. On top, there are no standards to measure all of the aspects of audio quality. That makes it challenging to build a clear spreadsheet with things to pick and things to avoid.
There are, however, two things to remember when buying a dynamic microphone:
You get what you pay for – dynamic micorpohne cost is highly correlated with quality (unless you purchase something flashy looking to look good on camera, but that is more common among USB mics popular with streamers). Great dynamic mics don't have many features but use solid and expensive materials and production processes to deliver the best results,
Technical parameters aren't everything – mics have their distinctive feel. Some people will like a sound signature that a particular mic produces, and others will not. So if you have any doubts, then get a mic for testing before making a purchase decision.
Does a good microphone make a difference?
As a general rule, a good microphone makes a big difference in the audio recording quality. A good mic is built with more advanced and precise instruments. Also, higher build standards deliver less internal hum and make it better shielded from external interferences and noise.
As the first step in audio processing, a good dynamic microphone will deliver a richer sound experience. More precise instruments housed within a chassis of a mic allow for a better interpretation of the sound wave into an analog signal.
Secondly, that accurate signal is then sent to an audio interface. A good dynamic microphone, paired with an equally good audio interface, will deliver the best possible digital audio signal. 
What does it mean that digital audio signal is rich and accurate?
It means that intervals between each sound are measured precisely each time – accuracy of the frequency (usually between 50 Hz and 20,000 Hz),
Information about each sound is measured more precisely – accuracy of bit depth (usually around 24 bit).
That boost in signal accuracy is what you are actually paying for, buying a better quality microphone.
A visual representation of what I'm talking about is on the graph below. A good microphone makes a difference in how the digital signal you will eventually get has better quality.
In Conclusion
In general, a price of a dynamic microphone is a good approximation of the device quality.
There are 5 basic price ranges in which most dynamic microphones can be grouped into:
Below <$50 – cheap materials used, poor performance, won't last very long – don't buy,
Between $50 – $100 – mics here can sound good if made with precision, consider if you are on a budget, but look for more recognized brands, e.g., Shure SM58 (often retails in this price range), Rode PodMic, Samson Q2U. 
Between $100 – $300 – quality mics – a great price range with many good mics, like Samson Q9U, Rode Procaster, Shure MV7,
Between $300 and $500 – a sweet spot – here you will find some of the best sounding microphones that are considered recording standard all across the world. If you have a budget go for Shure SM7B.
Above $500 to c.a. $1000 – premium category – in most cases, those are not microphones for simple, everyday use, in-home studio recording environments. Consider them only if you have a professional studio and ways to safely keep and store those precise mics.
How much are you willing to pay for a good dynamic microphone?