As nowadays everyone is launching a podcast, and podcast hosting is something without you can't have a show, let's explore how podcast hosting works.
The number of new podcasts is rapidly growing. There were
In 2010 we had 20.8 thousand new podcasts,
In 2019 (a decade later), we had over 290.8 thousand new podcasts.
In 2020 over 900.000 new podcasts we created
2021 will be the biggest year for podcasting and we will most finally get 1mln new podcasts in a single calendar year. That is amazing!
This rapid growth creates a demand for podcast hosting services. Without them, creators have no way of delivering their shows to the listeners.
Thanks to this demand we have right now a lot of podcast hosts
If you are looking for the best hosting for you, we have covered this in our separate detailed review of media hostings. You can find it here – it reviews over 25 hosting services across the range of 14 different criteria.
There are about 100 media hosting RSS providers around the world, but only 9 of them host more than 10.000 shows. Those would be Anchor, SoundCloud, libsyn, Podbean, buzzsprout, Spreaker, Podomatic, ivoox, and Simplecast.
In this article, we are going to explore how podcast hosting works.
---
What is a Podcast Media Host?
Podcast Media Host is a service provider that ultimately delivers your audio files to your user, using as an intermediary a podcasting directory (like Apple Podcasts, Spotify).
A podcast media host is where you upload and store the final media files for your podcast.
Most of the podcasts before uploading get formatted and saved into an mp3 audio file.
Besides mp3 files, some of the podcast hostings allow you to upload also other formats like:
Here are some of the best podcast media hosts:
TOP
Podcast Host
Register with this link and get a bonus

1

Buzzsprout is the best solution to host your show.
I like them for their transcripts, a Creator's Program to help with monetization.
Get buzzsprout and claim
$20 Amazon gift card

2

Castos is rich in features supporting the growth of your show.
Register with Castos for a
14 days free trial

3

Transistor offers in-depth analytics in each plan and is the best if you also need private podcasts.
Register with Transistor for a
14 days free trial

4

Another awesome, modern, and rich in high-quality features podcast hosting platform. Check Captivate with a
7 days free trial
Analyze which podcast hosting works for you the best. Check what your requirements are and then select your service provider. 
---
How Does Podcast Media Hosting Work?
Podcast Media Hosting hosts your files and then sends them to listeners' applications and devices which they use to listen to podcasts. That's their core service they provide to podcast creators.
1. Podcast Audio File Preparation.
When you have recorded and edited an episode, you need to save it in a format acceptable by podcast hostings. We already mentioned that mp3 is the most popular format for podcasting.
What's the difference between Podcast Hostings and Podcast Directories?
2. Podcast Hosting Works as a File Storage. 
Your podcast hosting works as a storage for all your episodes that you decide to publish. In the case of premium podcast hostings, they also provide a CDN, i.e., a content distribution network, meaning that files can be copied into a few physical locations.
3. Directories function as displays.
Podcast directories are those platforms where listeners find your shows e.g., Apple Podcasts, Spotify, Spreaker, etc. But they do not have your files. Directories only read your RSS file and then display the list of episodes that you are hosting with your hosting company.
4. An RSS feed is a catalog of all your episodes.
For your directories to display all the episodes stored in your podcast hosting, they require an RSS feed.
Every podcast requires an RSS feed that you submit to directories like Apple Podcasts, Spreaker, TuneIn, Google Play, Spotify, etc.
Your podcast hosting can prepare an RSS feed for you, and this is the most popular way to get one.
Another popular way to get an RSS feed is through a Google service called feedburner.com – 60 thousand podcasts globally use this solution.
Finally, you can manage your own RSS feed and have it hosted through your website hosting. This requires a bit of technical skill to manage.
5. Publishing means updating RSS feed.
When you click publish, this triggers an update to an RSS feed, and then the new file gets pushed by the hosting company to directories so they can update the list of your content.
6. Listening to an Episode.
When a listener opens their favorite podcasting app like Apple Podcast, Spotify, etc. and clicks play, they trigger a download directly from a media host onto their device.
It is a podcast hosting job to serve the file. It's not the role of a directory.
---

What other services Podcast Media Hosting provide?
There are a lot of things a podcast hosting can do for you. Of course, each functionality's development and maintenance is expensive, so each podcast hosting provides a slightly different set of services.
In general, podcast hosting works to provide you with:
Analytics – good analytics functionality is crucial for you to understand your audience better. Use analytics and develop your own dashboard to track your show's performance – here is a list of 55 podcast performance metrics,
CDN – already mentioned content distribution network serves its purpose. It is a physical backup of your files in a separate location. It also shortens the distance between the data center where your files are hosted and your listeners' physical location. Closer proximity means that downloads can happen faster. It is especially important for international audiences.
Support – eventually, everything breaks, so it is important for your podcast hosting to provide quality and accessible tech support.
Monetization – if you are unsure how to monetize your show podcast hostings work to provide you different solutions, you can start making money podcasting. The main solutions you can find are auto-ad insertion, access to sponsors, donations functionality, and access to affiliate offers.
Player – most podcast hostings work to deliver you a good player. A player is crucial so you can embed it on your website for easy and fast access to your content.
Some of the secondary feature podcast hostings can provide for you are:
Hosting of video files – if you choose to have also podcast in video format,
Private feeds – each user can get a dedicated feed so you can build a private show for an exclusive audience,
Free website – I recommend you to have your own podcasting website, but you can host a website to promote your show with your podcast hosting, 
Alexa integration – as more and more people listen to podcasts using smart speakers this functionality may become more important and valuable in the future,
Transcripts – transcripts are a great way for Google to find and list your show in search results. You can also effectively monetize your content with transcripts.
---

How do Podcast Hostings work to send your files to Apple Podcasts and Spotify?
I've already mentioned that directories like Apple Podcasts and Spotify read the content of your RSS feed and then display details of all your episodes.
But to make this communication between a directory and podcast hosting work, you need to tell your hosting where an updated RSS feed should be sent.
This is very simple and requires just a few steps:
Register – You need to register your show at directories that require verification,
Add show details – Fill in all of your show details, including description,
Add the first audio file to your hosting – in many cases, accounts will be verified manually, and this audio file will be listened to. You can submit a trailer. It doesn't have to be a final product. This audio file will not be automatically published after approval.
Update RSS – add the RSS details in your directory,
Update account details – add the account info in your hosting panel so your podcast hosting will know where to send the updates.
PRO TIP 1:
When launching your show, remember that directories may take a few weeks to approve a new show (they usually do it within days, but you have no guarantee). Submit your show in advance so it can be approved before your planned premiere.
PRO TIP 2:
Always start with Apple Podcasts. Many directories like Overcast or Pocket Casts just pull the data from the backend of Apple Podcasts. Other big directories like Listen Notes crawl all the web searching for new podcasts.
---
Difference between podcast hosting and web hosting?
There is a big difference in architecture of website hosting and podcast hosting.
An average page should have just a few megabytes (2-3MB), and users can potentially request many pages during one session,
A 30-minute mp3 audio podcast (if correctly formatted) can take up to 30MB of storage. If you subscribe to a podcast that already has hundreds of episodes, this can start a download of many very large files.
When people are subscribed to your show, their app will automatically trigger a download. This means that when you publish a new episode, your hosting may require a lot of bandwidth to deliver your episode to all the subscribers. 
Examples of good and reliable web hosts: Bluehost (best for starting new – check Bluehost prices), WPX (more suitable for established brands – check WPX prices).
Examples of good and reliable podcast hostings: buzzsprout, Captivate, Transistor, Castos.
---
Can I use my web hosting to host my podcast?
No. Hopefully, that should be apparent by now, but just, in summary, explain why not.
The underlying IT infrastructure that is built for the podcast hosting and website hosting is different. This is especially visible on the bandwidth side.
Web hosting was not built in mind with serving large files to thousands of people that are why, if you read carefully in terms of service, this can be considered a breach of terms of service.
This can get your web hosting account blocked, which would result in your website being temporarily unavailable.
---
Is there any way I can host a podcast on my own?
Technically, yes, of course, there are ways to do it on your own.
We can think of podcast hostings as managed services, so this means you could DIY, but:
Setting up your own Podcast Hosting might be very expensive 
Large podcast hostings experience scale benefits, they buy data center services (storage and bandwidth) in large quantities and can negotiate better prices. For example, you could set up and configure your own hosting on Amazon AWS (or any other cloud provider). But, you would end up paying much more than you can get with what large providers offer under $25 per month.
It may require a lot of technical skills
To configure your own podcast hosting, it requires a lot of technical knowledge. Unless you are an experienced developed and IT administrator, I do not recommend you to take this path.
This setup could be time-consuming
Besides the fact that it will take time to set up, you will have to troubleshoot everything on your own. This will require a lot of skills and a lot of time. This time you should be spending on making great content for your listeners.
---

How Podcast Hostings Make Money?
There are few ways podcast hostings make money:
They charge you a monthly subscription fee for the core service of storing and serving your file. Usually, there are tiers of this core service, starting for as low as $5 up to hundreds of dollars,
Some podcast hostings providers that offer an unlimited plan charge you for add-ons:

Private podcast,
Advanced analytics,
Lifting limit on file size.

Profit-sharing from your monetization:

Splitting revenue from ads (industry standard is 70/30 in podcasters favor),
Commission on donations, etc.
---
What are the biggest podcast hostings?
TOP 5 biggest podcast hostings are:
1. Anchor – over 410 thousand podcasts,
2. SoundCloud – over 105 thousand podcasts,
3. libsyn – over 68 thousand podcasts,
4. Podbean – over 57 thousand podcasts
5. Spreaker – over 47 thousand podcasts
At the moment Anchor.fm is the biggest podcast hosting.
The way Anchor works, is that they offer unlimited free hosting, and they hope to make their revenue from ad sharing. As Spotify has bought them, there is a chance this model will succeed for them.
Unfortunately, in the past, many free podcast hostings have failed and shut down their services (Opinion Podcasting, Zcat, Podango, just to name a few).
I advise caution when relying too much on free podcast hosting. This model has failed multiple times in the past. You can find a great managed service for a really reasonable price.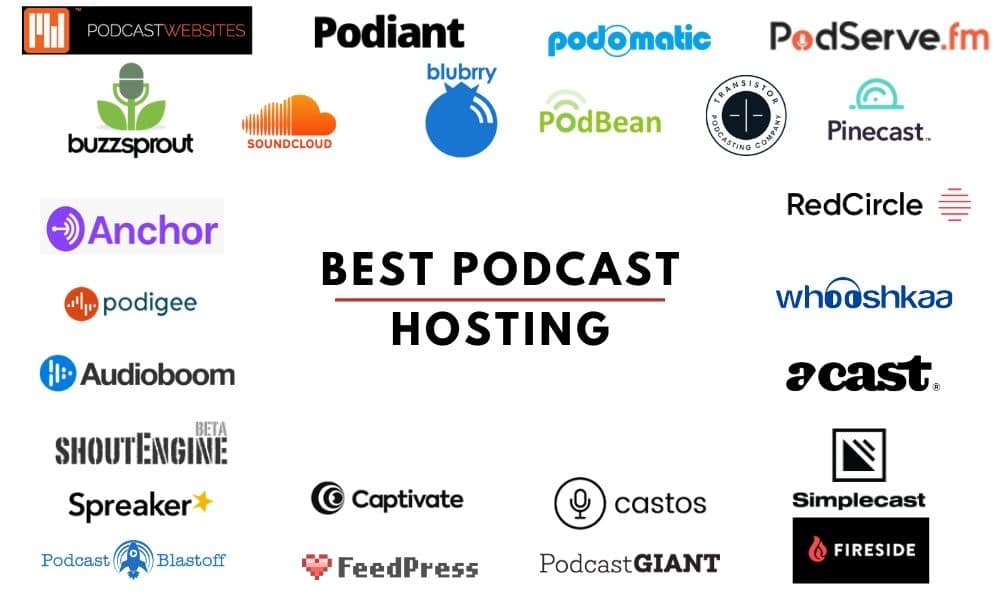 What are the best podcast hostings?
Buzzsprout is the best podcast hosting platform.
If you are interested in details, I've covered this in this in-depth review and analysis of over 25 podcast hosting platforms. I've evaluated them across 14 different criteria to assess how reliable they are and how good their services are.
Conclusions
Podcast Hosting works by providing storage for all your podcast episodes. As a core function, they also provide bandwidth as they serve your episodes to your listeners.
Podcast hostings use RSS feed to update the list of your episodes, and then distribute this list to directories (like Apple Podcasts and Spotify) so listeners can see the latest episodes.
There are over 100 podcasts hosting globally, but only 9 of them host over 10.000 shows. 
Read a good review and evaluate your needs in detail before choosing which platform is best for you.