Podcasting is a fantastic way to reach a great audience. Listeners are highly engaged, positive towards marketing messages, and on average, are well earning. This is precisely why so many people ask how to make money podcasting. I will present and discuss here 35 ways to monetize a podcast and discuss their effectiveness and my recommendations on which one to use.

In general, I would recognize two primary routes of how you can monetize a podcast.
Advertising Route,
Selling Route.
Why the distinction? 
With the Advertising route, you will focus on making content and promoting other people's products. Also, depending on the ads you choose (like sponsorships), you don't usually nurture leads and develop customer relations. Here you make money podcasting as you focus on making the best possible content for your listeners and building trust and engagement for more downloads. You are selling space on your show for ads.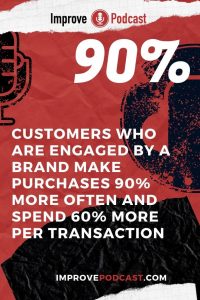 With the Selling route, you don't actively promote other people's products and focus on promoting your own products. When you are a Seller, you take even more care about your listeners who now are potential clients. You build a brand, nurture leads, have a content share strategy, and implement more communication channels, increasing the value of engagement for more direct sales and maximum monetization.
---
Can you Mix Advertising and Selling? 
I advise you to be very cautious when mixing. In the end, your efforts to monetize a podcast may be less effective than you would like.
Picture a scenario:
You develop a show to support a product or service you want to offer,
When your downloads grow, you are tempted to add advertising to your show,
During an episode, people listen to two sales messages – promoting your offer and promoting a sponsor's offer.
This is what is called cannibalization of sales. It happens when one of your products sells lower volumes, due to competition from another product.
Even if those two offers are not in direct competition from product and value perspective, they are competing for time and attention. How many people will visit both final offers? 
In this situation, I would argue that the sales of your product are more impacted in the long run. Advertiser probably has his message delivered on various shows so they will finally meet their sales target. But you will most likely sell less than in a situation if you wouldn't have a sponsor's message.
So, mixing strategies you use to make money podcasting makes sense if you want to diversify sources of income, but you need to be aware of risks and potential adverse effects.
---

Things to Know Before You Start to Monetize Your Podcast
Most people start a show without a clear vision of how to make money podcasting, and this is ok. 
You can easily discover the best way to monetize a podcast, that will best serve your audience after you establish yourself as a credible podcaster.
However, when you start monetizing think about and stick to those rules:
Choose a Strategy – Think about how you are going to monetize podcasting in the long term. Choosing a strategy before you start, will help you with structuring your show for it to best support chosen monetization route,
Be Patient in Execution – Regardless of the selected strategy, it will take time to reach its full potential. Be relentless, and as your show grows, your earnings will also increase if your strategy is effective.
Experiment – with so many possible ways to make money podcasting, whatever is currently working for you now doesn't have to be the most effective way. With time try adding and changing things to experiment if you are not losing any income.
Analyze Results – analyze all the changes you make and quantify the results. It is the only sure way to make informed decisions about changes to your podcast monetization strategy.
Implement Changes – You can adjust later (always adjust) but have an idea of how you are going to focus your effort at the beginning.
---
Define a Strategy – Main Ways to Monetize a Podcast 
Our monetization ways will be grouped into below 7 categories. We have logically grouped them into similar types of activities. In each group, the different ways to make money podcasting will be similar in principle.
Groups are different from the perspective of:
Is the source of income passive or active?
How complex is it to implement?
What size of opportunity each does group create (on average) to monetize a podcast?
How diversified is the source of monetization?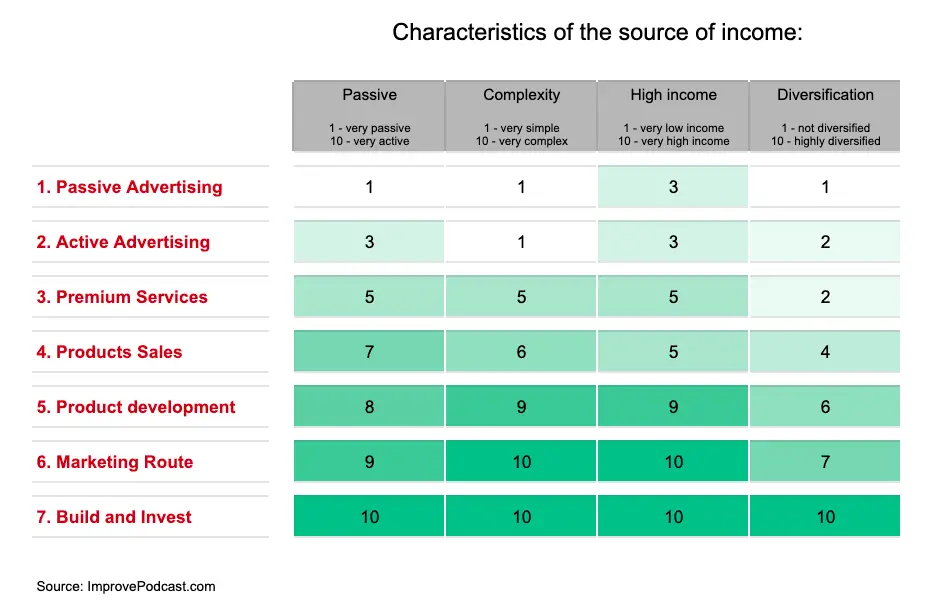 This table is mostly applicable to average-performing podcasts. Don't take hyper-successful 1% of podcast creators and apply this to them.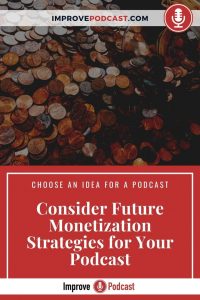 Previously I mentioned that you should not mix strategies to avoid sabotaging your efforts when one monetization effort will be in direct conflict with the other. This could lead to listener confusion and decision paralysis. 
To avoiding mixing strategies, try not to use too many monetization ways coming from different sources. When mishandled, especially advertising can come in direct conflict with selling your own products and services.
---

I. Passive Advertising – Most Popular Form
Passive income from advertising is the most basic way to monetize a podcast. You need to produce a lot of content that you will later disseminate in various places. Once that content starts attracting an audience, you will start receiving your benefits for months and years.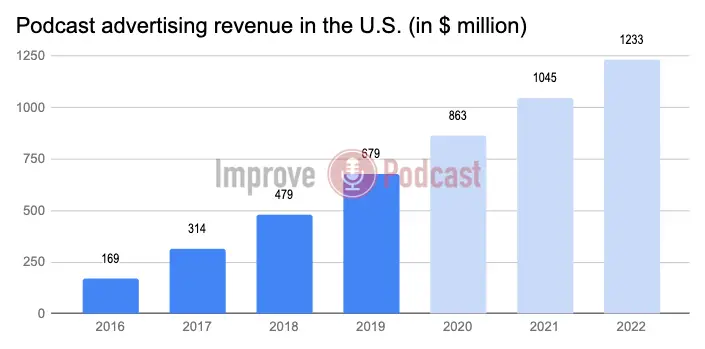 1. Affiliate Marketing
With affiliate marketing, you need to register with a company that runs an affiliate program. There you will either get promo code or a special direct link. Once you broadcast your message about the affiliate offer and your listeners will complete a purchase using your code or link, you will get a commission.
This is a very passive way to make money podcasting. Once your episodes are published, you have a chance to make a commission for as long as people will discover your content.
There are 3 main ways you endorse affiliate products.
Referral links – sendinblue, squadcast, soundstripe, and many more will ask you to promote the overall service and company. You talk about experience and lifestyle when endorsing those offers.
Make reviews and link to promotions – the main player here is Amazon but many large online markets with affiliate programs, e.g., ClickBank, ShareASale. Your efforts here should focus on promoting specific products overall and not focusing on the vendor that sells them.
Guest Products Promotion – in this form of affiliate marketing, you invite a guest onto your show where you endorse products and services your guest is offering. During your show, you will share a promo code that will earn you commission from completed sales.
There are tons of affiliate products you can recommend. Recommendations are actually most successful if they are genuine, i.e., you really have and like the product. Just Google a brand that you would like to endorse adding an "affiliate program" and see if they offer one.
When working with smaller brands, do a quick review of how to company is performing overall. If there are too many negative predictions about the future of the company, you may want to skip them as a referral partner. The last thing you want is for a company to be closed or discontinue their program when you have invested time in making relevant referrals.
We have a detailed guide on Affiliate Marketing for podcasts getting into specifics of how to make it successful.
2. CPM Ads from your Podcast Host
The most basic form of adding ads to your show is for your media host to add them.
Now, many media hosts don't have this functionality.
Only several big players have a build-in ad insertion mechanism. Check their offers if you are looking for the quickest way to start earning. Additionally, this solution is very convenient, in the sense that you can disable ads without any impact on the hosting of your show.
One of the biggest podcast media hostings, offering monetization options is buzzsprout, hosting over 100,000 shows.
Your media host will take a cut from your revenue for partnering with the advertiser. The industry standard revenue split is 70/30.
If you are looking for the best podcast hosting, check our detailed review of podcast hosting platforms. One of the criteria we used for scoring was the number of tools to monetize.
Here are our overall recommendation for best host, also for growth and monetization:
TOP
Podcast Host
Register with this link and get a bonus

1

Buzzsprout is the best solution to host your show.
I like them for their transcripts, a Creator's Program to help with monetization.
Get buzzsprout and claim
$20 Amazon gift card

2

Castos is rich in features supporting the growth of your show.
Register with Castos for a
14 days free trial

3

Transistor offers in-depth analytics in each plan and is the best if you also need private podcasts.
Register with Transistor for a
14 days free trial

4

Another awesome, modern, and rich in high-quality features podcast hosting platform. Check Captivate with a
7 days free trial
3. CPM Ads on Podcast with Podcasting Network / Ad Broker
Podcasting networks are companies that auto-insert ads into your show. The mechanism is similar to what media hosts do. But you need to join the podcasting network separately.
With podcasting networks, you usually negotiate more elements of your cooperation than you would with a media host, as podcasting networks may provide some marketing benefits to your show, and in return, may ask for some creative control.
Podcasting Networks, just like media hosts, earn from the revenue sharing model. The average split is the same i.e., 70/30, but can vary depending on the size of your show
Here are some of the best podcasting networks for you to consider.
Authentic Shows – an exclusive podcast network working with top podcasts and advertisers,
AdvertiseCast – a large network with over 1,000 shows with access to high profile advertisers,
Midroll –  quality network with over 250 shows and working with over 200 large brands,
PodcastOne – network with over 200 shows and large advertising partners,
Archer Avenue – one of the oldest ad networks with over 100 shows (as far as I know they've shut down around September 2020).
Necessarily check this article on how podcasting networks work if you are considering joining one. 
4. CPM Ads on YouTube from their YouTube Ads
YouTube is actually a popular place where people listen to podcasts. You need to additionally upload episodes and get the benefits from the YouTube ads mechanism.
If your media host supports video file hosting, they can push your podcast episodes automatically to your YouTube channel. If you need to do it manually, you can convert files super easily with TunesToTube.com.
To make the video format of your show more attractive, you can:
Add a slide show helping your core message,
Record yourself while you record your podcast,
Add dedicated thumbnail to videos to make them more attractive.
Most importantly, don't worry if you don't have an excellent visual layer. Many people listen to YouTube videos often in the background or while doing other things. Also, once you decide to launch a real video content, you will already start will hundreds of subscribers so that the growth will be much simpler and quicker.
5. CPM Ads from a blog with episode transcripts
Another place to monetize your podcast is your blog. Launch a simple WordPress blog and publish their transcripts of your episodes.
Some of your listeners will choose to read instead of listening. Also, this helps to get your content ranked on Google, especially if you will be publishing transcripts as regularly as you are publishing your podcast episodes.
One of the best way to get high quality transcript fast through Rev.com.
To make money with a podcast blog, you need to add a premium ad broker.
Monetizing through blog and episodes transcripts is very easy and effective. If you are not doing this, you are missing out on potentially thousands of dollars each month. 
I have a detailed guide dedicated to the process describing step by step how to make money with podcast transcripts.
---

II. Active Advertising / Sponsorships
To make money podcasting from active advertising requires from your more effort than passive advertising, but in return has a good chance of generating a higher income. It doesn't mean everyone should pursue active advertising as some forms of it may require more effort and work from you.
6. Direct Sponsorships Deals
Direct Sponsorship requires more work on your side than using either dynamically inserted ads or ad deals that are given to you by your media host or ad network.
In this situation, you will need to go out and look for sponsors on your own, by:
Researching potential sponsors interested in advertising,
Understanding of your audience, to know what products might appeal to them
Preparing a pitch deck that will list all the benefits to your sponsor.
Finally, you will need to sign a formal agreement. So there is definitely an effort required to find sponsors on your own, but the additional revenue and lasting direct relationship are usually worth it.
How to get a sponsor for a podcast? – in this guide, we cover details of advertising on a podcast.
7. Listener's Donations with Patreon
Patreon offers creators sets of tools for monetization, marketing, and communication. It can be an extremely effective way to make money from a podcast. 
In fact, podcast creators are among the top earners on Patreon. Chapo Trap House podcast is the most profitable creator on Patreon. This show has 35,780 patrons and earns an astounding $160,123 per month.
Currently, there are 9,673 podcast creators with at least 1 paying patron, that earn in total $1,830,689 per month. 
The top tier of 10% of creators get 90% of the earnings, So, to be successful, you need to get to this top 10% tier of creators. For that, you need to have a deep understanding of your audience's needs and a great value proposition.
Go through Patreon instead of asking for direct donations via, for example, PayPal. Your value offer will be more transparent, and you will get better long term results.
If you chose Patreon as your primary way to monetize a podcast, you need to review this Podcast Patreon Monetization Strategy. In this post, we cover details on how to add value to your Patreon offer and incentivize donations.
8. Charge Your Guest
Charging your guests is an alternative to affiliate marketing when you invite guests to promote their products. 
When compared charging your guests to affiliate marketing you both are simply swapping an uncertain outcome of your endorsement (for your guest), and an unknown commission that will be paid (to you), for a fixed price agreed upfront. 
That is a very fair agreement. It will help you also to plan your budget as you can more easily forecast how much money you make.
Another benefit of this approach is that episodes are more natural and look less like a sales pitch. They don't feel to your listeners like a monetization effort since there is no need for a link or promo code sharing. 
Here are examples of two podcasts that do precisely that:
Joe Pardo charges guests on The Business Podcast $500-$3,000 per episode
John Lee Dumas requires a $6,500 appearance fee if you are selected to be a guest on his show, Entrepreneurs of Fire (EoF).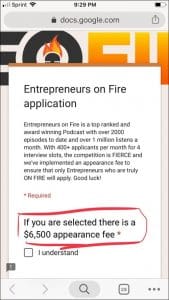 If EoF episode would reach 1,000,000 downloads, this would mean he charges $6,5 CPM from his guests. 
If your podcast's niche exactly matches your guests' target audience, you could also easily request a higher than $25 CPM price.
---

III. Premium Services
You can easily monetize a podcast with premium services, where you offer a layer of additional value for a group of your clients that have an urgent need to solve a problem or are desperate for a quick and effective solution.
9. Offering Services to Listeners – Consultations/problem-solving sessions
This is a fast and easy solution to monetize a podcast. Once you have a loyal audience and trust established, you can offer hours of premium paid consultations to your listeners.
Your concern here, maybe, why would people pay for something you are anyway giving away as part of your free podcast. Here are some real examples of why people would pay for free consultations:
A person doesn't have time to look through your all free materials,
Someone might have a particular, niche question you might be able to help with, that you haven't covered on any of your episodes,
There is already an established business that needs your knowledge, and it is losing money without a solution.
Further, you can offer:
Individual sessions – when you meet 1 on 1 and discuss a particular problem,
Group coaching sessions – when you speak to a smaller group of people who need further advice and encouragement. Group coaching sessions will have a higher profit margin, so actually, you can run ads to promote them and still get a good profit.
There are tools to help you facilitate individual sessions, so you won't need to negotiate the time of sessions individually. Great tools to help you with scheduling and charging are:
10. Premium Content Behind Paywall –  content, paid subscription
On top of your free podcast, you might have additional premium content. Behind a paywall you may offer:
The old library of valuable episodes,
Early access to unpublished yet materials,
Current material that no-one else can offer in the detail and quality you can offer,
Material consolidated into detailed step by step guide to accomplish complex tasks,
11. Private Discussion Group – access to other business people
Private Discussion Groups provide access to you as an expert in your field but also to other people involved in whatever you are podcasting about. It will deliver value to people through:
Exclusive access to you and ability to ask you a direct question and get answers faster,
Experience exchange among participants,
Possibility to network and create business opportunities among group participants.
This is a very interesting way to make money from a podcast as you may be actually creating business and collaboration opportunities for your paying clients.
---

IV. Products Sales
Selling is another possibility to make money podcasting. For this to work, you need an attractive product and a distribution system for goods delivery.
12. Dropshipping with AliExpress send from local magazines
AliExpress dropshipping with the Shopify platform is gaining popularity right now. Instead of mentioning affiliate products and links, you can actually recommend products you find attractive for your listeners.
In this model, you market products with your podcast, and orders get:
Collected and process through Shopify store you set up,
Fulfilled by AliExpress from merchants that have their stock with AliExpress.
For the best customer experience, search for products that are already shipped to a magazine located in your country. This way, delivery will take a few days instead of a few weeks.
13. FBA (Fulfilled by Amazon) Selling Model
Fulfilled by Amazon model is where you send a stock of your products to Amazon and let them take care of the whole delivery process. It will be enough for you to advertise a product on your podcast. 
To make this work, you need to have a product offer for your listeners. There are multiple ways you can get a stock of physical products on your hand without going through the development and production process.
You can buy at the source for a wholesale price and resell them, but you will face local competition,
To avoid competition, find the right products, and import them from sellers.
14. Publish a book – $15 Real paperback book, sell with Amazon
Publishing a book is a great way to build a brand and earn money. Publishing and printing are easy, fast, and affordable nowadays. Books are a great category of products to sell as they have high rankings on Amazon, and people actually make purchases based on those ranking.
Of course, you need to write a book before you publish it. Writing about your experiences and reaching 150 pages is not that difficult. 150 pages, with an average of 250-300 words per page, mean you need up to 45,000 words. And with print-on-demand services, you can publish your book very easily.
15. Launch an e-commerce store 
Having your own e-commerce store would make sense the most if you have a good product and want to control the entire purchase experience.
Set it up quickly with platforms like Shopify, or add any other e-commerce module to your podcasting website if it runs on WordPress. You can quickly setup your site using our verified website hosting providers:
TOP
Best Website Hosts
Ideal for whom?

1

BlueHost is best for beginners looking for an affordable and reliable provider
check prices

2

SiteGround is great for growing if you already have a mid-size audience
check prices

3

Pick WPX if you have a large audience demanding the best experience
check prices
Before launching an e-commerce store, make sure that you can deliver enough value for both your clients and your business. In the age when Amazon can fulfill orders for you very effectively, you need to know what experience you want your clients to receive.
16. Start physical brick and mortar location
Podcasting is obviously a great way to market your physical business. So why not reverse engineer that model and start with a podcast discussing a range of products and then after gathering following launching a physical store where you can offer your products and services.
You may ask why you should open a business with a physical location when you could go full e-commerce? 
The physical location would especially make sense if you:
Require a dedicated studio,
Use a lot of different products that you review and talk about,
Need a dedicated space to grow your business,
Your podcast already focuses on real, tangible products.
---

V. Product development
If you want to monetize a podcast by developing your own products, you need to be aware that this is more complex than all the previous monetization attempts. It requires you to design, test, and then develop a fully functioning product. However, once you make the right product, your high-profit margins will allow you to make significantly more money podcasting vs. other less active ways.
17. Leverage PLR content into paid products
Public Label Rights content can be reused in any way. It is the fastest way to gather articles, group them, and build an ebook out of them. There are things, however, to consider:
A lot of PLR articles are outdated and may not hold relevant information anymore,
They usually are not in-depth, so they are not very high-value.
What you can do is use parts of the PLR content to fill also parts of your ebook. Don't ever over-rely on this and don't overprice a content build this way. It can be an excellent place to compile your $1-2 ebook quickly.
18. Online products offer (sales outsourced)
You can develop an online product and then sell it through a marketplace that already has a lot of visitors. The most popular ways to do it is you can:
Publish an Ebook and offer it through Amazon
Develop an online course and have it launched on the Udemy platform
In both cases, you obviously promote your products on your podcast. One advantage of this approach is that someone else handles the sales. Additionally, when your products become popular, they get featured in the bestsellers list and displayed more often in the search results on those marketplaces, so your sales will increase.
19. Develop advanced Info products
E-learning and Info products are one of the fastest-growing industries. Additionally, a podcast audience is a great market to which you can offer an exceptional info product.
By finding complex problems and offering a great way to solve them, you can very successful with this approach.
Info products are also very flexible. You can offer $100-$200 fitness training programs as well as $2,000-$3,000 business solutions. Opportunities to make money form a podcast and an info product offer really are limitless.
We have a detailed guide on how to successfully prepare and sell info products with a podcast.
20. Launch an affiliate program for your info product
This way of monetizing your info products combines affiliate marketing and info products. In this scenario, however, you are establishing your own affiliate program.
On top of your podcast, you will need to have a system of counting affiliate sales using cookies or dedicated links or promo codes. On top, you should have a basic set of marketing materials supporting your affiliates in their sales.
Here you focus on continuous product improvements and customer service, and your affiliates will take on sales. You make money when they sell, and they get a commission from you.
21. Bundle products into a great value package
If you, for example, have a portfolio of 10 info-products priced at $50 and have a low conversion, simply make a bundle and sell them at a good discount, at around $200-$250.
Offer this bundle when usually you have clients buying 2 or 3 of your products max. The bundled offer will appear like a great value, priced not that far above what they were going to pay anyway.
This way you can increase your sales by 100% without doing too much additional work. On top, you will deliver great customer experience, and you can expect shares and links to your offer.
22. Unpack a big info product into smaller products
In this podcast monetization approach, we reverse what we suggested in the previous point. If you have a very exhaustive info product priced at $1000 or above and you see very low conversion rates consider splitting the product into smaller chunks.
Break the bigger product in few chunks priced competitively so people will have a choice of buying exactly what they want without spending too much. 
If done correctly, you may even not experience a significant drop in your core offer as the smaller info products might incentivize some people into buying the core offer.
23. Build and Sell Tools – templates, filters, presets
There are always some tools you can develop and offer to your loyal and most engaged fans.
This works in small and large markets.
If you are working in a very small underserved niche there is probably a lot of products you can develop to your clients as the initial offer is tiny and of low quality.
In the large niches, people are always looking for better ways to do things or for ways more in sync with their specific needs. The fitness niche is a great example where there are many offers, a new get created every year.
24. Develop a product with your community using Kickstarter
Kickstarter can be a great way to open a new chapter in your podcasting business career. When going to Kickstarter, I recommend you to have a prototype of a product you want to launch and a good idea of how you are going to deliver it to final consumers.
Launching a Kickstarter campaign using your podcasting audience, if done correctly, can be highly successful. Podcasters are engaged and affluent, and if you have a good list of stretch goals for your campaign, they will help you to achieve success.
25. Free Mobile applications with adds and in-app purchases
Launching a mobile app and hoping for quick success in today's crowded marketplace can be a gamble. The situation is totally different if you already have a solid following of a determined audience that wants your product. 
A free mobile app can be a great delivery mechanism if you blend a mix of free and premium services correctly. That combination will make an app popular among your current listeners, and people find out about it from application stores charts of popular apps.
Going for a mobile app launch, you will make money from ads or enabling access there to your info products through in-app purchases.
Also, this combination is the best way to start and expand. I wouldn't recommend going with a paid app.
---

VI. Marketing Route
To monetize a podcast with a marketing route means that you offer a variety of services at a premium either to a very wide audience or to premium paying clients, like businesses and corporations. Having companies as your clients increase the stability of your business and also is a way to increase your earnings as the B2B market is a great way to make money with a podcast.
26. Virtual Summit with other creators
A virtual summit is a series of presentations and discussion panels. It is a great way to monetize collaboratively with other podcasts and content creators. 
There can be two approaches here. 
You can consider running a free summit and use it as a marketing opportunity to expose participants to your premium offer,
You can sell tickets to an online event in which you can also actually mention your premium offer, but perhaps less aggressively.
27. Live events – seminars, trainings, courses
Although e-learning is vastly popular, there are undeniable benefits of learning in the classroom. 
Live classroom training can be offered in an open formula with online registration available to all who stumble upon your offer. In this case, everyone pays for themselves.
The second option is to offer businesses and corporations closed training. Here an organization buys a workshop from you and organizes participants internally.
28. Become a public speaker – conference hosting, corporate events hosting
When recording a podcast for a long time, ultimately, you will become a proficient speaker. Leverage those skills and become a professional speaker that gets invited to host conferences and events.
This is one of the services you can offer for people to book via your website. You may make your podcast more appealing to a specific type of corporate client that might become your clients in the future.
29. Sell podcasting related services
When you have a successfully running podcast, and you have understood your niche a lot, you can make money when you help others with achieving success.
There are multiple services you can offer to other podcast creators. Those may include:
market research and analysis,
audience surveys,
launch campaigns,
scriptwriting, 
podcasting website development.
30. Start an online advertising agency
A podcast can be both a product and a marketing channel. Once you complete your journey of creating a show, having a website, mailing list, monetizing, etc. you should be quite knowledgeable about online marketing and engaging online audiences.
A natural progression is that you start making money by taking those experiences and start a marketing agency offering: research, web development, podcast creation, audience development, conversion optimization, etc.
---

VII. Build and Invest
This is final, but the most profitable and most complex answer to the question of how to monetize a podcast.
Here you will find examples that take you from having one full-time podcasting gig to starting a small to medium-size business. In this section, I suggest how you can make money from a podcast by expanding or diversifying your operations.
31. You sell your podcast or sell shares
A podcast can be a very valuable asset. If you structure it correctly and build a community around problems and solutions, you may decide to sell that podcast later to a new owner. This way of monetizing has been extremely popular with blogs and even YouTube channels.
One thing you need to consider is the role of the host. Some podcasts heavily rely on the personality of its host. If your podcast is like that, it might be a risk for a buyer to invest as people may stop listening.
32. Launch a podcast production company
If you already have built a successful content production machine and you have mastered ways how to scale a podcast effectively, now you can offer those services to other people interested.
Offering end to end production service can be a very profitable business, especially if you focus a bit on marketing those services. You can charge high margins and find very premium clients.
33. Launch more podcasts
Another way to monetize your existing podcasting skills is to launch a whole network of shows. In the business world, this is called horizontal expansion, where you grow your company to increase the volume of the product you already make.
Once you establish your brand and will be a recognizable host, you can leverage that popularity and recommend your new shows to your existing audience.
Early boost will help you to surge in the rankings and accelerate your growth. It is a popular strategy among YouTubers and bloggers, but I don't see it yet widely adopted by podcasters.
When you have more shows, you already know how to make money podcasting. Use the methods that worked from you in the past. You already should have a network of trusted partners, and since you already went through the journey, it will be much easier doing it for the second time.
34. Invest in online assets – buy a blog or YouTube channel
Podcasting is currently on the rise so diversification of assets and sources of income is not a top priority for creators. But it should be in the long run especially if you currently are working in a small niche and are heavily dependent on one source of income.
Since you already know how to promote products with a podcast successfully, you can buy an asset that currently doesn't have a podcast but could greatly benefit from one.
Leverage on your existing community and on the already existing audience of that asset, and you can grow that new asset more easily.
35. Invest in a podcast – find struggling creators with huge potential
As the final way to monetize a  podcast, we want to recommend is for you to become a mentor and/or an investor. Reach out to shows with potential and offer them partnership and long term cooperation.
Buy a percentage of that other show and, in return, offer your expertise in research, content production, marketing, growth, etc. When looking for a show to invest in, you need to have confidence in that second person that they will remain with the show to grow it. Otherwise, reserve an option to buy remaining shares and become a full owner.
---

Conclusions
There are a lot of ways to monetize a podcast successfully. In this article, I've listed and grouped them according to the level of complexity, investment, and experience required.
The goal of this guide was to help any podcast creator with monetization objectives wherever they are on their business journey. That is why I start this guide on passive ways to monetize like ads and affiliate marketing and end on active ways requiring knowledge, like investing and launching production companies.
All those ways can be a natural progression and business paths for creators depending on what they feel is the best way for them to monetize and what they want to do with their podcasts.
Most important is to start a podcast. Then analyze this guide a find the best way to make money from a podcast that is compatible with your niche and your audience.