Podcasting is a booming industry so creators and marketers require current and in-depth knowledge and statistics about podcast listeners, market, revenue, etc.
In this post, we list directly over 100 statistics but when looking into the graphs you can easily get over more than 200 actionable statistics and get more knowledge about the state of podcasting.
Statistics presented in this article show just a static picture of podcasting; they do not analyze in-depth podcasting trends and other significant developments that will shape the future of podcasting. 
---
Number of Shows and Overall Marketing Competition
There are fewer podcasts than other content media. It is easier to compete.
1,74 billion websites available online
500 million websites are blogs
25 million YouTube channels
1,200,000 million podcasts in 2020
Spotify now has over 1,000,000 podcast titles, compared with 10,000 in 2018 (MarketRealist), and is the biggest podcast directory in the world (surpassed Apple Podcasts in early 2020)
---
Podcasting Cumulative Listening Hours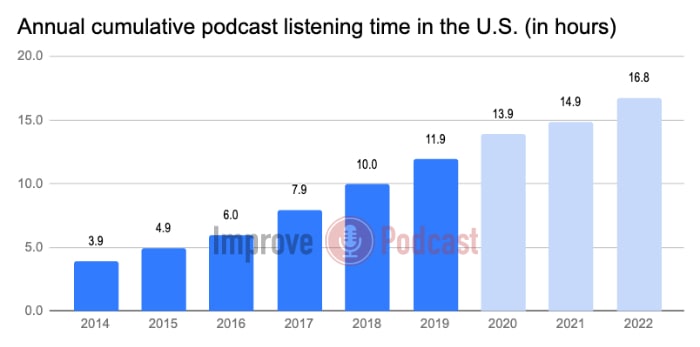 12 billion hours of podcasts were listened to cumulatively in the U.S in 2019
14 billion hours will be achieved in 2020
17 billion hours will be listened to in 2022 if all the other listenership trends continue
---
Familiarity and Awareness of Podcasting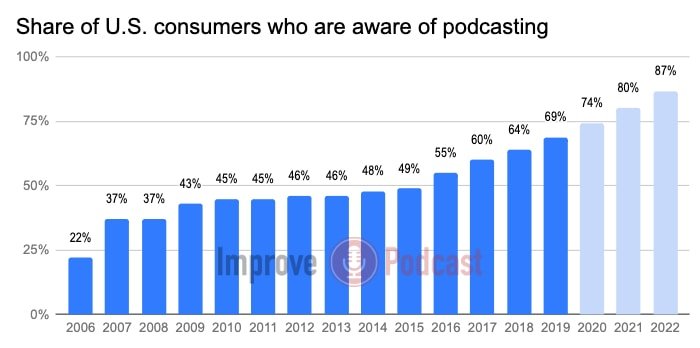 69% of the population (197 million people) were aware of podcasting in 2019
74% of American (211 million people) will be aware in 2020
87% of the U.S. population (248 million) will be aware of podcasting by 2022. 
2022 podcast awareness is more or equal to the awareness of Snapchat, Twitter, Instagram, Pinterest, LinkedIn, and Whatsapp in 2020.
74 million more people found out about podcasting in the last 10 year
---
Monthly Podcast Listenership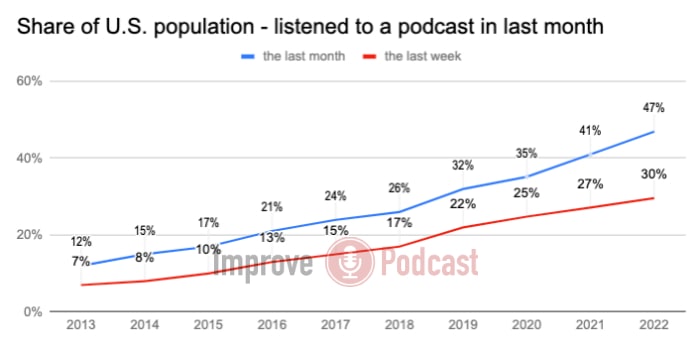 32% of (90 million) Americans have listened to podcasts monthly in 2019
35% of (98 million) Americans will be listening to podcasts monthly in 2020
---
Weekly Podcast Listenership

22% of (62 million) Americans have listened to podcasts weekly in 2019
25% of (70 million) Americans will be listening to podcasts weekly in 2020
---
Podcasts as Main Audio Source


28% of total time spent on listening to online audio is time spent with podcasts, among podcast listeners.
30% of people get their online audio from Pandora
24% of U.S. population listen to online audio through Spotify
13% of people consider iHeartRadio their main online audio source
12% of listeners get their audio from Apple
---
The World's Top Podcast Publishers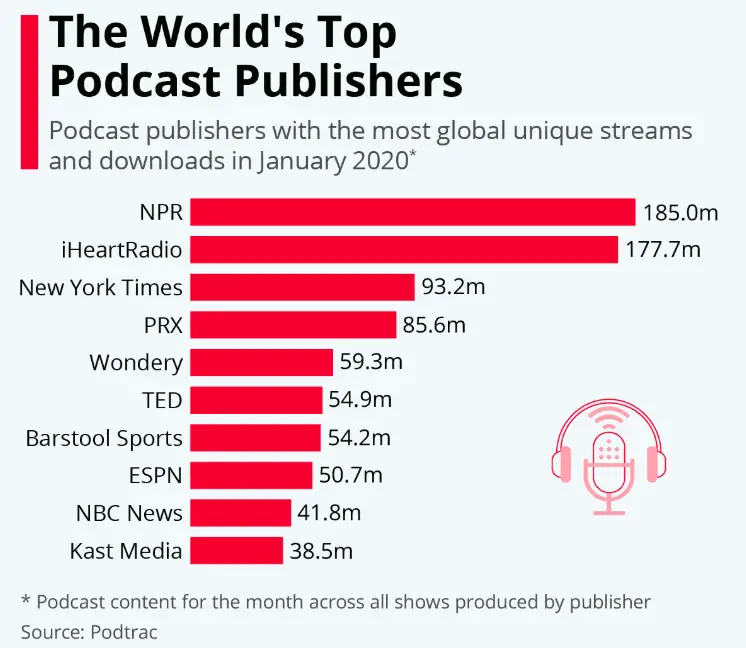 NPR shows generate 185 million downloads, from 64 shows reaching 23.7 million unique US audience
iHeartRadio shows generate 177.7 million downloads, from 354 shows reaching 21.9 million unique US audience
New York Times shows generate 93.2 million downloads, from 9 shows reaching 9.3 million unique US audience
---
Gender of Podcast Listeners
36% of men listen to podcasts monthly
29% of women listen to podcasts monthly
---
Age of Podcast Listeners

40% of people age 12-24 listen to podcasts monthly
39% of people age 25-54 listen to podcasts monthly
17% of people age over 55 listen to podcasts monthly
---
Education & Employment of Listeners
28% of podcast listeners have attended grad school or have an advanced degree vs. 20% population average
25% of podcast listeners have a four-year college degree vs. 19% population average
27% of podcast listeners have attended some college vs. 26% population average
51% of podcast listeners are full-time employed vs. 44% population average
17% of podcast listeners are part-time employed vs. 12% population average
8% of podcast listeners are temporarily employed  vs. 7% population average
---
Household income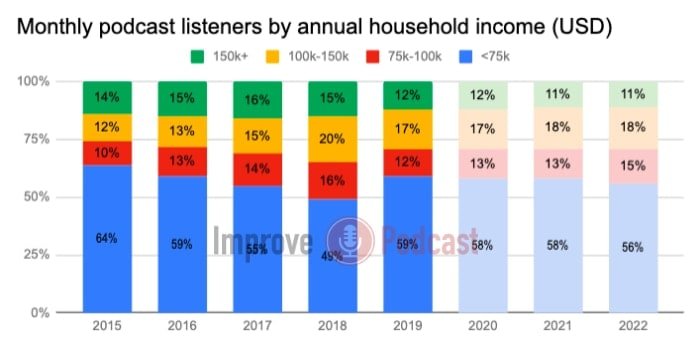 41% of podcast listeners live in a household with an annual income above $75k  listeners vs. 29% overall population
12% of podcast listening households have a $150+ annual income vs. 8% overall population
17% of households have a $100k-$150k annual income vs. 11% overall population
12% of households have a $75k-$100k annual income vs. 10% overall population
59% of listeners come from households with an annual income below $75k vs. 71% overall population
---
How much time do people spend listening to podcasts?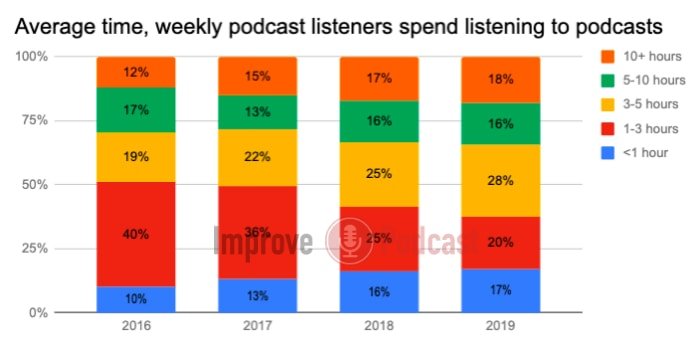 8 hours is the average time weekly podcast listeners spend listening to podcasts
18% of weekly listeners listen to more than 10 hours of podcasts
16% of regular weekly listeners consumer between 5 and 10 hours of podcasts
---
How many shows are people listening to?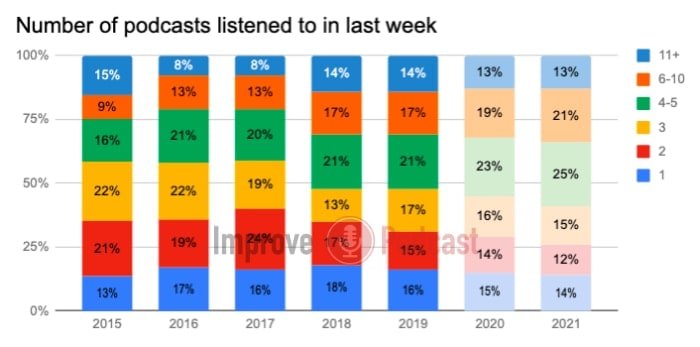 7 is the average number of podcast shows people listen to
31% of people listen to more than 6 shows
37% of listeners consume between 3 and 5 shows
31% of podcast listeners listen to 2 or just 1 show
---
Episode Consumption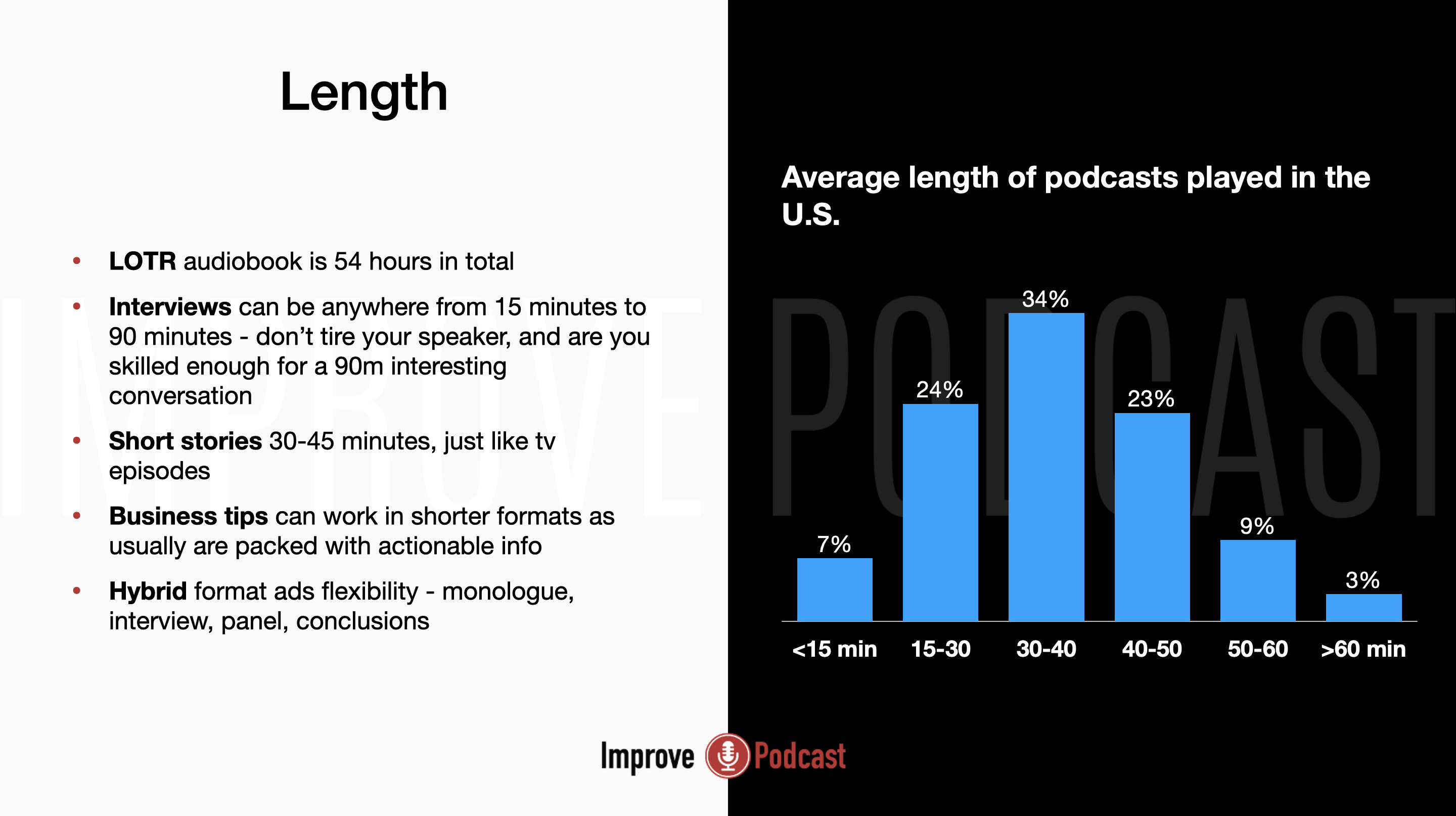 34% of all played podcasts last between 30 and 40 minutes
24% of played to podcast lasts between 15 and 30 minutes
Only 3% of played shows last more than an hour
47% of shows gets listened to within 24 hours of downloading
97% of all the downloaded shows get listened to within a week
58% of people listen between 76% to 100% of a show
52% of fans listen to an entire episode
20% of listeners get familiar with 51% to 75% of a downloaded show
26% of listeners sometimes increase the playback speed of an episode
---
What days are best to publish podcast episodes?
25% is the reach that episodes get on Wednesdays
24% is the reach of episodes can hope for on Fridays
8% is the maximum reach episodes get on the weekends
---
Significant Investments and Acquisitions in Podcasting
Spotify's podcasting investments
$400 million invested Spotify to acquire three podcast companies: Gimlet Media, Parcast, and Anchor

$200 million for Gimlet Media
$140 million for Anchor
$65 million for Parcast

$235 million paid Spotify for podcast hosting company Megaphone
$196 million in cash paid by Spotify to acquire Bill Simmons' "The Ringer"
At least $100 million Spotify paid for having the Joe Rogan Experience exclusively on their platform
$20 million Omnicom will spend on Spotify podcast ads in the second half of 2020. According to Spotify: "The deal also includes the development of joint research and best practices across targeting, reporting, and measurement capabilities, and custom audio solutions produced by Spotify's in-house Creative Solutions team."
SiriusXM's podcasting investments:
$75 million SiriusXM invested in SoundCloud to further the growth as a podcast destination as more music streaming companies move into the podcast market
$325 million SiriusXM paid to acquire Stitcher from E.W. Scripps
SiriusXM acquired Simplecast, a management platform used to publish podcasts, distribute them, and analyze how they are consumed
Other investments:
---
Podcasting Genres and Fans Engagement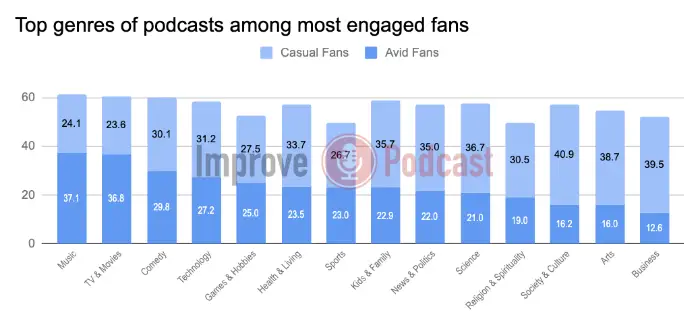 Various podcast genres have different numbers of avid and casual fans as measured by Nielsen
37.1 million of music podcast listeners are passionate fans
36.8 million of TV and movies podcast listeners are avid fans
39.5 million of business podcasts are casual fans
---
Podcast Advertising Revenue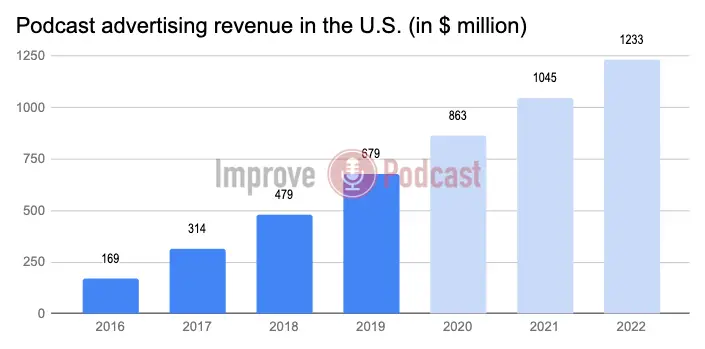 $679 million – podcast advertising revenue in 2019, while ad-supported music streams will break the $2 billion revenue threshold
$863 million – podcast advertising revenue in 2020
$1 billion thresholds for podcast advertising will be reached in 2021 (as reported by Interactive Advertising Bureau and PricewaterhouseCoopers)
60% of podcast listeners would be happy to pay for content $5 monthly according to 4DC Consultancy findings
---
Engagement's Criticality for Successful Podcast
66% of clients are willing to spend more with companies who provide superior customer service  (SAP, Customer Service is the Heart of Marketing)
Customers who are engaged by a brand make purchases 90% more often and spend 60% more per transaction (Rosetta Consulting).
86% of buyers will pay more for better customer experience (Forbes)
89% clients retention level is achieved by brands with strong omnichannel customer engagement strategies (Aberdeen Group)
2% increase in customer retention has the equivalent effect as a 10% cost reduction (Emmet & Mark Murphy).
70% of buying experiences are based on how the customer feels they are being treated (McKinsey)
44% more visits per year experience retailers from fully engaged shoppers (Gallup State of the American Consumer)
60% of organizations see that the customer service will be the top source of competitive differentiation (The Service Council's (TSC) Service Transformation: The Business Case)
1% of customers feel that vendors consistently meet their expectations (Forbes)
80% of consumers claim they'd be more likely to give a brand their business if the brand used their customer data to provide them with personalized customer experience (Edelman)
306% higher lifetime value have customers who feel an emotional connection with a brand (Motista)
26% more likely a brand will be recommended by emotionally engaged customers (Motista)
Existing customers spend 67% more than new customers (Bain & Company)
---
How People Listen to Podcasts?Devices and Location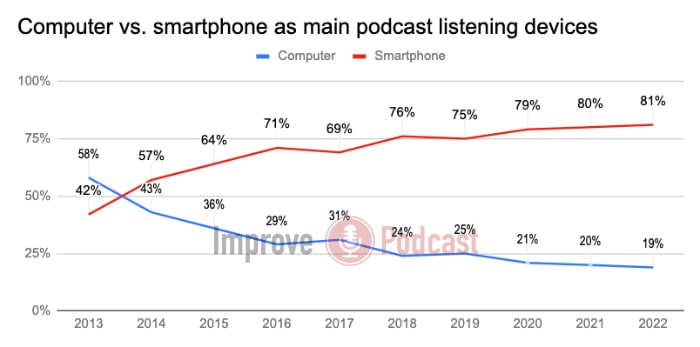 75% of podcasts were listened to on smartphones in 2019
79% of podcasts will be consumed on smartphones in 2020
Since 2014 smartphones are the main listening device for podcasts
3rd emerging category of devices used for listening podcasts are smart speakers
23% of the U.S. population owns smart speakers in 2019 vs. 84% smartphone ownership
65 million smart speakers are in the U.S in 2019,
16% of U.S. population owns Amazon Alexa and 7% owns Google Home
48% of all podcasts are listened to at home
26% of all podcasts are listened to in cars
12% of all podcasts are listened to at work
4% of all podcasts are listened to at the gym
---
Top 3 Reasons People Listen to Podcasts
74% of people listen to podcasts to learn new things
71% of listeners want to be entertained by a show
60% of people expect podcasts to help them stay up-to-date
---
Reasons People Don't Listen to Podcasts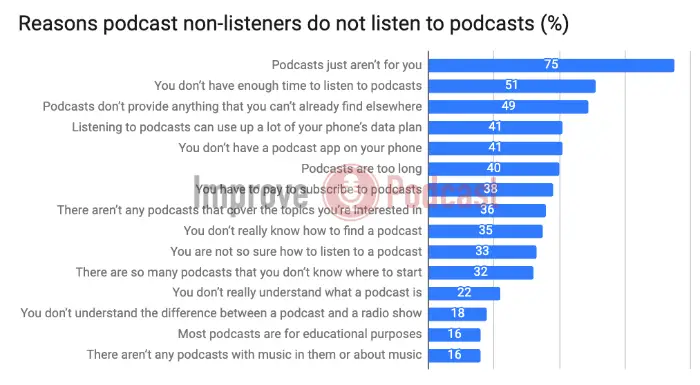 75% of podcast non-listeners claim podcasts aren't for them – this statement shows education about podcasts needs improvement.
51% say they don't have enough time to listen to podcasts – this statement is not very valuable as people spend a high amount of time, consuming online content. Again it shows users need to be educated.
49% claim podcasts don't provide anything that you can't already find elsewhere – generally, it may be true to some degree. However, podcasts offer high-quality audio comparable to radio shows (not present on YouTube) and good value (lower production costs than professional videos).
41% say listening to podcasts can use up a lot of your phone's data plan – creators usually optimize their mp3 files to be below 30MB per episode. Podcasts also can be downloaded automatically when the user is connected to wi-fi.
41% claim they don't have a podcast app on the phone – with Apple Podcasts (previously iTunes) being installed on each iPhone, wide adoption of Spotify, SoundCloud access to podcasts is much simpler than users think.
40% say podcasts are too long – it is easy to find shows ranging between 15 minutes to over 1 hour.
38% claim you have to pay to subscribe to podcasts – somehow large portion of users think about podcast subscriptions like Netflix instead of YouTube channel. 
---
Discoverability of New Podcast Shows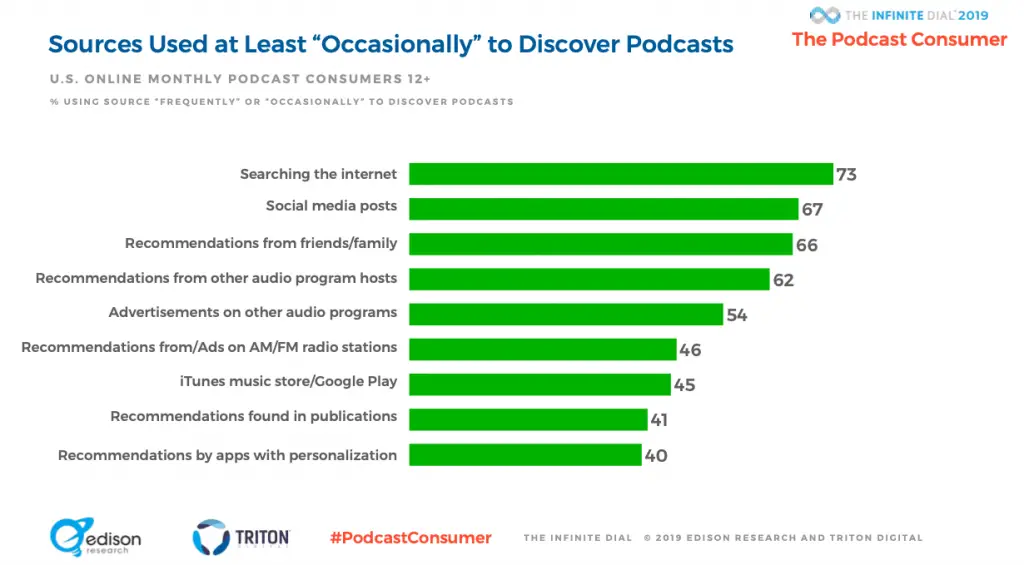 73% of listeners found a podcast to listen to searching the Internet
67% found out about a show on social media
66% got a show recommended by friends or family
62% heard a recommendation from other audio program hosts
52% found out about a show from an advertisement on other audio programs
---
Activities Done While Listening to Podcasts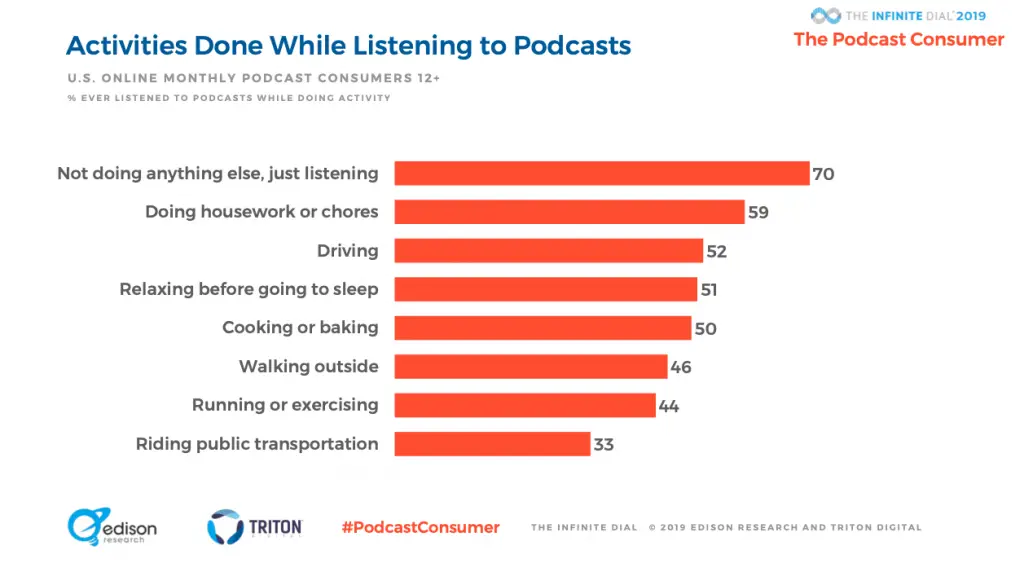 70% of listeners are not doing anything else, just listening
59% of people do housework or house chores
52% listen to podcasts while driving
51% use podcasts to relax before going to sleep
50% of listeners are cooking or baking
46% listen to podcasts while walking outside
44% of listeners are running or exercising
33% of people are riding public transportation