Improve Podcast School – episode #14
How often have you heard that podcasting requires practice, patience, and a lot of hard work to succeed? Those are such trivial tips that they can be given in any circumstances. They don't bring any real value. Those are not true podcasting success factors.
I was tired of hearing this constantly, so I've run an extensive survey of podcasters, trying to find out what works and what doesn't to make a podcast successful. Trying to see if there are some things that successful podcasters do more often and do those things impact how much money you can make from podcasting.
One of the core findings from this survey was the podcasting success factors. The TOP 10 Things Successful Podcasters, who make over $50,000 per year from their show, do differently, unlike podcasters who still struggle with monetization.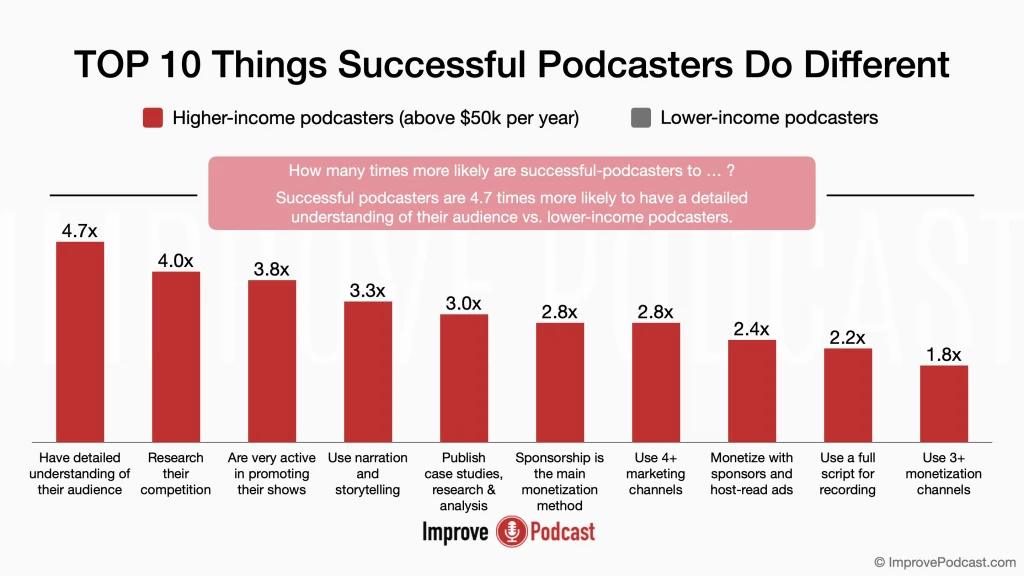 If you want to see the chart of those TOP 10 Podcasting Success Factors, simply go to improvepodcast.com and download the full deck with study results.
Let's now go through the list of things that make a podcast really successful.
1. Detailed understanding of target audience
This is the most important differentiating factor. Higher-income podcasters do this 4.7x more often than less successful ones.
It is simple if you don't know where to start with this one. Just write your listener persona profile. You can find a template on my website.
In one of my favorite business books, The Lean Startup, Eric Ries says: "If we do not know who the customer is, we do not know what quality is."
That is the best description of why this is so important.
I'll leave the link to the audiobook in the episode's description. You should definitely check this brilliant book. I have one copy in my collection of personal favorites.
Without understanding your audience, no one should start a podcast. It is a waste of time, so you should immediately create a podcasting persona regardless if you are new to this or you already have some podcasting experience.
2. Researching the competition
The second entry on the list of podcasting success factors is practiced 4x more often by the group of more successful podcasters.
You should check your competition. Learn what they are doing that makes them successful, and also see a few less successful shows and try to find the main differences.
For the next week or so focus on listening to your competition. If you don't know exactly who your competition is, doing solid research using Chartable.com is the simplest way.
3. Being very active in promoting their shows
This relates to all forms of marketing. Promoting your show is crucial. If you don't give it the initial push, you will struggle with finding traction. And successful podcasters are 3.8 times more likely to be very active with their marketing.
This is especially important for you if you have a brand new show. Discoverability is a problem for podcasting, and you need to put in additional effort for your podcast to be found by your listeners.
You need to spend time developing your marketing channels if you have no audience at the start.
In the next episodes, I will talk more about the early days of a new show, discussing How to Start a Podcast with no Existing Audience, so make sure you follow the show!
4. Using narration and storytelling
Successful podcasters use those elements of a podcast episode are used 3.3 times more often. Those are great techniques that will allow your show to shine.
They can transform every simple show into an attention-capturing experience your listeners will like to come back to. 
Storytelling can dictate an entire formula of an episode, or it can be deployed by using many smaller, engaging stories sprinkled throughout a whole episode.
5. Publishing case studies, research, and analysis
This is an important element of podcasting success factors, and it can be summarized in just two words: original content. Or even better, simply call it: original research. Top earning shows are 3 times more likely to use this.
The idea is to have something no one else on the Internet has that you can offer to your audience. Just like this Podcasting Survey we have completed.
You can do research running polls on Facebook, using Survey Monkey, Google Surveys, or even Google Forms. There are many free and great options available.
This makes your show unique and creates references to your show as marketers and researchers love new and interesting data points.
6. Sponsorship is the main monetization method
This is more of an outcome factor. The majority of big shows use sponsorship, but not exclusively to monetize. But in the case of large shows sponsorships turn out to be almost always the number 1 monetization method. And in the case of successful podcasters, they are 2.8 times more likely to use sponsorships as the main monetization method.
I've talked about differences in monetizing smaller shows and that in the case of small but financially successful shows, the main monetization method is selling their own services. But overall, sponsorship as the main monetization method tops all the other ways you can make money podcasting.
If you already found at least 1 thing you can implement to make your show more successful then follow our show, as this will help us build a community of successful podcasters!
7. Using 4+ marketing channels
Now, this is one of my favorites. And podcasters who make over $50,000 per year use this one 2.8 more often than those who struggle with monetization.
This is the extension of the 3rd success factor, that if you want to have a successful show, you should be very active in promoting it. Now we simply know that you need to deploy more than 4 channels to have your show on that growth trajectory we all want it to be. Going into details of those 4 most important marketing channels for podcasters is a topic for a separate episode.
8. Monetizing with sponsors and host-read ads
This is being used 2.4 times more often by successful podcasters. Now, this isn't the same as sponsorships being the main monetization method. But this means that just having a show ready for sponsors and being attractive for sponsors puts you on the right trajectory for success.
It also means that as soon as you are good enough for sponsors, your show is almost destined to be a commercial success. 
9. Using a full script for recording
This success factor is important, as successful shows use this technique 2.2 times more often than less successful shows.
Many people advocate for unscripted and fully spontaneous podcasts, but that can work only in a great interview setup. Most podcasts would benefit from having scripted sections. We can debate if an entire episode needs to be scripted, but skipping scripting completely is just a bad idea.
If you want to learn more about scripts, then check out the previous episodes when I talked about Recording Fully Scripted Episodes vs. Using Outlines. It will help you understand all of the benefits of a scripted show.
10. Use 3+ monetization channels
The final differentiating podcasting success factor is being used by top-earning podcasters 1.8 times more often.
This is extremely important if you want to make over $50,000 per year from your show. You need to start adding monetization channels strategically. That means adding the ones that make the most sense for your show at the stage you are currently at. 
Even if you are already making a good income from 2 monetization channels, then adding an additional 1 or 2 will only maximize your profit, so keep that in mind. 
So what can we do with this knowledge?
The lesson from this study of podcasters is there are now confirmed podcasting success factors that, if implemented correctly, can transform your show into a profitable business.
If you want to achieve similar results, then analyze each of the success factors and try to implement at least once a month, and you will find your show growing much faster than previously. This may seem like a slow pace – implement 1 of 10 each month. But sometimes, this slow and steady approach can do more good to you than rapidly trying to do all at once.
Of course, start with fully analyzing your target listeners, as it is the core of each successfully monetized show!