Improve Podcast School – episode #16
There are already over 3 million podcasts out there, and that number grows daily. So the field is crowded, and competition is getting better and more experienced in capturing listeners' attention.
And you are already pretty busy with your work, your business, and your life.
But constantly, you hear that podcasts are praised and universally considered a must-have for almost anyone, that it is the last moment before it will be too tough to compete. Definitely, it is easier now than it will be in 2 or 3 years, but just the fear of being left out shouldn't be your primary motivation.
Some time ago, I published a longer article about various reasons you should start a podcast. Still, it is challenging to emphasize in a lengthy article what are the crucial reasons. Especially in articles listing 10 or 20 or more, generally, valid and good reasons.
So in this episode, I will tell you the absolute 5 reasons why you should start a podcast, why it is really worth your time, and what kind of amazing benefits you will get.
The TOP 5 reasons why you should start a podcast are that (1) a podcast is a strategic marketing channel, (2) a strategic monetization channel, (3) a traffic source over which you have total control, (4) it is a great learning and growth opportunity, and finally (5) it develops your skills.
1. Podcast is a Strategic Marketing Channel
This is reason number 1, but I honestly believe that all of the top 5 reasons I gave you hold the same value and are equally important. In your individual case, some might bring more immediate benefits right now, but they all balance each other and are important in the long term.
A podcast is a strategic marketing channel because when people hear you then, and when you deliver value, they start to trust you more. Also, the nature of the medium makes podcast hosts and shows more trustworthy than other forms – even more trustworthy than YouTube videos and definitely more than live broadcasting on other social media like Facebook or Instagram. 
You might already have a YouTube channel or different marketing channels, but adding podcasts supports the marketing rule of 7. The rule of seven quite simply states that it takes an average of seven interactions with your brand before a purchase will take place.
You become more accessible, and podcasting, by nature, is designed to be listened to anywhere – in a car, in a gym, on a walk, when doing housework. Other marketing channels do not support this, so if you have a podcast and your competition does not, you are at least 1 step ahead of them.
And if a podcast is your first marketing channel or even your first online project, and you don't have any potential audience yet, don't worry. I've discussed How to Start a Podcast with no Existing Audience in the previous episode. Go ahead and check it out.
2. Podcast is a Strategic Monetization Channel
As already mentioned, you need an average of 7 interactions with your brand before a purchase takes place. So this means that podcasting directly supports all your sales efforts. In the simplest way, just by supporting the marketing rule of 7 and increasing the number of interactions.
But more advanced research repeatedly show how effective a podcast's advertising is.
Q1 Podcast Advertising Benchmark Report by Podsight, which measured over 3.5 thousand campaigns for 900 brands, estimated that the average conversion rate from listeners to site visitors was 1.42% in Q1. It is a high and steady conversion rate.
The lead conversion rate increased to 13.58% this quarter. The lead events are all the custom events, such as a sign-up or email capture. That is huge, and multiple industries are performing better, reaching 15% and even over 20% lead conversion.
On top, the average purchase conversion rate from attributed visitors across industries was 4.9%. 
Those are all high conversion rates, not at all easily seen in other forms of advertising. This proves how profitable podcasting can be. Ads on podcast convert, and if you are creating a show related to your services and later also include ads, this is a great opportunity for your business.
On top, it is much easier to test out different call-to-action messages when you have a show. This is a great opportunity as you can freely perform those tests on your large audience. You can craft a better message adjusted to each episode and each problem you are currently discussing, making your marketing message more tailed and your results greater.
3. It is a Traffic Source which you Control
With your own podcast, you control your message, you control episodes. There is no one platform that hosts your episodes like YouTube. Algorithms from Facebook or other social media do not bind you. And your reach won't be cut in half to change the rules of the game like, for example, Facebook has done so many times.
Podcasting stands hand in hand with marketing channels, like a website or a mailing list, where you have much more control over your message and can communicate freely with your listeners.
Having a podcast means you are building a valuable online asset. And you need them to have more control and security for your business. 
Of course, we all depend to some degree on online giants to have your website visible in Google Search, our mailing to be sent out by our mailing provider. Our podcast is available on Apple Podcasts, Spotify, etc. Still, those marketing channels are more secure from the whims of online giants than a YouTube channel, Facebook profile, or Instagram account.
Podcasting is one of those channels where you have a lot of control to speak with your listeners freely, in an uninterrupted way, and present them with your offer and message.
And if you like this episode so far and have learned something new and valuable, follow and rate the show, as this will help us reach more people and help them with their shows.
Now we are getting to reasons number 4 and 5, which are my favorite as they are much more personal and focused on growth.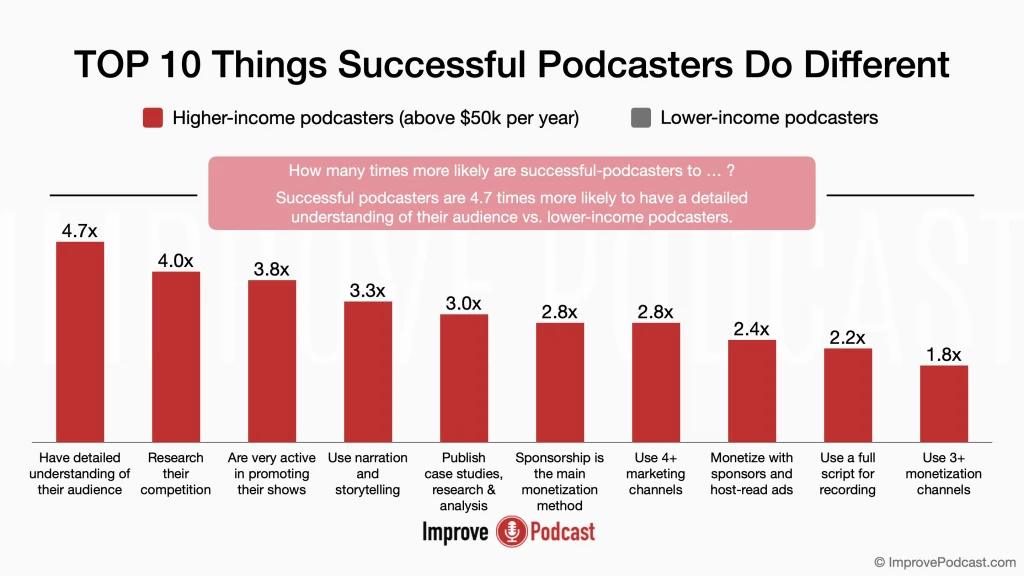 4. It is a Learning and Growth Opportunity
You can't just sit down and create a good podcast. It doesn't happen like this. Unless you have 10 years performing in front of crowds, teaching, educating, and you already know exactly how to excite an audience.
No, you need to learn a lot before you create a great show, and you can't skip this step.
You need to research your audience, understand what they are looking for, create a show tailored to what the market demands, and not just what you think might get traction.
You need to research your competition if you want to excel at this game. Some people have been dominating your niche, most likely for years. Don't learn from your mistakes. Learn from theirs and skip a few steps ahead.
And finally, you need to be on top of trends and really understand your industry, with the latest developments and major shifts, to really serve your audience to the best of your abilities. 
5. Podcasting Develops Your Skills
You will learn many new skills you can use beyond your podcasting journey. 
And a shortlist of my favorite skills include:
marketing,
public speaking,
editing,
you learn about audio quality and 
you learn about perception – how quality changes how you are perceived. It is the quality of what you say and how you sound saying it.
Perfect trampoline to add videos and start a YT channel. And not do it from scratch, but already as a fairly advanced creator instead of learning everything. It is easy to learn to edit and perform on video if you have already mastered it on a podcast.
If you want to boost how you are perceived on your podcast, then the next episode will deliver just that, as we will be talking about Mic Setup Insights to Get Pro Quality, so make sure you follow the show.
So what is the main lesson here?
The lesson from this is that podcasting delivers many long-term benefits that can grow your business, generate results, and grow your personal skills.
It is a highly converting medium, loved by listeners, and creating a show will increase your website visits, lead conversion, and sales number.
But if you are just starting out, this will be a fantastic learning opportunity that can open a new world of possibilities and skills.