What is the average words per minute speaking rate?
According to the National Center for Voice and Speech, the average rate for English speakers in the US is about 150 wpm. The average speaking rate can change for your project. Especially some professionals are known to speak faster purposefully.
Average words per minute speaking rates vary for different jobs and projects:

| | |
| --- | --- |
| Presentations | between 100 – 150 wpm for a comfortable pace |
| Conversational | between 120 – 150 wpm |
| Audiobooks | between 150 – 160 wpm (upper range that people comfortably hear & vocalize words) |
| Radio hosts & podcasters | between 150 – 160 wpm |
| Auctioneers | can speak at about 250 wpm |
| Commentators | between 250- 400 wpm |
As you can see, presentations and conversational word per minute rates are lower. Those are situations where we care deeply about being understood. But also we have pauses and body language to capture the attention. 
Ebook publishers recommend the 150-160 wpm, which is close to the maximum speaking rate that also ensures full comprehension. 
150-160 words per minute (WPM) is also recommended for podcasts, radio hosts, and even YouTubers. This should be average for an entire show, while some of the passages should use a faster speaking rate while others slower. A smart adjustment will break the monotony and increase listener engagement.
On the fastest spectrum, there are auctioneers and commentators. Their job is to increase the hype, convey passion, and trigger a lot of emotions. 
We also cover the topic of how fast should you talk on a recording in this podcast episode:
Examples of average words per minute speaking rates by public figures
Analyzing transcripts of great and popular TED talks given by public figures, we checked how fast they talk. Talks are linked so you can check them, and they cover a variety of topics.
For these 14 talks, the average speaking rate is 167 words per minute. 
The Steve Jobs talk was not delivered as part of a TED conference, but it is included on the TED website. Above all, it is an excellent example of attention capturing and message delivery.
The fastest talker on the list, Tony Robbins, still delivers his message with clarity, and we can understand what he is saying. He achieves this by clearly articulating his words and using a simple language. His clarity compensates for his speed.
Your' words per minute speaking rate should be perfectly adjusted to how fast people can listen and comprehend. If it is going to be too fast, you are going to lose a listener. If you are going to be too slow, their thoughts will drift away. The words per minute rate on your project should be just right.
The obvious question now is what is the "right" work per minute rate. In this article, we will discuss statistics, real-life examples, and present recommendations for making the most engaging recording.
Most people can talk quite fast when needed. Stress and other factors also can make us speed up. But it is essential to focus and slow down to speak perfectly for our audience. But always speaking at the same rate can also be too monotonous.
---

Can you control how fast we speak?
Definitely yes. According to professional speech coach Joan Detz:
"President John F. Kennedy was a notoriously fast talker – often topping 200 words per minute. You certainly don't want to be that extreme. But, in general, talking a bit fast is better than talking too slow. Why? Speed projects charisma. Slowness projects lethargy and can frustrate listeners."


– "It's Not What You Say, It's How You Say It."
But for his most famous speech, his 1961 Inaugural Address, he slowed down significantly. He slowed his usually high speaking rate down to below 100 wpm. JFK projected command, vigor, and charisma. 
He achieved this using short sentences and action words. He had a focused message and he coveying it in an active voice.
JFK's words per minute count was "Just Right" for the moment and the audience. Being this a live speech, he had some tools we don't. He could pause, use facial expressions and body language, and keep attention focused on him. 
We can't do this effectively during a voice-over, but there are methods to capture attention and reach optimal words per minute.
---

Is the average words per minute speaking rate important?
In short, yes, it is very important. Your rate of speech has an impact on how the audience perceives you and your message.
The speed of our speech affects comprehension, clarity, and customer experience.
Comprehension is essential if you want your audio to be satisfying to your listeners and, most importantly if you genuinely want to help them. Working on improving your comprehension ensures that people that came looking for your show will find the answers quickly and won't have to search the web for better and more valuable materials.
With clarity, you increase your listeners' focus, and you can help them learn and get a better result with your call to action. Clarity will allow you to get rid of the filler words. It keeps you focused on the topic. You will quickly cut away the redundant materials. 
Customer experience will get you more good reviews, recommendations, and sales in the long run. 
When you nail your target WPM, you will start improving your language. You will remove empty words that don't enhance meaning. Words that get overused are: literally, really, just, wrap my head around, etc.
Improved language, more precise communication, and clearer message simply mean there is more value in your podcast for your listeners.
---

How to calculate your average words per minute speaking rate?
Words per minute (wpm) is the most common way used to determine a speaking rate.
The calculation is simple and obvious. Just take the number of spoken words and divide by the number of minutes it took you to deliver the speech.
Speaking Rate (WPM) = Total words / number of minutes
There is one more way to calculate the speaking rate, but since it is harder to figure, it is not as popular as WPM. This other way is syllables per minute (SPM), and you get it by dividing the number of syllables spoken by the length of a speech.
Speaking Rate (SPM) = Total syllables / number of minutes
Let's review this short example of how those numbers differ and what they can tell us about our speech.
Ask not what your country can do for you; ask what you can do for your country.
Modern, sophisticated presenters using expressive vocabulary can project passion and enthusiasm, thus successfully increasing listeners' engagement.
Both passages have 17 words. But the first one has 19 syllables while the second one has 45 syllables. If you speak them both at the same words per minute rate, the longer passage will appear faster because you are saying more.
Using shorter words can help you say more in the same amount of time without sounding rushed.
---
How to easily check your average words per minute speaking rate?
To do it exactly, you need to memorize a passage and record yourself. Make a few tries speaking faster and slower to get different WPMs and determine when you sound the best.
You can also approximate this by reading a passage. It, however, calculates reading and not speaking rate. The familiarity of the material can impact the reading rate, so take this under consideration.
Reading rate, however, can be useful if you will be relying a lot on the script.
---
What influences how fast you talk on your audio project?
Many factors influence how fast you can talk. The good thing is that you can easily control the majority of these factors and achieve the speed you need for the most significant impact. 
Regular speaking rate – this is highly influenced by our culture, and how people talk around. Along with a speaking rate, also pronunciation gets shaped thought the course of our lives. Thankfully all this can be influenced by a conscious effort. 
Fatigue – whenever you are tired, you will speak slower. This is a natural response of the brain that you slow down when you are tired. Not only speaking is impacted. The simple answer here is to schedule your recording sessions in advance so you will be well-rested.
New and complex content – when you will be working off a script that was completed a long time ago and is no longer familiar to you and on top contains a lot of long and complicated words. You will deliver it much slower. To avoid it, simply rehearse before recording and simplify. You can streamline your recording but splitting long sentences and using a more straightforward language.
Alongside being relaxed and prepared, other techniques can also help you sound better. Even what you drink and at what time of the day you record your voice-over can have an impact. Check here for a full list of tips to sound better: vocal tips 
---

How to use pauses effectively for better content delivery?
Pauses are a great way to capture attention during a speech. You have to use them smartly and strategically to engage your audience fully. 
When you make natural pauses, you automatically slow down your average words per minute speaking rate. In return, you should get more clear delivery and capture listeners' attention.
Using pauses during a recording is a bit different than when giving a live speech. For example, on a podcast, you can always remove unwanted stops and keep only those you wish to include.
In a recording, you should use pauses to:
Indicate a change in tone or topic – use a pause if you want to change the mood from excitement to being more calm and reflective. Or use one if you will change what you are talking about and ease the progression of the story. Adding music can help with changing tone.
Emphasize key points – if you are reaching a conclusion or discuss some turning point in your story, you can pause to show that a critical piece is going to be addressed. Use those pauses in each episode to highlight the value you are delivering.
Improve clarity of your message – when you are getting into the most convoluted part of your episode, slow down. This will give time to your listeners to process and fully appreciate the most complex and difficult to follow part of your speech.
---
How to control your words per minute rate on your project?
Control your environment and record your project in a soundproofed recording room. Using a quiet studio and planning your recording sessions will allow you to avoid distractions. This will help you with your speaking rate since:
Adding control removes stress – having a controlled environment, and the scheduled session will allow you to speak more freely as it will remove some pressure. This will enable you to talk faster.
Controlling your environment removes distractions – a soundproofed room guarantees no outside noises will lose your focus and break your concentration.
Controlling your schedule and understanding how noisy is your surroundings can help you get better audio and speak at the desired WPM even if you don't have a fully soundproofed studio. Simply follow our guidelines on how to record in a bad room.
---
Is it better to speak faster, or is it better to speak slower?
There is no gold standard. If you are anywhere between 140-170 WPM, you should sound great.
Generally, slower is more intelligible than faster speech. Appropriate pauses allow your audience time to digest what you've said and begin to process it. 
Instead of obsessing about WPM, make sure your overall delivery is on point.
Put additional effort into:
Simplification – use simple language, eliminate filler words, remove complex vocabulary and phrases to become more understandable
Clarity – focus on diction, removal of vocal inflection, sharp pronunciation, and breathing.
---

How to practice average words per minute speaking pace?
The simplest and most effective way to practice keeping a constant pace is by using a metronome. You can buy one online (it's a cool office decoration) or simply download any free app for your phone.
The metronome's role is to tick at a specific rate and provide you with a constant rhythm. This is just for practicing as if you would talk precisely to the beat of the metronome you would sound very monotone (like voice assistants do). 
But practicing with a metronome will help you to oscillate at your desired words per minute rate.
There are many free metronome apps for Apple and Android phones, so you won't have any issues finding one (you don't need the premium versions).
---

How to Use Rate of Speech Effectively?
There are two valuable studies to help you craft your voice that talk about precipitation formed based on a rate of speech.
In 1976 psychologists looked at speech rate and persuasion and concluded that faster speakers (195 wpm) were more persuasive than slower speakers (102 wpm). The results of this study suggest that speech rate functions as a general cue that augments credibility. 
However, in 1991 a study on rapid speech suggested a more complicated relationship. Researchers conclude that when messages were in general disagreement with the audience's views (counter-attitudinal), fast-talking increased persuasion. On the other hand, when the audience inherently agreed with the message (pro-attitudinal), slow speech emerged as the most persuasive way of delivery.
---

There is only one thing to do: vary your speaking rate
Always vary your words per minute speaking rate within one recording.
Don't deliver all the sentences at the same rate. It will improve your delivery, and allow you to convey both meaning and emotions. Adjust the speed to match what you want to project at the moment.
Varying your WPM will make your recording more interesting for the audience. Without pace variation, you will sound monotone.
Change your speed according to what you want your listeners to feel.
Speaking fast expresses passion, urgency, excitement, and emotion
Talking slow expresses importance, sadness, confusion, the seriousness of a point
Tip: There is one more trick I use to control better my talking speed. I manage how close or far I'm from my dynamic mic.
---
What Playback Speed Is Used for Podcasts?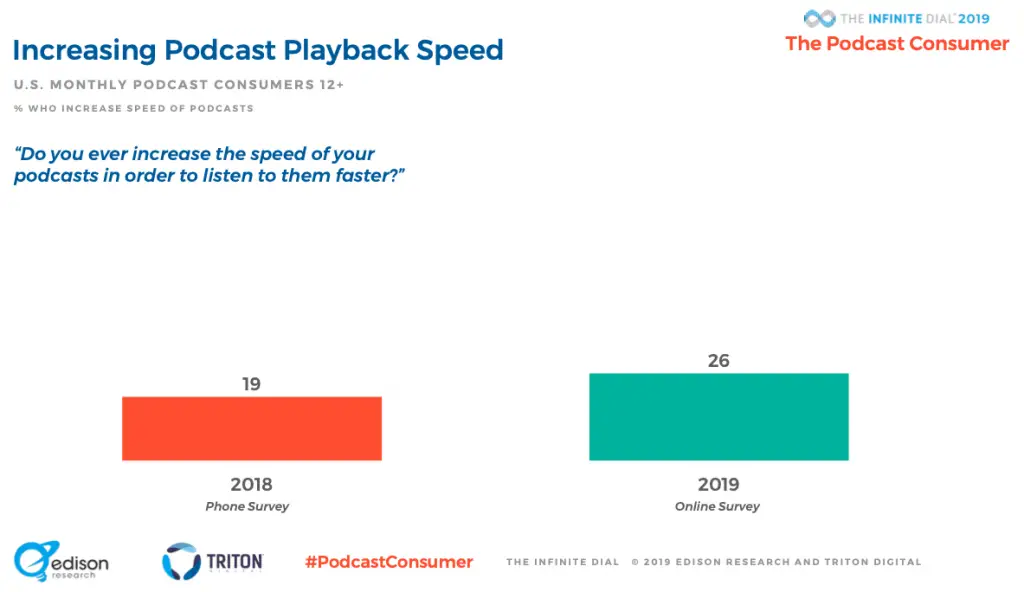 Surveys show that one of the podcasting trends is that, an increasing number of listeners regularly use higher than 1x playback speed to listen to podcasts.
The podcast player Pocket Casts estimates the feature has saved its listeners a cumulative 2,849 years between 2015 and 2019.
It may be an indication that busy people actually may enjoy a bit higher than average WPM rate.
---
How long should your script be for the best words per minute impression?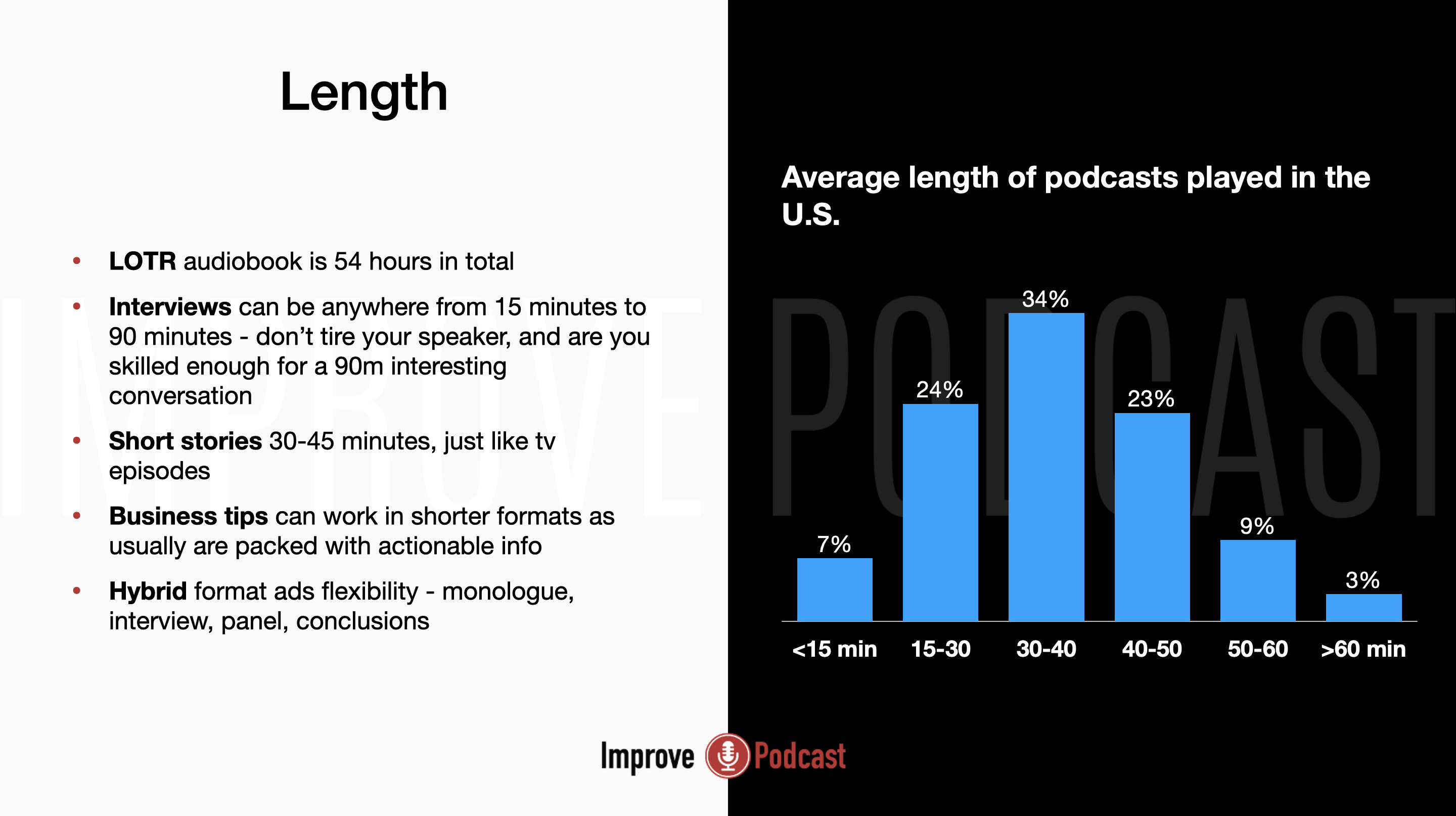 From analyzing podcast listeners' demographics and usage patterns, we know that people mostly listen to podcast shows lasting between 30 and 40 minutes.
Experiment and measure your time to find the best way for you but start with a script of about 150-160 words per minute. In this case, start and experiment with:
2000 words for 15 minutes episode
3000 words for 20 minutes episode
4500 words for 30 minutes episode
We know that people mostly listen to podcasts between 30 and 40 minutes, but also take under consideration their attention span.
TED talks aim to be about 18 minutes. According to TED's chief Chris Anderson, it is "long enough to be serious and short enough to hold people's attention." 
Information have material simply is harder and harder to digest as it goes on, so it is less satisfying for the listeners.
It is essential to care about quality and user experience with controlling the WPM speed. There are also other ways to improve the quality of your show. Besides, words per minute control my two favorites are thorough idea research and getting the best podcasting gear.
---
In conclusion
150-160 words per minute rate is the most typical speed at which radio and podcast host speak
Many good speakers on TED lecture also talk close to this rate
There is no golden solution and many speakers successfully deliver messages speaking above this rate
Vary your speaking rate to avoid becoming monotone
Speak faster to show more excitement and enthusiasm and speak slower to show importance and focus
Alongside WPM rate a good speaker should also focus on clarity and simplicity
A most common technique to train speaking rate is practicing with a metronome
If you want to speak clearly and at a constant rate make sure you are rested, prepared for the recording, familiar with the material and record in a controlled and soundproofed environment
Currently, people often use faster playback speeds to listen to podcasts. Consider this trend and test out how your audience will react to you, talking 10-20% faster.
Did you measure you average words per minute speaking rate? What did you found to be most effective for your project?