Podcast Content Curation Strategy is the way to build enough value into each episode so that they will get a lot of shares and downloads. 
It's the solution to the old problem in which you have a podcast, and it grows slowly. You record episodes and anxiously wait and see how many new listeners and new subscribers you have after each one. Some seem to bring more, others less. 
No matter how much you try to figure out a pattern, you feel like there's no pattern and no guarantee of creating a hit episode and seeing some rapid growth. Is there a solution? 
Absolutely. It's called a podcast content curation strategy. 

What is content curation?
In short, through content curation, you aim to make your podcast as valuable as you can get.
In podcasting, the strength of a content curation strategy is in numbers. The more episodes you have, the higher the chances of having a hit episode. 
You can't design a viral and highly shareable episode. But you can increase your chances than one of your episodes will go viral and will get a lot of shares.
Otherwise said, you should never discuss a topic in a single episode. 
Content curation takes time, not just to gather information from reputable sources, but also to record, edit, and publish the episodes. And don't forget, patience is key. After all, only 1% of podcasts get over 88,000 downloads in 30 days.
There are a few things you should pay attention to when choosing your content curation strategy. For instance, ask yourself the following questions: 
Is this source trustworthy?
Is it unique? Will it bring something new to my audience?
Is it related to the content I previously shared? How?
How will this benefit my audience? Which of their problems will it solve?
How does it relate to my other content?
In short, you want to make sure you are adding value through everything you share.
Why Do You Need a Podcast Content Curation Strategy?
If you want to get shares and recommendations, you need to grab attention quickly and engage with people.
Did you know that a human's attention span is just 8.25 seconds and is still narrowing?
You need to implement an organized podcast content curation approach when you are podcasting full-time. This will allow you to get the maximum growth of your show and for you to become a productive podcaster.
---

Benefits of Podcast Content Curation
Honestly, there are many benefits, but we'll focus on some of the main ones:
Positive effects of higher listener engagement,
Get the Apple Podcast algorithm to work in your favor – your episodes will be recommended to more people,
Get more recommendations and reviews from listeners,
Be seen as an expert in your field and develop a brand,
Grow your knowledge and improve the quality of your show over time.
All of those items work together in your favor to help you increase the number of your podcast downloads.
Content Curation Steps to Get More Shares and Recommendations
---
1. Improve Listener Experience
Let's face it – listener experience is the most important. A happy listener will subscribe, give reviews, and share your episodes. 
So make your episodes informative – fill them with facts, tips, and research data all through coherent and appealing storytelling. 
But don't overlook the technical aspects either. Edit smoothly, improve sound quality, remove any background noise or distortions by soundproofing your studio, and get a top podcasting gear to make the whole process seamless.
Storytelling is just as important as good quality audio! Nobody is going to listen to you if they can barely make out what you're saying due to background noise, no matter how great the information you provide!
---

2. Introduce Effective Episode Design
An episode shouldn't be just about delivering your content and going about the rest of your day. I mean, it could be just that, but don't expect to see an audience growth with that strategy!
Prepare your podcast script up ahead with the intention of quickly grabbing your listeners' attention and delivering answers. 
People listen to podcasts because they want to be informed. So don't let them finish an episode with more questions than they had at the start.
To improve audience response, make sure you have several engaging elements in one episode. 
Constantly pique their interest and grab their attention. Ask for their feedback, make them feel like you are having a conversation with them, even if they can't answer right then and there. 
In the end, point them to a landing page, for instance, one where they can interact with you, either through quick surveys, a contact form, or by subscribing to an email list.
---

3. Quickly Answer Questions and Solve Problems
Starting your episode with a short story, or an anecdote that justifies the choice for the topic can be great. However, don't delay too much and get to the topic. 
We live in a culture that needs instant gratification. I'm not saying to just have 10 minutes Q&A type of episodes. But you should try to get to the main point as soon as possible. 
Understanding this part of your audience that they want answers quickly should be an element of your podcast listener persona.
You know those shows with an excellent title that promises to deliver. And then once you start watching, you realize they talk about everything except the topic from the title? And then maybe they get to mention the central question at the end in 2 minutes. 
Do you like those types of episodes? Do you actually listen until the end? I rarely do. I usually give up halfway if they still haven't touched on the main topic. And trust me, the majority usually does the same.
Don't fall into the trap of believing you build hype around the main topic by addressing it as late as possible. 
If you want to create a hype, start hinting at the next episode in the current one. That way, your listeners will get excited about it and come back to listen. But once the episode begins, answer questions and solve problems quickly!
---

4. Recommend Free Supplementary Content
One of the main advantages of content curation is that you will gather a lot of sources about a topic. You will truly become an expert. 
To turn that into an even bigger advantage and increase your reputation as an expert, create complementary content. Then immediately, start recommending it during or at the end of an episode. 
Once people get hooked by content, they want more of it in different forms. It can be:
 other similar episodes, 
an ebook you wrote, 
episode transcripts where you include additional charts and data, 
YouTube videos.
---

5. Build a Sense of Belonging and Inclusion
Here's a little secret: your podcast listeners have a lot in common. They all listen to your podcast and are all interested in the same topic. 
While all of them have their friends and family, their "real-life" community, they might not have close friends interested in the same topic. In fact, they might need to interact with others who listen to your podcast. It is the perfect premises to build a community. 
Gather people around the same struggle they face or the same joy they want to share.
So take this opportunity and offer them a place where they can connect, where they can write their thoughts about each episode, talk to you, and to each other. You can either use social media or even better, your own website. 
The difference is that you have better control over your website, and you don't depend on a social media algorithm to get through to people. On the other hand, many people are using social media daily so that it may be easier establishing a community there.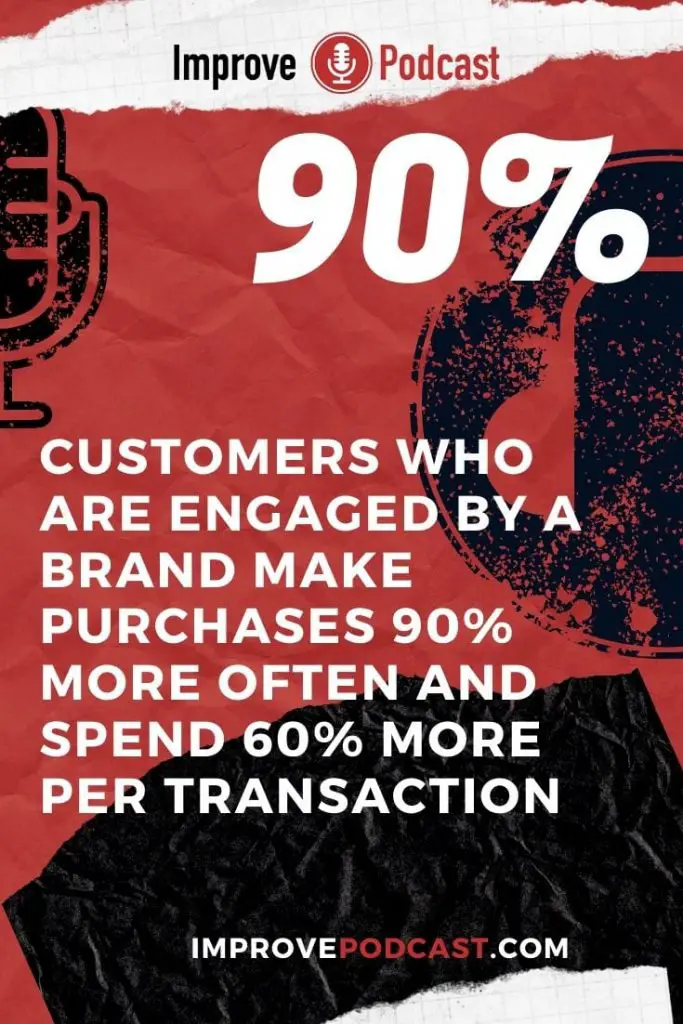 People who feel like they belong to the community you've created will stay with you much longer, will give positive reviews, and are more likely to recommend your show to other people. 
They might also become great paying customers because by building that community, you are also getting closer to them and building trust.
---

6. Offer Content Upgrades
Once you grow your audience base, it is a good idea to offer a content upgrade. Content upgrades can be both free and premium, and you should add them quickly if you want to build your podcast brand.
Freebies are a great way to gain more subscribers and grow an email list. 
Adding upgrades available on your site is an excellent way for podcast content curation. A few ideas of items you can offer:
content templates,
checklists,
infographics,
worksheets,
presentations.
Premium content upgrades shouldn't be something very expensive. 
Remember, the goal at this point is not yet to make large revenue. Your goal is to offer exceptional value at a very low price to reinforce your image as a highly valuable source of information.
The best thing most people can offer at this stage is an inexpensive $5 ebook. But be creative, offering ebooks is very common now. Maybe there is something better than an ebook you can offer in your niche.
---

7. Add Urgency and Importance Factors
Do you know what makes people take action? A sense of urgency! Did you notice how many ads have words like 
"Limited offer! Don't miss out!",
"Offer ends today,"
"Click here now to get all the benefits,"
"Now is the time to take action,"
"Stop struggling, start thriving."
Yes, they are clickbait formulas. It may sound cringe-worthy if you are not interested in the product. But if you are talking to the right people, those phrases very successfully encourage action!
They simply work! If they feel they are going to miss out on a great opportunity, people are quick to take action. 
They'll spend less time pondering benefits, and they'll just go for it! Your competition is already doing this, so you're the one missing out if you don't.
And if you want to take more advantage of simple marketing techniques, add emotions to the mix. The science of emotions is proven to work in marketing. 
For instance, happiness makes us want to share, while sadness makes us connect. If you choose to express the right emotions at the right time and make your audience feel the same, you are more likely to get quick results. You will make your listeners feel connected and understood. 
---
Conclusion
If you want higher engagement, good reviews, and to be seen as an authority in your field, content curation is the way to go. 
Don't expect quick results. Build your strategy and stay focused. It may feel like a long journey, but the results will be worth it: a bigger audience, better reviews, a higher ranking podcast, and ultimately more sales and more revenue. 
Always remember to focus on your listeners and improve their experience in any possible way. 
Design your episodes in a way that's engaging, but also get to the point quickly. Address the main topic within the first few minutes. Don't "save the best for last", because that's a strategy that might do more harm than good. 
Offer complementary content, both free and paid. But remember, the goal here is to build an audience, not to make revenue. Monetization comes later! Build a community to help people engage and communicate both with you and with one another. 
And finally, add urgency and emotions to get people to act the way you want them to.