A website for a podcast is essential to long term success. Main benefits and strategic advantages of podcast website:
Building a mailing list & improving communication and engagement
Maximize the value of each episode through building content marketing pages
Having a platform for promotion and monetization
As we have written in our marketing guide How to drive traffic and promote your podcast – detailed Podcast Marketing Guide having a website dedicated to your podcast is as important to long-term success as the podcasting content itself.
Do I Need a Webpage for my Podcast?
You need a podcast website if you want faster growth, and if you are looking for more ways to make money. A website allows people to find you on Google. Those visits you can convert to new listeners. Traffic that won't be converted into listeners can be monetized with ads and sales of products and services.
How Long Does it Take to Set Up a Podcast Website?
You can set up a professional podcasting website in one afternoon. Register a domain name (15mins). Get hosting with installed WordPress (15mins with Bluehost). Add a flexible theme (15mins with Divi). Add a logo and do basic customizations (2h). Done! That is enough for a start. Add more features later.
---
1. Why it is important to have a website for your podcast?
Marketing – with your website you have more tools and possibilities to promote your show to new listeners as well as build more engagement with existing listeners. You can share short messages, publish show notes and transcripts capturing traffic from search engines.
Measurement – with your website you will have much more data about your listeners. This will allow you to better understand your audience, deliver better content, improve the effectiveness of your marketing campaigns and allow you to generate more revenue.
Monetization – without a website you can make money primarily through ads (sponsorship is also basically ads) and if you decide to expand and make more shows you can't very effectively cross-promote your content. With a website, you can cross promote your new shows and have many options to provides services and products to your audience.
To find about what we already know about podcast listeners in our articles in which we cover a lot of facts and figures:
No. 1 Podcast Website Golden Rule – have a clearly defined goal for your website
A key objective of your podcast website should be to build a mailing list
The primary goal of your website should be to build a mailing list. Not to get subscriptions.
The overall goal of your podcast is not getting subscribers in a service A or B. It is building a loyal and following audience. And when you only have subscribers you don't fully control communication and the audience is not actually yours. It is an audience of the service A or B which is temporarily listening to your show.
So if you would be promoting subscriptions you would actually be promoting the platform which offers those subscriptions. When actually your goal is to build and develop your private communication channel with your audience via an email marketing list. Later you can guide your email subscribers to join a subscription but this is not the main focus of your website.
---
2. The basic technical component of a website for a podcast
Let's quickly checklist the necessary items you need to have for your podcasting website.
Register easy domain name & right type of hosting for you podcasting website
Choose a good, memorable, and simple name for your podcast and your domain name. Your basic needs can be easily and inexpensively satisfied by BlueHost.
BlueHost is a perfect hosting a starting website for your podcasting show. It will provide you with a great hosting package, SSL certificate and most importantly with an infrastructure setup optimized for the best content management system available, WordPress.
When we consider the way it is optimized for WordPress, how many problems will it solved automatically for you and compare it to its extremely affordable pricing, then BlueHost is a great choice.
But there are some great alternatives, especially worth considering when your needs grow.
TOP
Best Website Hosts
Ideal for whom?

1

BlueHost is best for beginners looking for an affordable and reliable provider
check prices

2

SiteGround is great for growing if you already have a mid-size audience
check prices

3

Pick WPX if you have a large audience demanding the best experience
check prices
Get a powerful Content Management System & theme optimized for the podcast site
The most versatile system available currently on the market is free content management system WordPress available for easy and free download and installation via their website wordpress.org.
With dedicated BlueHost WordPress hosting your CMS will already come installed so there is an additional step out of your way. However to make your site working towards the collection of your emails you will need a good, inexpensive template. This will require a small investment to upgrade your basic WordPress theme but we recommend an inexpensive but very powerful theme.
Divi – is a great, versatile and easy to use option.
It offers a variety of solutions you can use for your podcast website. Divi is great due to its simplicity. It offers a wide range of tools and possibilities when your podcast site, and monetization ideas will require them.
Embed podcast episodes into a website
You can't host your podcast episodes on the same server as your website. We have covered this in detail in How to publish a podcast in 4 easy steps, where explain how to host an episode with the help of dedicated media hostings.
Embedding episodes on your website depends on the hosting media provider. Most of them currently provide already an embeddable player that you can put on your side. Our recommendation for the media host is buzzsprout. It is priced at a very competitive level, and has 3 of core functionalities you will need:
Extremely high storage and bandwidth (often unlimited) so you won't have to think about your hosting plan every time you upload an episode,
Useful analytics so you can better understand your audience,
A reliable embeddable player for your website.
Next to buzzsprout, you will find great offers from Castors, Transistor or Captivate.
TOP
Podcast Host
Register with this link and get a bonus

1

Buzzsprout is the best solution to host your show.
I like them for their transcripts, a Creator's Program to help with monetization.
Get buzzsprout and claim
$20 Amazon gift card

2

Castos is rich in features supporting the growth of your show.
Register with Castos for a
14 days free trial

3

Transistor offers in-depth analytics in each plan and is the best if you also need private podcasts.
Register with Transistor for a
14 days free trial

4

Another awesome, modern, and rich in high-quality features podcast hosting platform. Check Captivate with a
7 days free trial
Get good email list management service for podcast
Start with a simple solution to capture mail subscribers and inform them about new episodes. This is something essential to have but actually, when you choose a correct starting service it will be free.
Free option to start with – sendinblue
The free sendinblue plan offer allows you to sign up an unlimited number of subscribers and send up to 300 emails per day. This is more than you need at the beginning. Set it up and forget about bills for a few months. Premium plans they offer won't cost you that much either for hosting a large base of subscribers.
The professional solution you should consider upgrading later on – convertkit
This is a high-quality email marketing solutions provider. They offer great and easy to use builder tool and a large selection of templates and solutions you can start utilizing when your email list expands and your demand for advanced solutions increase.
---
3. Main landing page – key components to build the largest email list for a podcast
Top (above the fold) – you should immediately ask your visitor to leave a mail address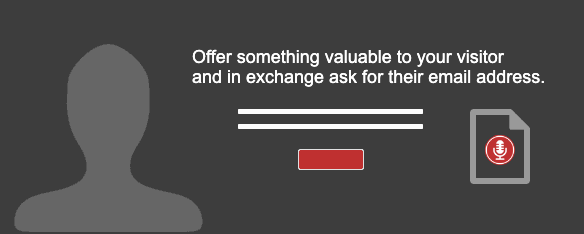 Be honest with a person that visits your website. Ask immediately about a mail, briefly say why and what a person will get.
This component of your website should have:
Image promoting your podcast / encouraging action. A picture of yourself can work well here. As podcast listeners develop attachment and trust to podcast host you can present yourself and start building bonds early on.
However good images or graphics can also work if they fit well with the concept of your podcast.
Offer for your visitor – what a person will receive for leaving a mail? The standard option currently is to offer some kind of pdf resource providing some value to your user. Think if you can create something valuable and unique.
If you already have a product you are selling a discount it will work well as well.
If you don't have much to give offer your gratitude and explain this subscription will enable you further creation of the podcast your listener enjoys.
Simple subscription form – it will be enough if you just collect a name and an e-mail address and a consent for a subscription. If you offered something to your person visiting your site you also need later to set up an automated autoresponder sending the offered thing. If you just ask for emails and don't offer anything in return simply set up a welcome mail with a thank you message with a goal of reinforcing attachment to your brand.
Middle section of your podcasting page – deliver validation to unconvinced users that your podcast offers great value

Social proof – is considered a powerful tool proving to your new visitors that your podcast is valuable as your show or you were featured in different media outlets. Of course, when you are starting you might not have anything significant to show. But have this section of your site ready to publish once you will get some visibility. Also after you launch your podcast part of your launch strategy should be to prepare short PR releases and try to get featured in online publications. With interesting releases targeted to the correct audience, you can have your mentions published within 1-2 months and your social proof part of the website ready to display.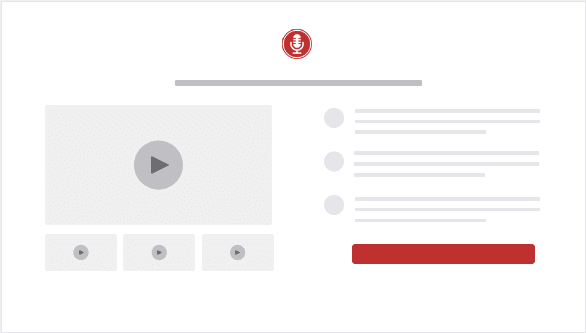 Trailer / Pilot story section – in the middle of the site it is good to advertise and tell your visitors more about your podcast. This can be addressed by publishing a few trailers of your show or publishing a few of the best fragments you have recorded and want to display. When you start you probably have a small list of episodes so simply pick up the best fragments you have recorded which represent in most obvious ways the value of your podcast.
Repeat ask for mail subscription – it overall won't hurt to repeat a subscription request if your website goal is to actually collect emails. This time however keep it smaller, not covering the entire page. It can be placed directly to the trailers.
The bottom section of your podcasting sie – subscribe menu and majority of navigation

Subscription button to main directories – after you have shown the main value of your show and have asked twice for a subscription to an email list now can be a good time to post buttons advertising directly your show on most popular platforms.
If a user has decided to subscribe to a mailing list and now also decides to subscribe via a podcasting directory you have a double win.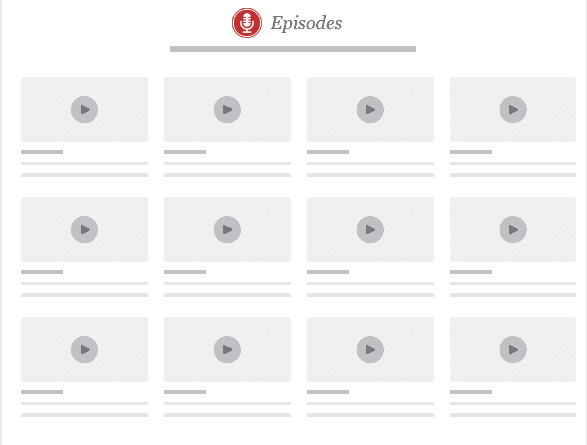 Best / Newest episodes grid – finally show your content. At the beginning of your journey, you can simply show all your episodes. As your podcast grows and you will have more episodes and listenership statistics you may consider featuring the most popular episodes.
Remaining key navigation to provide all the additional information they might require

The bottom of your podcasting page can be filled with the remaining information required by each site. This is also a good place to have a section with episodes notes or transcripts so they will be accessible from your main page.
---
4. Content pages for your podcast website – capture mail subscribers from search engines
The other main type of page you need on your website is content pages, where you next to your embedded episode with a media host plugin, you will also publish a moderately long episode notes or even full transcripts.
As your website grows and you have more and more of those pages, covering a variety of topics and search engines will start to index them and display them more often organically in the search results.
When people are going to arrive at your content pages looking for answers you should have on those sites, as you also do on the main landing page, a form to request to subscribe to an email list.
The long term goal here is to have a large number of long, valuable content pages on your website which will get organic traffic and which you will be able to convert into audience members.
A typical content site can be much simpler than the main landing site and you can focus on:
Written content – episodes notes or transcript
A form requesting an email subscription
Embedded episode
Subscription button to main directories
Promotion of other content already available on your site increasing the length of a visit and increasing probability of subscribing
---
5. Essential Marketing tools to use on your podcasting website
Finally to get your site even more useful to your episode you should add code to the most valuable analytical tools available currently. The two tools you need to be using are:
Google Analytics – understand which content is the most search for and generates most visits
With Google Analytics, you will understand everything you need to know about visitors to your page. The most valuable tool you can quickly start using is information about which content pages are generating the most traffic
Facebook Pixel – gathers data about the Facebook user who have visited your site
This tool is extremely useful as it helps to create later very precise ads on Facebook, increase subscription rate and improve your cost of adding a new subscriber to a list. Finally, this tool allows you to create lookalike audiences – which means Facebook can help you to create an audience for your ads which is as close as possible in behavior patterns as your current subscribers are.
---
In conclusion:
Your podcast website is an essential marketing and monetization tool
Alongside your podcast episodes creating a podcast website before the launch of your show is an essential part of a launch strategy
Your website should be fine-tuned and focused on one goal – build an email list
Your main landing page should have – a clear offer with a request and call to action to leave a mail, a social proof segment, teaser/pilot story section, subscription to directories buttons and list of featured / new episodes
In time majority of your website will be built by content site with embedded episode and written content in form of notes or transcript generating organic traffic from search engines, which in turn you should work on converting into your email subscribers
Having a dedicated website is extremely important for the growth of your podcast. More and more podcasts will have websites in the future as a source of their growth engines. If you want to check other important trends check out our article: Top 8 Podcasting Trends – Market, Ads, Consumers & Revenue.