Improve Podcast School – episode 6
As we discussed in previous episodes, 69% of higher-income podcasters have shows older than 24 months. 
This is one of the 3 significant breakthrough milestones in podcasting.
When you reach it when your show releases episodes for over 24 months, you have a high chance of having a successfully monetized podcast.
Of course, it is not purely the passage of time that does the trick, and you have much higher chances of success if you plan your 24 months of podcasting, something we have discussed in the previous episode.
But there is also another side of this statistic we have discovered.
The remaining 31% of higher-income podcasters are generating over $50.000 from their shows when the shows are younger than 24 months?
That is almost 1 in 3 podcasters. That is great information.
Even more incredible, 23% of podcasters manage to do it in under 12 months.
This was shocking to me when this data first came out and very inspiring at the same time.
I then searched for the formula for things that will allow you to monetize your show in under 12 months.
So what is the formula for this quick monetization?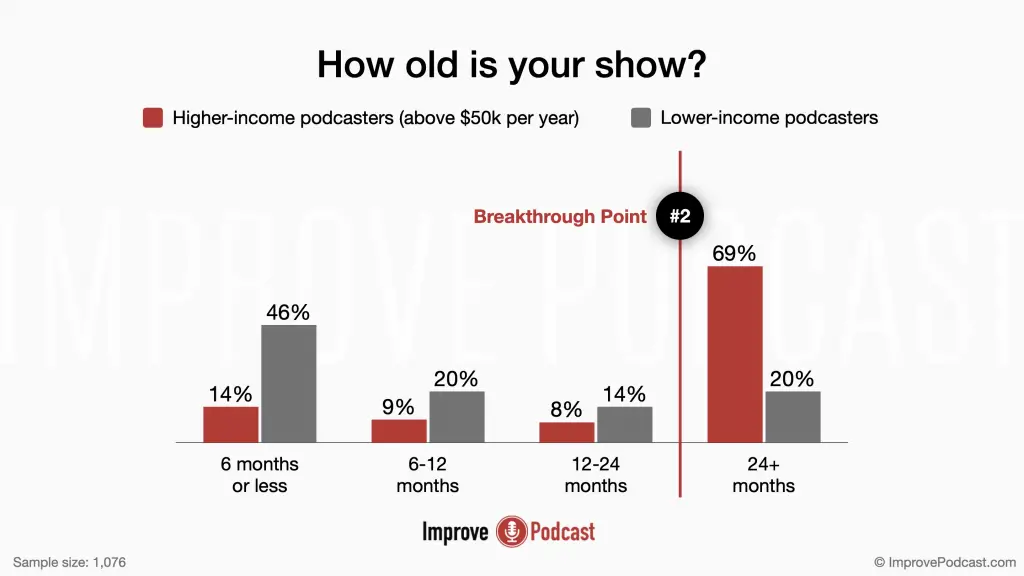 TOP 5 conditions you need to meet to monetize your show successfully in under 12 months.
How to Monetize Your Podcast in Under 12 Months?
To monetize your podcast in under 12 months, you need to pick an easier to monetize niche, understand your audience, use your podcast to promote your own product, leverage existing channels for monetization, and have a podcasting website.
1. How to pick a niche with a higher purchase intent?
A great place to start your monetization journey is even before launching your show.
Try looking for a niche that is easier to monetize. 
Of course, all niches can be monetized, but with some, it requires more effort than with others.
When thinking about your podcast, find an easier niche to monetize.
You will generally find more options with a show in niches like technology, business, health & living, or even history or education.
On the other hand, niches in podcasting that are more difficult to monetize include music, tv & movies, news, politics, or comedy.
Monetizing a show like that in under 12 months is very challenging. In the longer term, with a massive audience, it can be done, but when looking for a niche that can be monetized faster, those will be difficult.
Expect a lot of competition there, but also more difficulties in coming up with a business model that is simple to implement.
Niches that are more focused on solutions, when you can organically mention and recommend tools and products, are automatically easier to monetize. As opposed to niches focused purely on entertainment.
Shows based on products, problems, and solutions are natural vehicles for offering other products or recommending services. When listeners intend to learn something or do something, they are much more willing to purchase a product that will enable it faster, cheaper, or more convenient.
It is much easier to deliver a marketing message when you understand your target audience's needs.
Which is our next point.
2. Understand your audience to deliver precisely what they need
90% of higher-income podcasters have put time into understanding their target audience. They even have created a listener persona.
And this is exactly what you need to do if you want to monetize a show quickly.
You need to have a listener persona for your own show. That way, you will be able to fulfill the needs of your audience sooner.
A listener persona or a listener profile that you need to prepare should be very specific.
Think why someone might want to listen to your show, but also go broader. We are tempted to treat our listeners as people focused on one type of content. 
Like if every true-crime podcast listener would be only listening to those types of podcasts, watched murder documentaries, and read Wikipedia entries about crimes. But in reality, people are more complex, so your listener persona should answer why they are listening to your show, instead of just what kind of similar content they are consuming.
Your listener profile should be multidimensional, just like an average person.
Think about their larger life aspirations and how your show ads value in the broader context.
This will help you craft more precise communication to reach each target listener. 
If you're not sure how to create a listener persona, I give a free high-quality persona template to all my email list subscribers a free, high-quality persona template.
This method allows you to save a lot of time. If you come into the podcasting game well prepared, you won't have to discover every single thing as you go along.
It will also be easier to offer a product to your listeners quickly.
Which is our next condition on the road to monetize in under 12 months.
3. How to promote a product with your podcast?
The main monetization method for shows younger than 12 months is selling their own services.
And this is something I will encourage you to do more in this podcast.
If you want to monetize a show quickly, you should have a concept of a service or a product ready before you launch. Or create one after you launch, finalize it quickly and present it to your listeners.
This way, you can have a high-margin product that will allow you to monetize in a significant way, even if your audience is small.
This is also a great path for any small businesses to follow.
If you have a product or offer, you can launch a podcast in your specific niche, where you will share tips, knowledge, or anything else your listeners find valuable, and then just organically mention your own offer.
A natural question many people have right now is: "why would anyone buy a product from my new podcast and from me?"
The simplest way to answer it is to show them you understand them and help.
Donald Miller, in his bestselling book Building a StoryBrand: says that "People trust those who understand them, and they trust brands that understand them too." 
I highly recommend it to you. It is available on Audible, and it has less than 5 hours of listening time.
So everything revolves around trust, and the sooner you will learn to inspire trust and confidence in your listeners, the sooner you will be able to monetize.
You can speed this trust-building process by leveraging your existing channels.
This leads us to the next point.
4. How can you leverage an existing channel to grow your podcast?
If you have an existing business, I assume you already have a website or some social media presence to communicate with your clients.
If you are an individual, you can also leverage channels. Those can include online presence, like a reputation on a forum, Reddit, Instagram, or other closed community if you have an existing blog or a mailing list that is even better.
But channels do not have to be only online.
You can also have offline channels if you belong to a group that meets around a specific interest, like board games, cars, books. Any group of people you know interested in your podcast can be a good growth and marketing channel.
Focus on groups built around an interest. Your family and friends are good for motivation, but they probably won't be a foundation for your podcasting business.
Of course, online channels have a larger scale and potential, but the idea is that you should think about how to boost the early days of your podcast and avoid starting from 0.
If you speed up your show's growth trajectory, you will have a much higher chance of monetizing your podcast in under 12 months.
Ideally, you will be able to use a combination of multiple channels to grow.
However, you will get the biggest boost when you use your mailing list, YouTube channel, or blog with a dedicated landing page. All of those are incredible growth platforms that can help you during your first 12 months.
And this brings us to the final point and a final condition you need to meet – have a website with a dedicated landing page.
5. Why do you need a landing page for your podcast?
Your website needs a dedicated page and a blog post format to support your efforts. 
Podcasts are famous for having a discoverability problem, and still positioning your podcast to be found in Google is one of the best, long-term strategies.
Once you start publishing episode transcripts or show notes on your website, Google will index your content, start displaying it, and automatically send organic traffic to those pages.
Each page should be formatted to ensure that a percentage of all people who will find you organically through Google search end up being your new listeners.
You need a format that converts organic Google visits into podcast listeners.
This is a crucial element of your growth and monetization strategy. 
A great episode transcript using SEO optimization can generate a few thousand visitors monthly to your podcasting page. On average, when looking at dozens of episodes, you should probably expect around 1,000 visitors per page if a transcript is well optimized.
Even if you capture just a few percent of that traffic and convert them to your regular episodes, your show will grow faster naturally, and you will be able to monetize your show in under 12 months.
And How Many Listeners Per Episode Do You Need to Have a Successful Podcast? – we will discuss this in the next episode, so make sure you follow the show.
SUMMARY
In summary, setting up an excellent basic engine to monetize a podcast in under a year is not a complicated task. All you need to do is have tight control over many small moving parts and understand where you are going.
The most important thing to remember is that if you want to have control over a fast monetization of your show, you need to have a service you will offer to your listeners. You need to understand the needs of those listeners in order to build trust and long-term relationships with those who follow your show.