Affiliate Marketing with a Podcast or a Blog had its ups and downs in the last decade. It was once the best way to make money online, then saw a decline in popularity just to regain its momentum in the last 3 years.
The rise of Amazon, online startups, and the development of online tools simplifying affiliate marketing has changed the way we live and work. Not only has it transformed the way people work, manage their businesses, but it has also opened up new streams of income. 
Affiliate Marketing with a podcast can be tricky if not handled correctly. Let's review how to approach it to make a few thousand dollars of income monthly and avoid the most common mistakes.
---
Have you heard the term, but not sure about what it involves?
Since there is a lot of misinformation shrouding the concept, let us first have a quick look and understand what exactly affiliate marketing is. 
Affiliate marketing is performance-based marketing, in which a merchant or an advertiser rewards you (an external partner) for delivering a specific, pre-decided result. The result is usually a valid sale. 
Some merchants may also be interested in a completed lead form, a new free trial user, or even a newsletter subscriber.
---

Is affiliate marketing with a podcast for real?
Aggressive affiliate marketing is mostly associated with stuffing a lot of links to products on a blog post. But how to do it effectively and not intrusively using a podcast?
How am I supposed to do affiliate marketing on a Podcast?
With the growth of e-commerce in the past decade, affiliate marketing has come to occupy an important space in the marketing strategies of companies like Apple, Macey, Amazon, Dropbox, Uber, etc.. 
If you are worried that affiliate marketing is a scam, well then, you may lay your worries to rest. However, of course, there are more and less trustworthy partners you will encounter.
So how will a Podcaster do affiliate marketing? 
Well, if you are getting into the game, the process is actually very simple:
merchant or advertiser will give you an affiliate link or a promo code. 
you have to endorse the product or service during your show and share the link or code with your listeners
If they get interested and make a purchase using your link or code, you would get a commission.
This doesn't make you a salesperson of the company. You are acting on your own. The more listeners you have for your Podcast, the greater are their chances of buying a product or service based on your endorsement. Hence, affiliate marketing looks easiest for Podcasters with a considerable number of active listeners.
But in the next parts of this article, we will share with you how you can generate sales even without a massive audience.
But what would I sell?
Of course, selling products that give you more commission per sale is a profitable idea. But the product or service should relate to your Podcast series. This is because your active listeners are interested in that sphere, and are likely to buy that product. 
How to Pick the right affiliate offer for promoting?
Focus on quality – Make sure the product or service actually delivers value to your listeners. Otherwise, your credibility will be hurt. And a relatable product could be blended in your episodes, without giving the impression of an over-the-top pushy advertisement. 
Promote Offers Related to your Show – A Podcaster about sports can even do a special review episode of sports apparel or gears. So make your pick wisely! It can sound very natural if you promote an affiliate offer that is highly relevant to your show and your listeners.

Don't know where to start? 
Many affiliate marketing programs allow you to get started quickly. In most cases, you can set up an affiliate account with a merchant in 5 minutes. Merchants want sales, so they make this process very easy.
There are 3 main types of offers you can promote:
General referral links or promo code for a company – There are Audible, Target, eBay, Airbnb, Ting, etc., with affiliate marketing campaigns suitable for Podcasters.
Specific referral links to products – Amazon's affiliate program has been the longest-running one.
Finally, you can invite a guest that will talk about his product and services and share a promo code that will be your sales code.
---

How to do Successful Affiliate Marketing with a Podcast?
As mentioned previously, you can still do successful affiliate marketing with a podcast if you don't have a massive audience. You just need to be strategic and focused. Here are the steps you need to complete to drive good revenue:
1. Focus on Brand Development
This essentially means developing a strong identity for yourself in the podcasting world.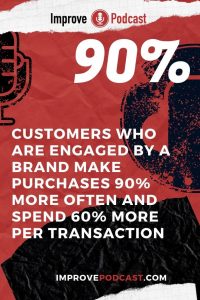 Brands sell more and are the most trustworthy. Customers who are engaged by a brand make purchases 90% more often and spend 60% more per transaction. The same is true for both direct offers and affiliate marketing.
Your listeners should be able to identify you, your voice, and your work in the sea of Podcasts freely available on the internet. 
And how would you do this? In a nutshell, choosing the right niche as per your interest, working on an exciting format for your Podcast, and maintaining consistency is your way to go. To explore further how to build a brand, visit this podcast branding guide.

2. High-quality Content Creation
The virtual world is full of pictures, blogs, and there is growing competition in the Podcast sphere as well. If you want many followers and develop your brand, there cannot be a compromise in the quality of content. 
Only when you surround your affiliate marketing offer with high-quality free content, the offer will appear genuine and also valuable.
Work on authentic content for your Podcast episodes. Make sure you record and prepare for your podcast, always with listeners' value in mind. Also, ensure that the audio quality of your Podcast is top-notch.
Avoid generic stuff, choose specific topics in your niche, and research thoroughly so that listeners prefer you over others. Record your show in a way that allows easy incorporation of your sales pitch.

3. Honesty in Endorsements
You will not be the only person in the virtual world, endorsing a product or a service. And your listener's lives are already saturated with advertisements that they see on Youtube videos, television, newspapers, websites, billboards- wherever they go! 
Advertising might even put your credibility on stake if not approached with user wellbeing in mind. 
Don't promote random products. If you do it for the sake of high commission, or if the product doesn't even relate to your podcast, your listeners might lose interest in your work (and you might lose them, in turn). 
If you are hopping on to the affiliate marketing wagon, then advertise only specific products that can blend in with your content. 
Try them out yourself and share a genuine review with your listeners, before asking them to buy. It is easy to hear is some who is endorsing a product has actually ever used it, or are they doing a review based on provided information from the company you are recommending.

4. Maximize Exposure of Your Podcast
You need to maintain the traction of your Podcast and gain new followers. Yes, Apple Podcasts and Spotify are the biggest directories, but you should not forget about people using smaller directories. Especially as you start every subscriber and every download counts. This will naturally improve your affiliate marketing rate of success as more people will get to hear your proposition.
Thankfully, with a good media host, you will already have integrated automatic push to directories making your life much simpler.
Share your Podcast episodes consistently on your different social media handles. It is not as hectic as it sounds. In fact, there are tools like Hootsuite and Edgar, which can help you schedule posts or make repeated updates about your Podcast episodes on your social media. 
You can also build a community of your listeners, and give them a reason to stay with your Podcast. Create a private Facebook group for them, or you may even schedule a meet up at an event. You can also do a guest post for a more popular Podcaster to gain visibility, provided you have the right connections. 
5. Podcast Built-in Self-promotion
Asking for a sale in every episode of your show won't work well. You will appear to be aggressive in your marketing efforts, and people will spot it quickly.
Gary Vaynerchuk, in his famous book "Jab, Jab, Jab, Right Hook: How to Tell Your Story in a Noisy Social World," explains that you need to give free value regularly before asking for a sale. 
But to make this more effective in the world of podcasting and if you want to take your affiliate marketing efforts to the next level, creating a special episode in which your test and review a product is a great idea. Instead of sneaking in advertising pitches in your usual content, this will come across as honest feedback and recommendation of the product. 
And in your episodes with knowledge and real value, you simply recommend those episodes more geared towards selling. This way, a listener makes its own decision to check that episode, and when they hear an offer or direct recommendation, it is then more acceptable. 

6. Leverage the Power of SEO and Transcripts 
Utilize Search Engine Optimization to grow your Podcast base. The Apple Podcast / iTunes ranking algorithm for podcasts may be focusing on subscribers. Still, the title of the podcast and each episode is essential for users deciding to click and listen. On Google Play, the show description (not individual episode descriptions) is searchable as well. 
SEO aims at improving the click-through rate, so more people will get a chance to listen to your podcast affiliate marketing offer.
Get specific keywords related to your topic from tools like SEMrush, Ubersuggest, Google Trends, etc. A generic keyword-rich title that is not distinctive or memorable is also undesirable. Use them in the title for your Podcast episodes and the associated tags. 
Finally, make your discoverable in Google by publishing episodes' transcripts on your podcasting website. Post it to your site and present it compellingly, and let it be a medium for your users to interact with.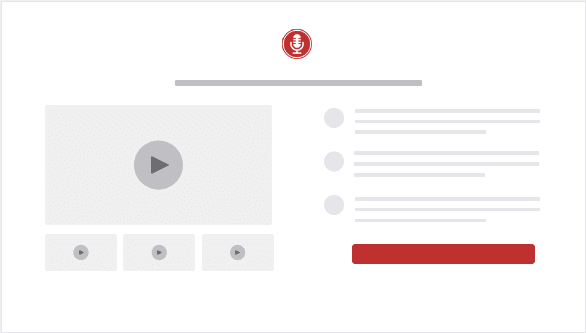 7. Website Design supporting Affiliate Sales
Incorporate affiliate marketing tactics in your website design, without looking too pushy. Your site should promote your Podcast content more, with your products and services on the sideline. 
You are a Podcaster first, a marketer second, so balance the two roles.
You can also share additional Podcast content, or combine a few episodes in bigger guides to bring users to your webpage where you will also be selling products. 
Doing giveaways is another idea for generating traffic.
The non-selling content takes priority, but you need to lead your users to the selling content. 
Guide them through the process. 
Tell them what to do next on your page by suggesting content with the most value.
Keep your webpages simple with simple navigational structure, so that users do not hit the close button in frustration. 
You may also consider developing an interactive product page, where your followers can have a look at the products you endorse outside of your podcast.

8. Send Traffic from Podcast to a Specific Landing Page
Your audience is extremely impatient, and you get only a few seconds to grab their attention. In addition to mentioning products and services in your Podcast episode, take them to a visually attractive landing page. 
Also, remember that if people are already willing to go to a specific page they are much more mentally closer to buying something. That is why your landing page can be more focused on closing the affiliate sale, and not be a generic post with many distracting elements.
A landing page should have more info about you and your work, your episodes, and of course, your affiliate marketing links. 
Don't integrate too many social media buttons on a landing page as you want people to focus on the product offer. In other words, don't give reasons for people to leave your affiliate offer and keep them focused on the goal.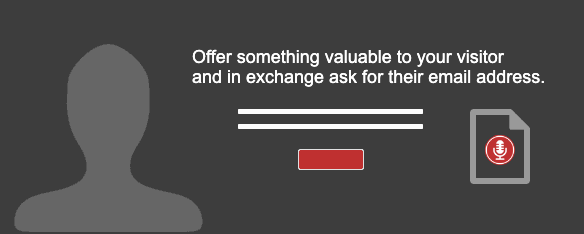 9. Build an Email List
With email marketing, you can email a newsletter to promote your podcast. 
Create an opt-in on your page where listeners can subscribe to your email newsletter. You can utilize the newsletter to share new podcast episode launch dates, what topics will be discussed. 
With each email, you land directly in your listeners' inbox and always stay top-of-mind. This strategy will prove effective when you will start affiliate marketing and have some trust established with your audience.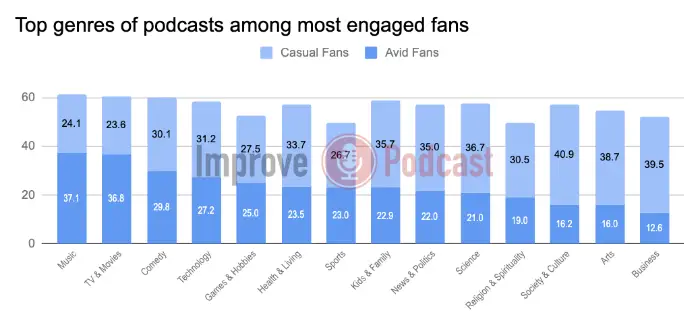 10. Build Engagement
Having a long list of listeners or followers is not enough. If you hold conversations with them, answer their queries, talk to them on your social media channels, and incorporate their feedbacks while making your Podcast episodes, they will trust you and value your endorsements.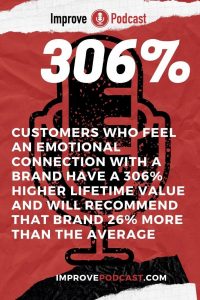 Customers who feel an emotional connection with a brand have a 306% higher lifetime value and will recommend that brand 26% more than the average.
Engagement building should be a conscious and planned process. Develop your own podcast engagement strategy.
A Podcaster who reaches out to people will not be viewed as just another advertiser. They are a reliable user of the product, and their voice can be trusted.
11. Conversion Rate Optimization 
You may drive additional traffic to your Podcast to increase sales, or you can improve the effectiveness of your site to boost sales with your current amount of traffic.
Conversion rate optimization (CRO) focuses on the latter. A mere mention of your affiliate product may not fetch a lot of attention. 
How to run experiments and optimize conversion from a podcast?
You need to be able to observe and measure behavior directly. To do that, send your listener to landing pages and there test out:
Different recommendation pitches,
Length of recommendation content,
Usage of rational vs. emotional arguments,
Color on the entire site,
Adding additional reviews to confirm the value of the product you are endorsing.
---

Final Bonus Tip: work on skills that are required for success in affiliate marketing
You podcast affiliate marketing will be more successful if you remember about:
Patience – there is no overnight success, success often has a snowball effect, it is very slow in the beginning and then gets momentum,
Time management – focus on show and content development. With good time management technique, you can be more effective in your life and find more time to develop your podcast affiliate marketing or other monetization efforts,
Script – record show in a way that supports your sales efforts and, at the same time, maximizes value for listeners. Preparing a podcast script is simple if you implement an effective communication structure.
Quality – we mentioned previously how to build value, but the quality of a podcast also means great audio, that is achieved with selected podcasting gear and recording sessions recorded in a quiet soundproofed home studio.
---
Conclusion
The success of affiliate marketing is directly linked to the traffic (number of downloads) on your Podcast and your audience engagement. 
Both of these things take time to build and require patience. Work consistently on your Podcast series and reap the fruits later. While affiliate marketing may sound like a herculean task to a new Podcaster, it is a reliable source of passive income once you get established.
Key areas to focus on when starting an Affiliate Marketing with a Podcast?
Content – high-quality content should be backed up by developing a brand. Your endorsements should be honest and match your content theme.
Marketing – have an engagement strategy, a podcasting website, and an email list. Make the most of your traffic by utilizing landing pages and optimizing conversion rates.
Plan and Design – maximize exposure of your podcast, also thanks to the self-promoting episodes in the right way. Have transcripts of episodes that will bring additional free traffic from Google, and prepare your website to expose the affiliate offer correctly.
There are skills you can train and improve over time to increase the success of your affiliate marketing efforts.