Launching a podcast is an exciting thing, but it can quickly become expensive. I've used and tested dozens of free and paid tools, so I can confidently tell you how you can podcast for free.
In general, you can start a podcast for free. Many free tools allow for recording, editing, and publishing a podcast. The paid tools offer more options, run faster, and are better designed. Most advanced podcast marketing, growth, and monetization tools are paid or have limited free versions.
A free setup will obviously have some limitations, but it is a good starting point if you want to test out ideas, make a non-profit educational podcast, or just want to try something new.
Podcasting for free is possible when we talk about tools. However, you need some basic hardware (microphone and a recorder) to record your podcast and a computer for editing.
Before we head into the free tools section, we need to discuss the best, cheapest gear setups briefly.
The absolute minimum that you need to spend for a podcast recording hardware is about $100
That will buy you a Samson Q2U (check current price) – an excellent option if you are on a tight budget or you need a larger setup for 4 or 6 people. Having both XLR and USB connections, it is extremely versatile, allowing you quickly change your setup depending on the type of audio content you are recording. This mic sounds really well and can easily compete with pricier USB mics.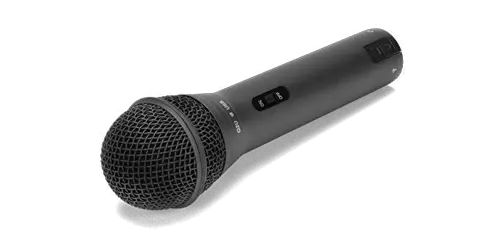 Samson Q2U comes packed with a small tripod mic stand, USB cable, and a foam windshield. So your basic recording needs are covered from the hardware perspective with this one purchase. If you are buying this mic unbundled or any other mic, remember that you need a tripod and a pop filter.
AKG Pro Audio K72 (check current price) – most likely the cheapest closed-back audio monitoring headphones offered by a premium brand. You will need monitoring headphones to make sure your recording sounds good and if you want to capture any kind of remote interview.
I'm also covering more expensive podcasting setups in this article (under $300, under $600, and $1,000).
You can find examples and recommendations of a simple podcasting setup at the most popular price points in the below table.
Best Podcasting Setups (for $100, $300, $600, and $1000)
Best Podcasting Setups (for $100, $300, $600, and $1000)
The table has links to products that will allow you to buy products within the budget.
If you want to review all podcasting gear recommendations, you can find them here.
Presented price points are, of course, examples for a solo setup. If you need to record more people, you will need a bigger budget (more mics, cables, preamps, stands, interface with more input lines, etc.).
Can you record a podcast using your smartphone?
Using your smartphone's microphone to record a podcast will capture very low-quality audio. A better approach will use a smartphone as a capture device, connected to a compact audio interface and a lavalier mic. Recording with a lav mic can capture a decent audio quality in a quiet location.
Recommended setup for recording a podcast with a smartphone includes:
This solution is recommended in two scenarios:
If you can only record remotely (e.g., interviews) and need to carry everything with you,
You have very limited space for a classic desk setup.
But that solution is, in fact, more expensive than a simple desk setup using a decent entry XLR/USB mic, like mentioned by Samson Q2U.
Let's now move to the tools and solutions you can use for free.
Tools to Record and Publish Your Podcast for Free
What is the Best Free Podcast Hosting Platform?
The only 100% free podcast hosting is anchor.fm. As they are owned and funded by Spotify, there is a good chance they will remain free. Good premium services that include free accounts include buzzsprout, podbean, or RedCircle.
Premium hostings (read a full comparison of over 20 podcast hosts) that offer free accounts usually have some limitations, so read carefully what you choose. 
If you find free podcast hostings too limited, here are my top 2 recommended premium hostings:
buzzsprout – best podcast hosting for creators looking for a simple to use solutions,
Captivate – professional, modern podcast hosting for people seriously thinking about marketing, growth, and monetization (my personal recommendation: Improve Podcast School show is also hosted on Captivate)
TOP
Podcast Host
Register with this link and get a bonus

1

Buzzsprout is the best solution to host your show.
I like them for their transcripts, a Creator's Program to help with monetization.
Get buzzsprout and claim
$20 Amazon gift card

2

Castos is rich in features supporting the growth of your show.
Register with Castos for a
14 days free trial

3

Transistor offers in-depth analytics in each plan and is the best if you also need private podcasts.
Register with Transistor for a
14 days free trial

4

Another awesome, modern, and rich in high-quality features podcast hosting platform. Check Captivate with a
7 days free trial
Top premium podcast hosting
What is the Best Free Podcast Editing Software?
The best overall free podcast recording and editing software is Audacity (available for Mac, Windows, and Linux). The best free podcast editing DAW for Mac users is GarageBand.
Audacity is the king of free audio recording and editing, available for every platform – it's not as powerful as the competition, but it will do the job – good for learning, but not for serious work.
GarageBand is the best free DAW for Mac users, if you use Apple products and are in doubt, about where to start, GarageBand is the best option for you. If you enjoy it but find yourself needing a more powerful tool, then upgrading to Apple's Logic Pro will be very easy for you.
If by chance you already have access to a full Adobe Creative Cloud, you already have access to Adobe Audition – the best overall DAW for podcasting, with the full feature set of tools for the production of most demanding shows.
If you find free podcast editing software too limited, here are my top recommended premium DAWs:
What is the Best Free Podcast Remote Recording Software?
If you are recording your podcast online, the best free podcast remote recording software is Zoom, a free tier plan on Descript, or Skype. Zoom and Descript offer better quality than Skype, but the final quality depends heavily on the Internet connection of each individual participant.
Descript is the most advanced application of AI in podcast editing. It records audio, video, multiple screens, multiple tracks. It even allows you to edit your show and gives you auto transcriptions.
Zoom is awesome for collaboration. It works best for meetings and working sessions to collaborate on video and share screens. You can record video and audio (to separate tracks) and even screen share. For podcast interviews, the audio quality is good (SquadCast is better), but a lot depends on the Internet connection.
Skype is still a variable and good way to record your online interviews for free. But honestly, the Descript and Zoom offer in general more options and are more reliable.
If you are looking for a premium online recording solution, then check Squadcast.
SquadCast is the best solution for remote interviews. It records audio & video, uses separate tracks, and keeps backups. The sound quality depends on the mic and each person's reverb, but SquadCast does as good a job as it can to provide studio quality. It is also friendly for guests; no apps are needed – it works in a browser.
What is the Best Place to Get Free Music for a Podcast?
In general, you need the right to play music on a podcast. If the music is copyright-protected, you need to pay for the license. A royalty-free music license is most affordable. Many free samples are available under the Creative Commons license. In specific cases, Fair Use for Journalism applies. This post covers all the nuances of playing music on your podcast.
The only free music you can play on your podcast should be licensed under the creative commons license. Multiple sites offer a lot of free resources for you to use for your podcast. Most popular with large, easily accessible libraries are:
If free samples don't meet your expectations, there are inexpensive, high-quality, royalty-free music samples available at:
TOP
Best Music Source
Ideal for whom?

1

Soundstripe has the highest quality, exclusive music.
They offer 4,000 exclusive songs and over 35,000 sound effects.
check prices

2

HookSounds offers modern, stylish and distinctive music.
They focus on originals and even make custom music requests!
check prices

3

PremiumBeat is one of the oldest and largest royalty-free music providers.
Pick if a huge song choice is your priority (library of c.a. 17,000 songs)
check prices
How to create a Free Podcast Cover Art?
To get a free podcast cover art, you can simply do it yourself using. Use a highly-powerful online editor like Canva (or similarly working Snappa). Both editors are simple to use and have rich libraries of free stock photos, graphics, and elements.
In this podcast logo guide, I explain all the details and requirements your podcast art needs to meet.
Canva is the best free tool to create a podcast logo. Canva is the most advanced and feature-rich editor that is at the same time easy to use. It has many excellent templates, graphics, and stickers you can use to create unique visual projects. It also allows you to create impressive marketing materials to promote your business and show. All of our podcasting resources are done in Canva.
My personal endorsement:
The logo for the Improve Podcast School show and all the checklists and tools you get access to when you join my newsletter were all created in Canva!
Canva also has a premium version, but everything you see below was created in the free version.
Snappa is another great DIY tool for creating podcast cover art. Snappa is a must-have tool for non-designers who publish content online and want to do it quickly. It is the easiest tool to use and has great templates with an ideal size for any social media you are using for marketing. Despite its simplicity, Snappa offers unlimited possibilities for creative ways you can use to promote your podcast.
Creating a podcast logo using Snappa is very easy. The tool is fast, reliable, and simple to use.
What is the Free Podcast Call Recording Software?
All the top online conferencing and podcasting solutions are able to record calls, that includes Zoom, Skype, Descript, and Squadcast.
If you're using a mixer (like the Behringer Xenyx 1204USB we recommend) that records all sound from your computer, this software won't be required. Using a mix-minus setup and recording calls on your computer sent through your mixer still remains the best solution.
Most modern services that enable conference calls and interviews support recording. Using additional recording services can make sense for having a backup. The most versatile and affordable software for this is:
Callnote (free to $9.95 USD per year). Callnote lets you record Skype, Google Hangouts, Google Meet, Viber, FaceTime, and Facebook messenger conversations, as well as meetings on Microsoft Teams, GoToMeeting, Zoom, and WebEx.
How to Start a Podcast for Free on Apple
Starting a podcast and adding it to Apple Podcasts is free. You only need to create a free Apple ID (you don't need to have an Apple device for that). To create an Apple ID, you may need to add a payment method, but you won't be charged. Next, set up a free Podcast Connect account and add your show.
You need to remember just a few things:
Apple uses a manual verification process, so submit your show in advance of your planned launch date. A review usually takes 24 to 72 hours, but some people have experienced a few days waiting period,
To submit a show for review, you need at least 1 audio file uploaded – this can be an edited episode, a trailer, or even a short demo for editors to listen too. You don't need to make your show public immediately after Apple's approval.
How to Start a Podcast for Free on Spotify
Starting a podcast and adding it to Spotify is free. Create a free, dedicated account for your podcast on Spotify and add your show. Your show should be available to listeners almost immediately as there is no manual verification.
How to Start a Podcast for Free on Google Podcasts
Adding a podcast onto Google platforms is now very simple. Just visit the Google Podcast Manager page, add your RSS, and submit for a review. You just need to verify the ownership, and your podcast should be available to listen to almost immediately. 
Best Free Tools to Grow a Podcast for Free
Most marketing tools for growing a podcast are paid. The best free tools will allow you to access large communities and then convert those people into listeners. Great places to start are all big social media platforms or forums, where your potential listeners might spend time.
Right now, what works best is:
Pinterest – good images still generate a lot of traffic and can help you grow your podcast,
Instagram – same story as with Pinterest, just publish consistently, and this should slowly build your listeners base,
Canva – best free tool to build interesting images for Pinterest and Instagram,
Transcripts – create transcripts of your show for the SEO benefit, which will allow you to get listeners from organic Google searches.
Best Ways to Monetize Your Podcast for Free
The best way to monetize your podcast without any upfront cost is to find an affiliate program that offers products your audience might be interested in. Opening affiliate accounts is free and adding them to your show notes, description, and website.
With affiliate marketing, you need to register with a company that runs an affiliate program. There you will either get a promo code or a special direct link. Once you broadcast your message about the affiliate offer and your listeners will complete a purchase using your code or link, you will get a commission.
This is a very passive way to make money podcasting. Once your episodes are published, you have a chance to make a commission for as long as people will discover your content.
Examples of products you can promote on your show include: sendinblue, squadcast, soundstripe, and many more will ask you to promote the overall service and company. You talk about experience and lifestyle when endorsing those offers.
There are tons of affiliate products you can recommend. Recommendations are actually most successful if they are genuine, i.e., you really have and like the product. Just Google a brand that you would like to endorse, add an "affiliate program," and see if they offer one. 
Here is a guide going into the details of affiliate marketing for podcasters.
Another great free monetization option for podcasters is setting up a Patreon account and building a loyal base of people who will support your show monthly. Patreon is free to set up, but you pay a fee on what you collect, so at least you are not paying anything upfront. Here is a full Podcast Patreon strategy guide. 
Here is a more detailed description of over 30 ways you can monetize your podcast,
In Conclusion
You can run and create a podcast for free, i.e., using many available free tools.
The completely free ones usually come with limitations (fewer features, worse user interface, harder to learn and use), but they can still do the job.
Most of the free tools you will find have premium versions with much more features.
When your podcast starts transforming into a business with thousands of listeners and generating revenue, you will find that upgrading to paid tools solves many problems and allows you to focus on growth and monetization.