To create a Podcast or any form of content that captivates the attention of your audience, you need to put in a great deal of time and hard work. Since you will be devoting a big chunk of your productive hours to podcasting, monetizing your Podcast should be one of your priorities. Monetization with Patreon and having dedicated Podcast Patreon Strategy will allow you to build financial independence very successfully, but all the efforts need to be planned.
While advertising is the most popular way of monetizing online content, you need a significant number of subscribers and downloads before an excellent advertiser can consider you for advertising, or before you will get a reasonable CPM rate.
This makes it hard for new Podcasters to earn money effectively. If you are a new but dedicated Podcaster who wishes to earn revenue from your Podcast series, Patreon comes to your rescue.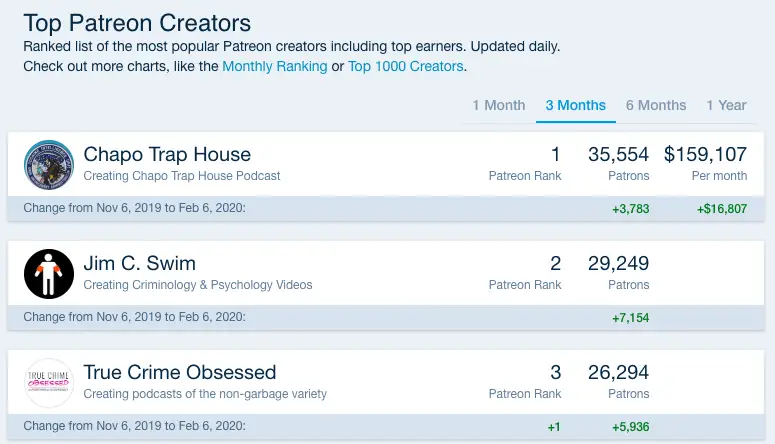 And results you can achieve there can truly be incredible. Podcasters are in fact one of the top earners on this platform with Chapo Trap House podcast being number 1 among all creators.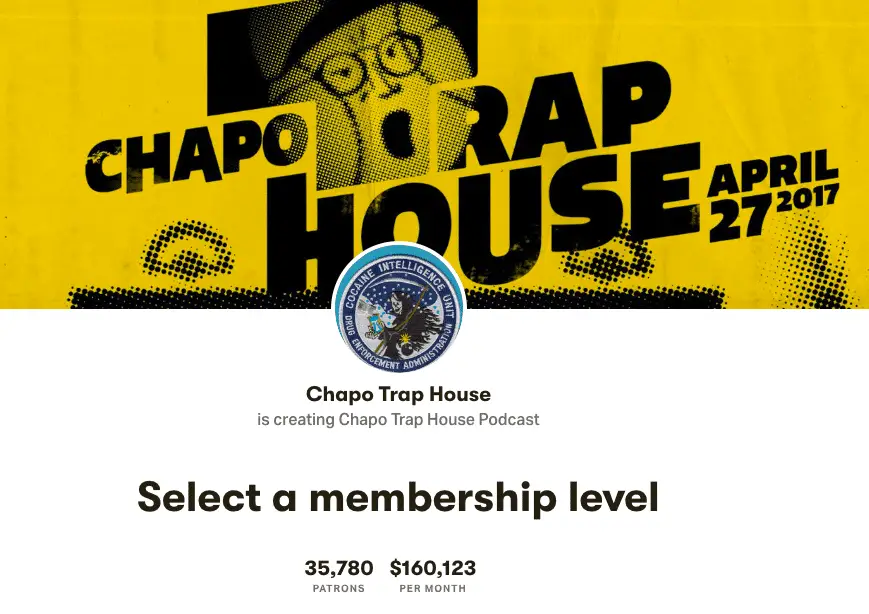 This podcast has 35,780 patrons and earns an astounding $160,123 per month. This show and its success are obviously exceptional, and breaking the $100,000 barrier is very challenging. But reaching $20,000 is absolutely within anybody's reach.
Let's dive into nuances of making money with Podcast Patreon Strategy and breaking down a successful monetization plan to get you over $20,000 level.
What is Patreon?
According to Jack Conte, Patreon's co-founder and CEO, "Patreon exists because when creators are paid, they can create more amazing things. Things that inspire us, teach us, challenge us, things that make us laugh." And yes, it is his marketing pitch, but it can work if you apply our approach. 
Patreon is a service that can help you make money online. It links people who are already creating any form of content, with an audience who would be interested in a subscription. If you join Patreon, your fans can pay per month or episode for your Podcast. In this way, your avid fans can become the real-life patrons of your art.
How Does the Monetization with Patreon Work?
Patreon changed its business model, so it is no longer a simple marketplace and intermediary between creators and consumers. It now offers communication and marketing tools and charges a % of your earnings. There are two fees you will need to pay:
Plan fee – there are 3 plan offering different tools, where you need to pay 5%, 8% or 12% of your earnings depending on the plan and number of tools,
Payment processing fee – roughly 2,9% + 30¢ for payments above $3, and 5% + 10¢ for payments below $3.
These are known to change (especially processing fee) from time to time, but overall the model is similar for years.
---

Can you reap profits from Patreon?
Podcasters have come to love Patreon for multiple reasons. According To Heather McDonald of Juicy Scoop Podcast, she would rather have 300 patrons on Patreons than 3 million Instagram followers. Patreon allows her to have a deeper engagement with her followers while making money online. 
I would strongly recommend newcomers to try out Patreon. Of course, your earning grows with the number of patrons, and this number will depend on how good is your Podcast Patreon Strategy. But there is no minimum requirement of followers to get on the wagon. Also, it does away the need to approach companies or advertisers.
---

How Much Money Can Podcasters Make With Patreon?
Let's have a quick assessment of the earning potential of a Podcaster on Patreon. Let us talk about Matt D' Avilla, a minimalist filmmaker. He has three different subscription offers on his Patreon page.
You can pay$4 for supporting his work, $8 for his exclusive podcasts, and $12 for his exclusive videos. He had close to 2000 patrons in 2019. All the patrons paid a minimum of $4 for the subscription. This means that Matt earned at least $8,000 per month or $96,000 a year from Patreon. Additionally, Matt says that his income from Patreon has helped him keep his Youtube channel free from ads! That is an example of well planned and executed Podcast Patreon Strategy that clearly brings expected results.
Dave Jackson, the famous Podcaster who started the School of Podcasting in 2005, uses Patreon. He says he never intended to make a full-time livelihood from Patreon, but gets enough side-income from the channel for making his car payment.
---

Podcasters are among the best-earning creators on Patreon
Here are 5 impressive podcast earners absolutely dominating Patreon.
Already mentioned Chapo Trap House earning $158,764 per month. High-quality content is obviously crucial, but I bet that the simplified offer of just one $5 tier pledge helps as well.
True Crime Obsessed earns with 26,290 patrons at least $131,450, but it likely earns more than Chapo Trap House.
Second Captains earn with 11,515 patrons $61,605 per month.
Last Podcast on the Left earns with 12,151 patrons an impressive $57,556 per month.
Sword and Scale has an estimated 12,801 patrons and brings in around $40,000 per month.
In fact, Chapo Trap House and True Crime Obsessed are at the very top of the best Patreon earners among every category (data from Patreon and Graphtreon are not in exact sync, but they are close enough).
I guess these stories make a strong point for you to consider having a Podcast Patreon Strategy to get all the benefits of this platform.
---

Statistics of Podcasters on Patreon?
Let's look at the data.
Patreon is not interested in publishing the exact numbers of creators. The last big update they've put out said that "over 100,000" creators were earning at least $1. But that number comes from 2018.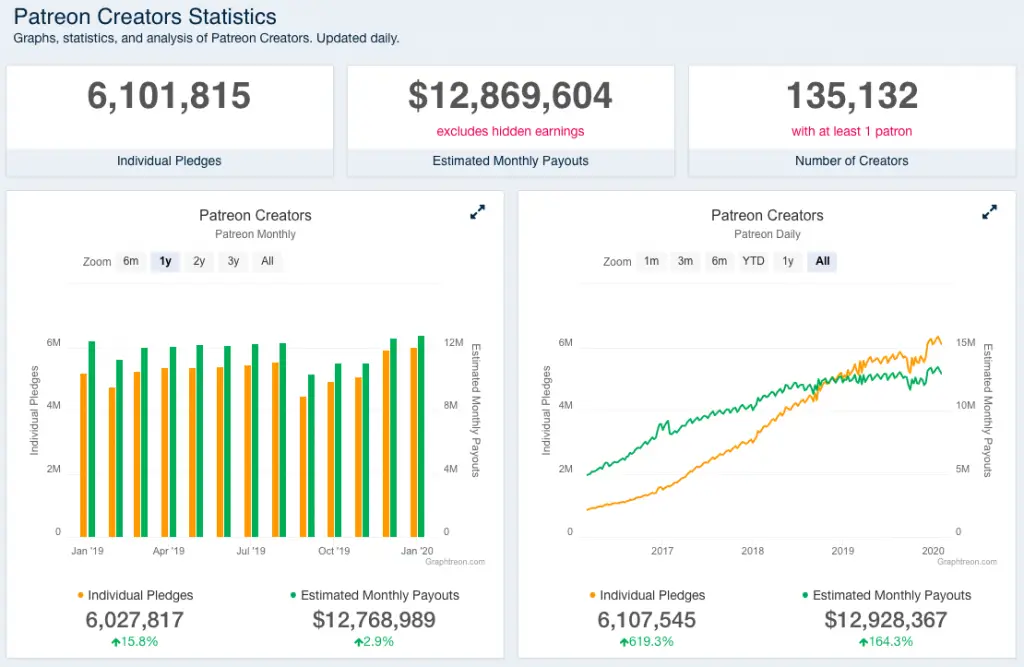 The independent website Graphtreon, which estimates Patreon data using the company's API, says the total number of creators with at least one patron is 135,100. 
Looking only at podcasts category, we have 9,673 creators with at least 1 paying patron.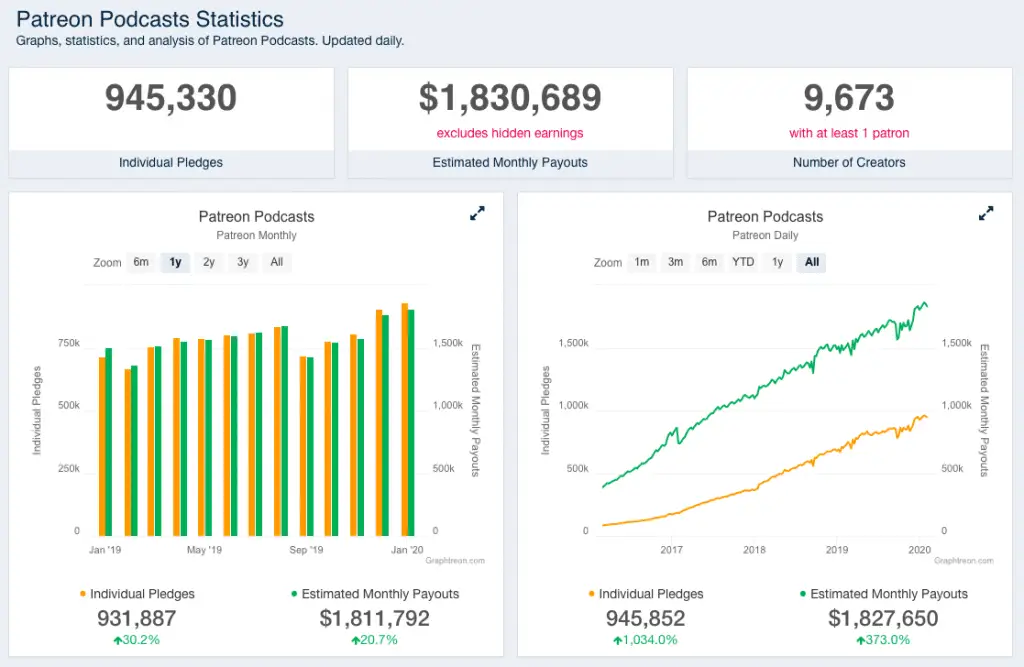 The sum of earnings from creators who disclose their data is $1,830,689. And this does not include hidden profits, so the estimates for True Crime Obsessed and Sword and Scale are not included in this number. Unfortunately, Graphtreon doesn't allow to, either, add estimated earnings to the total or subtract creators who hide their earnings. 
When reviewing all podcast creators on Patreon and analyzing Graphtreon data on podcasting, we see that:
Elite few earners get 20% of the pie,
Only around 200 top creators have more than 100 patrons,
Additional 800 creators have between 10 and 99 patrons
Combining this with earnings we get:
About 10% of creators get 90% of the earnings,
The same most successful 1,000 creators earn over $1,600,000 per month,
We can estimate that 1,000 creators make, on average, around $1,300 per month. 
---

How much can you earn with Patreon?
If you will launch an unfocused campaign and won't actively promote this monetization channel and offer great value, you might eventually get up to 100 patrons earning up to $1,000 per month.
Active creators on Patreon should aim to get at least 1,000 patrons and can earn around $4,000 per month (between $2,000 and $ 6,000).
Here is the line where we see in the results which creators have and which don't have a Podcast Patreon Strategy.
An extremely active podcaster heavily focused on premium content, high-quality, and monetization through Patreon can earn over $8,000 per month.
Getting to earnings over $10,000-$20,000 requires you to make a full-time business out of your Podcast and dedicate a significant portion of time for content creation, marketing, and conversion optimization. 
If you want to take your podcast above $20,000 you need to have an excellent content strategy, the marketing machine that will be focused on pumping out top-quality products, and you need to have patience with execution.
---

How to join the top 10% podcast earners on Patreon?
To join the top 10%, you need a coherent strategy that you are going to execute over several months, each month adding around 200 patrons monthly.
Since I have explained the benefits and possibilities that Patreon can offer for your Podcast, let us move forward to the next question. How to provide value to your subscribers on Patreons?
While Patreon essentially removes the entry barrier for monetizing your content, how much you end up making on the platform is proportional to how many people find your Podcast's Patreon campaign worth subscribing to.
How would you justify the price tag in a virtual world where there is plenty of free content on every other topic? You need to understand how to make your Podcast appealing enough for a subscription.
---
How to integrate Podcast Patreon Strategy into your earnings plan?
Best monetization ways to combine with Patreon campaign:
Advertising – especially in the early days of your Podcast, if you don't have a big enough audience yet to convert to Patreon, you can efficiently run ads. Later depending on how the situation will develop, you can either drop ads entirely or offer ads free content to your patrons.
Early Access & Engagement – early access is excellent. There are always people willing to pay for early access to great content. At the same time, eventually, all your content will be available to all listeners, which will allow you to develop.
Products, consultations, services – either offered in early access, at a discount, with free delivery, or having added value. That way, all your listeners have access to your full offer, but patrons get additional benefits.
Worst monetization ways to combine with Patreon campaign:
Offering exclusives early on – in the beginning, you need a lot of quality content to get noticed, and to collect subscribers and downloads. If you start offering exclusives early in the life of your show, you will be wasting your time.
Pushy affiliate offers – unlike ad segments, you won't be able to remove affiliate offers and segment organically promoting them. If you are very strategic, you can get away with this, but if you want to push too many affiliates offers, your patrons will pick it up very quickly, and stop supporting your show.
---

How podcasting for Patreon has to be different from your free Podcast?
Nail this piece so that patrons will pledge their support to you. This is also the foundation of your Podcast Patreon Strategy.
1. Create different tiers of subscription services so that there are multiple price points for subscribers. 
There will be your main Podcast, which will be freely available. Use it as a funnel to direct more interested listeners to your Patreon podcast subscription. 
Once you have registered yourself on Patreon, it is easy to share the link to your Patreon page on your Podcast, Youtube channel, Instagram handle, etc. 
On Patreon, your patrons get their own RSS feed for your content for the time-period they are subscribing. Some people would be willing to spend 5 dollars per Podcast, while there are people who wouldn't mind shelling out $20. Create a service for both the segments to maximize your gains. 
Your different price-points should have different value-additions or offerings. There are also chances that people who end up liking your $5 subscription might upgrade to your $12 one.
If you have thousands of downloads on your episodes, offer an ultimate tier worth $1,000 for someone to become an executive producer. Sure, 99,99% of people will never even consider it, but with a high amount of traffic, this sponsorship offer will eventually get buyers.
2. If you run an existing Podcast that is available for free on other channels, you need to work on adding value for the Podcasts available on Patreon.
There are several perks that you can provide your patrons in return for their subscription. Let your followers know that they can access ad-free content or exclusive Podcasts only on your Patreon page.
If you are already popular, you can also use Patreon for the early release of your Podcast.
The Podcast Cosmic Shambles offers uncut episodes, bonus features, exclusive news to their $1 per month podcast supporters. For instance, the podcast Sword & Scale gives access to their exclusive Patreon show, Sword & Scale Plus, to its patrons, while Easy Allies offer three Patreon-exclusive shows accessible to patrons paying $1 per month or more.
Extended length episodes or behind the scenes episodes of a Podcast is also a great option for Podcasters with some visibility. You may provide informative behind the scenes content to showcase your creative process and the technical aspects of producing your show. Combine it with instructional episodes to help patrons who want to get into Podcasting learn from your methods. You may also give personal behind the scenes content, where your fans can have a peek into your life off the mic.
If you endorse or sell merchandise on your Podcast, let your listeners know that they can get early access to the stuff, or they can have coupons for a discount by subscribing to your Podcast service. Or think about a welcome box to new patrons with a high enough pledge!
3. You should use the platform to engage with your patrons.
Have a live Question and Answer sessions with them. Listeners who want to learn more would be happy to pay a small amount to talk directly with you. Seek their constant feedback. Use their suggestions for your next Podcast episode. There is also a built-in tool in Patreon for running polls that can help you in the task.
Express your gratefulness towards your subscribers from time to time. Give them a shout out on your social media handles like Twitter and Instagram. 
Your patrons are ensuring that you can devote more time to your work, without worrying about your finances. Mention their names at the end of your Podcast and acknowledge their support. Additionally, with Patreon, you can set up an automatic reply to all new supporters. This can also include video, so we would suggest you use this and send a personal thank you message.
---

How to Make a Successful Podcast Patreon Strategy?
To make it worth your while, you need to develop a strategy for your Podcast content on Patreon. Let us discuss some ideas that can help you devise your Podcast Patreon Strategy. The more elements you are going to implement, the higher will be your chance of success.
1. Understand your audience and what are they willing to pay for
A successful content creator knows their podcasting audience well. For people to subscribe to your work, the bar gets higher. You just cannot share your freely available, usual Podcast to your Patrons in return for their support. Many folks enjoy your free stuff. 
But you can, and you need to make podcasts with a greater value for subscribers.
It goes without saying that quality content is the primary requirement of subscribers. Know what can appeal to your followers so that they opt for a paid subscription of your Podcast. 
Some people will want more of the same – extended versions or unpublished material
Others will want to interact more
A large portion of users wants to listen to ad-free content
All of them want value and convenience. If you want to have a full understanding of your audience, I recommend you to create a podcasting listener persona for your show. 
For example, if you have a self-help Podcast or do-it-yourself tutorial Podcast, offer one-on-one coaching in return for patronage. Running a thriller Podcast? Then an early release of your episode might excite your fans to become a patron.
2. Consider different levels of rewards vs. simplified offer
Reasonably priced offers around $5 help with breaking the psychological barrier to commit and invest. If the entry offer is low enough, people will have no problem subscribing.
Don't make it too low, though, or you will lose potential revenue opportunity (more on that below).
Remember that simplification removes decision block and analysis paralysis. If you have 10 tiers, people might convert at a slower rate, constantly guessing which tier is best for them.
Have just a few tiers with a clear difference in value for different types of contributors and people who are looking for a vastly different experience (like previously mentioned executive producer tier).
3. Create a valuable offer
Your Patron page should grab the attention of the supporters. Create a video to introduce yourself and your work, rather than to rely on simple text and pictures. 
Upload an attractive cover picture. Make people stop and take note of your introduction. Explain the different tiers of your Podcast subscriptions that you are making available.
And naturally, make an attractive podcast episode about why you have launched your Patreon campaign. Just don't publish it instead of your regular content. Make a bonus episode about it, so people won't feel they have lost a "normal" episode in place of this monetization request.
4. Make offers that you can deliver
Do not over-commit on Patreon. It will stress you out and might hurt you financially. What you are offering on Patreon should be overhead to your existing work.
Extra episodes – if they are part of your offer make sure you will find time to record them
Ads-free content – make sure your obligations to sponsors don't conflict with Patreon offer
Interactions with the audience – again you need to reserve time for interactions
I suggest you should not start creating something from scratch for the platform. If you are planning giveaways or discounts, estimate if it can be comfortably covered with your expected earnings. 
5. Don't undervalue your offer
This is very vital to your sustainability on the platform, and if you want your Podcast to become a full-time business. 
If you give away $5 service for $1 just to attract more people, you will lose out on the most important benefit of being on the platform. That is to pursue your Podcasting passion without financial distress. Charging less will put you in the pressure of churning out more content for more revenue.
Also, you need roughly the same effort to get 1,000 patrons, regardless of your most affordable offer is $1, $3 or $5. So don't lose the money you could anyway receive.
6. Actively promote your Patreon campaign
While there are 90 million people who listen to Podcasts, there are only 3 million active patrons on the platform (compared monthly). 
Let people know that you have a Patreon Page. Many people are not aware of Patreon. Give them a short explanation about the platform and tell them why they should subscribe to you there. You need to include links to your Patreon, where you regularly post content and pitch your rewards and service to new and returning viewers. Make sure your podcasting website also visibly promotes your campaign.
Of course, you cannot completely do away with free podcasting. Use it to direct your engaged listeners to your Patreon page. For your core offer free show you should work to grow it organically, and drive a lot of traffic that you will be able later to convert into patrons.
I would strongly recommend mentioning your Patreon page and the associated benefits at the end of every Podcast episode.
7. Fulfill your promises
Patreon allows you to set goals too. For example, you may set a goal that once you get 200 patrons, you will have live Q&A sessions after your podcast episode. 
If you have set a visible goal on the platform, what you have promised must be delivered. If you are receiving patronage, you need to be highly committed to delivering the benefits to your patron. 
You cannot lay back and put off your Podcast episode or live sessions for the next week if you want to gain credibility. Your audience can always resign from their subscriptions, and all your precious effort could be wasted.
Whatever you have promised, you need to deliver.
8. Engage with the audience for higher Patreon conversion rates
Your success on Patreon lies in your engagement strategy with your subscribers here. 
Thankfully, Patreon has tools that make interaction with your subscribers easier. Use them to gain constant feedback. Try to build your Patreon Podcast offerings around your patrons. 
StarTalk podcast answers questions from listeners. And patrons are privileged. Each episode has at least one question that comes from Patreon.
Also, you can use your sponsors' ideas for new stories and episodes and give them credit in the episode. Or invite them to be a part of your Podcast episode (it's possible without calling them physically to your studio!).
9. Be Patient – Podcast Patreon Strategy will take time
Every monetization effort requires time to reach its full potential.
It took over 2 years for Chapo Trap House to reach $100,000 earnings level.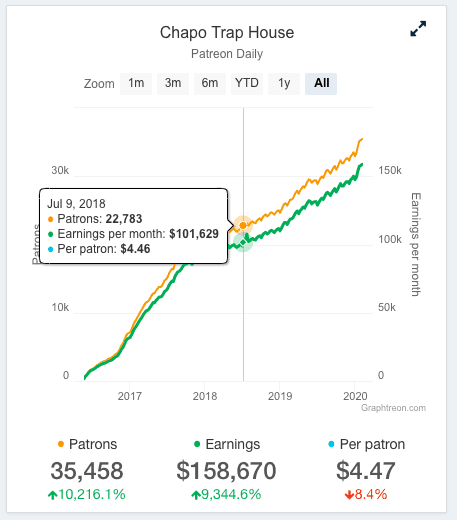 As we've discussed, making your Patreon campaign successful requires promoting it as many people are still not familiar with this platform.
There are always early adopters who are aware of the new solution, and some of them might be your listeners and support your show early on,
Some will get curious but not check what Patreon is,
Others, will check it out but not convert to subscribers,
Most listeners require repetitive reminders before making a Patreon commitment.
Finally, remember that as it took for your audience to grow, the same is true for Patreon sponsors. It will take time.
---

How to Offer Value with a Podcast Patreon Strategy
Here are Patreon rewards I consider to be most valuable for listeners in general, grouped into 3 main categories. You can mix those as you wish when constructing your value offer for your Podcast Patreon Strategy.
1. Fan Recognition and Appreciation
People like to be appreciated. You can mention them and thank them for their support. It is an extremely simple form of audience appreciation but very effective. People value when their contribution gets noticed, even if it is very small. As a recognition, you can:
Name In The Credits
Twitter Follow and a Shoutout
Name Mention on Podcast Page
2. Engagement Building
Engagement with podcast audiences is more time consuming but is extremely important for every successful online business. Brands with strong omnichannel customer engagement strategies retain a staggering 89% of their existing customers. Retention of patrons is crucial as you want to keep them in the pool of committed and paying clients.
Patreon users can ask privileged questions to you or your guest
Decide Next Topic
Live Q&A sessions
Dedicated Q&A podcast episodes
3. Privileged Access
Privileged access to premium content is what has the most tangible value. You can really offer a lot to your paying patrons to ensure they get what they paid for. Most popular premium podcast content you can provide on Patreon is:
Early Access to New Episodes
Early Access to Merchandise
Special Prices (coupons) on items you sell
Premium Episodes
Extended Length Episodes
Uncut Episodes, Bloopers, Making of, Behind the scenes
Ad-free Content
---
Conclusion
The last but most important tip is to keep patience. Rome was not built in a day. Similarly, it takes time to get noticed online.
Ensure high-quality of your podcast content, consistency in your work, and regular publishing of your free and premium content.
When you decide to make a monetization campaign, make sure that for your Podcast Patreon Strategy:
You understand your audience
Your audience will desire the value proposition you will offer
Gather followers and audience before you launch your Patreon campaign
Have a long-term plan for promotion of campaign to be able to new patrons regularly
Consistency is the key to gain patronage. Create stellar podcast episodes and stick to your schedules on Patreon as well as other channels. If podcasting is your passion, it's your chance to shine and monetize your work!