Often podcasting starts as a hobby. You publish a few episodes here and there, don't worry about equipment or engagement of the audience. After all, you're just having fun! And whoever enjoys what you do is welcome. But then you start to realize – you could earn serious money from your podcast!
However, to create a podcasting business, you need to make this a full-time job rather than just part-time. Why? Simple. More time means better quality of your show. It also means regular publishing, which brings better growth, more listeners, and a higher income.
How can you transition from a hobby to a full-time podcast business?
First of all, you need to make a focused effort. Carefully outline what your podcast will be about and who your audience is. All this will help you adjust the tone of each episode, the length, and how often you need to publish.
Second, clear your schedule and make podcasting your priority. If you started this as a hobby, you're probably used to recording only when you have nothing else to do. If you want to have a real podcasting business, all this needs to change! 
Your podcast needs to become your priority, and you should remove all other distractions when working on it.
Once all this is done, and you are ready to podcast professionally, there are a few more things you must do to create a successful business. Here's a list of actionable steps that will help you monetize your podcast in no time.
---

1. Focus on Building Assets
When your podcast is only a hobby, you just publish episodes without thinking much about increasing your online presence. If you podcast professionally full-time, you need to use other channels as well. 
There are four main assets you should focus on.
Your Podcast – The show is both your product but also a marketing channel. Be sure to use this wisely. Engage with your audience with each chance, make them feel like you're a friend talking to them, not just someone delivering a show. Use prompts, ask for their opinion, and try to convince them to leave a review. Don't be afraid to talk about past or future episodes to convince your audience to stay past the show they're listening to. Finally, carefully market your products. Don't make the entire show an ad – your aim should be to inform, not to sell.
Podcasting website – A podcasting website is a business hub for online traffic, growing your email list and offering products. Through clever prompts placed throughout your episodes, you can send your listeners to your website. You can use this website for diving deeper into specific topics, describe products in more detail. You could also ask for feedback through questionnaires. The possibilities are endless. It's up to you to turn your website into a powerful asset.
Mailing List – The email list is the perfect communication channel with clients. So write periodical emails, even encourage them to write back, make them feel like their opinion matters. Offer something useful through your emails, and your audience will be more likely to purchase your products. The mailing list helps to cultivate relationships and increase trust and engagement.
Paid Products – Finally, paid products are what allow you to monetize your podcast most effectively. They are the pinnacle of any online business and the best way to make a profit. You can go with the merchandise way, but this has a lower income margin and requires constant order fulfillments, but for this, you can use drop shipping or FBA model. Better was to develop online info products as they require only a one-time cost needed at the start and can bring more passive sales over the years and bring a higher income margin.
---

2. Build a Trusted Brand
Brands are what makes the difference between valuable content creators and random shows, hobbies, or even spam. But what exactly do you need to create your brand?
The first thing you should focus on is the visual identity on your websites, banners, or other promotional materials. It includes colors, fonts, logos. In short, everything that your audience sees.
Secondly, focus on audio identity. It includes the music you use for intros and outros, any other musical motives you use during the show, but also catchphrases or mottos.
Thirdly, the video identity includes the intro, outro, colors – the entire set in general. You might not think about video identity right now, but this is something you should consider to reach ever more people and promote your podcast.
According to your show, you may not use all three channels, in which case you'll focus on the brand identity of the ones you use. Ideally, however, you'll use at least two of those channels. Focusing only on your podcast will only get you so far. To build real engagement and grow your audience, you'll most likely need a website or an email list.
But there is also so much more that is required to be a trusted full-time podcasting brand:
Quality of content and regular publishing schedule
Presence of podcasting website to solidify your brand
Development of your mailing list
When constructing an image of your brand, think about the long term quality of your show and all the communication channels you will use.
---

3. Develop a Long-Term Plan for Your Show, Growth, and Marketing
Without a long-term plan, your show is still more a hobby than a business. Why? Because you have little chances of growing it into a business. Sure, it might always happen. One episode could go viral by pure chance, and from there, your entire show. But do you want to count on just luck? I didn't think so!
The first thing to do is to get a clear picture of what you want to achieve long-term. Some questions you should be answering include:
What will my recording schedule be?
How many episodes do I want to publish per month?
Will I regularly publish, regardless of holidays or seasons? If no, how many shows will I publish per year?
What products will I offer?
When will I launch these products?
Which marketing channels do I want to use? Do I have all I need for each of them (social media profiles, website, mailing list, etc.)?
Now let's talk a bit more about why all these things matter. 
Publishing episodes regularly is the first step towards growing your podcast. All podcast directories and Google love shows that publish regularly. And they also love shows that publish often. So creating a recording schedule and brainstorming sessions will help you achieve this. Ideally, you want to record in batches, say once or twice per month, to make sure you'll always have a lineup of episodes ready for release.
Without the right presence on several marketing channels, your chances of earning from your podcast are drastically reduced. So ensure you are present on the main marketing channels where your audience is likely to be. Don't neglect your website or your mailing list, as these are marketing channels that, unlike social media, don't depend on an algorithm. But also be focused; you don't need 20 social media profiles and publishing everywhere. Be strategic in your marketing efforts.
Plan your product launches. Make sure to create curiosity around your launch. Consider offering freebies or sneak peeks. In short, plan to maximize the potential of your offer.
---
4. Know the Market and Your Clients
You can't monetize a podcast or other products if you don't know who your clients are. So who are you talking to? Who is your podcast for? Where do they live, what do they do for a living? What are their hobbies? The demographics of your podcast audience is the first step towards a successful marketing plan.
But it's not just about marketing. You need to know who your audience is if you want to help them through your podcast. You already know you need to build engagement, but to engage with someone, you need to know who they are.
Be on top of the industry podcasting trends. Some things will remain unchanged and only reinforce your full-time podcasting business, but other factors may change, and you will need to adapt your efforts.
Once you are clear on this, you need to know your competition. How long have they been on the market? What are they offering? How are they doing it? And most importantly – what can you do better? What's an area where you can help that they aren't exploiting yet? Once you answer these questions, you find a niche where you can be the expert!
The final thing to research at this point is the monetization strategy. They vary from product to product, but they also depend on your audience. Are you going to rely only on the products you sell? Should you use ads? Should you accept sponsorships, or could that cause you to lose listeners? Analyzing your demographics will help you answer all these questions.
---

5. Maximize Productivity and Time Management Skills
One benefit of having your own business is that there's no one making your schedule. The downside of having your own business is that there's no one making your schedule. 
Yes, you read that right. One of the benefits of being your own boss can also be a disadvantage. So how to have all the benefits and none of the disadvantages? As a full-time podcaster, you need to learn to manage your time and maximize productivity.
If you know you're likely to get sidetracked doing other things, create a fixed daily schedule for yourself. Decide when you'll be working but also when you won't. In the hours where you work, remove all distractions. No more Netflix binging, endless social media scrolling, YouTube playing in the background, or anything that doesn't help you in your work.
Another thing to maximize productivity is to allocate time slots for each task. 
So don't just say you'll work between 8-11 without a break. That's a start, sure, but go further. Decide what you will do. Take each activity, analyze it, decide how much time you'll need to solve it. Then schedule it. Be realistic in your goals. It is better to allocate 10-15 minutes more to one task and finish it early, then run out of time and be forced to turn your entire schedule upside down.
Finally, make sure you include free time in your day and your week. When starting a full-time podcast business, or any business for that matter, it might be tempting to work non-stop. After all, you're turning your hobby into a career, you love what you do, so why stop? 
That's the perfect recipe for disaster! No matter how much you enjoy it, work is still work, and you will eventually grow tired. So create a balanced schedule, allow yourself to take breaks and make time for family and friends! If you are well-rested and happy, you'll be more productive at work, so it's a win-win situation.
---

6. Implement Engagement Strategies
Another essential aspect of podcasting business is engagement. 
Focusing on customer engagement improves user experience and delivers a lot of value for your full-time podcasting business:
86% of buyers will pay more for better customer experience (Forbes)
70% of buying experiences are based on how the customer feels they are being treated. (McKinsey)
80% of consumers claim they'd be more likely to give a brand their business if the brand used their customer data to provide them with personalized customer experience
As I've previously mentioned, an engaged audience is essential because it listens to more content and stays with you for longer. So don't be afraid to ask for reviews. Put your request either at the beginning or at the end of the episode. Promote your content, mention past or future episodes to convince new listeners to stay and listen more.
Don't start promoting a product right at the beginning, unless you already have a well-established business and a base of loyal customers. 
People listen to find out new information. After you deliver that they'll be more likely to buy more and even to accept higher prices. You need first to convince them what you offer is valuable, that your content is informative and perfect for them.
---

7. Have a Podcasting Website to be Your Business Hub
Ads and sponsorship are a great way to earn money with a podcast. 
But if you want to take monetization to the next level, a website is the way to go. Through it, you can grow your email list and interact more with your customers. You can also use it to present your own products. People like to see things they buy, especially when we're talking about a physical product. While your podcast will be a great marketing tool, a website can help you increase sales.
You can also use your website to run surveys that will help you understand what your audience wants to hear next on the podcast. After all, what better way to make sure you are creating the right content than to ask your listeners what they want to hear?
And let's not forget simple offers of just $5-$10. Workbooks, e-books, calendars, shirts – it all depends on the type of content you offer. The point is – a website is a perfect place to start selling such products. 
You might feel like they don't bring you much, and they aren't worth all the work. But once you grow your podcasting business, you start selling 1000 products of $10 each, that's quite the income, don't you think?
---

8. Consistency in Content Development
Publishing consistently helps search engines and podcast directories notice you, but it also enables you to create a base of loyal subscribers.
Take time to develop your recording and production process. Try to have the same publishing schedule from the beginning.
Review your competition and the audience's interests. By now, you should have done your demographic research, so you know who your listeners are and who the competition is. 
You should know the topics they are most interested in. Now it's time to review search trends. What do people want to learn? Go for those topics that are reasonably often searched. And don't be afraid of the topics others haven't covered, because while they might have a lower search volume, they will also allow you to stand out in the niche.
---
9. Decide Your Main Monetization Route
Earlier I told you of the importance of researching monetization methods that work for your audience. But let's talk a bit more about the main options you have.
There are many ways to monetize your podcast. Plan what will be your main route when you start. Obviously, adjust this as time goes by, and new opportunities emerge. Thinking about your monetization strategy will allow you to move easier to full-time podcasting.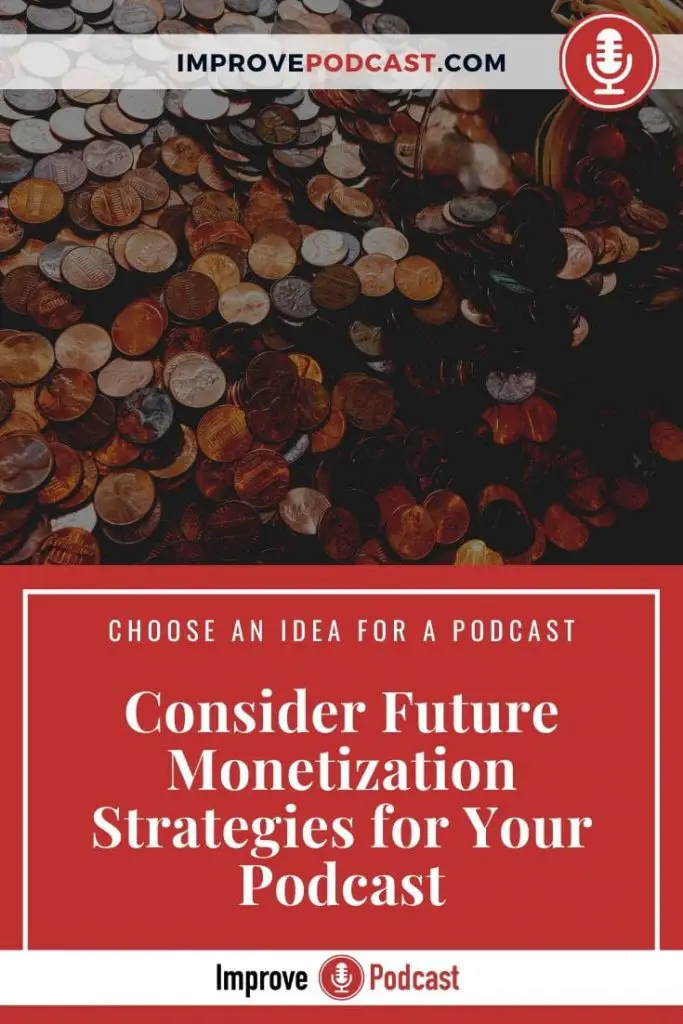 There are two main routes I consider when it comes to monetization strategy:
Advertising route: Ads, Sponsors, and Patreon – when generally you focus 100% on your content and try to monetize it by increasing popularity and producing bonus content
Product Sales route: Affiliate Marketing, Paid Products, Consultations – here, you use your podcast mainly as a marketing channel to build trust, credibility, and you bring yourself in front of your future clients. Your monetization comes primarily from additional products and services you sell through your website.
Ads and sponsors are great, but the income you make from them is not entirely in your hands. Sponsors are not easy to find, and most have some requirements regarding the number of listeners you have, how you should talk about them, how much you should mention them, etc. However, once you do find sponsors, you can work with, this can become an excellent source of income.
Patreon is a platform that allows creators to be paid in exchange for the content they create. You can create several tiers and offer different content for each tier. A common approach is to have a low tier of $1-$2 that is usually just sponsorship from your audience. It can be seen as a donation people make to you each month. The following tiers can include an episode that you release only for Patreon subscribers. You could also offer them live calls or other valuable things, like exclusive content or early access.
If you like to sell products, you could go on the affiliate marketing route. Similar to sponsorship, you will usually have to mention and talk about the products or send people to your website. Unlike the sponsorship which will usually pay per episode, in this case, you'll most likely be paid per sale made. 
A great advantage of affiliate marketing as a source of passive income for a full-time podcast is that those promoted products can bring you sales for many years to come. You mention them once, and as users keep listening to your old content, they get exposed continuously to your affiliate offering.
---

10. Invest in Quality Improvements
If your podcast is a hobby, you might get away with less than great equipment. However, if you want to go full-time podcasting and sound professionally, you need to invest to be on the level with professional production.
The good thing is, if you invest in the right equipment, you won't need to worry about it for years.
Don't allow yourself to be caught in a cycle of constantly doing small upgrades, like going from a $50 mic to an $80 one. It's a tedious cycle, where you're constantly worrying about what doesn't work, why the sound isn't perfect, and what you should buy next.
For example, a fantastic investment for a mic is the Shure SM7B, which has a wide frequency response with a perfect reproduction of speech. It also has an improved rejection of electromagnetic hum, essential if you record near your computer. 
As an audio interface, one you could consider is the Scarlett Focusrite 2i2 with converters that allow you to enable you to record and mix at up to 24-bit/ 192kHz. They are both an investment, but one you'll only need to make once and then forget about it for many years.
It is the list of equipment you should focus on in order of importance:
---

11. Stay Ahead of the Game
Finally, do your best to never run out of episodes to publish. In short, record in bulk. Ideally, have a month of content ready and scheduled for release. Once that is done, you can focus on marketing each episode, creating curiosity by releasing trailers or teasing the audience. You need to think about the next quarter, not the next week!
Before starting your podcast, you may feel it will be a headache to think about new episodes to publish constantly. And you are right. 
Beginning a week thinking that in a few days, you need to produce an episode to be published, puts a lot of pressure. 
Once you master your production game, you will feel very satisfied. You will never forget a feeling the first time you lineup your episodes for 4 weeks to come. You will really enjoy the freedom and satisfaction. Most importantly, you will:
Get in control – a great feeling when you don't need to worry about random events stopping you from completing a particular episode.
Time for strategy – you can start thinking about a strategy and future of your full-time podcasting business instead of panicking about an episode production.
---
Conclusion
Creating a full-time podcast business requires more than just publishing episodes. 
Plan ahead to avoid obstacles of everyday
Have a system as every professional company has
Engage with your audience to build trust and increase chances for monetization 
Create and publish useful content regularly to be in service of your audience
See your podcast as a job and act accordingly, creating a schedule for work but also one for time-off. Develop a marketing strategy that encompasses more than just the show itself and is willing to invest in quality equipment. 
All your hard work will eventually pay off, trust me!