If you're looking to start a podcast, there's a lot of books out there designed to help you do just that. Many of those have been written by experts and professional podcasters. They contain practical tips and knowledge that they've gathered over the years and are now ready to pass on to you. If you're ready to learn from the best and learn to avoid making some of the same mistakes they make, we've got you covered!
We believe a good book on podcasting should deliver on at least a few qualities:
expand your knowledge above what is obvious and intuitive
verify and confirm what works and what is only a myth, or doesn't work any longer
give great case study examples helping you to transfer knowledge into action
make you a better podcast creator
As the number of listeners keeps growing each year (check out our summary and review of podcast listeners) it is a great time
Here are 12 of the best books on podcasting!
---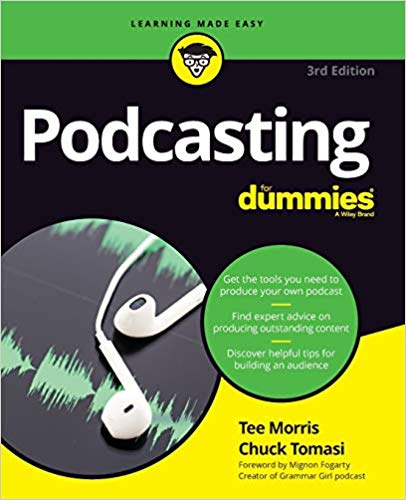 1. Podcasting for Dummies by Tee Morris and Chuck Tomasi
Podcasting for Dummies – check current price or listen for free on Audible
This one is a classic, as any book in the for dummies series, it is aimed at complete beginners and doesn't assume any prior knowledge of the podcasting world. At the same time, as well as being a classic, it's also a book that has been constantly updated over the years. This means that the advice it presents is fresher than ever, from finding sponsors to using social media to promote your podcast. We enjoyed the simple, no-nonsense writing style and the conciseness of the instructions given. 
---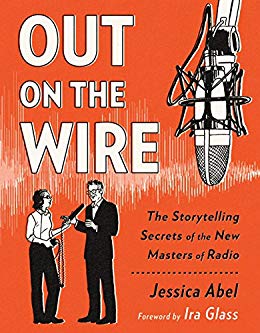 2. Out on the Wire: The Storytelling Secrets of the New Masters of Radio by Jessica Abel
Out on the Wire – check current price
It is truly crucial to understand why people listen to podcasts when creating your own. You want to create a podcast that people will listen to. That they will come back to again and again. That they will recommend to their friends and families. Radio shows used to have the same task a few years back, before the advent of podcasting. Well, this book teaches you how to use the secrets of radio experts to create fascinating podcasts your listeners can't get enough of. It contains practical advice on storytelling, exclusive tips, and ways to analyze your favorite podcasts so you can emulate them too!
---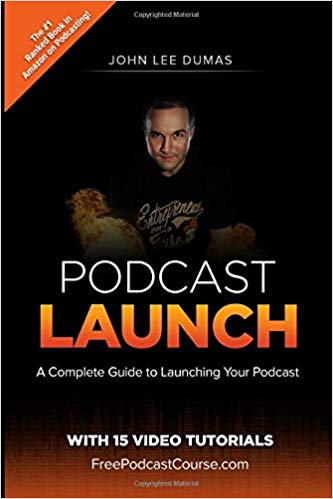 3. Podcast Launch – A Step by Step Podcasting Guide Including 15 Video Tutorials by John Lee Dumas
Podcasting Guide by John Lee Dumas – check current price or listen for free on Audible
This clever book is one of the best books on podcasting we've read so far. A large part of its appeal is the fact that it comes with 15 video tutorials recorded by the author, John Lee Dumas. This one belongs to the complete beginners' guide category. It expects no prior knowledge of podcasting whatsoever and provides information ready to be used from day 1. Where this book really shines is in its attention to technical details. Everything about setting up recording equipment and editing is explained in detail, leaving little doubt as to how to get started. The book mixes those more practical tips with insights by the author about how he created his successful podcast 'Entrepreneur On Fire'. The nice mix of how-tos and experienced-based reflections make for an easy read and a very informative one.
---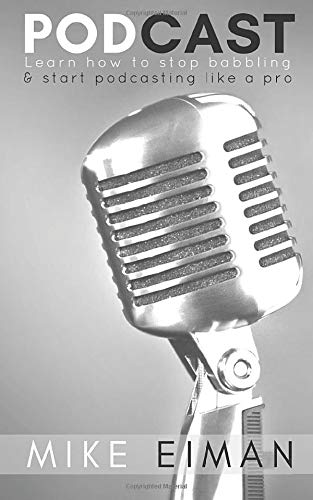 4. Podcast: Learn How To stop Babbling & Start Podcasting Like a Pro by Mike Eiman
Learn How To stop Babbling & Start Podcasting – check current price or listen for free on Audible
This book is all about making your podcast better. Although taking care of monetizing your podcast is a crucial step, you can only start doing that if your podcast is good in the first place. In this easy-to-read, practically-oriented book, Mike Eiman shares tips on making your podcast more interesting, and providing more value to your listener. It contains a list of simple how-to's that will take you from the brainstorm to the redacting part of your podcast. Get ready to start producing better, stronger, more marketable content with this easy guide that gently takes you through the steps.
---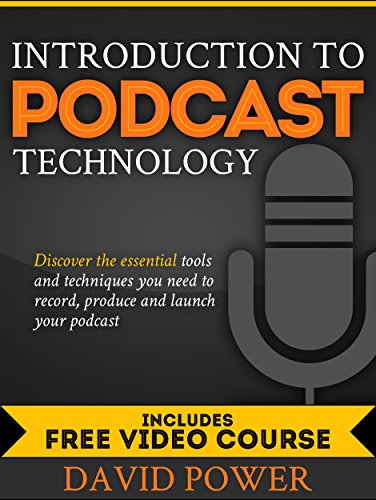 5. Introduction to Podcast Technology by David Power
Introduction to Podcast Technology – check current price or listen for free on Audible
This book is for the least technically able among us. It is for those who struggle to turn the mic on, or even edit a simple interview. The great thing about David Power's writing is that it does not presume that you have any kind of technical knowledge regarding recording podcasts. Instead, it explains thoroughly and patiently what every piece of equipment is, how to use it, and how you can use technology to make your podcast even better. An invaluable read for those with less technical expertise, it can also be a useful guide book to anyone who occasionally experiences difficulties with their recording material. 
---
6. Podcasting Good to Great: How to Grow Your Audience Through Collaboration by Jared Easley
Podcasting Good to Great – listen for free on Audible
This one is aimed at amateur podcasters who have already figured out the basics of starting a podcast. They know how to record, write and edit a podcast, but may not yet know how to make it truly special. In such a competitive world for podcasters, you can only make your way to the top by producing great content and effectively collaborating with others. This book is full of practical advice on networking, collaborating with other podcasters, meeting the big names in the field, and making it all work in your favor!
---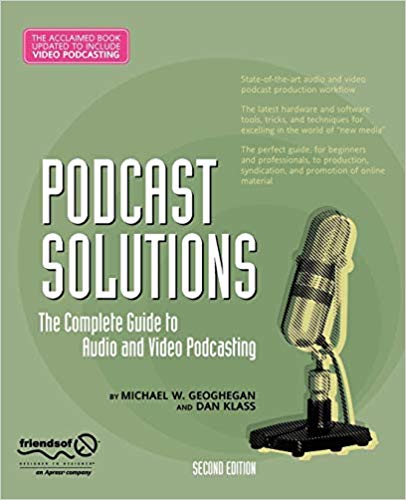 7. Podcast Solutions: The Complete Guide to Podcasting by Michael W. Geoghegan and Dan Klass
Podcast Solutions – check current price
Another complete guide to podcasting, this one distinguishes itself by the broad spectrum of topics it covers. In it, you'll not only learn how to start a podcast, but also a bit more about the history of podcasting and popular podcasts, and the best way to enjoy the wonders of the podcasting world. The tone is humorous and light, as though you were guided through the podcasting world by kindly mentors. A must for complete beginners who also have an interest in more general questions on podcasting.
---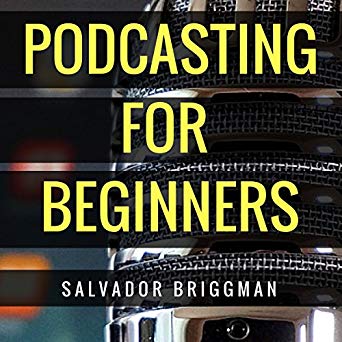 8. Podcasting for Beginners: Start, Grow and Monetize your Podcast by Salvador Briggman
Podcasting for Beginners by Salvador Briggman – check current price or listen for free on Audible
Suffice to say, this blog covers what its long title entails. The whole book takes you through everything you need to know about starting a podcast, focusing on concrete examples and clever financial strategies. The author has a popular blog on podcasting called podcastinghacks.com and uses the same, easy style in his new book, which extends on his blog posts.
---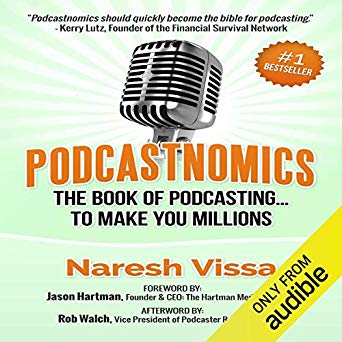 9. Podcastnomics by Naresh Vissa
Podcastnomics – check current price or listen for free on Audible
Podcastnomics is a much older book than many on this list of the best books on podcasting, but we've kept it on there because it is a classic. Years later, Naresh Vissa's insights on marketing your podcast are useful as ever. This book takes you through everything you need to know about generating money from your podcast from finding sponsors to incorporating advertisements throughout the show. The simple, yet powerful idea of its authors is that 'audiopreneurs' will soon have an important role to play in the market of global culture. With the advent of podcasting, more and more people find that running their own shows can be an easy and rewarding way of earning some money while entertaining or informing audiences about things they love. For Naresh Vissa, everyone could become an 'audiopreneur'. Read this book to find out how exactly you can turn your podcast into a source of revenue. 
---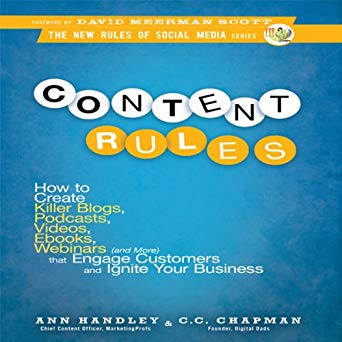 10. Content Rules: How to Create Killer Blogs, Podcasts, Videos, eBooks, Webinars (And More) That Engage Customers and Ignite Your Business by Ann Handley and C.C. Chapman
Content Rules by Ann Handley and C.C. Chapman – check current price or listen for free on Audible
Don't be afraid of its intimidating title, this book is actually wonderfully simple to understand. The aim of its authors was to offer advice on creating better content that applies not only to podcasting but to other platforms too. They note that good content rests on a few common pillars: attention to detail, style, well-researched information, and story-telling skills. The book exposes some simple strategies that anyone can implement to make their writing, oral storytelling, or videos better. While it is not simply for podcasters, people who may run a podcast alongside a blog or a YouTube Channel, for example, will find this book extremely valuable. Even for people who record only podcasts, this book is a goldmine. After all, content is key!
---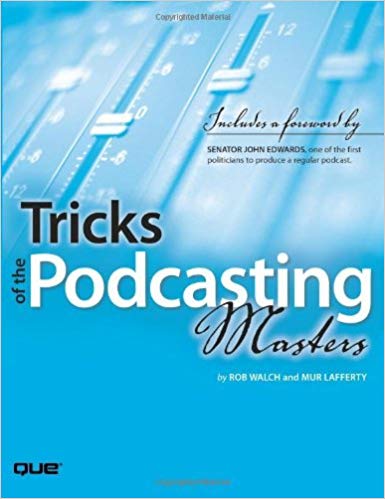 11. Tricks of the Podcasting Masters by Rob Walch and Mur Lafferty
Tricks of the Podcasting Masters – check current price
The authors of this book are big names in the podcasting world. Together, they have produced over a dozen podcasts over the years, and interviewed many of the big names of podcasting. In this book, they focus on giving tips based on real expert's experience. We are talking about the people who take podcasting seriously, sometimes make it their full-time job, and earn an income from it. The book offers information on interviewing people, keeping up your podcasting motivation, creating interaction with the listeners and much more. We recommend this one for beginners and more experienced podcasters alike.
---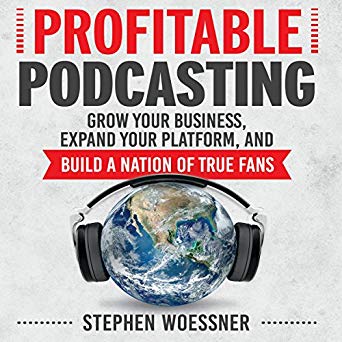 12. Profitable Podcasting by Stephen Woessner
Profitable Podcasting – check current price or listen for free on Audible
This book is all about making money from your podcast. Hobby podcasters, stay away, this one is for those who have decided to generate an income out of podcasting. The strong financial lean is rare in books about podcasting and can prove invaluable to those trying to grow their numbers. In this book, a podcast is treated like a business. It's something that you use to sell products and services, from which you will generate a profit. This book is not for everyone, but even for those who are simply trying to make their podcasts bring in a little bit of cash flow, it is a must-read.
If you want to immediately find out more about podcasting those articles might be great for you:
Read on content planning and building long term value for listeners – content guide
Find out more about the best gear for podcasting – gear guide
Learn about promoting podcast show, and increasing number of listeners – marketing guide
We hope that you have enjoyed this list of our best picks for books on podcasting. Now get reading and learn from the best how to start a podcast, or make yours even better!
Please help us to expand this post with other valuable positions. Let us know in the comments what book you also find valuable for other show creators so we can review it and potentially add to the list in the future.