As long as Apple will dominate podcast space, the Apple charts will continue to play an essential role in introducing people to popular podcasts. That is why you need to understand at least how the Apple Podcast algorithm works.
Apple Podcasts is the biggest podcasting platform in the world. It has over 800,000 shows. It is crucial to understand all the ranking factors Apple uses if you want your show to be brought in front of a broad audience.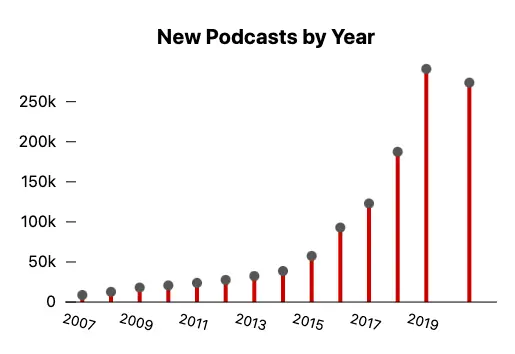 Every year, a higher amount of new podcasts get introduced, so the competition is getting bigger every year.
Having a good show is, of course, important, but understanding how rankings work so you can get to the top is equally essential. Learning this will help you get a better ranking and, in return, more listeners.
---
Apple platform is not the biggest audio platform with podcasts out there, so why does it matter?
Understanding the Apple Podcast algorithm matters because Apple still is responsible for the majority of podcasts downloads.
It's not a secret that podcast listeners are affluent and are a very valuable audience for marketers. Combining this that Apple product users are either more wealthy or more frivolous spenders (they definitely pay more for apps than Android users), you are faced with an audience that has disposable income and is willing to spend it.
Getting some traction with Apple Podcast charts should be a priority for any podcast creator that cares about monetization.
---
What Does Apple Say Officially?
Officially, the Apple Podcast ranking algorithm is a secret, and it is not disclosed publicly.
But since Apple is publishing their results every day, in the form of the rankings and recommendations, we can work on reverse-engineering them and determining which components rank, and which don't but are still important for other reasons.
---

What is the Single Most Important Podcast Ranking Factor?
After Libsyn analyzed hundreds of shows for many weeks, the answer is more straightforward than expected.
The most important ranking factor used by the Apple Podcast algorithm is the number of subscribers and their growth rate!
A key ranking factor is the total number of new subscribers in the past 7 days, with a weighted average for the last 24, 48, and 72 hours,
To get to the top of most categories, you need a couple of hundred new subscribers in one day,
To get to the overall top 100 charts, you would need over 200 new subscribers within 4 hours
Ratings and reviews do not play a direct role in the top 200 lists. However, they are an indication of a show having a real and engaged audience. 
The higher competition also means you need to get more subscribers to rank.
Also, be mindful that as there is much more competition in some of the podcast genres, getting many subscribers can be challenging. On the one hand, those genres are mature and popular, and people are listening on average to 7 shows, so getting listeners may be easy.
On the other hand, there are many more creators fighting for audience attention, so you will need to deliver higher value on your podcast.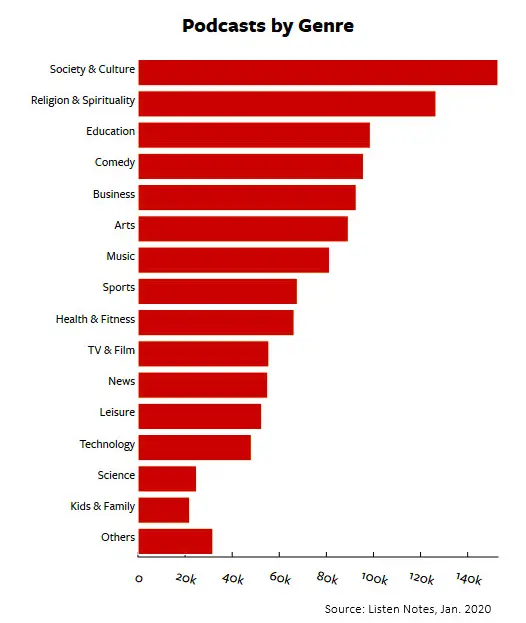 ---

How does the Apple Podcast (former iTunes) algorithm work?
According to Libsyn analysis, there is a formula to calculate the rankings. Again, this is not officially confirmed by Apple, but to give you an idea, Apple Podcast chart algorithm works like this: 
Multiply new subscribers from day 1 by 4.
Multiply new subscribers from day 2 by 3.
Multiply new subscribers from day 3 by 2.
Add new subscribers from days 4, 5, 6, and 7.
Add those figures together and divide the total by 13
However, don't get obsessed with this approximation.
There are more ways you can help your charts and increase the number of listeners.
---

How to Impact Ranking Factors and Show Popularity in the Long Run?
To successfully impact your rankings and thus get more visibility and listeners, you need to focus on a few metrics. Those metrics will help you as the discoverability of podcasts will change, and more factors will be taken into account.
As the Apple Podcast algorithm will morph in the future, and companies like Spotify will compete for supremacy in the podcasting space, those factors will become more and more vital for long-term success.
1. Subscribers are the key
As mentioned for now and the new future number of subscribers and the velocity of getting new ones will be most important for getting good rankings.
Subscribers are ultimately what we want anyway. More new subscribers, following our show at a faster rate, mean higher rankings and, in turn, means more visibility in the charts.
2. Downloads matter for ad revenue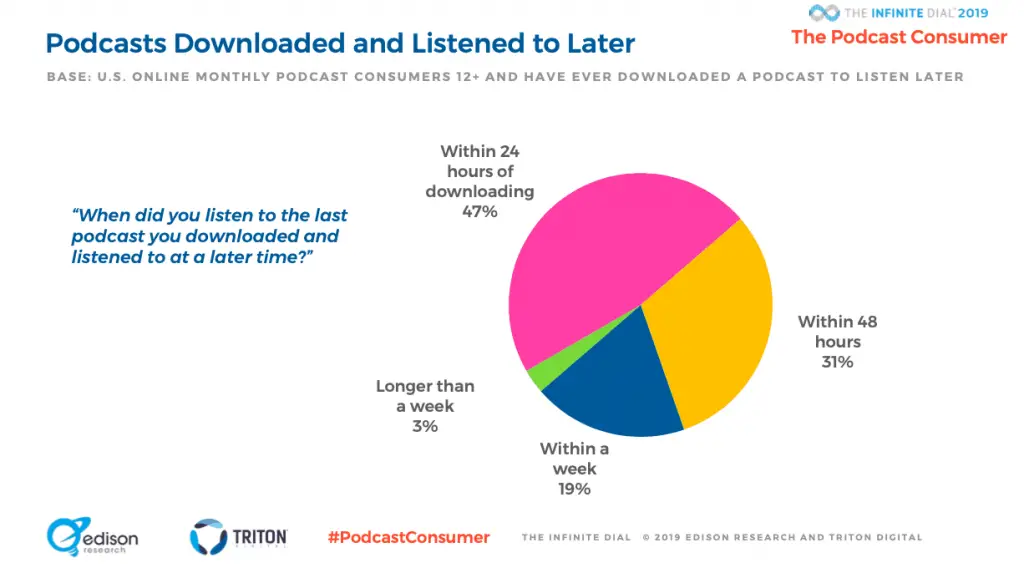 Downloads are the second most important metric in podcasting. While downloads are not currently part of the Apple Podcast algorithm, they are extremely crucial for advertisers.
The latest research by Edison tells us that 97% of all downloaded podcasts are listened too within a week. This is important for the following reasons:
Ad impressions are measured by downloads. This is important if you plan to monetize your show with advertising. 
On top, 80% of podcast listeners were able to name at least one brand advertised within a podcast episode. 
Also, 51% of podcast listeners said that hearing a podcast ad made them somewhat or much more likely to make a purchase from the advertised brand – this means that you can use your listeners to promote your show. Instead of offering them brand ads, simply use your podcast to promote itself.
3. Reviews make a show look naturally
Reviews are essential for you to because they make your show look natural. A review is actually a useful metric of high user engagement. 
Most people don't bother with leaving reviews, so if you have them, you have engaged effectively with your audience. 
Most popular shows with genuine audiences have a lot of reviews, and this, in turn, will impact your click-through rate once people will find your show and see it gets good reviews from other listeners. Also, as a show becomes older, it is natural that it should have more reviews.
4. Engaging Episode Titles for higher CTR
Titles don't impact ratings directly, but are very important and help you grow.
Good titles will help your show grow since:
You will be more discovered in Google and attract more listeners organically
Good episode titles just like good blog titles improve click-through rate and number of downloads
People are likely to recommend a specific episode if it has a unique value
Great podcasts have also episodes featured in episode charts, and great podcasts may even have more than one episode mentioned
5. A cover/logo to Boost Engagement
First of all, if you don't have a cover, people may not click and listen to your episode. Having a logo is a must to have a decent click-through rate.
Don't overlook this aspect of your podcast. There are many aspects to making a good podcast logo.
Consider using a professional graphic designer for a good podcast cover, and you won't regret it. A logo is essential as it is the first element of your show's visual identity.
Have a logo that will address some emotions. Make it memorable and intriguing, if possible. 
Apple Podcasts (former iTunes) can be picky when it comes to the episode and show artworks and not display the cover at all if it does not meet their standards. Make sure your artwork meets all the criteria of the right dimensions, format, and file size.
Apple artwork requirements include:
A 3000 x 3000 pixel 
JPEG or PNG artwork file 
72 dpi in the RGB color space
If you want to know how to make a cover meeting requirements of more than one key directories, check our article on making a good podcast logo.
6. Podcast Description and Show Notes for Technical Optimization
Quality show notes will improve the quality of your episode, add value for the users highlighting the most important passages, and contain relevant links. They will also encourage users to listen to an episode again, increasing the number of downloads, allowing an episode to get a top spot in the list of popular episodes, and will enable you to promote a show or products. 
7. ID3 Tags with Metadata
For your show to be fully valuable for podcast directories and for listeners, you need to fill in the ID3 tags and include the title of your episode, author, artwork, and others.
---
What Rankings Are Most Important for a Show?
Don't focus on being in the "What's Hot" or the "New and Noteworthy" sections. Even if you manage to get there, there is no guarantee this will bring you significant improvements in terms of downloads and new subscribers.
Most important is to be in the TOP 100 in your genre. Getting here improves rankings and can give your downloads and subscriber base a significant boost.
---
What Does It Take to Get Featured by Apple?
Being featured is not connected with how the Apple Podcast algorithm works. It can, however, help and improve your downloads. This section is hand-picked, and you have little control over it.
Fortunately, there are clear guidelines published by Apple, so we at least understand what is required. Apple has some expectations from the creators before adding them to the featured list. 
In summary, Apple is looking for high quality reflected in:
Good content – new episodes posted regularly with good audio, and content interesting for users
Technical optimization – show title, episodes titles, author listing, proper tags, show and episodes descriptions
Good cover – meeting all the necessary requirements and attractive for listeners
---
How to Spot if Show Has Natural Position in the Charts? 
As everywhere, some people try to tamper with the Apple Podcast algorithm, but you can actually quickly tell which shows have earned its position in charts and which might be using click farms.
Fortunately, popular podcasts have many things in common. Those indicators are easy to spot and very hard to buy and manipulate.
Popular episodes on the top episode charts – real shows will have their episodes featured on the episode charts. Actually, excellent shows may have more than 1 episode feature on those lists.
Popular on multiple charts – good shows recorded in global languages get a global audience. They get on the charts in numerous countries, while shows using click farms may be popular in just a few locations.
Many ratings and reviews – good shows naturally and organically gather new reviews and ratings as they get older. Their ratio of reviews and ratings to subscribers is also higher.
Popular in many directories – if a show is popular, it tends to be popular in many directories, while if show buys subscribers, they usually focus only on Apple. Verifying if a show has also followers in non-apple directories like Castbox or Podcast Addict will help to check real popularity.
---

What to do to be number 1 in the chart?
We actually have published a long and detailed marketing guide to grow podcast audience, so we highly recommend you visit this post.
But to highlight 3 factors that will get you the biggest audience in the long run, I recommend:
Consistent Focus Effort and Publishing Regularly – when you work and regularly publish, you will send a good signal to your listeners and to Apple Podcast algorithm that you are a professional podcaster worth noticing. Choose a good podcast idea to make sure you will be invested enough to produce a lot of content on the topic.
High-Quality Content and User Engagement – good content will eventually win over a big audience. User engagement will make sure each user will be invested in your show and will demand more content in the form of episodes, posts, and emails from you.
High-Quality Production Value – currently, users don't accept mediocre audio quality on their podcasts. To deliver the best quality, you need to use professional software and podcast recording gear. Make sure you edit your episode correctly and to save time and get the best results to use the best editing software. To improve the process even further, you can use templates or hire an editor to do it for you.
---
In conclusion
The critical factor determining to rank is the number of subscribers and velocity of growth
Over 100 subscribers daily will get you to top of any chart category
Other factors do not directly impact ranking, but they affect the number of new subscribers
Factors like the number of downloads are crucial for monetization as this is a measure used by advertisers
Reviews, title, cover art, descriptions are essential to improve user experience and click-through rate once people find your podcast
Logo, description, correct ID3 tags are essential factors that Apple takes into account when choosing shows for Featured section
Content quality, audio quality, and publishing regularly determine the overall long-term success of any show