Our Shure SM7B review clearly shows this microphone is the ideal device for podcast creators, radio presenters, or anybody working with voice-overs. If you are all set to launch your Podcast and you are on the look-out for the right equipment, your search for a microphone ends here. 
Shure SM7B (check current price) is also a fantastic upgrade to your existing setup. If you want to improve your audio quality, put your worries to rest. With the Shure SM7B mic, you will be able to enjoy a flat, wide-range frequency response. SM7B does a clean and natural reproduction of music and speech, and you will be really pleased with the results.
Mic with a history
Investing in a microphone is a daunting task, as it is difficult to judge how it will perform. However, when it comes to microphones, Shure SM7B is an industry leader.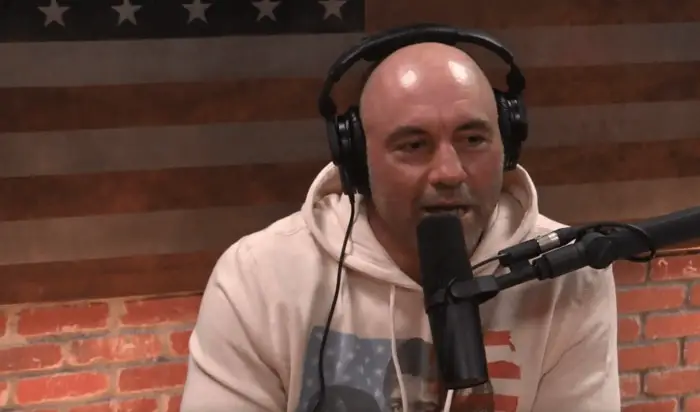 Joe Rogan uses Shure SM7B on his popular Joe Rogan Experience Podcast.
This is the microphone on which Michael Jackson recorded his iconic album Thriller. It is the ideal microphone for close-proximity studios and vocal applications. It is the best dynamic microphone that you can lay your hands on for your podcast show.
With its premium and high sound quality, it has earned the trust of recording and broadcasting studios worldwide. It has proven its worth decades ago and remains a gold standard of dynamic mics.

Shure SM7B unboxing!
This mic comes sold in packages containing:
1x dynamic mic
1x cover plate with Shure logo that you can use to cover the rear side of the mic where the frequency response switches are located
And the accessories:
1x thread adapter for mounting on a stand
1x foam-filter – standard windscreen for general voice and instrumental applications
1x foam windscreen – A7WS for close-talk applications, such as voice-overs or radio announcements. It will give you maximum protection from plosive breath noises. It should also create a warmer and more intimate sound.
---
Why is Shure SM7B the best mic for podcasting?
In summary, this is why Shure SM7B is so good and why we recommended it:
Top Quality – Shure SM7B is recognized as an industry leader, due to its dynamic range, balanced frequency response, and warm sound.
Phenomenal Capabilities – flexibility makes it an excellent mic for singing vocals, voice-overs, podcasts, and radio shows.
Performance – it is quiet, effectively shielded from electromagnetic disturbances, and has a built-in suspension system that effectively absorbs shocks, and virtually eliminates mechanical noise transmission.
Design – premium, high-quality design, and simple yet unmistaken shape, provide extraordinary durability and protection for the most fragile components.
Price to Quality – it's not cheap, but you get exceptional value at this price point. 
Investment for years – this mic will satisfy all your needs. It is the kind of product I love. When you buy it, you can be sure that you will be able to stick with it for years and years to come. There will be no need for a replacement or an upgrade. 
---
What is the best Shure SM7B audio interface?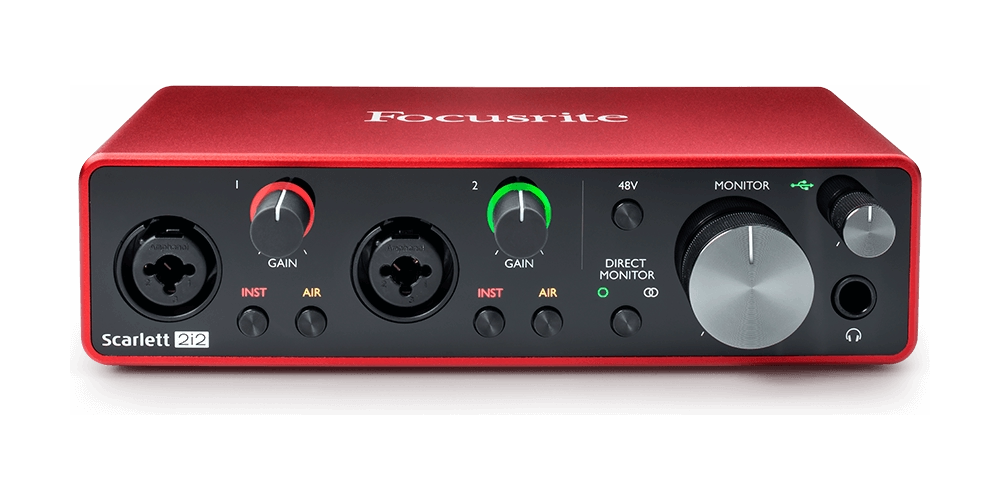 In our Shure SM7B review, we matched it with a Focusrite Scarlett 2i2. (check current price). It is an optimal combination for use in a home or remote recording environment. Together they operate exceptionally well, delivering sample rates of up to 24 bits/ 192 kHz. 
To learn more about audio interfaces, check our detailed audio interface guide.
---
What is the best Shure SM7B XLR cable?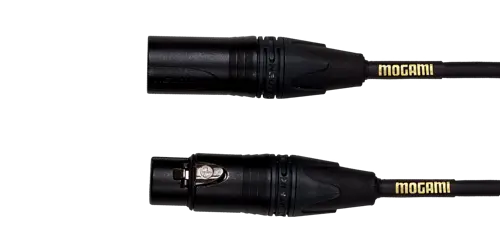 If you are looking for the ideal XLR cable for your SM7B, the Mogami Gold (check current price) is the right choice for you.
Mogami Gold is sometimes hard to get in certain parts of the world, hence the Reference Studio Cable is the second recommendation. Both use the same Neglex Quad cable in their designs.
It is popular equipment for achieving high-quality digital and analog recording. 
It is an excellent option for home studios where wiring and grounding is an issue. If you are a beginner to Podcasting and recording your Podcast series in your home, make this cable wire a part of your equipment set.
For deep dive into XLR cables, check this XLR for podcast guide.
---
Can Shure SM7B sound too quiet?
Our Shure SM7B review confirms that it is a low output mic. It means you will not achieve enough gain by plugging it directly into an audio interface.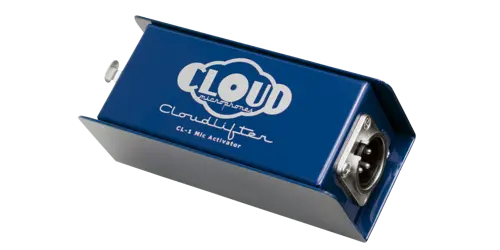 It feels exceptionally quiet as it is a passive dynamic microphone. Use it with a transparent sounding preamp or mic activator that works well with its smooth sound and thickening characteristics and lends it enough gain. 
You can use the SM7B with a Cloudlifter (check current price) or a Fethead (check current price) as an inline microphone preamp to get the best results.
---
Should I use Shure SM7B with a shock mount?
The Shure SM7B comes has an internal suspension and shock mounting system, which eliminates light vibrations. There is no need for you to use an external shock mount with your SM7B. 
What are the physical dimensions of the Shure SM7B?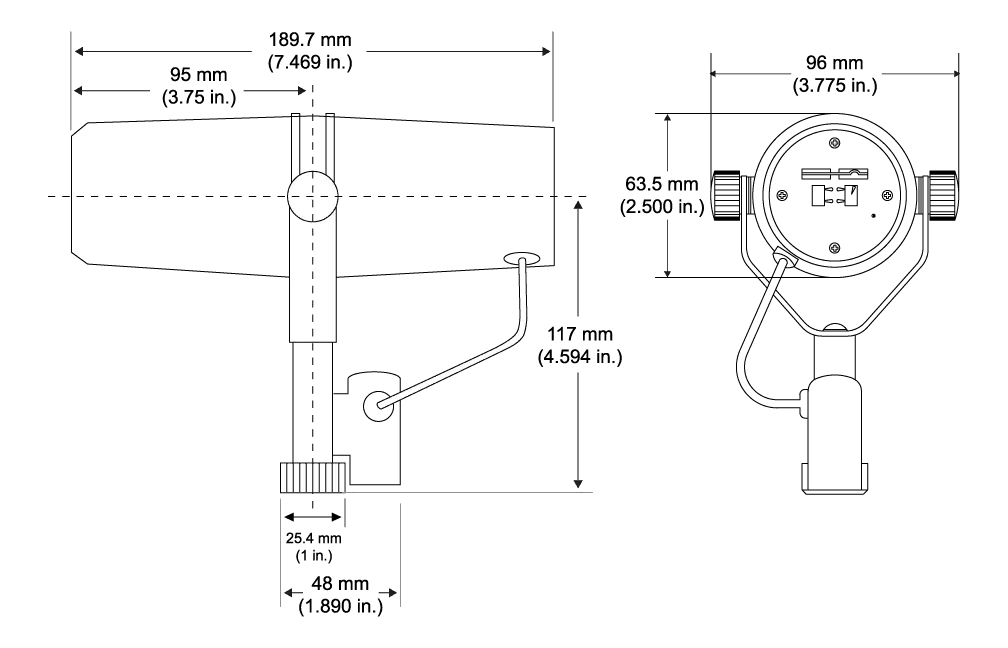 Shure SM7B is a compact device with the dimensions being 19 x 9.5 x 14.8 cm (or 7.5 x 3.8 x 5.8 inches).
What is the Shure SM7B weight?
The sleek Shure SM7B weight is only 764 grams (1.69 pounds). The mic is not too heavy, but it requires a stable and balances stand.
Shure SM7B review – detailed specs
| | |
| --- | --- |
| Type | Dynamic (moving coil) |
| Interface | 3-pin XLR male |
| Frequency Response | 50 to 20,000 Hz |
| Polar Pattern | Cardioid |
| Output Impedance | 150 Ω |
| Sensitivity | -59 dBV/Pa (1.12 mV)at 1 kHz, open-circuit voltage, where 1 Pa=94 dB SPL |
| Hum Pickup | 11 dB (typical, at 60 Hz, equivalent SPL/mOe) |
| SPL/Noise | Max SPL: 180 dB |
| Polarity | Positive pressure on diaphragm produces positive voltage on pin 2 with respect to pin 3 |
| Net Weight | 0.764 kg (1.69 lbs) |
| Housing | Dark gray enamel aluminum and steel case with a dark gray foam windscreen. |
All parameters in accordance with producer specification.
What is the Shure SM7B polar pattern?
It has a cardioid polar pattern that provides off-axis rejection. 
There is positive pressure on the diaphragm that produces positive voltage on pin 2 relative to pin 3 in the Shure SM7B. 
With the assistance of the bass roll-off and mid-range boost controls, the polar pattern changes accordingly, giving the device excellent frequency responsiveness, making sure your podcast sounds good.
What is the Shure SM7B frequency response?
Shure SM7B frequency response is wide and mic comfortably covers frequencies from 50 to 20,000 Hz. You will not find such a wide range of frequency response on microphones in the comparable price range.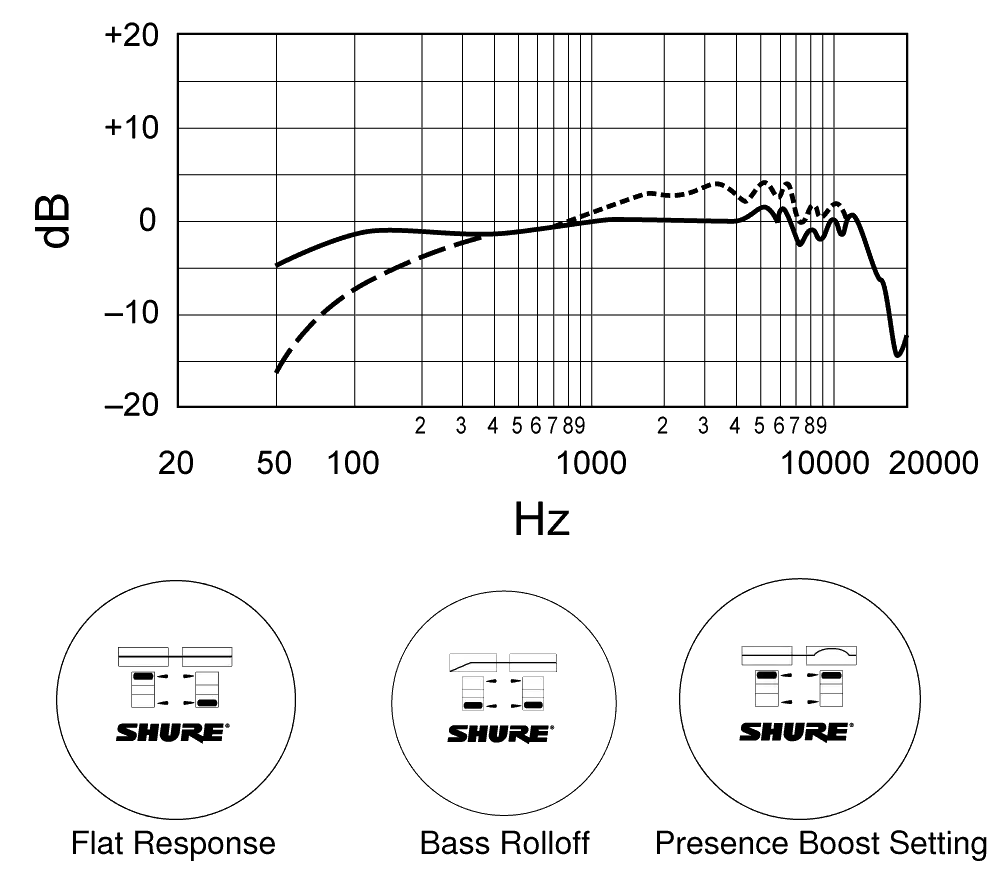 The low-end is effortless, and there is a predictable proximity effect, the combination of these two qualities makes the microphone stand out from its counterparts. 
---
Is Shure SM7B good for streaming?
The Shure SM7B is a broadcast standard. 
It comes with an improved rejection of electromagnetic hum, which is otherwise common in low-quality microphones due to broadband interference emitted by computer monitors. 
It is a desirable quality as you will be using broadband and computers in case you are live-streaming your Podcast or running a live Q&A session.
Its internal 'air suspension' shock isolation virtually eliminates mechanical noise transmission. It is a superior microphone that produces warm and smooth audio, making it an ideal choice of equipment for streaming. 
Does the Shure SM7B produce a hiss?
Absolutely not! The Shure SM7B comes with one of the finest pop filters, which is effective even if you come very close to the mic. 
The device also has an A7WS external windscreen, another premium component that facilitates close-talking into the microphone without there being any plops or hissing or lisping. 
Needless to say, the Shure SM7B is a complete package and produces a rich, clean sound.
Does Shure SM7B need a phantom power?
No, Shure SM7B doesn't need a phantom power supply to work. But it is not a problem if your audio interface or mixer has a phantom power source. SM7B will work fine with it as well.
What is a good Shure SM7B alternative?
The Shure SM7B is unarguably the best dynamic microphone in its price range. However, if the hefty price tag is too much for you, few alternatives come quite close to this power-packed device. If you want to get great recording equipment at a lower budget, you might consider:
1) The Audio-Technica AT2020 Plus (check current price) cardioid condenser keeps costs low by removing the frills like the ability to adjust polar patterns or high- and low-pass filters. But even without these features, the microphone is capable of capturing a clear, uncolored recording, which makes it a versatile tool for recording more than just vocal performances.
2) The AKG C214 (check current price) is a large-diaphragm FET condenser mic. The C214 notably features a -20 dB pad and high-pass filter, which cuts bass at six dB per octave past 160 Hz, allowing the mic to handle 156 dB SPL when engaged. This lends a great deal of versatility to the device.
---

Is Shure SM7B better than a high-quality USB mic?
Yes, the technology behind the dynamic mic is much better developed, and it just handles sound better. Our Shure SM7B review confirms that it will easily beat any premium USB mic.
Actually, the vast majority of microphones in the world are dynamic microphones. All the cell phones and headset use dynamic mics. They are also used by most of the stage performers due to their robustness and sound capabilities. 
When it comes to dynamic mic vs. USB mics technology comparison, the reality is that:
Overall – dynamic mics are much better than USB microphones.
Sound quality – USB mics are significantly falling behind their analog counterparts. They don't get the benefits offered by an analog XLR connection.
Price – good dynamic mics are generally priced higher than USB mics.
Plosive sounds – dynamic microphones are more forgiving when it comes to plosive sounds.
Ease of use – USB mics are more affordable and easier to operate (plug-n-play devices).
Simplicity – USB mics house inside a sound card (don't require an external audio interface) so they deliver consistent quality regardless of the computer sound card.
Complexity – dynamic mics transmit raw sound and require an audio interface to transfer the analog sound to a digital signal. Dedicated audio interfaces provide in general much better quality than technology integrated within USB mics. With Shure SM7B, you get a better quality, but you need a more complex setup.
More control – with USB mics, you won't be able to adjust gain, add FX, and tweak your sound. You are fully reliable in post-production in your music software. 
Connectivity – USB mics are connected directly to a computer through a standard USB port. Shure SM7B requires to be connected to an audio interface, and then the interface is connected via USB to a computer.
Professional approach  – pro studios always use dynamic mics. You can find Shure SM7B used by many famous podcasters.
Read more about the differences between dynamic, condenser, and USB mics.
What are some Shure SM7B tips for the best audio?
In our review, the Shure SM7B did a great job of recording clean audio even in less than desirable acoustic conditions. You can have a great recording session by taking care of a few points beforehand.
Set it before the recording, and do not disturb it in between.
The mic is not supposed to be handheld. Mount it to a boom or a swivel or a stand. For a home-based podcaster, a desk-mounted swivel boom arm mount like Rode PSA1 would be an excellent choice to consider. For more voice and breath control, use a standing tripod and experiment with how you sound depending on your head placement (more mic setup tips).
Use velcro wraps to secure the cords and a two-axis swivel.
Use a preamp or a microphone to get sufficient gain – as mentioned before, Scarlett Focusrite 2i2 has a good built-in preamp. If you combine this setup with a signal boosting Cloudlifter, you will be very satisfied with the result.
Work on your vocals. You can improve how you sound without any investment. Make sure you take care of your voice before and during a long recording day. The vocal technique can change how you sound.
---
Summary
Shure SM7B review clearly shows, that in its price point, Shure SM7B is currently the best option to go for. Durable design and excellent protection of the microphone insert ensure exceptional reliability. It requires a good preamp for the best performance.
For optimal podcasting setup, and purposes of this Shure SM7B review we used it hooked with a Mogami Reference Studio Cables to a Focusrite Scarlett 2i2 via a Cloudlifter CL-1. A complete setup also requires connecting closed-back monitor headphones to the audio interface. To monitor the recording are using closed-back headphones, Sony MDR-7506.
The quality provided with Shure SM7B corresponds to some of the condenser microphones that are 2x more expensive.
Shure SM7B Cardioid Dynamic Microphone costs around $399. It is a mid-range price microphone, but with the quality of recorded sound, this is a popular go-to model for many podcasters. 
It ensures warm and even audio reproduction. 
The SM7B is a balanced and warm microphone that works ideally even when it is close to the sound source, like when you record your podcast. Its improved shielding technology eliminates all the electromagnetic interference caused by the close proximity of computer monitors. It will work well in small spaces.
---
FAQ section:
Is Shure SM7B a USB microphone?
No, Shure SM7B is not a USB microphone. It is an XLR microphone. It first needs to be connected to an audio interface or a mixer using an XLR cable, and then your interface or mixer gets hooked into your computer using a USB cable.
Is Shure SM7B a condenser microphone?
No, Shure SM7B is not a condenser microphone. It is a dynamic microphone, but just like a condenser mic, it uses an XLR connection.
Does Shure SM7B need a Cloudlifter?
Shure SM7B needs a gain booster to sound the best. You don't need to use specifically Cloudlifter. We recommend Cloudlifter as it provides a clean 25dB boost, but there are other good alternatives like e.g. Fethead.
Does Shure SM7B need a pop-filter?
Yes, Shure SM7B needs a pop-filter to sound best. Fortunately, it comes equipped with a great filter right in the box, so manufacturer already gives you a great pop-filter.
Is Shure SM7B good for signing?
Absolutely yes. Shure SM7B was famously used to help to record Thriller by Michale Jackson which sold in over 65 million copies. It is an industry standard for singers across the world.
Is Shure SM7B good for gaming?
Shure SM7B is a great mic if you plan to stream your games. If you use it just to play and communicate with other players it is probably too much for your needs, and you will be better with a good headset with a mic.
Is Shure SM7B worth it?
At a price of c.a. $399 it is absolutely worth its price. Multiple industry reviews have confirmed that it sounds as good as some of the mics sold for more than $800.
Why is Shure SM7B so popular?
At the price point of only $399, it allows any recording person to achieve studio sound quality. It is also very forgiving when it comes to recording in imperfect conditions. Its iconic look is also easily recognizable in movie clips and blockbuster Hollywood productions.
What are your experiences using Shure SM7B?