Wondering how much does an audio interface cost doesn't need to be frustrating. After you have picked your mic, and the rest of your gear, and you understand your recording needs it is quite simple.
The cost of an audio interface depends on your needs. For beginner setup, you can find an interface below $200. An interface with advanced functions costs between $200 to $500. A premium interface, for complex and demanding audio projects, costs above $1000.
An audio interface can set you back by a few dollars or a thousand dollars, depending on the brand and the model. But if you are worried that you would not get the desired output by spending less, then relax. Cheap doesn't necessarily mean poor quality – you can buy a good audio interface without going bankrupt.
In this post, we will talk about the best audio interfaces in different price ranges that you can buy. Please note that all the devices in our list are powered by USB 2.0 (or higher).
Is an audio interface worth it?
An audio interface is worth its cost if you are buying it for an adequate purpose. You need it to convert accurately analog signals from the analog mic (or any instrument) into a digital signal that your computer and software can read. A small project will do well with an interface below $200.
If you need multiple sources of audio you need an interface, and the price mostly depends on the number of features you are looking for.
An alternative really only exists for small projects, with one source of audio that can be recorded using a USB microphone. In this setup, the audio analog to digital process is done by the microphone, by its integrated circuits, and sent directly to your computer.
| | Recording with an Audio Interface | Recording without an Audio Interface (USB mic setup only) |
| --- | --- | --- |
| Pros | Higher audio quality – in general, a good, mid-tier XLR microphone with an audio interface will sound better over a more expensive USB mic. | Lower audio quality – USB mics as a rule sound worse than e.g. dynamic microphones with an audio interface. |
| | Multitrack recording – audio interface allows you to record different speakers on different tracks. | Singletrack recording – USB microphones record everything to a single audio file. |
| | Professional editing – removing cross-talk, background noise, or coughs is easy when everyone has separate tracks. | Limited editing options – if everything is recorded into one track you can't edit everything freely. |
| | More options – you can connect many XLR microphones. | Limited options – USB ports have limited capabilities and computers do not handle multiple USB mics well. |
| Cons | More expensive setup – you need a mic, an interface, often a preamp, and 2 XLR cables | Less expensive – you just need a mic (usually comes with a USB cable). |
| | Takes more place – both on the desk and when you store your gear. | Very compact setup – you can just put your mic in a closet when you don't need it. |
Why is an audio interface so expensive?
An audio interface price depends on the number of offered features (functionality) and the quality of analog to digital audio signal conversion. An expensive interface can offer dozens of input and output channels, precise conversion, and state-of-the-art reliability.
Top tier devices, especially those with a price tag above $1000 are highly specialized devices, serving niche markets, and thus do not embrace the benefit of the economics of scale. The cost of research and development, engineering, and production have to be covered by a smaller number of devices sold.
If you want to know exactly what an audio interface for podcasting does, you can check this post, where I describe it in detail.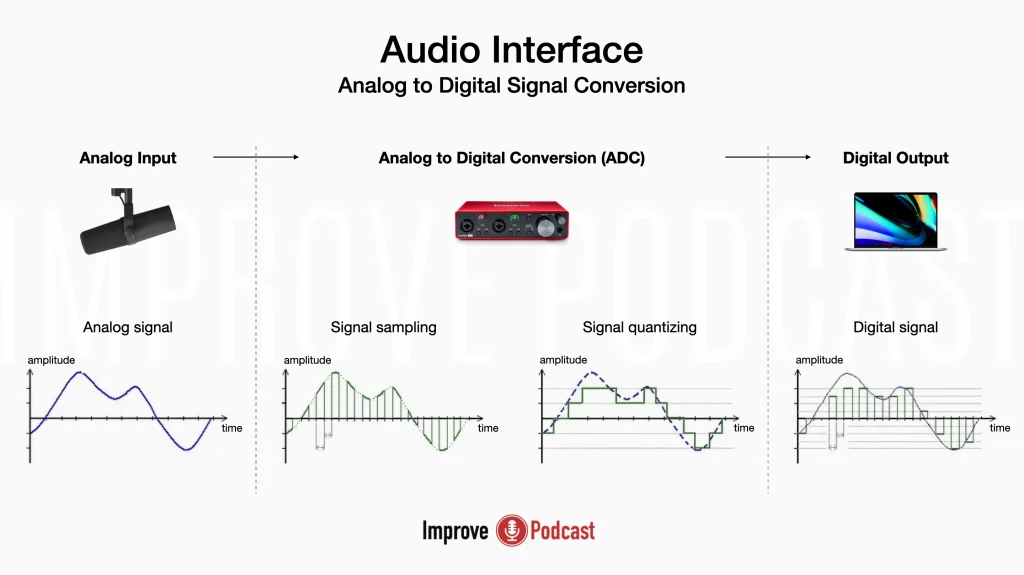 Does audio interface affect sound quality?
Using an audio interface affects sound quality when compared to a USB microphone. The interface has built-in preamps, and the XLR mic can use additional inline preamps. A chassis of the interface allows housing a high-quality analog to digital converts, providing a much higher output quality.
In audio signal conversion, the size of the equipment matters. Bigger devices allow housing more precise circuits resulting in higher audio quality.
What does a "better audio quality" even mean?
As a device translates an analog signal into digital, it has to perform thousands of measurements per second. E.g., the standard sample rate for CDs and podcasts is 44.1kHz, so the audio interface performs 44.100 measurements per second. The precision of those measurements impacts the audio quality.
The quality or accuracy of these conversions is largely, but not exclusively, down to the quality of the electronic components contained in the audio interface. In general, bigger devices have more room to store more precise measuring instruments.
How do I choose the right audio interface?
The first thing to check is that your future audio interface has all the inputs and outputs that you need. If you are a singer-songwriter who is on the road a lot, a single mic pre and a DI. on a Bus-powered interface may be all you need from an interface. An Audient iD4 or another small interface would be ideal.
---
Best Audio Interfaces Under $200
Focusrite Scarlett 2i2
There are many digital home recording products available today, but the kind of popularity that the Focusrite Scarlett series enjoys is unparalleled.  The Focusrite Scarlett has different models of audio interfaces in different price bands- here I want to talk about the third generation of Focusrite Scarlett 2i2.
The Scarlett 2i2 has a 48-volt phantom power switch, monitor level knob, and a direct monitor mode switch (off/mono/stereo). It also has a ¼-inch TRS headphone jack with a level control knob, ¼-inch TRS left and right line outputs, and a USB-C port.
The 3rd generation device has upgraded preamps, a USB-C port that reduces latency to undetectable levels, increased headroom, and a range of other features. There is a new Air mode to enhance high-end detail. So when you will record your podcast using this audio interface, you are bound to be impressed with the quality of the recorded audio.
Steinberg UR242
Several podcasters and voice-over artists rely on Steinberg to record high-quality audio without breaking the bank. Steinberg is the developer of the DAW software Cubase, which is why Cubase users strongly recommend the Steinberg UR242. But even if you don't use Cubase, the audio interface has a lot to offer to you.
The Steinberg UR 242 has a plug and play support for Cubase, but it is compatible with all DAW software. It is also compatible with the iPad. The audio interface has USB connectivity, phantom power, and MIDI In/ Out. The device has four analog-ins and two outs.
It is also equipped with Yamaha's Class A, D-Pre mic pre-amps, which bring amazing clarity to the audio signals. Additionally, the interface has an in-built REV-X reverb algorithm. So, you can pick amongst Hall, Room, or Plate simulations, depending on the results you want to create. Steinberg has spoilt you for choice! With a small price tag, you get to enjoy features that give tough competition to expensive equipment.
Native Instruments Komplete Audio 2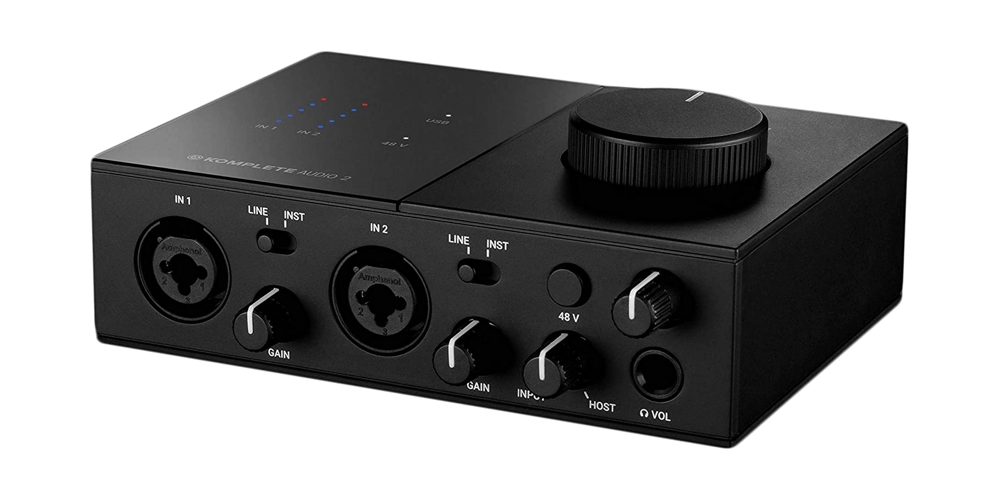 The Berlin-based Native Instruments have done a fantastic job in designing the Komplete Audio 2. It is an ideal audio interface for podcasters, musicians, and artists who perform on stage. It is great at recording human voice as well as musical instruments with high clarity.
There are two mic/line combo inputs, two 1/4" inputs with two preamps, and 2 SPDIF digital inputs for recording. Also, there are four TRS outputs, two headphone outputs, and two SPDIF outputs- these give you plenty of options for recording at home. You can use phantom power if you happen to use a condenser mic. The device has direct monitoring that gives zero latency and high-power output.
Using this audio interface is a sheer delight, and that's why it's loved by many podcasters and singers alike.
Behringer U-Phoria UMC204HD
This is the ultimate value for money sound equipment that you can buy. Yes, you can bring this amazing audio interface to your home studio for less than $100! Behringer is a trusted name in the world of audio, and the features of this audio interface do justice to its reputation.
The interface comes with four combo jack inputs that have Midas preamps, so you can record from four sources simultaneously. Each channel has a dedicated set of controls, consisting of Pad switches, Gain knobs, and Line/Instrument switches. This Behringer audio interface has a MIDI in/out, and multiple outputs including ¼" TRS, XLR, and RCA.
The Behringer U-Phoria UMC204HD is equipped with Tracktion software- a popular DAW software app with a vast library. The preamp is transparent and quiet, and the sound quality is wonderful, which is why the audio interface is a hit amongst podcasters.
M-Audio M-Track 2X2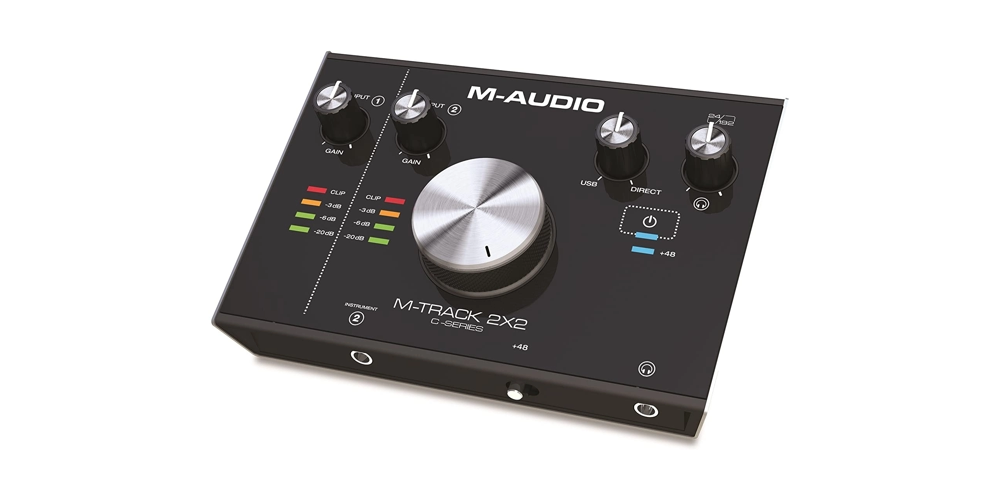 It still offers two ins, two line-outs, and one XLR/TRS combo input. It offers 48v phantom power, and it runs at a 24-bit/192kHz audio resolution.
The M-Track 2X2 has a sleek design, yet it is very durable. It has top-mounted dials that are top-mounted. You can monitor in real-time with zero latency with headphones too. It features all-new, professional-grade, crystal pre-amps that ensure there's low to no noise.
---
Best Audio Interfaces Under $500
Focusrite Scarlett 8i6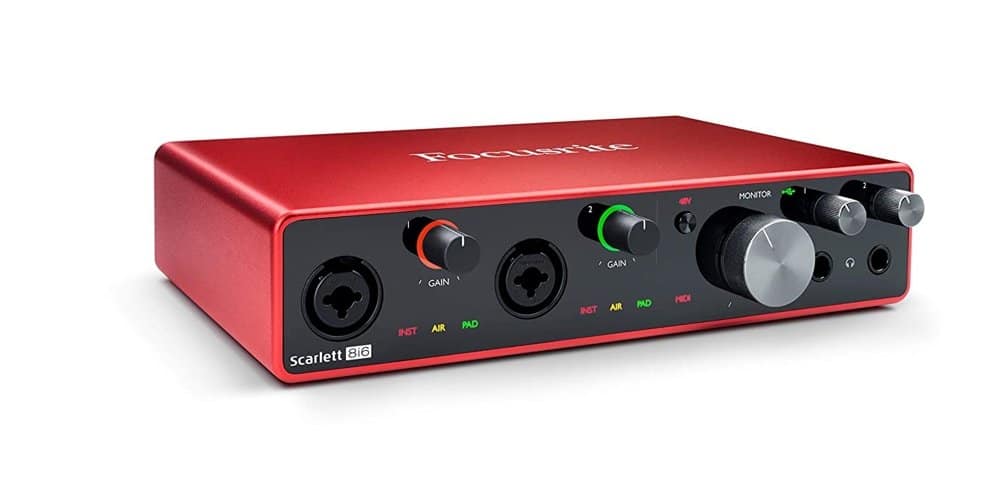 This is the mid-range audio interface of Focusrite Scarlett. All the Focusrite Scarlett devices are a huge hit amongst artists, and the company has kept its consumers happy by offering stellar products in different price ranges. The Focusrite Scarlett 8i6 is compatible with both Windows PC and Mac (and also iPad). You just have to connect the device to your system with a USM cord, and voila, you are ready to go!
The Focusrite 8i6 is light enough to be carried anywhere. You can connect different instruments to it and play wherever you want- studio, street, or stage! It has multiple ports for instruments, a microphone, a monitor, etc. And setting up the device doesn't take a lot of time. These features make Focusrite Scarlett a great choice for singers, multi-instrumentalists, DJs, etc.
Audient id14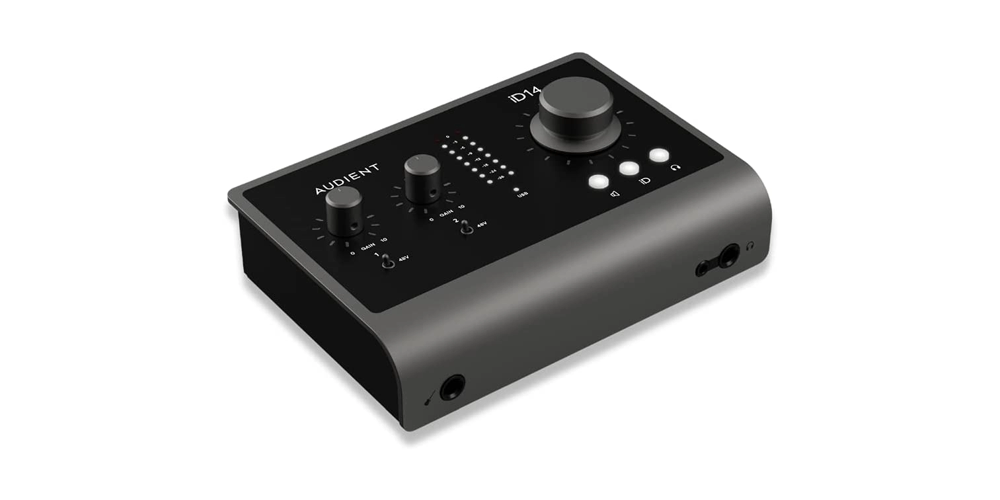 Audient id14 is a desktop interface with a sleek and minimalistic design. But don't let the small size of id14 fool you- this is a powerful audio interface that packs many features into a small frame. Its microphone and instrument inputs are amazing. It has a transparent monitor path and plenty of options for expandability.
One feature that particularly caught my eye is the large rotary encoder dial. The rotary encoder works like a typical monitor controller, but it has cool additional features. The interface comes with ID mixer software that can be used to program this button. You can use it to dim the monitors, sum the mix to mono, sum the mix to mono with polarity inverse, utilize the talkback function, etc.
The Audient id14 gives its user a very premium experience. The device has great preamps, which produce a clear sound.
You can set up headphone cue mixes for performers and add pad offsets to recording channels, invert phase, and balance pan controls.
Native Instruments Komplete Audio 6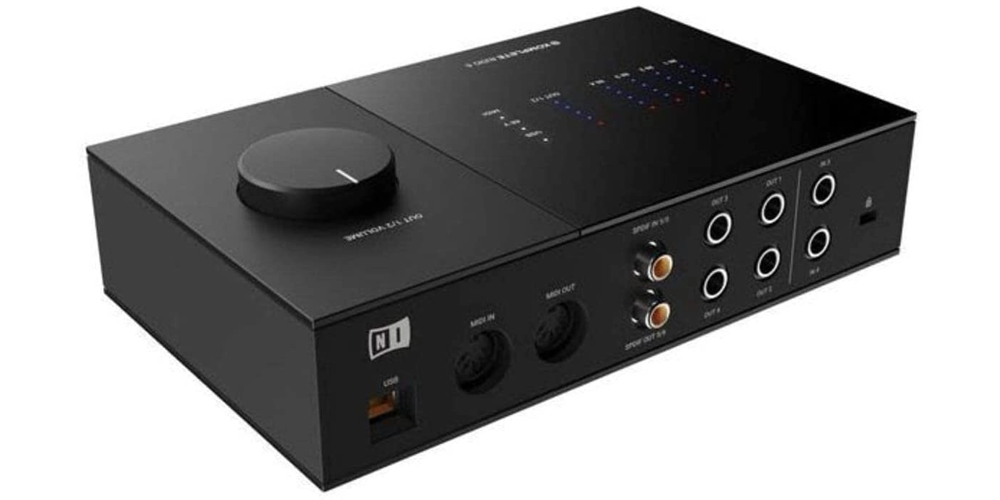 The Native Instruments uses high-quality components in its devices, which lends them amazing quality and high durability. It has rugged full-metal housing, and high-end pre-amps and cirrus logic converters- the external and internal components all are top-notch.
Komplete Audio 6 is a high-quality USB audio interface that offers you a good range of outputs for professional recordings. Its remarkable feature is six ins and outs that don't require external power- it includes 4 analog in/out, and 2 digital in/out. There are also 2 headphones out, and MIDI in/out, so this audio interface is capable of connecting your whole network.
And there are many other amazing features, like the loopback function for streaming performances live to the Internet. The device is equipped with Cubase LE 5 and Traktor LE 2, and also the completely Komplete Elements. This brilliant device is lightweight so you can take it along wherever you want to perform.
Mackie Big Knob Studio 3×2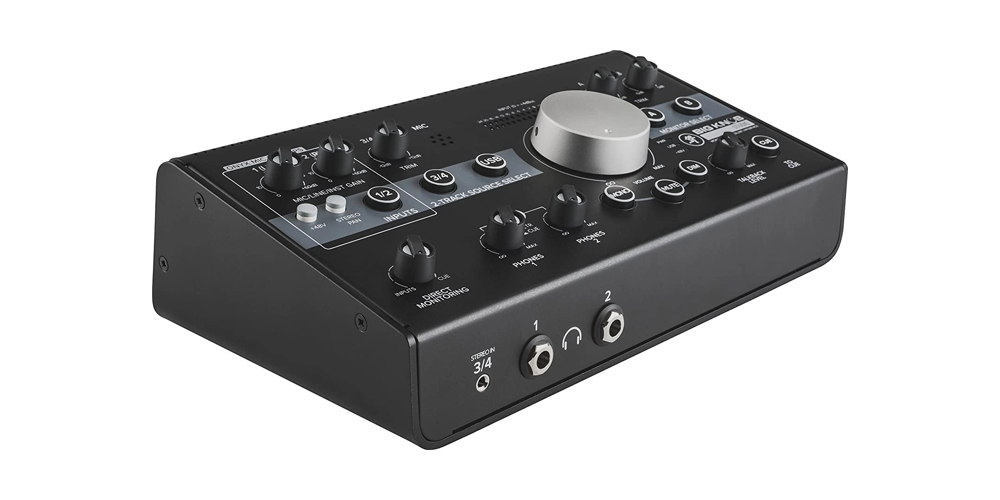 Mackie is the main product line of Seattle-based Loud Technologies. The USB audio interface and studio monitor controller come with dedicated buttons using which you can switch between two pairs of speakers and three input sources. Additionally, the speakers come with trim controls to regulate the volume of different monitor sets.
The Mackie Big Knob Studio 3×2 also has a talkback function you can use for communicating with artists. It has two headphone outputs for monitoring artists. The two Onyx mic preamps let you record high-fidelity with low-noise audio. There is a stereo aux input on the front panel- plug in a music player here if you need to listen to a reference track. All these features make this a great device for big projects that involve multiple artists.
Behringer U-Phoria UMC404HD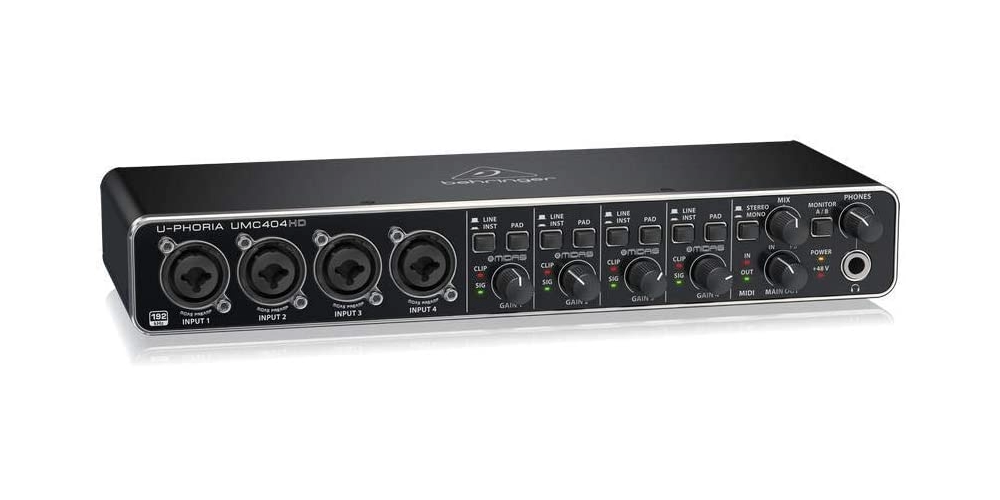 It is compatible with multiple recording software like- Ableton Live, Avid pro tools, Steinberg Cubase, etc. The audio interface has analog inserts for using external effects like compressors, etc. It is equipped with four MIDAS-designed Mic Preamplifiers which lets you record amazing audio.
The UMC404HD mix control has zero-latency direct monitoring, so artists can experience their performance without any delay or lag in the returning signal. This makes for a superior recording and performance experience.
---
Best Audio Interfaces Under $1000
Focusrite Scarlett 18i20 (3rd Gen) USB Audio Interface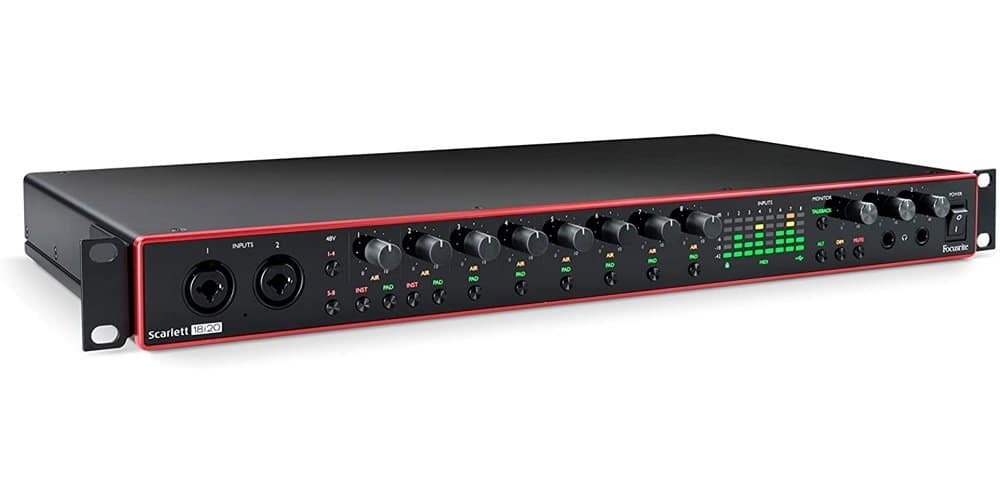 This is another dependable audio interface from the house of Focusrite. Focusrite Scarlett 18i12 now has a 3rd generation, and it is definitely an improvement over the previous gens.
This audio interface comes with 18 input units. There are 8 XLR/TRS combo inputs, along with a MIDI input and output. There is also S/PDIF input and output, and the ADAT inputs/outputs. You need to use the two ADAT inputs/outputs sets together for using running the unit at 96kHz.
The audio interface has appealing aesthetics, and you can mount it on a rack. It is equipped with a range of software that includes Pro Tools, Ableton Live Lite, Focusrite's Red plug-in Suite (and more!). I was impressed by the audio interface's extra-low latency and rich audio. As always, Focusrite has nailed it with this device.
Universal Audio Apollo Twin Duo MKII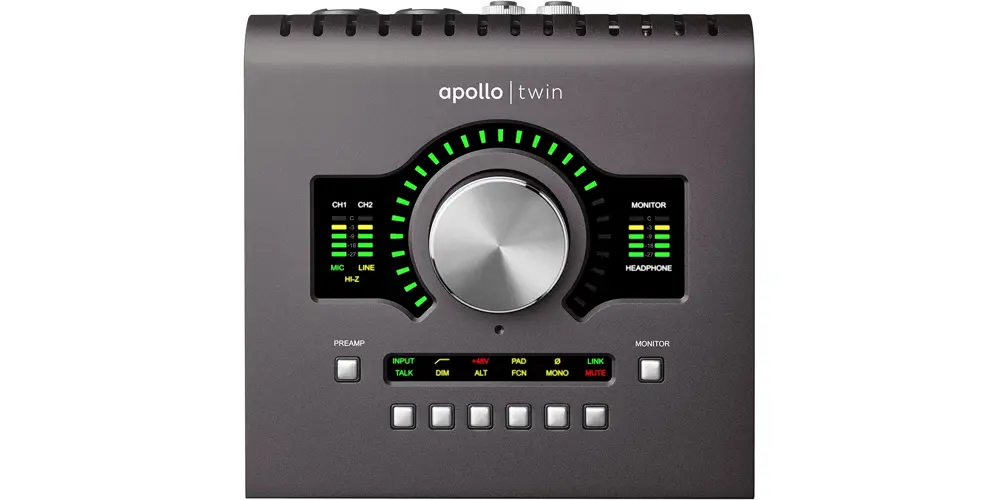 Universal Audio is a big name in the sound industry, and that's because of the revolution it has created with its premium audio interfaces. If you want to buy an audio interface with really high quality and you are ready to pay a hefty bill for it, you can go for the Apollo Twin Duo MKII. (Yet it is more affordable than the Apollo 8 and 16, its more famous cousins).
This audio interface stands out from the crowd with its distinct features- like it lets you add effects in real-time and saves your Mac or PC from getting exhausted. But the most striking feature of the Apollo Twin Duo is its internal circuitry and the connectivity type which is Thunderbolt. This gives the unit a sub-2ms round-trip latency- and that's really low!
Motu Ultralite AVB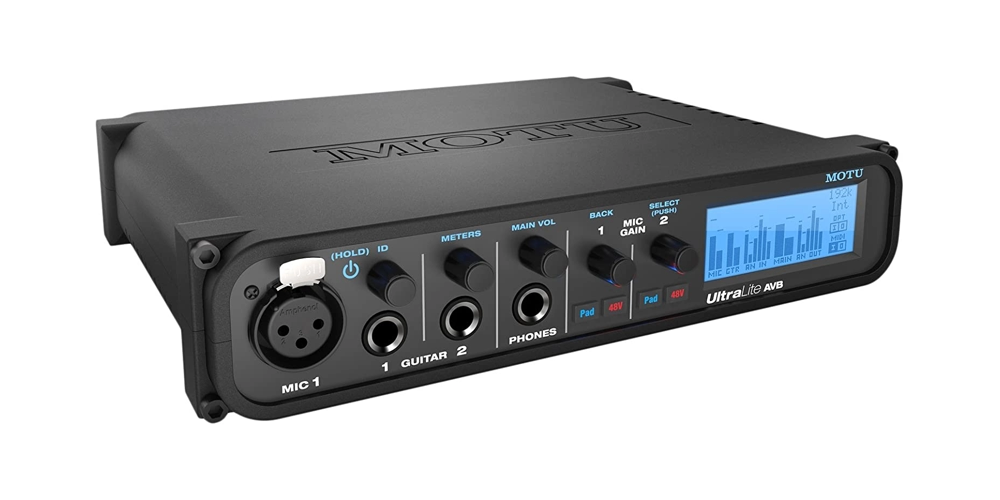 The Motu Ultralite AVB is a brilliant audio interface, not just because its makers are highly reputed, but also due to the rave reviews it has received from customers. And it deserves of all them. Very few devices combine a whole range of exciting features with a powerful performance.
AVB stands for Audio Video Bridging, and it is an extension to Ethernet that enables a single network for audio and video with the help of an AVB-compatible switch. This makes the Motu Ultralite suitable for audio distribution in large systems, like school auditoriums, sports venues, etc. You can also expand the audio interface system by buying Motu AVB switches and connecting five of the audio interfaces together.
There are 36 simultaneous audio channels. The Ultralite AVB digital mixer gives you 48 channels and 12 busses. You can control them with Mac, Windows, Linux, iOS, and Android devices, with the help of a web app. So this is truly an audio interface that's ready to perform anytime anywhere!
Apogee Duet USB Audio Interface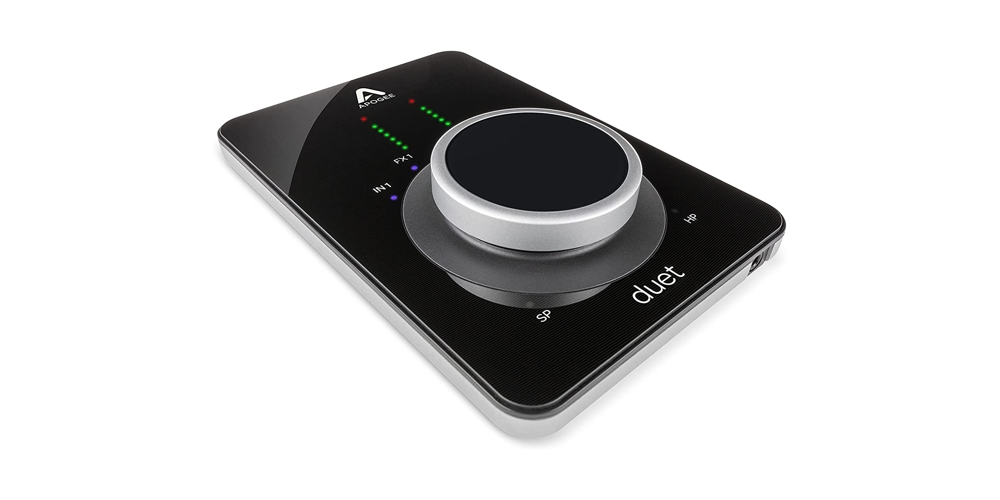 The audio devices from Apogee are specifically created for Apple users. Needless to say, it's a premium brand and its devices come at a premium price. The Apogee Duet keeps up the reputation of the company by delivering exceptional recordings. The device is amazing when it comes to recording vocals and acoustic guitar. In fact, many commercial hits have been recorded on Apogee Duet.
The Apogee Duet is more affordable than other Apogee devices, enabling users to own a premium device without spending a lot. It comes with great engineering and elegant aesthetics. The portable interface has high-quality pre-amps. It comes with two inputs and outputs.
Babyface Pro FS by RME Audio Interface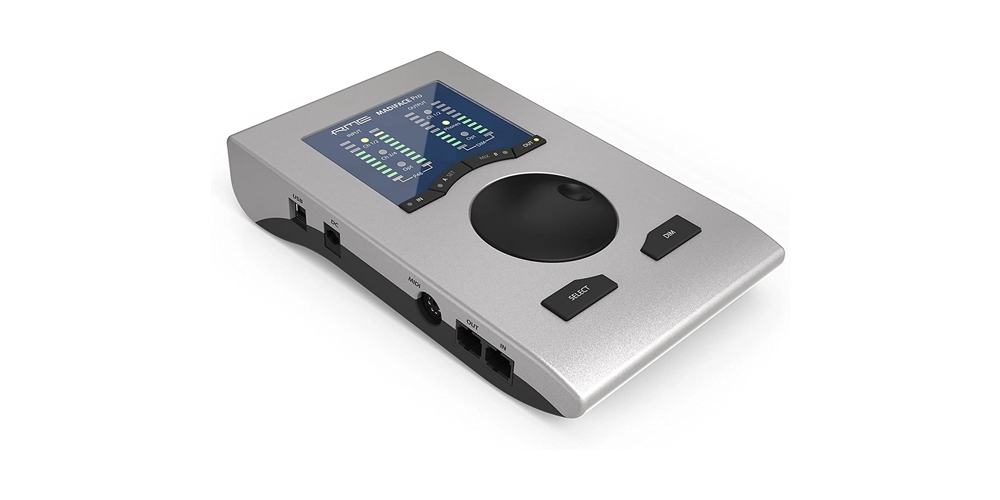 RME devices excel at conserving music. They pass audio signals without adding or subtracting anything to them. With Babyface Pro, the company has taken this game to another level. The sophisticated circuitry of the device can meet the highest gain levels without compromising the dynamic range.
The device is equipped with RME's TotalMix FX software. Babyface Pro gives you a range of choices with XLR input and outputs, MIDI, and ADAT input/outputs, and Line recording. It has two headphone outputs with parallel TRS and mini-jack sockets. Its separate driver stages can perfectly match high and low impedance headphones.
I really love this audio interface! This is a device that packs power and function in a small size- it's amazing how light and sleek it is. It's a great device for artists who travel a lot.
---
Things to Check Before Buying An Audio Interface
Brand of your Audio Interface
Many people like to buy electronics from tried and tested brands, and that's a good thing to do. These days, new brands are also coming up with great devices, so doing a bit of research might help you make a great purchase.
Warranty
Your audio interface should have at least a year of warranty.
Number of Inputs and Outputs
The number of inputs and outputs differ in audio interfaces. You have to pick one according to your use. For instance, a podcaster would need few inputs and outputs, a music band would need more.
DAW and Device compatibility
Before buying, please check that the audio interface is compatible with your existing devices and the DAW (audio editing software) you use.
Size
Select a suitable size depending on where you want to keep the audio interface. You can get one to keep on your desk, mount on a rack, or a portable one to travel with.
In Conclusion
You don't have to spend an exorbitant amount to buy an audio interface. Whether you have a small budget or you want to shell out a big amount, there are plenty of options to choose from. Just do your research well before selecting an audio interface to ensure that it fulfills all your requirements.