Working on multiple podcasting projects and observing how many people have launched their careers in podcasting, I have observed many interesting regularities that could help you launch your career.
There are two ways you can start a career in podcasting. 
1. You do it by launching your show and growing it into a revenue-generating business,
2. You can join a company that creates podcasts and become a producer, marketer, writer, researcher, or work in sales. 
Both ways can work great for anybody, but you should make sure the decision you take matches your expectation and personal preferences. This article will help you to make that decision.
What is the fastest way to start a career in podcasting?
The fastest way to start a career in podcasting is to launch your show. If you can dedicate at least 2-3 hours a day, you can have your show ready for launch within 6 weeks (+2 to 4 weeks if the show is based on interviews). It is important to set a launch date, or else you risk constant delays.
Within those 6 weeks needed to launch your own show, you should learn about:
Idea verification and brainstorming,
Defining your scope, setting goals, verifying assumptions,
Content planning and development,
Gear and software handling (recording, editing, publishing),
Basic marketing (promotion, outreach, press release, building audience).
Don't worry if you won't become a pro in the field in this time frame. The 6 weeks launch date is an optimal time to learn the skills required to launch. This process assumes a lot of learning by doing and improving your craft with time. You need to learn just enough new skills to get started and then improve as you go along.
This is a method recommended for people who want to start a career in podcasting but need to share their time between podcasting and college or work. 
This is what I recommend to almost anybody and teach in my courses. Below you can see a timeline I advise all starting podcasters to follow.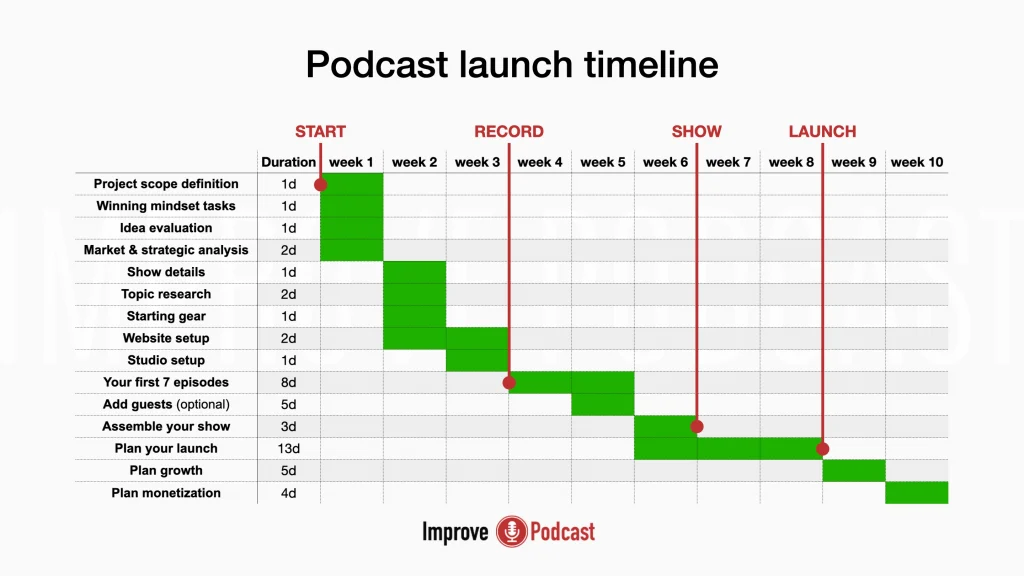 An important thing to remember here is: you don't have to start a show with the intention of publishing indefinitely. There are a lot of great podcasts that are just telling 1 story from end to finish, within 5-10 episodes. Most likely, this is not directly leading into a huge career in podcasting, but it is a good and safe place for many to start, as it is much easier to develop a compelling and short narrative.
Here are few more articles to help you launch a new show:
How to start working on podcasts without starting a show?
If you want to join the podcasting industry but don't want to host your show, you can find a job at a company that is involved in podcasting. You can quickly start working as a podcast producer, editor, writer, researcher, or find a job in marketing. Better paid positions ask for experience.
As podcasting is growing quickly, and many companies want to join the market as quickly as possible, a lot of offers right now require some experience. Especially if you are looking for a higher compensation tier. If you are already a seasoned professional, this can be a great way to switch industries, retain a high wage, and avoid experimenting with your show.
Alternatively, you can also find many entry positions, but those naturally will offer a lower salary but might be a perfect opportunity if you are just starting your career.
Where to look for a job in podcasting?
Here are some great places to search for a job in podcasting:
Can you make a career out of podcasting?
Podcasting is a good place to start a career, as the industry sits at the crossroads of technology, entertainment, and journalism. Having your own show or starting a job at a podcast-focused company, you will learn a lot about gear, software, editing, storytelling, marketing, and sales.
One of the best things about launching your career with podcasting is that you can do it in your free time when you are still in college or after your regular job. After you gain experience and recognize what you want to do, you can make decisions to pivot.
After having your first podcast live, there are a few options to consider:
Grow existing podcast into an authority and search for ways to monetize,
End the existing podcast if it doesn't meet your expectations and start a new one (richer with experience, your chance for success should be much greater),
Search for a job in the podcasting industry,
Offer podcasting services as a boutique marketing agency.
All choices can lead to a highly successful career in the podcasting industry. You just need to find out what drives you and keeps you motivated.
Do you need a degree to start a career in podcasting?
As a general rule, you don't need a degree to start a podcast. Anyone can start a podcast about a topic they feel passionate about. Demonstrate to your audience that you are a reliable host. This can be achieved through a combination of personality, content quality, and life experiences.
So you don't need any specific degree to be a podcast host. However, to run your own show, you will have to deal with hardware setup, software setup, editing, podcast hosting, online marketing, and eventually with website setup and management. From that perspective, at least an interest in online tools and a bit of passion for problem-solving will definitely be helpful.
On the other hand, if you go with the route of starting your career in podcasting by applying for a job in a podcasting company, some relevant degree or hands-on experience will be helpful. As mentioned previously, many companies are looking for experienced professionals for demanding roles. 
After analyzing over 50 open podcasting positions, the degree is required in writing, marketing, and management roles. Writers are often required to have journalism or history degrees. Marketers are required to have a marketing/advertising degree. To be a producer, the most important is experience.
| Position type | Required degree | Required experience |
| --- | --- | --- |
| Podcast Assistant Producer | no | not needed |
| Podcast Producer | no | 2-3 years |
| Podcast Lead Producer | sometimes | 5+ years |
| Podcast Writer | yes – journalism or history | 2-5 years |
| Podcast Marketing Associate | no / undergraduate | 1-3 years |
| Podcast Marketing Specialist | yes – marketing or advertising | 3+ years |
| Podcast Marketing Executive | yes – marketing or advertising | 5+ years |
| Management roles in Podcasting | yes | 8+ years |
Should I put my podcast on my resume?
As a general rule, you should put your podcast on your resume. It demonstrates to an employer the passion for pursuing new projects, a motivation to learn, and a hunger for success. An employer can recognize potential and assign tasks based on interests for the mutual benefit of a company and an employee.
Adding a podcast to your resume can be especially beneficial if you are just starting your career and haven't worked for anyone yet. What employers are really looking for on resumes are:
Ambition and self-starter approach – when starting a podcast, you had to have a vision and keep motivating yourself to finish a project, 
Problem solving – any big endeavor constantly faces new challenges, so making a podcast live shows that you can encounter problems and eventually find and implement solutions,
Relentlessness and ability to follow through – many people think and talk about doing something, and some even start, but only a small portion finish what they have started. A live podcast demonstrates that you can start what you have finished.
Are there any circumstances where you would prefer to remove a podcast from your CV?
You can consider removing your podcast from your CV if your podcast is tagged as explicit and you use many curse words. Some employers might consider this unprofessional if you would add this to your resume. Instead, you can put a commentary on your CV that you have a podcast and then clarify on the interview that you choose not to disclose the details due to mature content.
What qualifications do you need to be a podcaster?
Here is a short list of skills that will help you to become a good podcaster:
Understand your audience and what they are looking for,
Master storytelling skills, know how to take a listener on a journey,
Develop speaking skills, to convey emotions and build interest,
Solve a real problem your listeners have and serve a community,
Learn how to handle your gear effortlessly, 
Add music to your show to maximize the impact,
Learn basic project management to breakdown tasks for easy completion,
Become a time management expert,
Grow your marketing skills to promote your show,
 Plan for the future, so your show has room to grow.
A crucial thing to remember is that you will learn those skills over time. There are no shortcuts, and they all require time. But those are general areas you need to focus on.
What do producers do in podcasts?
A podcast producer oversees an entire podcast's production lifecycle. They are responsible for episode ideas validation. They oversee guest booking, narrative, recording, and editing. They also need to meet the deadlines for a podcast to be published and publish related marketing materials. 
Besides that, podcast producers also:
Work closely with show hosts,
Research,
Pitch ideas for new shows,
Plan series of podcasts,
Book interviews,
Oversee script writing and editing
Sometimes being present during the recording,
Are involved with episode editing,
Manage the production schedule.
A podcast producer doesn't have to be an audio engineer. In fact, producers come from different disciplines. If you want to become a podcast producer, experience with content creation is the most important. 
A podcast producer can work for:
a company focused on creating podcasts (e.g., Spotify, Stitcher, ProPublica), 
a radio station is also releasing podcasts (e.g., Pandora),
a marketing agency, developing podcasts for their clients,
any large company that publishes public or internal podcasts (for employees),
themselves, owning and managing their own podcast production studio.
Here is a list of skills some big companies also expect a podcast producer will have:
Experience with writing content,
Excellent written and spoken communication,
Topic research and presentation skills,
An ability to generate new and relevant content ideas,
An understanding of SEO principles and best practices,
Hands-on experience with a CMS e.g., WordPress,
Basic photo, audio, and video editing knowledge,
Good organization and time management,
Experience managing commercial social media channels,
Previous experience presenting to camera.
How do I become a good podcast producer?
To become a good podcast producer, you need hands-on experience working on several podcasts. With each project, a good podcast producer grows their skills in storytelling, audience understanding, and marketing. A good producer also has great organization, project management, and team management skills.
Here are related articles I've written that can help you to decide if career in podcasting is for you:
In Conclusion
The best way to start a career in podcasting is to start a show. Even a small one. Have a plan on what you want to do with your show.
It doesn't have to be a big plan. Many mini-shows are planned to last just a few episodes and tell a compelling story within this format. Then you can decide on what to do next.
Starting a show is a crash course in writing, researching, audio recording, editing, publishing, and marketing. When you gain that basic knowledge, it will be much easier for you to make a decision if you want to continue an independent podcasting career or if you want to join a bigger production company.
How are you planning to launch your podcasting career?