How will you use the upcoming global crisis? In this article, I will give you all the reasons why you should start a podcast during a crisis. All of the signals of economic downturn, although true, may delay you from starting a podcast. However, you should either stop worrying about them or even celebrate.
Spotify transformed music listening forever when it launched in Sweden in 2008. They used the opportunity, survived the difficult times,  and now they have 286 Million monthly active users and over 1 million podcast titles.
As a direct response to any economic turmoil, the biggest corporations always cut costs, look for saves, cancel events, projects, and growth. But should you take the same approach? Large corporations have often inflated budgets and expenses, so they always use signs of crisis to streamline their operations.
As I wrote less than a year ago, in this article, with unique podcasting ideas, the next recession is ahead of us. But online content business models and online marketing will feel this differently than traditional businesses.
Let's review the biggest things that will happen and how to prepare, and most importantly, let's review if you should start a podcast during a crisis!
---
Podcast Listening has dropped as expected
According to Podtrac, an analytical company that provides the podcast industry's only ranking of top publishers, podcasting listenership has dropped as a result of the crisis.
The listenership from 20 top podcast publishers (like iHeartRadio, NPR, NY Times, PRX, Wondery, etc.), dropped by 15.3% in the U.S. and by 6.8% globally, despite a slight increase in the number of shows.
| TOP 20 Podcast Publishers | Mar 2020 | Apr 2020 | Monthly change |
| --- | --- | --- | --- |
| US Unique Monthly Audience | 144,795,000 | 122,581,000 | -15.3% |
| Global Downloads | 1,132,114,000 | 1,055,398,000 | -6.8% |
| Active Shows | 1292 | 1315 | 1.8% |
But it was easily predictable and is a result of two factors. If you understand this, you will know why it is such a good idea to start a podcast during a crisis.
---
People don't commute, gyms are closed, less time spent in the car
According to Edison Research, people listen to podcasts from the perspective of their location in the following way.
| Where people listen to podcasts? | Monthly Podcast Consumers 12+ |
| --- | --- |
| At home | 48% |
| In a car or truck | 26% |
| At work | 12% |
| At a gym or while exercising | 4% |
| Other | 10% |
It is clear that a lot of podcast consumption is happening while doing other things when people are outside. During a crisis and a lockdown, consumption had to fall. There was no other way. 
In fact, the drop in consumption is extremely small compared to the consumption patterns, and we can expect it will quickly recover.
---
TV consumption always increases during the crisis
People are glued to their TV sets when they are at home and during a crisis. The business model of TV is to keep people watching as this increases the price of their ads. 
Unfortunately, bad news creates a huge demand for people to stay updated and informed bout every change in the situation. This is the psychological effect of wanting to feel more in control, even if the situation is totally out of our control. We want a sense of control to feel safe and secure.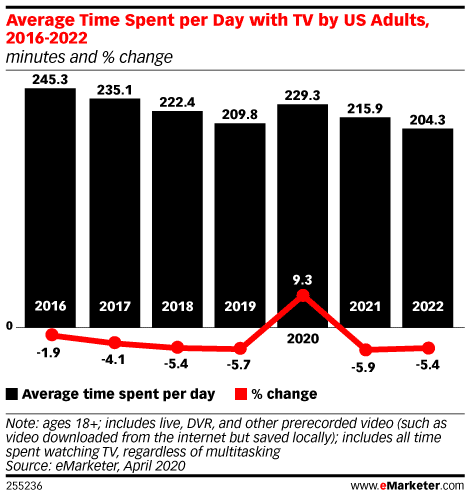 The estimated TV consumption in 2020 will increase by 9%.
For comparison, just look at how the total TV consumption increased in 2017 during Hurricane Harvey.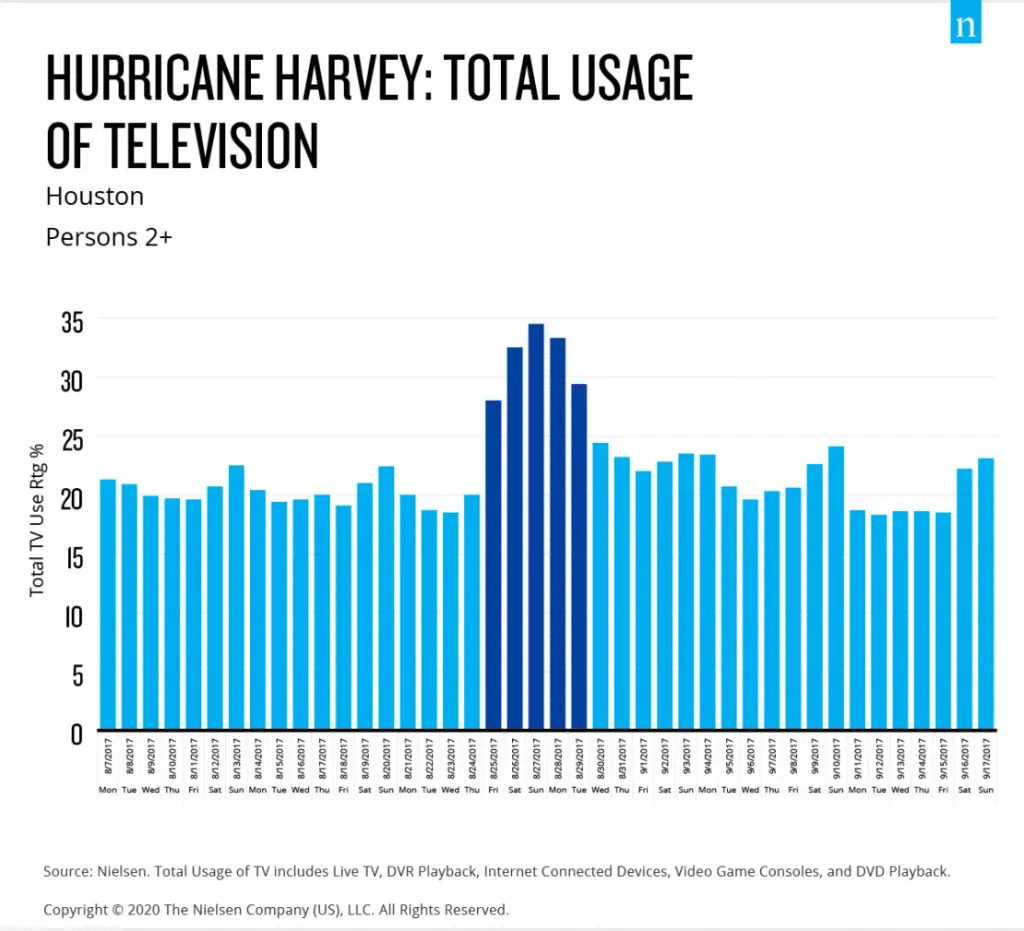 Staying in our homes can lead to almost a 60% increase in the total amount of content we consume. Depending on the reasons, in some cases, this consumption growth may be even higher.
---
Business Investments Drop and Create a Vacuum of Opportunities
Economic parameters may look horribly overall, but looking at them in a long perspective tells us that times will eventually improve.
When the U.S. is in recession, the world is also in a recession.
The overall level of Investments in the economy is the clearest sign of a recession. But what historical data tells us is that economies eventually recover.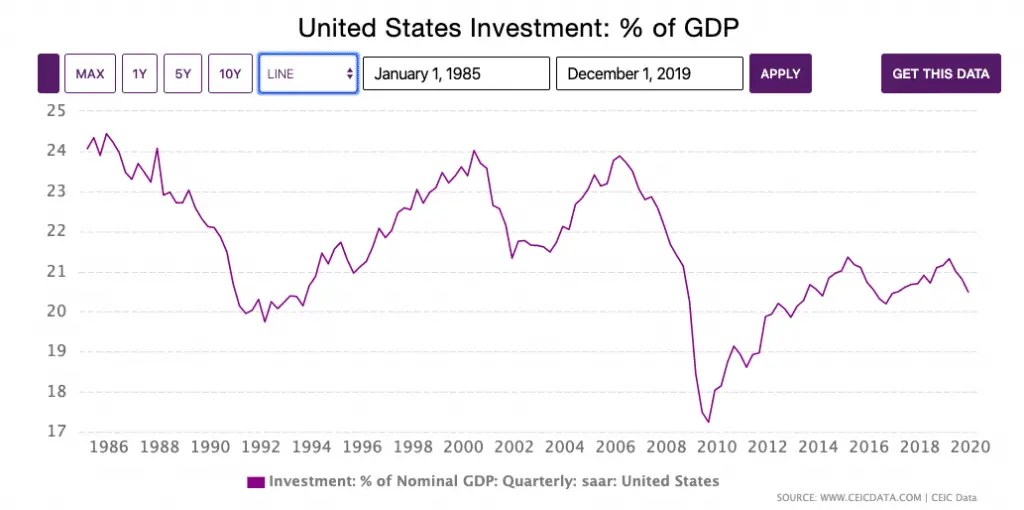 You need to assess your individual situation. If you can invest and start a podcast during a crisis, this may be a great opportunity. All those who delay such a decision will be playing catch up in two to three years.
As larger players may cut investments to cover their large cost pool, you can record a great show cheaply. If you do that, you will place yourself at a great competitive advantage.
Consumption recovers very quickly
People start to spend faster than companies start to invest. Historical data on household consumption tells us that people want to spend money, enjoy their lives, and overall improve their situation.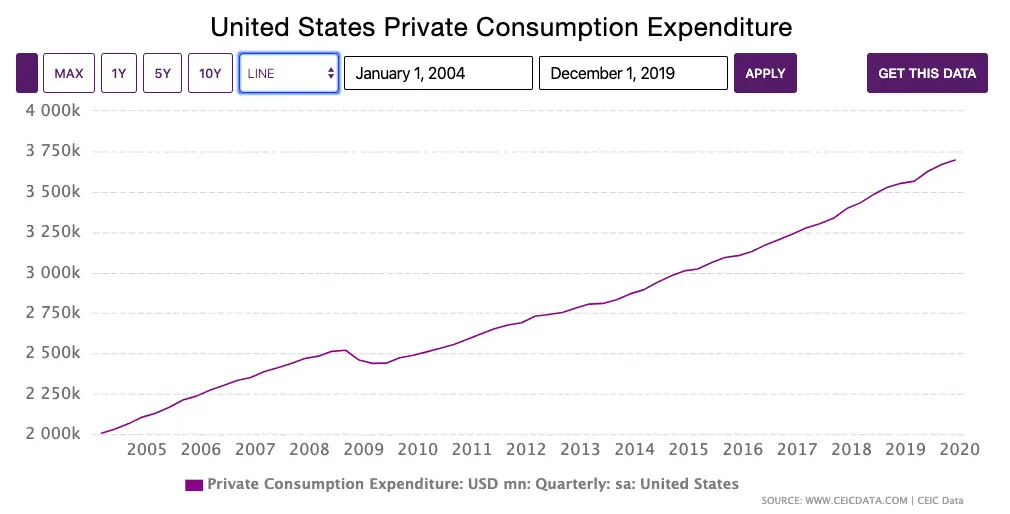 As soon as their situation improves, they will start spending and buying. You want to be in a situation where your podcast and your offer is available and waits for them. You don't want to wait for positive economic data to start flowing and just then make a decision to start a podcast during a crisis, or rather when the crisis is ending. Many creators will then jump back and start producing and delivering content.
Put yourself in a better position, and patiently wait for your clients when they will be ready to buy again.
The time to invest is now
The temporary slowdown this crisis caused will eventually pass. If you start a podcast during a crisis, this will be an investment that will bring high return results when people start spending money again.
There is an old rule in investing that you should "buy when there's blood in the streets". I recommend you to follow this rule and invest in your show.
You should use this time 100% to launch and start your own podcast. 
---
Online Services Grow Regularly During a Recession 
Facebook regularly grew since its launch
As mentioned at the beginning of this article, Spotify managed to grow spectacularly despite launching during the 2008 recession. Facebook, which launched a few years back, also managed to grow without stopping.
This shows that a good online product or platform can easily thrive in an overall unfavorable economic situation.
Number of monthly active Facebook users worldwide (in millions)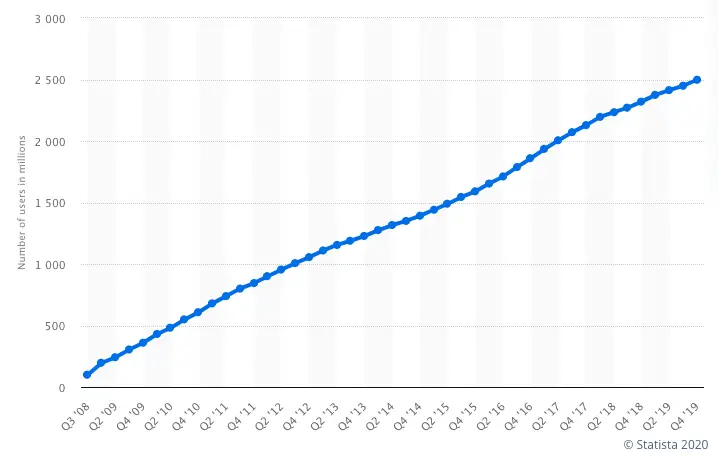 Google Ad Revenue never fell down
Tech business models are more resistant to economic turmoil. Online services are so present in the daily lives that we are highly dependent on them. Additionally, from the user perspective, Google provides free services (search engine, YouTube). And so does podcasting, where most of the content is free, and not behind paywalls. 
Google ad revenue never declined. It just had a small growth slowdown, which can be a good predictor of changes in the ad revenue in podcasting. However, fearful creators will delay their decision to start a podcast during a crisis. 
Advertising revenue of Google from 2001 to 2019 (in billion U.S. dollars)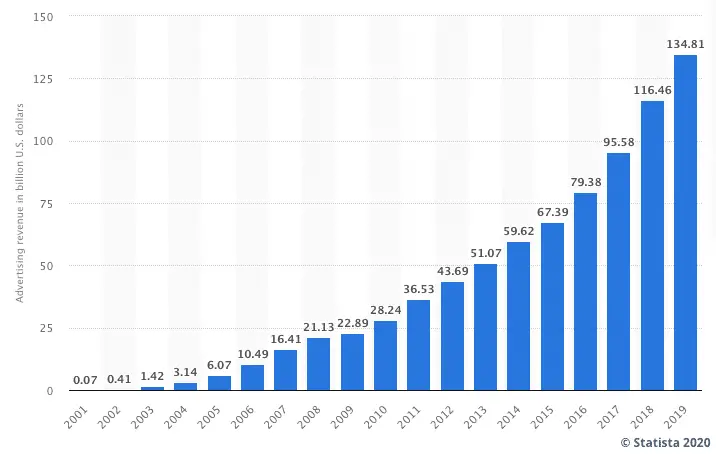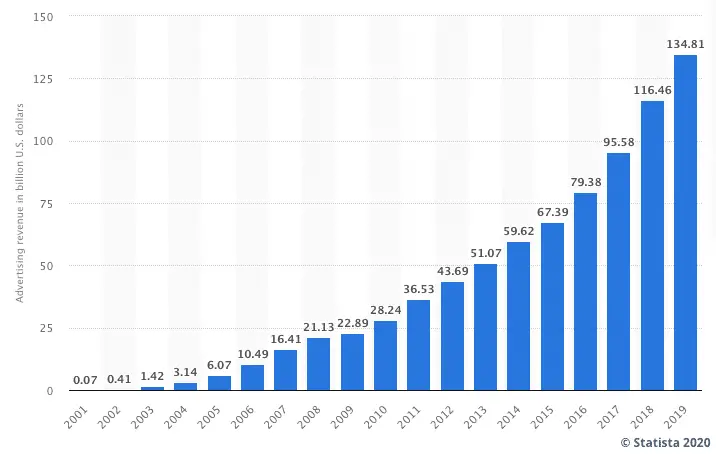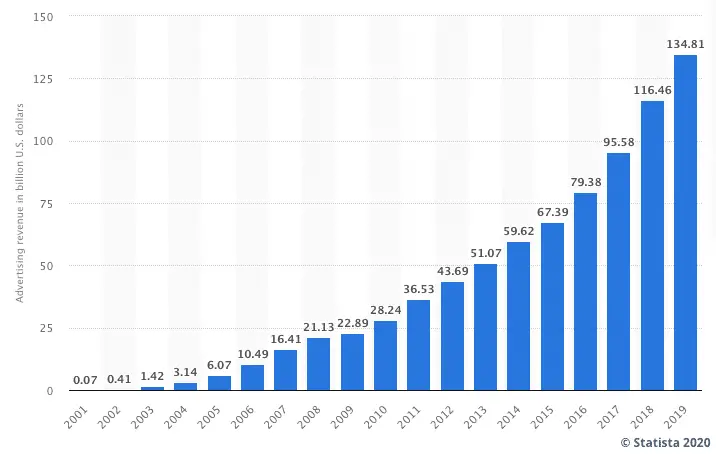 ---
Online Advertising Revenue Overall
You can observe that there was a slight slow down in the internet advertising revenue in 2009 but with an immediate recovery in 2010. The same scenario will happen after the current economic slowdown.
So if the decrease in advertising revenue was your worry, you can boldly go ahead with your project and start a podcast during a crisis.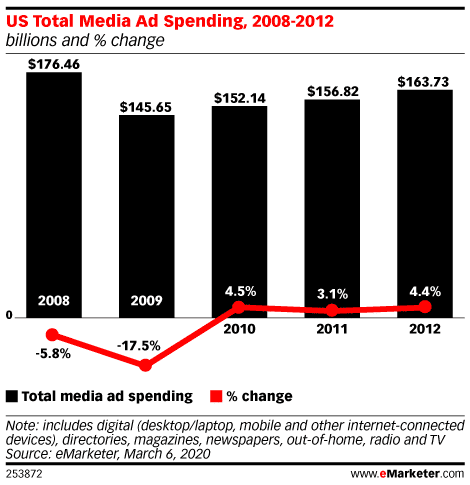 ---
Strategic Thinking – be a few steps ahead
Don't let your emotions drive your decisions. In fact, as I've just advised you should exploit fears and reservations of others. Start and invest in podcasting when others are fearful and overly careful.
Things are changing for now, but approaching this is an opportunity.
Some podcasters are worried because true crime podcasts listenership is down. However, this is not a full picture and full information. This is just noise. Think in the long term.
People are glued to their TVs. TV viewership and ratings are going up. And people are afraid. But this will pass.
People who fail to work hard at this time will need to catch up. If you will work towards building a show and you will wait for your listeners and even serve them in the time of crisis, they will come back to you.
---
Patreon Podcasting earnings unshaken
Lastly, let's check how Patreon's contributions to podcasters' payouts have changed in the last months. Surprisingly there is no drop in the payouts and in the number of supporting patrons.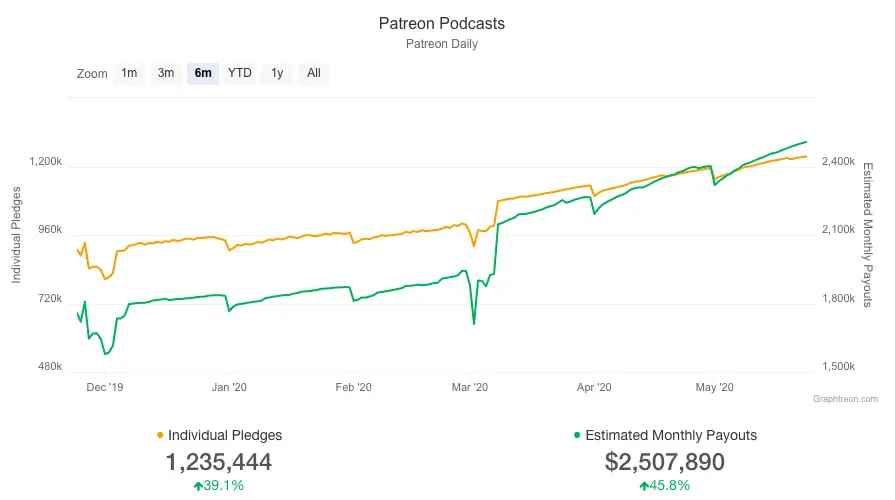 This would prove the hypothesis that Patreon contributors are highly engaged listeners, and we can classify them as Podcast Super Listeners. 
Just in the month of May, contributions to podcasters grew by 5%. And when compared with the end of February, those contributions grew by 30.9%
| Patreon revenue | Individual Pledges | Estimated Monthly Payouts |
| --- | --- | --- |
| End of May data | 1,235,444 | $2,507,890 |
| 1M change | +4.7% | +5.0% |
| 3M change | +25.4% | +30.9% |
| 6M change | +39.1% | +45.8% |
When the most loyal fans are so strongly supporting their favorite creators, this should be a clear sign that podcasting is overall in a good situation to survive the crisis. 
If you were hesitant at the beginning of this article, I hope now you are convinced that it is a good idea to start a podcast during a crisis and recession.
---
What to Invest in to Launch a Podcast?
1. Choose an Idea
Spend some time refining your idea. Here are a few guides you can find very useful:
2. Develop Storytelling Skills
Podcasts are great, as they are intimate and highly engaging. Those traits result in high trust that podcast hosts have. To develop engagement and storytelling, check those guide:
3. Master Script and Speaking Words per Minute skills
To have full control and high confidence when recording your first episodes, prepare a good outline or even a full script for your episode. If you are not sure how fast you should be talking, master your words per minute speaking rate. Here are guides that will help you with those topics:
4. A simple tip for running a podcast on a budget during a crisis
If you are really struggling with your budget, you can host your show in the early phase with Anchor. I don't recommend free hosting services as the end-state solution since the overall quality is rather poor. But you can host a show for free just to get going and then migrate to a quality provider. You can find a thorough review of podcast hosting services – here.
Just remembered to use your own RSS feed so the migration will be seamless, and directories like Apple Podcasts, Spotify, etc. will not lose any of your episodes.
5. Get good equipment and start recording now – learn skills as you go
Many skills you will develop just after you have started podcasting. You will find it easier and easier with each episode. But to avoid some struggles and problems, you should invest in a good sounding equipment that will allow you to record great audio (you will save a lot of time on editing). Start with this comprehensive gear guide, where you will find more links to info about mic, headphones, editing software, etc.
---
Conclusions
Podcasting has been on a rising wave for over a decade. A current crisis leaves many people wondering if it is a good idea to start a podcast during a crisis and recession.
I think it is great, if not the best time to start one, because:
Podcast listenership has only dropped as people are not commuting to work, don't go to the gym, and don't use their cars – this will quickly return to normal,
TV consumption is only rising due to fear, and people demand for control over their lives. Once the situation stabilizes the TV viewership will go down,
All past economic crises have passed, and the negative effects were quickly replaced with increased consumption,
Online services are more resilient to a crisis that traditional business models – just look at Spotify, Facebook, and Google,
Online advertising dropped in the last recession, but just 2 years after it was stronger than before.
This is a great time to invest and start a show.
What are your main concerns when you work on your podcast?