I've spoken with radio producers and podcast production companies regarding concepts for ImprovePodcast School show. Let me break down for you exactly what you can expect and how much you should pay.
A podcast production company can manage the launch of a new podcast, book guests, record, edit and publish new episodes regularly. Most of those content/marketing agencies also offer an array of marketing services like consulting and producing transcripts, blogs, social media posts, and videos.
Modern podcast production companies are usually run by former radio producers, other podcasters, people passionate about the medium. They are often run simply as B2B marketing agencies dedicated to companies needing their own podcasts.
As the podcasting ecosystem is fragmented and requires many skills and experience to plan, launch, and then run a successful show, many new creators can benefit from hiring a production company. Their offer can be expensive at times, so let's see if it is worth it.
What services do podcast production companies offer?
Small production companies work solely on the preparation of episodes, where they put together each episode and deliver it to listeners. Mid-size companies offer content marketing services, while full-service agencies are appropriate for businesses as they try to generate new sales from podcasts.
There are many tiers of companies offering production services. They all can be grouped into 3 broad categories.
Here is an overview of what you can expect to find in typical offers from each type of company.
| | Small producer  | Mid-size production company | Full-size podcast agency |
| --- | --- | --- | --- |
| Recording, editing, publishing, transcripts | yes | yes | yes |
| Guest booking and management | sometimes | yes | yes |
| Subscribers growth | sometimes | yes | yes |
| Blog posts, social media posts, video | – | yes | yes |
| Marketing strategy advice | – | sometimes | yes |
| Lead magnets, email collection,  | – | – | yes |
| Display ads, audio ads, video ads | – | – | yes |
| Cost per 1 episode: | $1,000 – $5,000 | $5,000 – $10,000 | $10,000 – $20,000 |
And below you can find details of what you can expect and the level of service that comes at different company tiers.
Small podcast production companies offer:
New podcast launch package – a podcast launch is a series of meetings (once or twice a week) for a period of 4-12 weeks where. Most production companies offer a service to start your new show (check an example offer), the difference usually depends on how many hours of direct consultation you will receive per week, and how much work the company will do for you,
Equipment consulting – if you are just starting you can expect advice on what podcast equipment to buy for your specific needs, as well as how to handle it properly to get best audio quality,
Episode graphics/artwork – you will get artwork for your show, and if you want dedicated episode graphics, they are usually also provided. If you want to do it yourself, here is a simple guide,
Digital Audio production/editing (basic) – basic packages or smallest agencies offer removal of background noises, cross-talk and delay, and simple editing like deleting long pauses and unnecessary bits,
Episode title – your podcast production company will help you to write an SEO optimized episode title,
Episode transcript (basic) – small production companies will use automatic software to translate your show into a text, to help with accessibility and with SEO. The accuracy of automatic transcripts improves over time, but it won't be a perfect article,
Publishing & syndication – you can count on a production company to manage to upload your episode and then distribute it to all the major podcasting directories (Apple Podcasts, Spotify, Stitcher, Google, etc.) for listeners to enjoy,
Podcast Host as a Service – an agency can easily offer you a hosting service, and manage your account with a podcast hosting company.
Mid-size podcast production companies offer: 
All the standard services as small podcast production companies,
Creation of intros & outros – a good show has a unique intro and an outro, and a mid-size agency will work with many voice-over talents to create the right audio identity clips for you,
Dedicated podcast producer – to make cooperation seamless, you will get a dedicated producer, who will understand the nature of your show, and what makes it successful. They will help you with the entire process and be responsible for all the episodes to share a similar feel – something that will help you set expectations with your audience,
Guest coordination – you will be able to outsource finding the right guests for your episodes. The guest booking process can often take a lot of time, so this can be an extremely valuable service if you don't have time or experience to do it yourself,
Scheduling – scheduling is usually part of the guest coordination process, where the podcast production company makes sure that you and your guest are available for the recording. If a recording is done locally, the company will also make sure you have a studio available,
Show prep – you can expect support from your producer to suggest topics for discussion and proper segues to deliver the most value to your listeners. In some cases you can get live tips from your producer regarding the interview direction,
Episode transcriptions (high-quality) – a mid-size podcast production company will create nice articles from your episodes, and help you get them published on your website, and sites like Medium, for a broad SEO reach, 
Podcast coaching – when you have a dedicated producer, with whom you have been working for several months, you can expect tips from them on how to become a better host and podcaster in general.
Full-service podcast agencies offer:
All the standard services as small and mid-size podcast production companies,
Marketing strategy – a full-service podcast agency will understand your monetization model and advise you how your show can best support it. You will get advice on how and where to insert calls to action to maximize impact, and business goals,
Support in episodes' scripting – in support of your marketing strategy, your production agency will help you script parts or an entire show. You can benefit immensely here if you don't have yet enough storytelling experience, or sales experience to gracefully bake in your marketing message within the episode flow,
Periodic podcast reviews – if your podcast production agency is also responsible for your show's marketing strategy you should periodically review the performance of the episodes you produce, measure how they contribute to your business goals and course-correct if necessary,
Repurposing podcast content – an agency will repurpose your episodes into video clips, audiograms, and other social media content. My advice here is to measure those and make sure they bring value. Repurpose content is hit or miss – sometimes it works flawlessly, and at other times people won't enjoy it. It is especially true for audiograms – sometimes it is just better to set up a camera and record yourself while recording podcasts, 
Show promotion, paid ads & ads placements – if you have a marketing budget to grow your show, a marketing agency will happily manage it for you, putting out ads and actively growing your audience. You should monitor it. Discuss before you start what are the expected KPIs and make sure your agency hits those goals.
The above details are not fixed for every production company. You can expect various elements to pop into different offers as a way for companies to differentiate, but directionally this is what you can expect.
How much do podcast production companies charge?
Podcast production companies charge $1,000 to $20,000+ per episode. The price depends on the range of services. $1k-$5k costs episode production and publishing. You will pay $5k-$10k for guest booking, show prep, and basic marketing. Above $10k cost marketing strategies and ads budget management.
Below are the top 3 factors impacting simple editing, mixing, and mastering service:
1) The show formula i.e., solo, interviews, narration, impact the price:
Solo episodes – are usually cheapest to produce, as they require less time editing and fixing audio issues. You also don't need guest management services. Scripting and professional transcripts are also simpler to produce,
Interviews – vary highly in prices, guest booking can be time-consuming, but it depends on what kind of guests you are looking for and your recognizability (how easy it is to book a guest for you). If you are busy, you can also request a show prep for your producer to brief you regarding your guests,
Narration – can be very costly. If you want to order engaging scripts, you can expect a high bill for that. If you want to blend in narration with interviews, then you are looking at the most expensive options. Not only because of guest booking but since the editing of the final episode can be extremely time-consuming to create a well-flowing narrative.
2) The prices also vary significantly, depending on if:
You deliver recorded raw files for editing,
The company is responsible for the entire recording process, including studio booking, providing a producer, etc.
3) The final planned length of an episode creates complexity:
a 15-minute track editing can be cheap and fast,
a 60-minute track involving guests and narration can be vastly more complex to produce.
A typical contract is signed for a number of months and episodes in a month.
Do I need a producer for my podcast?
As a general rule, the majority of smaller podcasts don't have and need producers. The production responsibilities fall on the hosts. A producer can manage the entire show production cycle and help the host with guest selection, show prep, and advice regarding the show style and direction.
You should expect your producer to have a good understanding of the industry and niche of your show. A producer should understand listeners to the point to advise you and make decisions regarding content, both dedicated episodes and the entire series.
What does a podcast producer do?
A podcast producer is responsible for the entire episode preparation, from idea to publishing,
Has a good understanding of your target audience,
Knows potential guests,
Makes sure that your guests match the show style and audience expectations,
Producers do a show prep, where they brief hosts about the guests and main talking points,
Podcast producer if they are present during a recording, can live feed tips and question to show host,
Producers can also be responsible for achieving the show's growth numbers,
They can take a leadership role to the entire podcast team.
If you don't have a dedicated producer, you simply need to do it on your own. 
In bigger companies, producers can focus on making decisions, while more mundane tasks like managing the whole guest booking process can be a job of an assistant producer.
What skills do you need to produce a podcast?
To produce a podcast, you need to know your audience and niche of your show to deliver a satisfying experience within the length of the episode. The skills should allow you to manage time, book guests, perform interviews, understand what your listeners want, and deliver it to them on schedule.
In detail, here are the top 10 most important skills you need to produce a podcast:
Audience understanding – recognize pain points, and satisfy them in the episode,
Niche understanding – what works and what doesn't in your niche,
Guest booking – finding the most interesting and relevant guest for your show,
Speaking skills – to build trust, deliver knowledge, and spark interest,
Project management – skills to plan, control, mitigate risks, and control the production process,
Product management – knowledge of how to grow your show and your assets,
Delegation and outsourcing – find good people to delegate parts of work and receive quality results,
Technical skill – to effortlessly manage your podcasting gear and edit the show,
Marketing – know which channels will grow your show the fastest,
Monetization – know which products will allow you to make money to fuel further growth.
How to choose the right podcast production company?
As a general rule, to choose the right podcast production company you need to understand your exact requirements, define a budget, and find a producer who understands your niche. Ask for a dedicated producer who is a good fit to manage the production, growth of your show, and can act as an advisor.
As we've seen, there are many options when it comes to selecting a podcast production team to work with. Based on your budget, existing resources, and needs, one of these companies or agencies will be a great fit to help you along your podcasting journey. Be sure to consider multiple options when choosing your podcast provider to understand who has the best mix of services that fits your needs.
Here is a step-by-step process of choosing the right podcast production company:
Determine your budget,
List all the things your podcasting company will need to deliver,
Plan how you will monitor if the company meets your expectation,
Read offers production companies post and picks things you want to learn more about each company,
Make a shortlist of c.a. 5 companies you want to talk with,
Call all of them and ask what they can do for you – let them talk, and leave your questions until the end,
Learn from each call what interesting each company has to offer, and check if the next one if competitive,
Note carefully what did you like about each company, set up follow-up calls, consider live meetings,
Ask to meet your potential producer focused on your niche and see if you can work with them,
Pick the company, and monitor your satisfaction level – renegotiate if something doesn't work.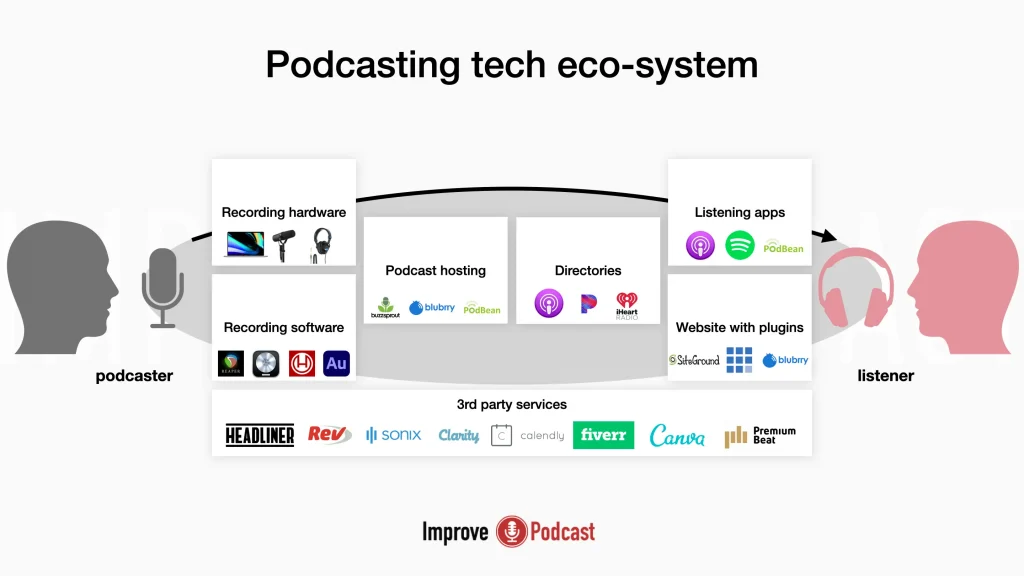 What is a podcasting company?
There are different types of podcasting companies within the industry: media hosts providing file hosting services, production companies that develop shows, advertising networks focused on managing marketplaces for publishers and podcasters, client apps used for listening, and many more.
Here are the most popular types of podcasting companies working within the industry:
There are also many companies that are not only focused on podcasting but develop products tailored for podcasters:
RØDE – recording equipment producer, who in the past has been releasing a lot of products heavily focused on podcasting, like mics (PodMic, Procaster), mic booms (PSA1 and PSA1+), mixers (Rodecaster), and portable interface (AI-Micro),
Editing software – Hindenburg is the only software editing company that is primarily focused on radio and podcasting journalists,
Royalty-free music – your podcast needs music, and there are few great places, where you can get legal music for your show, e.g.: Soundstripe, Premium Beat, etc.
There are few companies that do more than one thing within the podcasting industry, most notably:
Apple – they are the reference podcasting directory with their Apple Podcasts from which many smaller apps take RSS feeds, they are starting to produce their own show, and are also offering subscription service for production companies and independent publishers,
Spotify – Spotify is currently working to establish its dominance within the podcasting industry – they are the biggest podcasting directory, they own a player app, they provide podcast hosting services, and they offer programmatic ads.
In Conclusion
A podcast production company can manage the launch of a new podcast, book guests, record, edit and publish new episodes regularly. 
Most of those content and marketing agencies also offer an array of marketing services.
Small production companies work solely on the preparation of episodes,
Mid-size companies additionally offer content marketing services, 
Full-service agencies are appropriate for B2B as they try to generate new sales from podcasts.
Podcast production companies charge $1,000 to above $20,000 per episode. The price depends on the entire portfolio of services you will get
As a general rule, to choose the right podcast production company, you need to understand your exact requirements, define a budget, and find a producer who understands your niche.
Sources: