Scarlett 2i2 is an amazing audio interface I use to record e.g. Improve Podcast School. But when buying it I initially hesitated between Scarlett 2i2 vs Scarlett Solo.
In general, Scarlett Solo can record only 1 mic and only 1 audio input, so it is only good for one person to record. Scarlett 2i2 will allow you to record 2 mics on separate audio tracks allowing for easy editing. 2i2 also has the headphone volume knob which is extremely convenient.
When it comes to buying recording gear, making decisions is tough. According to the company's website, they have sold over 4 million Scarlett devices worldwide, which is an impressive number.
Focusrite's Scarlett has established itself as a dependable range of interfaces over the last ten years. In fact, Scarlett 2i2 was the first interface they ever made. And later, Focusrite launched 2i4, Scarlett Studio, Scarlett Solo, Scarlett Solo Studio, 18i20, 6i6, and 18i8. Thus, you can find a Scarlett interface for every recording situation.
Naturally when buying an entry-level audio interface many people are puzzled whether to choose between Focusrite Scarlett 2i2 vs Scarlett Solo and want to know more about the differences (in this article we cover only the simplest Scarlett devices).
If you are in doubt if you even need an audio interface, or what exactly an audio interface does, I've already covered this in-depth in this article.
Now let's talk about the main differences between Scarlett 2i2 vs Scarlett Solo in detail.
| | Scarlett Solo | Scarlett 2i2 | Scarlett 18i8 |
| --- | --- | --- | --- |
| Customer rating | 4.7 out of 5 stars | 4.7 out of 5 stars | 4.8 out of 5 stars |
| | | | |
| Connectivity | USB Type-C | USB Type-C | USB Type-C |
| Mics XLR Combo | 1 | 2 | 4 |
| Mic Preamps built-in | Yes | Yes | Yes |
| Ins / Outs | 2-2 | 2-2 | 18-8 |
| MIDI | No | No | Yes |
| Optical | No | No | Yes |
| Max sample rate | 192kHz/24-bit | 192kHz/24-bit | 192kHz/24-bit |
| Phantom Power | Yes | Yes | Yes |
| Direct Monitor | Yes | Yes | Yes |
| | check price | check price | check price |
Comparison between Scarlett Solo vs Scarlett 2i2 vs Scarlett 18i8
Scarlett 2i2 – main reasons to buy
Input and Output
The Focusrite Scarlett 2i2 has two universal combination inputs. So you can plug in either a microphone XLR cable or an instrument cable on any of the inputs. The 2i2 provides studio-quality recording at up to 24-bit/192kHz resolution.
Both the inputs feature high-grade A/D converters for a super clean signal even at high gains. Further, both inputs feature the aforementioned Air emulation to achieve an open, bright sound inspired by Focusrite's classic ISA consoles.
The 48V button enables phantom power to both the inputs, to enable using condenser microphones with the Scarlett 2i2.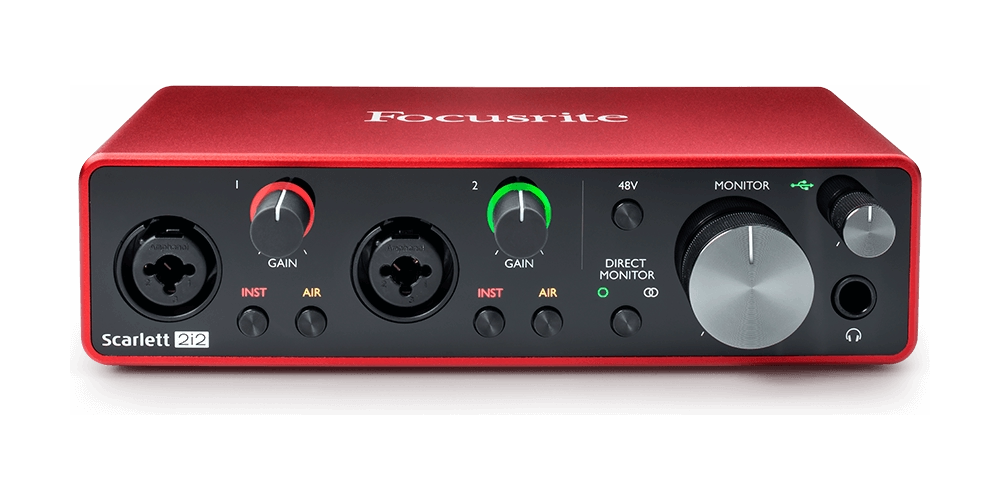 Design
Scarlett 2i2 has a red brushed metal housing, like all the other Scarlett series interfaces. While it looks a lot like Solo, it is heavier and bigger.
On the front, it has two universal inputs. Each input has its own 'Air' and 'INST' buttons for enabling ISA emulation and Hi-Z input. It has a large monitor level dial to regulate the output volume of the external monitors or speakers. The input gain knobs have halo indicators that light up in green or red to indicate the signal strength. This is a feature that's present on all Focusrite interfaces.
Both 2i2 and Solo have the same design on the back. The back has 2 line-level balanced TRS outputs to connect to the external monitors, and a USB-C port to connect to the PC. Unlike Solo, it has a dedicated headphone output volume knob. Also, it has a Direct Monitor switch that provides Mono and Stereo- this is another feature that's missing on Solo.
Best Use Case for Scarlet 2i2
2i2 has two independent universal inputs which provide a lot of flexibility to artists. If you need to record two artists, two stereo sources, or two sources together but independent of each other, Scarlett 2i2 will do the job for you.
Since it's quite costly when compared to Scarlett Solo, understand your requirements before you make a decision. If you are a solo podcaster who is not going to benefit from the additional functionality, you can buy Scarlett Solo.
Let me tell you more about Focusrite's Scarlett Solo.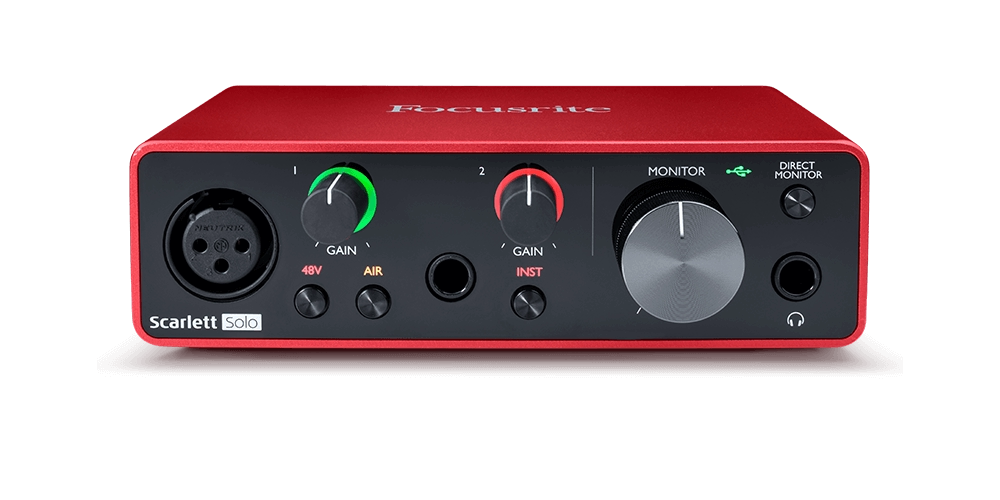 Scarlett Solo – main reasons to buy
Scarlett Solo is the smallest device in the Scarlett series. It is an entry-level device, specifically designed for solo artists who need an interface for performing or recording. So if you are a musician who likes to play his keyboards while singing for the audience, the Scarlett Solo could be the right choice for you. Scarlett Solo can also be used with iPad Pros (via USB-C). It also works amazingly with Auria Pro, Ampify Launchpad, Ampify Blocs Wave Ampify Groovebox, Garageband, Cubasis 2, and FL Studio.
Input and Output
One of the reasons that people trust Focusrite interfaces is the premium quality preamps that they are equipped with. Though Solo is an entry-level device, it also has the same amazing preamps as other Scarlett interfaces. Solo has a single XLR input, and it can manage extremes of signals without any distortion.
You can rely on Solo to capture sound up to 24-bit/192kHz. This lets you easily record vocals or instruments with studio-like perfection- even if you are at your home or on the move. Scarlet Solo 3rd Gen also comes with Focusrite's trademark 'Air' emulation. You can use it just by pressing the designated button, and it emulates the Focusrite ISA preamps sound, which many artists prefer. It gives your recording a high-end detail.
The Solo has a dedicated Hi-Z instrument input for connecting musical instruments using a TS jack output. So if you love to perform with your guitar, this interface has you covered. The instrument input has high-quality A/D conversion. It has enough ample headroom to record instruments with a high dynamic range, so there are not going to be unpleasant surprises when you are on the stage.
The Solo has a 48V phantom power that you can use with condenser microphones. But it doesn't need an external power source for itself. That's because it obtains phantom power through USB-C. This makes it suitable for live performances.
The interface has two line outputs at the back. We have one line output for the left channel and the other one for the right channel, and they connect to the monitors or main speakers. There is a large monitor level knob on the front to control the output level.
The headphone output of Solo has a near-zero latency direct monitoring option. Again, you just have to push a button to use it. When the sound passes through your PC and DAW, there is an added latency. Using the near zero-latency option, you get to hear the instrument's or your sound directly from the interface.
Scarlett Solo has no separate volume control for the headphone output. There is a common level control with the monitor knob. This can become an inconvenience if one wants to record while just monitoring on headphones and the speakers themselves don't have in-built volume control.
If you find that your audio interface is too quiet, here are a few tips to make your interface louder.
Design
Solo is the smallest Scarlett interface, making it ideal for carrying it around.  The small device has a sturdy metal casing, which protects it from external damage. And of course, it comes in the red brush metal finish, the identification of all devices in the Scarlett series.
On the front, there is a big dial to control monitor levels. There are separate knobs for instrument input and microphone input. Like all Focusrite devices, these knobs have halo rings that light up on detecting signals. You will see a green light when you get a good signal, and a red one if the signal is too hot. This helps you in setting the desired signal level.
The 'Air' button is located on the mic input. The 'INST' button on the instrument port is for using the Hi-Z mode to record instrument inputs. The 'Direct Monitor' switch above the headphone output is for using the near zero-latency option.
Best Use Case for Scarlett Solo
Due to the absence of universal combination inputs, you can use only one microphone and instrument together. Hence, Scarlett Solo is useful for recording solo artists, but not for a band. It is equipped with Easy Start Tool, so you can set it up in no time and record. This makes this lightweight interface ideal for a touring performer.
Scarlett 2i2 vs Scarlett Solo – which One Should I Go For?
Both Scarlett 2i2 and Scarlett Solo are power-packed entry-level interfaces.
However, if you decide, that you need something more powerful check out those interface recommendations – you will find there more examples of interfaces under $200, under $500, and under $1,000.
You will have to shell out 50 dollars more to buy 2i2. But your choice should depend on what you want to do with it. Here are the key differences between the two devices-
Summary of Scarlett 2i2 vs Scarlett Solo main differences
| | Scarlett Solo | Scarlett 2i2 |
| --- | --- | --- |
| Inputs | One microphone input and one instrument input. | Two combination inputs. Each input can work as a microphone or instrument input. |
| Headphone volume knob | There is no volume control for headphone output. | Dedicated volume control for headphone output. |
| Direct Monitoring | Direct monitoring is available only for mono mode. | Direct monitoring is available for both mono and stereo modes. |
| 'Air' ISA Emulation | 'Air' ISA Emulation only for the mic input. | 'Air' ISA Emulation for both the combination inputs. |
| Best for | Ideal for solo artists. | Ideal for two artists, two sources, or two stereo recordings. |
Scarlett Solo is ideal for solo podcasters who just want to plug in and perform. It is also suitable for if you are an artist performing alone on stage, as you can plug in one mic and one instrument together.
But if you want to record from two separate sources – with microphones or instrument inputs (or both), you can go for Scarlett 2i2.
Whichever interface you buy, here is a good setup guide for Focusrite 2i2, but most settings also apply to Focusrite solo.